LSC Launches New Task Forces and Veterans Day Summit, Continues Other Projects
LSC launched new privately funded initiatives and advanced several others in 2018 to highlight the need to expand access to justice and support the work of legal aid attorneys and staff. LSC formed two task forces to tackle issues with an important legal aid component: the opioid epidemic and disaster recovery.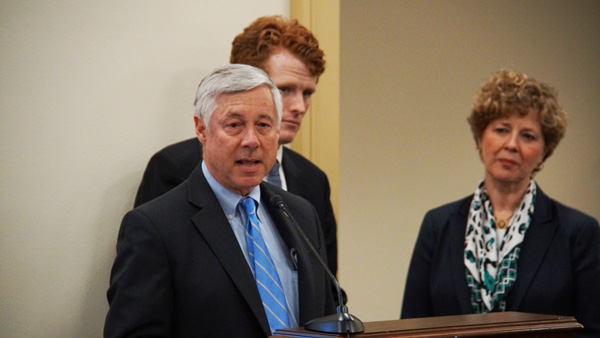 LSC's Opioid Task Force brought together leaders from the legal and medical communities, government, and service organizations to focus on the legal issues raised by the opioid crisis in areas such as health care, family law, domestic violence, child and elder abuse, housing, and employment. The primary goal of the task force was to educate legal aid programs, public health officials, and treatment providers about the legal obstacles patients face in obtaining and remaining in treatment and engage them to promote a comprehensive model of recovery that includes legal aid attorneys. David Hoffman, Partner, Sidley Austin LLP; LSC Board Member Victor B. Maddox, Partner, Fultz Maddox Dickens PLC; and LSC Board Member Robert Grey, Jr., President of the Leadership Council on Legal Diversity, served as Co-Chairs.

LSC's Disaster Task Force included business leaders, emergency management experts, members of the legal aid community, and other stakeholders who work with business and emergency management communities to enhance civil legal aid disaster preparedness and response. Natural disasters have a disproportionate impact on low-income people, who often face daunting legal issues in the aftermath of a disaster. Survivors need help obtaining copies of important documents such as birth certificates, driver's licenses, and Social Security cards to apply for or restore benefits and support. The need for adequate housing is generally a major issue for survivors of most disasters. In addition, low-income and other vulnerable people who need housing after an emergency are more susceptible to scams and price gouging. The task force focused on how civil legal aid can most effectively serve as a resource for people struggling in the aftermath of a natural disaster or preparing for a future disaster. The task force Co-Chairs were Jonathan Lippman, Of Counsel, Latham & Watkins LLP, former Chief Judge of the New York Court of Appeals; Martha Minow, LSC Vice-Chair and 300th Anniversary University Professor at Harvard University Harvard Law School; and LSC Board Member Fr. Pius Pietrzyk, Assistant Professor of Pastoral Studies and Chair of Pastoral Studies Department at St. Patrick Seminary.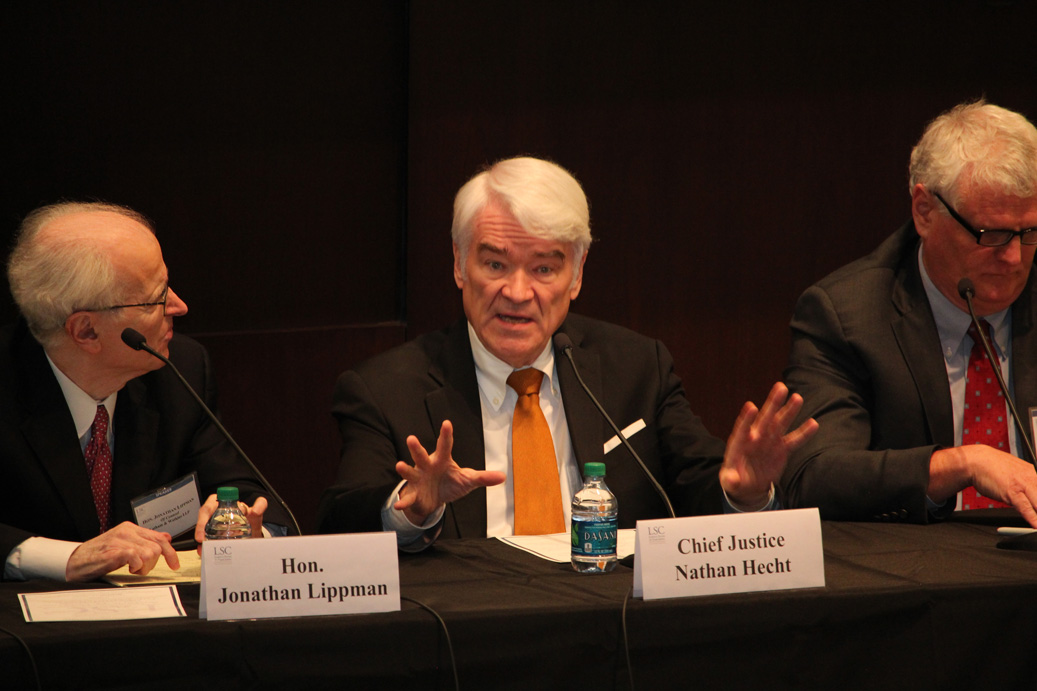 In November, LSC hosted its first Veterans Day Justice Forum. Leaders from law and business gathered in Chicago to honor Veterans Day and discuss the most pressing civil legal issues faced annually by seven in ten low-income households. It was the first in what will be an annual event highlighting access to justice issues and the need to support veterans and military families. "On Veterans Day, we remember who fought for our nation and who protected our freedoms. One of those freedoms is equal access to justice under the law," said Illinois Gov.-Elect J.B. Pritzker. "But for too many Americans, including those heroic veterans who defended this nation, legal benefits and assistance are quite frankly out of reach." Legal aid attorneys, veterans affairs representatives, and business leaders discussed the importance of supporting low-income families. Speakers included Illinois Attorney General Lisa Madigan, University of Chicago Law School Dean Thomas Miles, LSC Board Chair John G. Levi, American Bar Association (ABA) President Bob Carlson, ABA President- Elect Judy Perry Martinez, and University of Chicago President Robert Zimmer.
LSC continued to advance existing privately funded projects that expand access to justice and enhance the work of LSC's grantees. The initiatives were all projects that would be difficult for a single grantee to undertake alone.
Rural Summer Legal Corps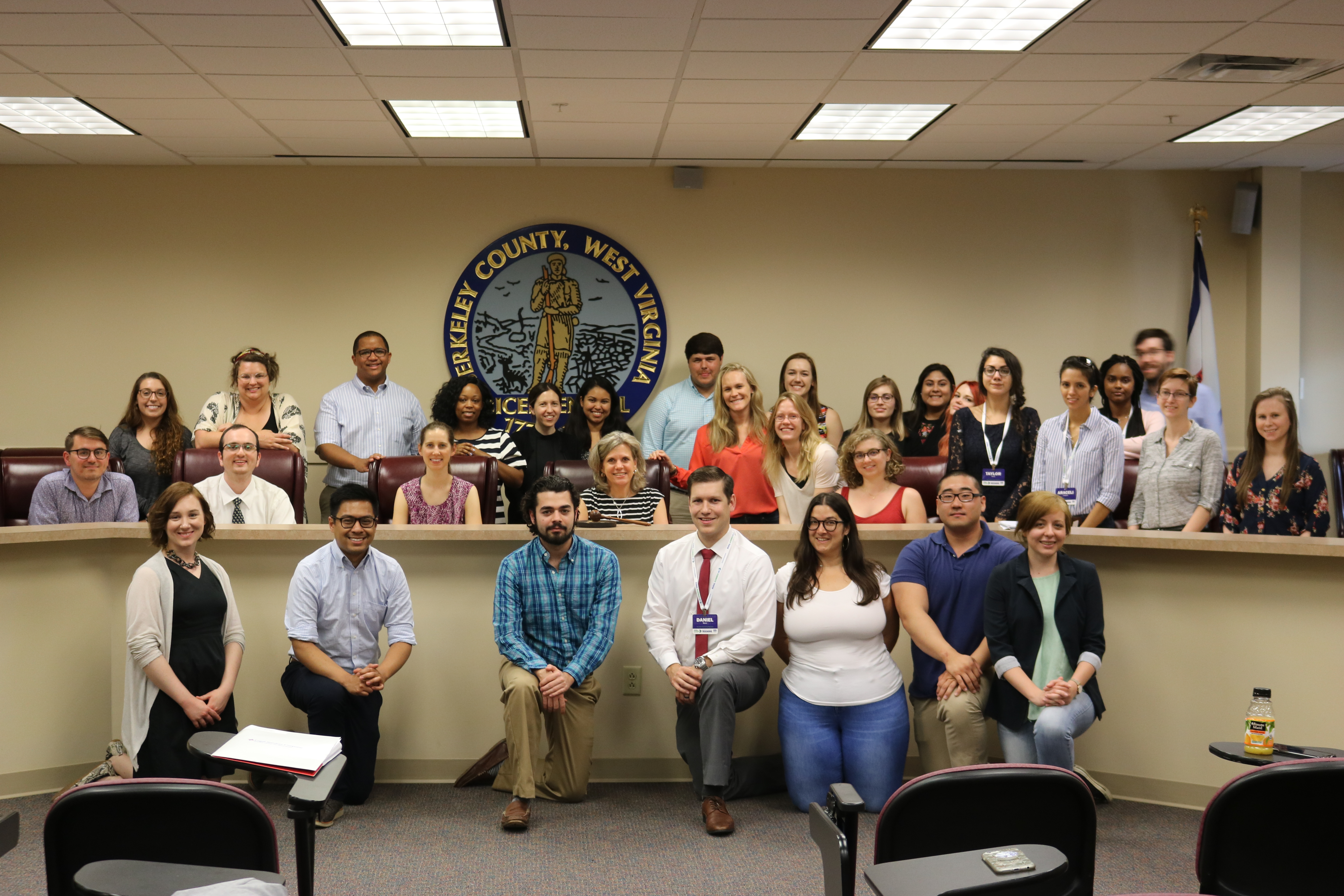 For the third year in a row, the Rural Summer Legal Corps (RSLC) partnered with Equal Justice Works to connect law students and legal aid organizations to provide critical legal services to rural clients while engaging a new group of future lawyers with civil legal aid. Thirty fellows worked on numerous challenging legal projects, including connecting veterans in rural Maine communities with legal assistance, responding to legal issues arising from Hurricane Harvey, and providing legal assistance to victims of domestic violence in central Iowa. Almost 50 rural communities in the United States have been helped by fellows since the RSLC's inception. The program is made possible by generous contributions from law firms, private foundations, and individual donors.
Law students participating in the Rural Summer Legal Corps have chosen to spend their summers serving low- income people in rural areas. They are proving that lawyers—and law students—can make a difference.
Midwest Legal Disaster Coordination Project
LSC's Midwest Disaster Legal Coordination Project addresses challenges in providing legal services to low-income disaster survivors. Disasters have a far-reaching impact, but low-income families and individuals are the most vulnerable when disaster strikes. These individuals require preparedness planning support, and in the event of a disaster, they need experts who understand the legal issues involved. The second phase of the project was completed in 2018. This phase focused on communicating information on changes in flood insurance and impact on low-income people in ten Midwestern states and collaborating with Native American communities on legal disaster preparedness. The project engaged with Legal Aid of Nebraska and Iowa Legal Aid staff members on disaster preparedness and response. The project is made possible thanks to the contributions of an anonymous funder in the Midwest.
G. Duane Vieth Leadership Development Program
Funded by the Arnold & Porter LLP Foundation, this national grant initiative supports leadership training and development for LSC's grantee leaders. By creating a dedicated pool of funds specifically for leadership development, the program provides civil legal aid leaders with targeted support to improve their effectiveness. The program is named in honor of Arnold & Porter's longtime Managing Partner, the late G. Duane "Bud" Vieth, who led the firm for 22 years. Mr. Vieth died on October 10, 2018 at the age of 95. LSC awarded more than $45,000 in grants to six legal aid organizations in 2018.