File Details-Closed File Information Section
Use the Outcomes in the Closed File Information Section on the File Details window to specify a reason why a case (file) was closed and one or more outcomes resulting from the case. The file status must be set to Closed in order for the Closed File Information Section to be active. You can change the file status to closed from the General File Information Section on this window. In order for the change to take effect, select the save or save and close button in upper left-hand corner of the window.
The following window shows an example of the data on the Closed File Information Section of the File details window; scroll down for information about the fields in this section.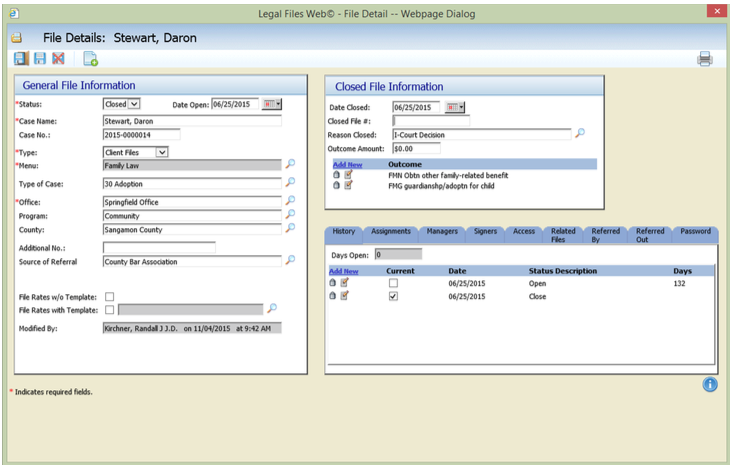 Reason Closed indicates why the file was closed. Click on the Lookup button next to this field, and then select the reason the file was closed from the Reason Closed Pick window. You can specify one reason for each closed file.
As with all Pick windows in Legal Files, the ability to insert, update, and remove items from the Pick window is governed by your user or user-group security rights.
Outcome pane indicates one or more outcomes of the case. Although a closed file can have only one reason it was closed and one outcome amount, it can have many outcomes.
To specify a single outcome:
Go to the Outcome pane, then click on the Add New button to display the File Outcome Update window.
Click on the Lookup button next to the Outcome field, and then select the outcome from the File Outcome Pick window. For example, if the client was found to be wrongfully discharged from his job, you might select Prevented wrongful discharge as an outcome.
Click on the Save diskette button to save your outcome.
Repeat these steps for each outcome you want to insert.