Legends in the Law: James J. Sandman
Legends in the Law: James J. Sandman
From Washington Lawyer, May 2015
By David O'Boyle
---
James J. Sandman has had a long, varied career in private practice and public service. A graduate of Boston College and the University of Pennsylvania Law School, Sandman clerked for Judge Max Rosenn of the U.S. Court of Appeals for the Third Circuit. Following his clerkship, Sandman went on to work as an associate at Arnold & Porter LLP. During his 30 years at the firm, he worked in the District of Columbia, Denver, and Los Angeles and served as managing partner from 1995 to 2005.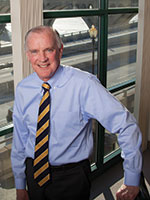 Sandman left Arnold & Porter to become general counsel and chief legal officer for the District of Columbia Public Schools in 2007, under Chancellor Michelle Rhee. In 2011 Sandman became president of the Legal Services Corporation, the nation's largest funder of civil legal aid programs.
Sandman served on the D.C. Bar Board of Governors from 2003 to 2008 and was president during the 2006–07 term. During his term, he focused on leadership development, encouraged mentoring relationships between Bar members, and promoted pro bono service.
He serves as chair of the District of Columbia Circuit Judicial Conference Committee on Pro Bono Legal Services, chair of the D.C. Bar Pro Bono Program Strategic Assessment Task Force, and immediate past chair of the D.C. Bar Pro Bono Committee. He was appointed as a member of the District of Columbia Access to Justice Commission and serves as a member of the Pro Bono Institute's Law Firm Pro Bono Project Advisory Committee. He also serves as chair of the U.S. Civil Rights Commission's District of Columbia State Advisory Committee, chair of the board of the DC Campaign to Prevent Teen Pregnancy, vice chair of the board of the Washington Performing Arts Society, and a member of the boards of the Meyer Foundation, the College of Saint Rose, and the Tahirih Justice Center.
Tell me about your upbringing and your background.
I grew up in Albany, New York. I am the middle of five kids. My father was a banker. He graduated from law school but never practiced law. My mother was a special education teacher, and eventually she retired to raise her five kids.
What first piqued your interest in law?
I always had some interest in law. I was interested in history, political science, and government. It did have an influence on me that my father had gone to law school, even though he wasn't a practicing lawyer.
I wasn't good at math and science. If you're not good at math or science, you can't sing or dance, and you like history and government and political science, what are you going to do? Of course, you go to law school.
More seriously, I thought that law school might open a variety of opportunities to me beyond just the practice of law. I saw people with law degrees doing lots of things that I could imagine myself doing—people with law degrees are in government, they're in journalism, they're in business, they're in academia—in addition to being practicing lawyers.
What did you like best about attending law school at the University of Pennsylvania?
I liked my classmates the best. I went to law school at a time when the movie The Paper Chase was popular. It painted law school in a very unattractive way. It made it look very competitive and cutthroat and unhappy.
That was not my experience at all. My law school classmates were colleagues and friends, not competitors. There was a sense that we were all in it together, and we tried to help each other out. If you missed a class, people were happy to share their notes with you.
I made very good friends in law school. When I saw The Paper Chase after my first year of law school and compared it to my experience, I thought it was a joke, a parody. Then, after I graduated from Penn, I compared notes with people who had gone to other law schools. They said that it was no joke, that it was a pretty accurate reflection of what their law school experience had been like. Penn Law School is a special place. My son, Joe, is a third-year student there now, and his experience is the same as mine.
What type of law did you hope to practice when you left school?
I didn't know. One of the reasons I ended up going to Arnold & Porter was that the firm was not departmentalized at the time. They didn't require you to select an area of practice coming in the door. That was a decision I would have been very uncomfortable making at the outset of my career. I didn't think I had an adequate basis for choosing a specialty.
I was attracted by the opportunity to work at a firm that would allow me to do a number of different things and wouldn't cabin me too early in my career.
What did you do after graduating from law school?
I clerked for a judge on the United States Court of Appeals for the Third Circuit, Max Rosenn. He was, and remains to this day, my most important mentor and role model as a lawyer.
You often speak about Judge Rosenn and the impact he had on your career and your life. What was it like clerking for him?
It was one of the best years of my life, and I realized it at the time. Many times you realize how good an experience was only afterward, looking back. I remember telling myself during my clerkship, "This is an experience that you will look back on as one of the best years of your life." Judge Rosenn was kind, generous, a superb judge, and a great teacher.
Former Chief Judge Edward Becker of the Third Circuit once described Judge Rosenn as "a man of almost divine grace." Judge Rosenn built my self-confidence. He showed me by his example how a lawyer can give back to his or her community.
Tell me about one of your favorite experiences from that year.
Judge Rosenn had a summer home on a lake outside of the city where his chambers were. He had a motorboat that he kept on the lake. During the year that I was clerking, he asked my co-clerk, Fred Magaziner, and me if we would be willing to go up with him at lunchtime one day in the fall and help him take the boat out of the water for the winter. We agreed, and he told us to bring old clothes to change into on the appointed day.
At lunchtime that day we changed into our old clothes. Fred and I came out of our offices dressed in sweatshirts and jeans, and the judge came out of his office in a suit and a tie. He was wearing an old suit and tie.
We looked at him, and our eyes must have been bugging out of our heads. All he said was, "You have your old clothes, and I have mine." He was a very proper man.
When we got to the lake, I went with the judge in the boat to drive it to a ramp where there was a trailer waiting. Fred went with the guy who had the trailer and a car to meet us at the ramp.
The judge drove the boat standing, wearing a black raincoat over his suit and his tie. As we were getting close to the ramp, he hit bottom, and the boat just came to a stop about 40 feet from shore.
I knew what I had to do. I jumped overboard and rocked the boat loose so that we could get it moving again. He told me there was a channel somewhere nearby, and if we could get the boat into it, he could restart the motor and get us to the ramp. As I was pushing the boat, I suddenly discovered the channel. I sank into very cold water up to my chest.
Fred had to wade out to help pull the boat onto the trailer. He and I were just soaked. The judge, who was dry as a bone, was mortified. He said, "I have to get you boys a change of clothes," and he quickly drove us back to his house on the lake. He had vacated the house for the winter, but he did have a few clothes there. Very few. He had no pants at the house, so instead he gave me a pair of his pajama bottoms to change into. And he gave Fred his old army boots.
On the way back into town, he decided that we needed to stop by his house so that his wife could give us some hot soup. When we walked into the house, his wife took one look at Fred and me in our ridiculous outfits and said, "Oh Mac! What have you done with them now?" It was really quite funny.
It seems like he was a compassionate person and a great mentor.
He was those things and more. I learned a lot from him about law during the year that I clerked for him, but his most important gift to me was to serve as a role model for the lawyer as a public citizen. He was very active in his community. He was always giving back. He was just an icon in his community. There wasn't a significant civic or charitable activity that his fingerprints weren't all over.
He was a very kind man, and he was very respectful in all of his dealings with people. What I learned from him is there never needs to be any inconsistency between kindness and professional success—that nice guys can finish first.
How did you end up at Arnold & Porter?
I had two law school classmates who had gone there ahead of me, before my clerkship, immediately after they graduated from Penn. They liked it very much, and their recommendations carried a lot of weight with me.
I also had a very memorable experience interviewing there. It was unlike any other firm I had visited. I can remember, to this day, every single person I met when I interviewed, because they were all very different from one another. They were individuals. Many of them were real characters. They seemed to feel comfortable being themselves, and they conveyed the sense that all kinds of different people could fit in and be happy there. That was important to me. And it was very distinctive.
Tell me about the interview process. How was it different?
The firm was in multiple buildings at the time. Just getting from one interview to the next was a challenge. They didn't have anybody to take me from one interview to the next, so I had to find my way. That was very different.
I remember interviewing with one lawyer, Dan Lewis, and while we were talking, a guy walked in to change a fluorescent light bulb in the ceiling. He set up a ladder, made himself at home, bantered with the lawyer, and proceeded to change the light bulb. The two of them obviously knew each other and had a friendly relationship.
I'd never seen anything like that at another law firm. There didn't seem to be a hierarchy. I thought it was a window on the relationship between a lawyer and a staff person at the law firm, and I liked what I saw.
Do you have a favorite case from your time at Arnold & Porter?
I had many interesting cases. The first case that I worked on was a criminal antitrust case against Braniff Airways and Texas International Airlines for allegedly conspiring to keep Southwest Airlines from getting into business. It was a fascinating window on how the airline industry works, and how antitrust principles and regulation at the time functioned in the airline industry.
One of the things I learned was that if you're an antitrust lawyer, and if your clients have interesting businesses, their antitrust problems are fascinating, because they give you an opportunity to learn about how an industry functions.
For a number of years, I did antitrust work for clients that included an airline, a brewing company, a newspaper chain, and PBS. Well, beer and airlines and television and newspapers, I dealt with those things in my everyday life, and they're very interesting businesses to learn something about.
Tell me about your experience as managing partner of Arnold & Porter.
I got there by an unusual route. I spent 11 years in small offices of Arnold & Porter. Although I joined the firm in Washington, D.C., I moved to Denver after about three-and-a-half years. I spent 10 years in Denver, and then moved to Los Angeles and spent another 14 months there. I got my management training and experience largely outside of Washington, in small offices. I became managing partner of the firm three years after returning to Washington.
My experience in small offices had a strong effect on me. I had learned about the importance of the role that every single person plays in an organization. If you work in a small office, you know everyone. You know them by name, you know what they do, and you usually know their families. You see that the work of a law firm is not just about the lawyers, but that everybody plays a role in getting the work of the firm done and in serving the firm's clients.
I thought that it was important to be inclusive in managing the firm, and always to express appreciation for the role that everybody played.
Being managing partner was a very interesting job. I loved the variety of it. You get to deal with everything from accounting and finance, to strategic planning, to marketing, to recruiting, to information technology, to commercial real estate, to every kind of personnel issue imaginable. There's much more variety than the practicing lawyer typically gets in the course of his or her work.
You were managing partner during a time when law firms were doing very well. Salaries and hiring were growing consistently. Did you foresee any of the problems approaching the legal profession in the years leading up to the financial crisis and recession?
Yes. I thought that the cost pressures on law firms were driving them in a direction of ever-higher fees, and that that was going to cause challenges in their relationships with their clients, and require changes in the business model. Something would have to give, and I think that many things have.
For example, the way litigations are staffed in big law firms now is very different from how it was 10 years ago when I was a managing partner. Document review, which used to keep large teams of associates busy, is now likely to be outsourced to contract attorneys and more likely to be done with the assistance of technology, reducing costs to clients. As a result, law firms have relatively fewer associates now.
You left Arnold & Porter in 2007 to become general counsel for D.C. Public Schools. Tell me about that move.
I had been thinking about making a career transition for some time. I reached a point as managing partner where I had begun to feel as if I were devoting my life to making rich people richer. If you are managing partner of a big law firm, you have to be sure you can pay your partners and your associates a lot of money to remain competitive. A lot of money. It goes with the territory.
I decided I needed to make a change. I had always thought that at some point in my career I would do some kind of public service or public interest work. As I tried to figure out what the next opportunity might be for me, I could identify a number of issues that I cared about, and organizations I admired, but coming up with the right combination of organizational mission and job—what I would actually be doing—was hard.
One day, in the fall of 2007, I went to the annual pro bono breakfast of the Washington Lawyers' Committee for Civil Rights and Urban Affairs. The speaker was Michelle Rhee, who had only recently become the chancellor of D.C. Public Schools. She wasn't yet the national face of urban public education reform that she later became.
She gave an electrifying speech that just set the room on fire. At the end of her presentation to this group of lawyers, she asked, "So what can you all do to be helpful to me in my reform efforts?" And she ticked off three or four things that lawyers could do to be helpful to her.
I don't remember any of them, except the last. She said, "If any of you know where I could find a good general counsel, I really need one."
I know it sounds impetuous, but something just clicked for me in that moment, and I decided I wanted that job. I live in the District of Columbia, in addition to working here. I don't think there's a more important local public issue than public education. And I was very intrigued by Michelle. So I followed up. Seven weeks later, I was working at D.C. Public Schools.
What was it like to transition from a top law firm to D.C. Public Schools?
It was wild. It could not have been more different. I knew that I wouldn't have the resources that you have in a big law firm, and that was fine. I could deal with that.
What I didn't know was some of the details. For example, did you know that there is no free coffee in the government? If you work for the government, you can't use taxpayer money to buy your coffee. That only makes sense. Who is buying the taxpayers their coffee for them?
On my first day at work, I brought my Arnold & Porter coffee mug. I walked out of my office and I asked, "Where's the coffee station?" My new colleagues looked at me as if to say, "This new guy isn't going to last very long." But things worked out.
I also had to learn a completely new area of the law for myself. I was suddenly, for the first time in my career, an education lawyer. What I found was that basic lawyering skills—the ability to read a contract, to interpret a statute or a regulation, to help a client solve a problem—are pretty transferable across substantive areas, but I still had an awful lot to learn. It was a little scary.
Working at D.C. Public Schools was also a very important diversity experience for me, particularly after 30 years in the big law firm world. At D.C. Public Schools, I regularly had the experience of being the only male in the room or the only white person in the room, and I was often the oldest person in the room. I found myself engaging in what diversity experts call "self-censoring"— modifying what you say, or not speaking at all, because of your concern that others will hear what you say through the filter of what you look like. I had never had that experience in my professional life before.
What was it like working with Michelle Rhee?
It was wonderful. Michelle was a talent magnet. People came from across the country to be a part of what she was doing here. People picked up their lives and moved from the West Coast and from the Midwest to come to Washington, D.C., to work with D.C. Public Schools.
The energy in the building was unbelievable. The people were as smart as any group of people I've ever worked with. The quality of the meetings I attended was at least the equal of any meetings I had attended in a big-time corporate practice. There was passion and a real shared spirit of mission among the group.
Michelle was a great client. She was very demanding, but in a good way. She had high expectations. Boy, did she keep me on my toes. She expected quick turnaround, but never anything beyond what she was entitled to as the client. I tried to give her, and all of my colleagues at D.C. Public Schools, the same quality of service and responsiveness that I had been trained to give paying clients at Arnold & Porter.
What was it like working with D.C. Public Schools during a time of such high interest from the media and the public?
There was a lot of media scrutiny of everything we were doing. That was good in many ways. You want to be accountable for what you're doing and always be conducting yourself in a way that you would be proud to have people observe. But it was high pressure.
What led you to leave D.C. Public Schools and become president of the Legal Services Corporation?
When Mayor Adrian M. Fenty was defeated in his bid for reelection in 2010, I knew that Michelle would be leaving D.C. Public Schools. I didn't know who her successor was going to be, and I didn't know how long it would take to select one.
During that interim period, I heard about the opening at the Legal Services Corporation and pursued it. If I had known that Kaya Henderson was going to become the chancellor of D.C. Public Schools, I might well have stayed there. I worked very closely with Kaya when she was deputy chancellor. I have enormous respect for her. She is a lawyer's dream as a client and a gift to the city, and I miss working with her.
Has it been difficult to deal with recent budget cuts at the Legal Services Corporation?
Yes. Our mission is to fund legal aid programs across the country. They are strapped for resources. They were strapped even before the budget cuts. Huge numbers of people who need a lawyer but can't afford to pay for one have to go without any legal assistance. In courthouses across the country today, for example, typically more than 90 percent of tenants facing eviction have no lawyer.
The need for the services that legal aid organizations provide has never been greater. The population financially eligible for service today stands at about 20 percent of the total population. It's about 63.5 million people. That's up about 20 percent since 2007, before the recession began.
At the same time that the demand has gone up, the resources available to meet the need have gone down. It's very hard to see what the state of access to justice for low-income people is today. It's a national disgrace.
Do you think the state of funding for the Legal Services Corporation will improve?
I'm optimistic, but we have our work cut out for us. The biggest challenge facing civil legal aid today is ignorance of the crisis in access to justice. Most Americans don't realize that you have no right to a lawyer in a civil case. They are unaware that you can lose your home, you can have your children taken away from you, you can be a victim of domestic violence in need of protection, and you have no right to a lawyer.
If you can't afford a lawyer and you have to go into court alone to fend off an eviction, or to keep your family together, or to get a protective order against someone who is abusing you, that is a real uphill battle.
If you can educate people about that reality, their reaction is, "That's not right. We need to do something about that." So we work hard at trying to educate people about the magnitude of the problem, and to enlist new messengers to reach new audiences to raise awareness of what the problem is. If we can do that, I am optimistic that we can improve the funding situation. Our mission is all about a fundamental and deeply held American value—equal justice under law.
Tell me a little more about your experience at the Legal Services Corporation.
It's a very interesting job. I'm chief executive officer of a large nonprofit corporation. We have a general counsel's office here. Our general counsel is Ron Flagg, the former D.C. Bar president. I'm a client, not a lawyer, in the organization.
LSC is a grant-making organization. Despite our name, we don't provide any direct legal services. No client ever walks through the door of our office here. We're the country's single largest funder of civil legal aid programs. We provide funding to 134 independent legal aid programs serving every county in every state and the territories.
My job entails lobbying Congress for our appropriation, which is the source of almost all of our money. I approve the grants we make to the legal aid programs that we fund. The job involves overseeing the performance of those legal aid programs. It is, in many respects, different from what I've done before.
As with my experience as a managing partner, I love the variety of it. I'm always learning new things.
Aside from a lack of awareness, are there any other impediments to widespread access to justice?
Yes. Despite my optimism about improved prospects for funding, I don't see a time coming when we are going to be able to provide an individual lawyer to each individual client who is facing a legal problem and can't afford to pay for counsel. I think we need to rethink the service delivery model. We need to have options other than the provision of a personal lawyer to help people out.
We need to do more things like the Landlord Tenant Resource Center that the D.C. Bar Pro Bono Program runs at the D.C. Superior Court. There, a person who has a case in court that day can come in and talk to a lawyer, get help putting his or her papers in order, have the lawyer translate the legalese so they will understand what's about to happen in the courtroom, and learn the basic defenses that they might have available to them.
That's not as good as going into the courtroom with a lawyer and actually representing the client, but it's far, far better than nothing, which is what too many people across the country get today. The civil legal aid system in the United States today has to turn away millions of people every year with nothing—no help of any kind.
In addition, I think we need to do more to simplify legal processes to make them more accessible and user-friendly to people who can't afford to pay for a lawyer. We need to have easy-to-understand forms online with very clear guidance on how to complete them.
There's been a lot of progress in that regard. There are now apps that I would analogize to TurboTax, where you complete a plain-language interview online and your answers to the questions posed are used to complete a court-approved form that you can then take to the courthouse and file or e-file.
Do you miss practicing law?
Oh, yes! I sometimes think I'm a difficult client for Ron Flagg and his colleagues. When legal issues come up, I tend to have opinions on them, and I express them.
I like being a lawyer. I love the intellectual challenge of the law. It's interesting work, and it's interesting over the long term. It's hard to find a profession that can keep you engaged over the long haul, but law has done it for me.
How do you spend your time away from the office?
My wife, Beth Mullin, is also a lawyer. She's deputy general counsel at the D.C. Department of the Environment. We date, just the two of us, every Friday night after work. And we love going to Washington Performing Arts events together. My hobby is being a volunteer. I'm involved in a number of outside activities, some of which are law-related, many of which aren't.
I'm chair of the board of the DC Campaign to Prevent Teen Pregnancy. That's a critically important issue in our community, and something that's different from what I deal with in my day-to-day life as a lawyer.
I am vice chair of the board of the Washington Performing Arts, which not only presents world-class performing artists, but has extensive education programs for people of all ages in the District of Columbia.
I'm on the board of the College of Saint Rose in Albany, New York, where my mother and my sister went. I am on the board of the Meyer Foundation. I serve on the Access to Justice Commission here. I continue to be involved in the D.C. Bar Pro Bono Program. I don't want for things to do. I like my extracurricular activities. They make my life richer and they get me exposed to people I would never meet otherwise.
What's next in your career?
I would love to teach. I have regular opportunities to do guest lectures, typically for law students, and I love doing that.
I'm too old for it at this point, but I wish I could have been a judge. It would have brought me back to my roots with Judge Rosenn.
What work do you hope your career is defined by?
I would hope that, over the course of my career, I might have been to some people what Judge Rosenn was to me, and that I might have emulated, in some way, his example of public service. I was given an extraordinary gift at the very outset of my career, to be able to work close up with a role model for life. My ambition ever since I left my clerkship with Judge Rosenn has been to try to be him.
---
Original article on Washington Lawyer by David O'Boyle