Senate Appropriations Provides $410 Million For LSC
Yesterday the Senate Appropriations Committee approved the Commerce, Justice, Science and Related Agencies (CJS) appropriations bill for FY 2019.  The bill includes $410 million for LSC, the same level as in FY 2018.  In May, the House Appropriations Committee also approved $410 million for LSC. This is the first time since FY2011 that the House did not cut the budget.  The chart below shows the budget line items.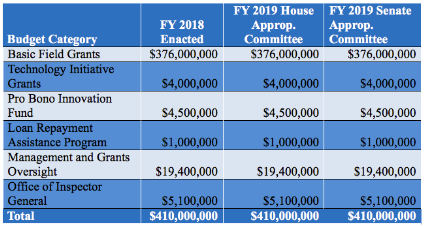 Neither the House or Senate has scheduled a time for these bills to be considered on the floor.