Congressional and Community Outreach
Communicating the Value of Civil Legal Aid
LSC co-sponsored congressional briefings on several important civil legal aid issues in the United States Senate and the House of Representatives in 2018.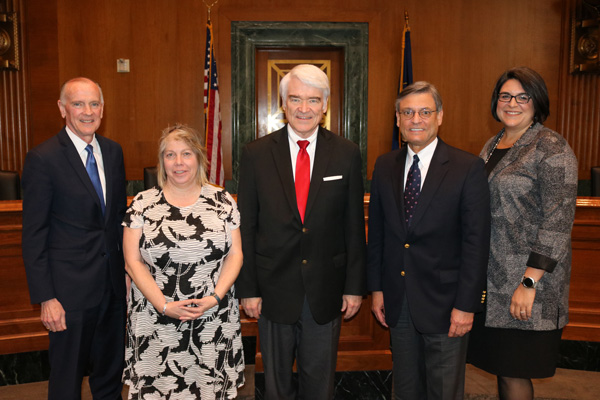 In March, two state chief justices and legal aid experts from states affected by recent natural disasters discussed how LSC grantees provide critical help to survivors. The briefing, "Hurricanes Harvey, Irma, and Maria: The Role of Legal Aid in Disaster Recovery," was sponsored by Senator John Cornyn (TX) and highlighted the importance of legal aid organizations to disaster preparedness and recovery. The panelists were Texas Chief Justice Nathan Hecht; Florida Chief Justice Jorge Labarga; Saundra Brown, Directing Attorney of Disaster Legal Services, Lone Star Legal Aid in Houston; and Monica Vigues-Pitan, Executive Director, Legal Services of Greater Miami. LSC President James J. Sandman moderated the discussion, and Board Chair John Levi delivered opening remarks. Low-income families are especially vulnerable to the far-reaching impact of natural disasters. The panelists discussed how legal aid programs mobilize attorneys in affected areas to provide free legal assistance and direct representation to low-income survivors and highlighted the importance of forming community partnerships before the next disaster strikes.
The following month, members of Congress joined a panel of experts on medical-legal partnerships for a congressional briefing on the opioid epidemic. The briefing, "How Medical-Legal Partnerships Assist Victims of Opioid Addiction," explored the role of these partnerships in confronting the opioid crisis. Representatives Susan Brooks (IN-5), Joseph Kennedy III (MA-4), and Fred Upton (MI-6) joined LSC Board Chair Levi to deliver opening remarks. The briefing featured three experts on medical-legal partnerships and a former legal aid client. The panelists were Weayonnoh Davies, Medical-Legal Partnership Attorney, Community Legal Aid, MA; Stephanie Harris, Development Director, Ohio State Legal Services Association; Jon Laramore, Executive Director, Indiana Legal Services; and Tarra Simmons, a former client of Northwest Justice Project. LSC President Sandman moderated the panel discussion. Legal aid organizations play a key role in helping those affected by opioid addiction with problems related to their basic needs in areas such as family law, domestic violence, child and elder abuse, housing, and employment. The speakers explained how lawyers stationed in healthcare settings and partnering with healthcare providers are more easily able to reach patients and tackle the legal issues that are impeding patients' health and recovery.
"The opioid epidemic has been a vicious attack on so many households across our country, which is why the focus of this panel and the combination of medical-legal partnerships, legal advocacy, and delivered medicine and health care is so critical."
Representative Fred Upton (MI-6)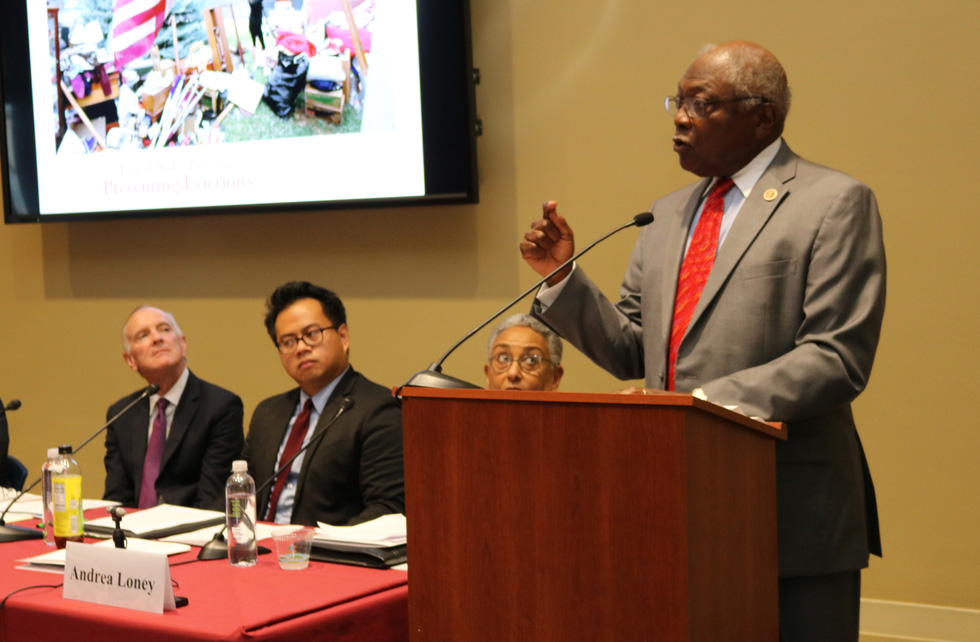 LSC held a third congressional briefing in September on the eviction crisis. Members of Congress joined a panel of experts for the briefing, "Legal Aid's Role in Preventing Evictions," which explored the importance of legal representation to families facing the threat of eviction. This event was held in cooperation with Representatives James Clyburn (SC-6) and David Price (NC-4) who attended the briefing and delivered remarks with LSC Board Chair Levi. The briefing featured three experts on eviction prevention and a former legal aid client. The speakers were Audrey Gaskin, a former client of Durham Eviction Diversion Program in North Carolina; Jesse Hamilton McCoy II, James Scott Farrin Senior Lecturing Fellow and Supervising Attorney for the Duke Law School Civil Justice Clinic; Andrea Loney, Executive Director, South Carolina Legal Services; and Raphael Ramos, Director, Legal Action of Wisconsin Eviction Defense Project. LSC President Sandman served as moderator.
"Fundamentally, no family should be in court facing the loss of their home without an attorney to represent them and defend their legal rights."
Representative James E. Clyburn (SC-6)
"This crisis is as complex as it is real," said Rep. Clyburn. "I've heard from many of my constituents at town halls and around the district that their one critical problem… is the inability to get legal representation when they're faced with eviction." With stagnant income levels and rising housing costs, many American families are struggling to acquire and remain in affordable housing. Legal aid is critical to Americans facing evictions. The speakers explained the crucial difference legal representation can have for families in danger of losing their homes and bearing a financial burden that can hinder their obtaining stable housing in the future.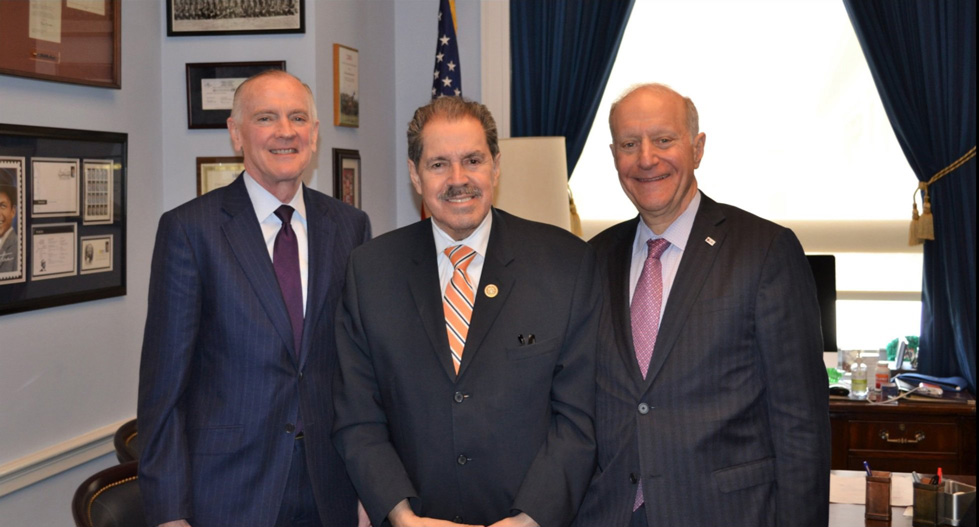 Throughout 2018, LSC President Jim Sandman made numerous visits across the country to spread the word on access to justice issues. He met with legal services providers, members of the judiciary, and leaders of the pro bono and business communities in 23 states. He also met with House and Senate staff numerous times to discuss the range of constituent services LSC's grantees provide. In March, he met with Representative José E. Serrano (NY-15) to discuss the impact that President Trump's proposal to defund LSC would have on low-income Americans. "The value of the Legal Services Corporation and local non-profit legal aid programs nationwide can't be overstated," said Rep. Serrano. "Cutting funding for this important program, as the Administration is proposing, will greatly harm underserved and economically disadvantaged areas like the Bronx. Thousands of individuals and families that simply can't afford to pay for legal services will be left in the lurch, unable to access the help of a lawyer to defend them or assert their rights on issues like housing, Social Security, and domestic violence. As Ranking Member of the Appropriations Commerce, Justice and Science Subcommittee, I will do everything I can to protect this important program." LSC President Sandman joined Legal Talk Network's podcast to talk about the justice gap: the difference between the civil legal needs of low-income Americans and the resources available to meet those needs.
LSC Board Chair John Levi also engaged in numerous outreach efforts. In May, he shared his thoughts on the importance of technological innovation to legal services at The Future Is Now 2018 Conference in Chicago. He addressed the ABA House of Delegates at the ABA's annual meeting on LSC's new initiatives and legal aid's importance to the rule of law. In August, he spoke on Legal Talk Network's On the Road podcast about LSC's efforts to increase awareness of the importance of legal aid and opportunities for pro bono work. That same month, he joined Representative Joseph Kennedy III (MA-4) on University of Michigan Head Football Coach Jim Harbaugh's podcast. Harbaugh is a member of LSC's Leaders Council and joined Levi and Kennedy in discussing the difference legal aid makes in the lives of low-income Americans and the importance of supporting LSC. In addition to these efforts from LSC, outside organizations rallied congressional support in response to the Administration's recommendation to eliminate LSC funding. Members of the legal community, business leaders, state attorneys general, and law school deans from across the country sent letters to the House and Senate Appropriations Committees in support of LSC funding. Members of Congress also signed on to letters of support for LSC to the House and Senate Appropriations Committee Chairs.

More than 250 General Counsel from some of the country's largest companies, including American Express, Google, Walmart, Facebook, and Walt Disney, signed a letter urging Congress to increase funding for LSC, noting its importance to the business community: "The federal investment in civil legal aid brings our country closer to meeting its foundational promise of equal justice for all. It is also good for business. As corporate leaders, we understand that the stability of our communities directly impacts the success of our companies."

Other Letters of support included:
180 law firm leaders from all 50 states and the District of Columbia
The Conference of Chief Justices and the Conference of State Court Administrators
39 bipartisan state Attorneys General
168 Deans of law schools
181 House of Representative signatories to the bipartisan funding letter for LSC
44 Senate signatories to the bipartisan funding letter for LSC
In March 2018, Congress enacted appropriations legislation that funded LSC at $410 million, a
$25 million increase from FY 2017
. This was the largest increase in LSC's budget since FY 2010. Additionally, LSC received $15 million to support the delivery of legal services related to the destruction caused by Hurricanes Harvey, Irma, and Maria and the California wildfires in 2017. LSC awarded 11 disaster relief grants to legal aid organizations in California, Florida, Puerto Rico, Texas, and the Virgin Islands.