LSC's Innovations in Technology Conference
January 12, 2022 | 12:30pm - January 15, 2022 | 5:30pm •
Image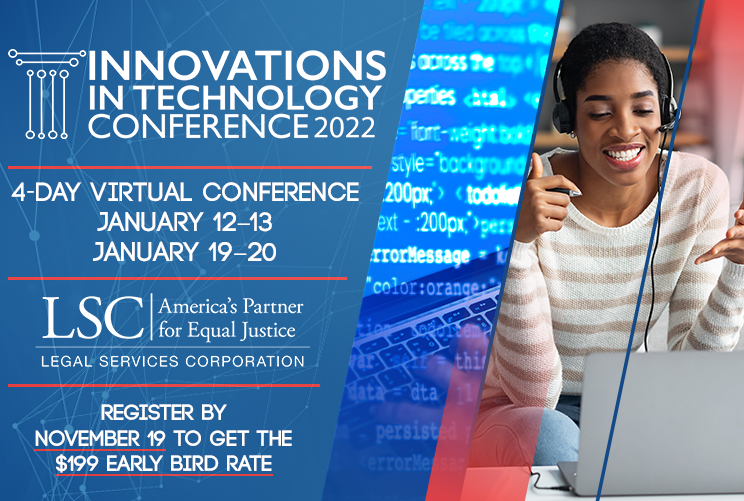 Registration is Now Open!
Register for the conference below.
The Innovations in Technology Conference grew out of LSC's Technology Initiative Grant (TIG) Program, which seeks to expand access to justice by promoting technological innovations in legal services delivery and pro se assistance. The conference brings together technologists, legal aid advocates, court personnel, law school professors, pro bono coordinators, and other professionals to showcase technology projects and tools being implemented across the country and internationally to promote access to justice and high-quality legal representation for low-income people. The conference also provides an opportunity to network with a community of colleagues and to cultivate project ideas that could lead to future TIG awards. 
Held each January, LSC was planning to hold the 2022 Innovations in Technology Conference (ITC22) in Phoenix, AZ January 12-15. Due to the ongoing COVID-19 pandemic and uncertainty about traveling for an in-person conference, the ITC22 will be a fully virtual event beginning on January 12, 2022.  
Conference Registration Fees
Early bird registration is $199 per person and is available through November 19, 2021. After November 19 registration is $275. For questions about the conference, please contact us at itc@lsc.gov.
Conference Schedule and Agenda
A detailed conference schedule and agenda will be announced soon. You can view the detailed conference schedule and agenda from ITC21 Conference. 
| | |
| --- | --- |
| Conference Day |  Session Run Time |
| January 12, 2022  | 12:30 pm – 5:30 pm EST |
| January 13, 2022  | 12:30 pm – 5:30 pm EST |
| January 19, 2022  | 12:30 pm – 5:30 pm EST |
| January 20, 2022  | 12:30 pm – 5:30 pm EST |
Who Attends
Legal aid advocates 
Legal technologists
Court self-help staff
Pro bono coordinators
Private attorneys
Law school students and professors
Document assembly developers and project managers
Law librarians
Anyone with an interest in how to use technology in the delivery of legal services
What Can I Learn
Session topics cover a range of issues on how technology can increase access to justice, including:
tools to improve limited scope or self-representation for those persons whom legal aid organizations are not able to represent fully;
improving the efficiency and effectiveness of access, triage, and intake;
encouraging and supporting pro bono;
cutting edge technology developments for legal services using artificial intelligence;
delivering legal services remotely to hard-to-reach populations;
providing legal services staff and pro bono advocates with better litigation and case development support; and
improving management and internal operations in legal aid offices, including how organizations can meet LSC's new performance criteria around technology.
See session information, videos, and materials from past conferences. 
ITC22 CLE Day 
LSC is collaborating with the Practising Law Institute to offer a pre-conference CLE Day program, Remote Service Delivery 2021: Representing the Pro Bono Client, which will be held in PLI's New York City Conference Center and via live Webcast on December 10, 2021. Most LSC grantees have access to free membership from PLI, and scholarships can be requested here.  Alternatively, for those registering for ITC 2022 and who work for a legal aid, legal services, IRC Section 501(c)(3) nonprofit, or government organization, or provide pro bono legal services, free access to this pre-conference CLE Day program offered by PLI will be facilitated through ITC registration.

Sponsorship Opportunities
The Innovations in Technology Conference offers unique opportunities for companies to demonstrate their corporate leadership in the civil legal aid technology community. LSC is looking for companies to sponsor the 2022 Innovations in Technology Conference. Download the sponsor packet to see the opportunities. If your company is interested in being a sponsor contact Laurel Freeman at freemanl@lsc.gov or (202) 295-1606 to discuss sponsorship options. 
Thank You to our Sponsors: