Disaster Relief Emergency Grants
LSC currently has two disaster relief grant programs that are open for applications.
2017 Hurricanes and California Wildfires Disaster-Relief Grants
Applications Due on June 4, 2018
Application materials and descriptions of eligible activities, grant requirements and the review and selection process are available in the Notice of Funds and Request for Applications
Congress has provided LSC with $14,250,000 for grants to existing LSC grantees to support delivery of legal services related to the consequences of all cyclone and hurricane stages of Hurricanes Harvey, Irma, and Maria and of the calendar year 2017 California wildfires (2017 Hurricanes and California Wildfires). 
These grants will fund necessary expenses for grantees to provide (1) mobile resources, (2) technology, and (3) disaster coordinators for pro bono volunteers, all of which must be necessary to provide storm-related services to LSC-eligible clients in the areas significantly affected by the 2017 Hurricanes and California Wildfires. 
LSC strongly encourages LSC grantees to apply for funding through these grants for any activities that meet the grant criteria.  For disaster-related needs that are beyond the scope of these grants, LSC grantees may also apply for grants from LSC's Disaster Relief Emergency Grant Program, described below, which is not limited to specific disasters or specific types of activities.  LSC has only $2,000,000 available for those Disaster Relief grants. Entities applying to both the 2017 Hurricanes and California Wildfires and LSC's Disaster Relief Emergency Grant Programs should submit those applications at the same time and explain how the activities described in each application relate to each other in addition to the information requested in the 2018 Hurricanes and Wildfires instructions at Appendices III—Rating Criteria and IV—Budget Instructions.
Disaster- or Emergency-Relief Grant Program
LSC's Emergency Relief Grants provide funds as needed to LSC grantees in areas with government-declared emergenies.  Those funds are for responses to damage sustained or a surge in demand for legal aid as a result of the emergency.  Instructions for applying appear below.  Please see our Emergency Grants notice in the Federal Register.  For services involving the consequences of the 2017 hurricanes or wildfires, please see also the 2017 Hurricanes and California Wildfires Disaster-Relief Grants instructions above.  
Overview
We have developed expertise in supporting emergency and disaster responses through a network of legal services and national partners to help our grantees better serve low-income clients when disasters or emergencies occur.  Through a coordinated national infrastructure, we provide access to resources and information vital for legal aid organizations' response to disasters and emergencies.
We seek to fund proposals to provide the following services:
Mitigate the damage sustained by our grantees
Address the surge in demand for legal aid as a result of a disaster
Eligibility
In order to apply for a Emergency Relief Grant, your program must meet the following criteria:
Be a current LSC grantee and;
Provide services in an area where any government, tribal government, or equivilant has made an emergency declaration, inculding federally declared disasters as identified by the Federal Emergency Management Agency (FEMA); or
Provide services in an area where there has been any other substantial emergency. Please contact LSC if you are unsure if your emergency qualifies. 
How to Apply
There is no application deadline. You may submit the application within a reasonable time after the disaster or emergency event has taken place. Please email emergencygrants@lsc.gov to request an application. 
Reporting, Compliance Requirements & Applicable Law
All grants and grant recipients are subject to all the requirements of the Legal Services Corporation Act and any applicable appropriations acts, laws, rules, regulations, policies, guidelines, instructions, and other directives. These provisions contain restrictions on the activities of those who receive our funds and may affect the eligibility of potential applicants. Recipients of LSC Emergency Relief Grants must comply with all LSC requirements.
Please visit Grantee Guidance for more detailed information about reporting and compliance requirements as well as applicable law.
Awards
Midwest Legal Disaster Coordination Project
In addition to funds for our regular emergency-relief grants, in 2014 and 2016, LSC recieved private funding for the Midwest Legal Disaster Coordination Project, a grant designed to foster strong and sustainable relationships between disaster-preparedness organizations and legal service providers in the Midwest.
Our grantees in 10 midwestern states were eligible to apply for funding to create a disaster-response plan. Iowa Legal Aid and Legal Aid of Nebraska were selected through a competitive application process to undertake these efforts.
These grants support the hiring of disaster coordinators, who engage with local community service providers to create a disaster response plan.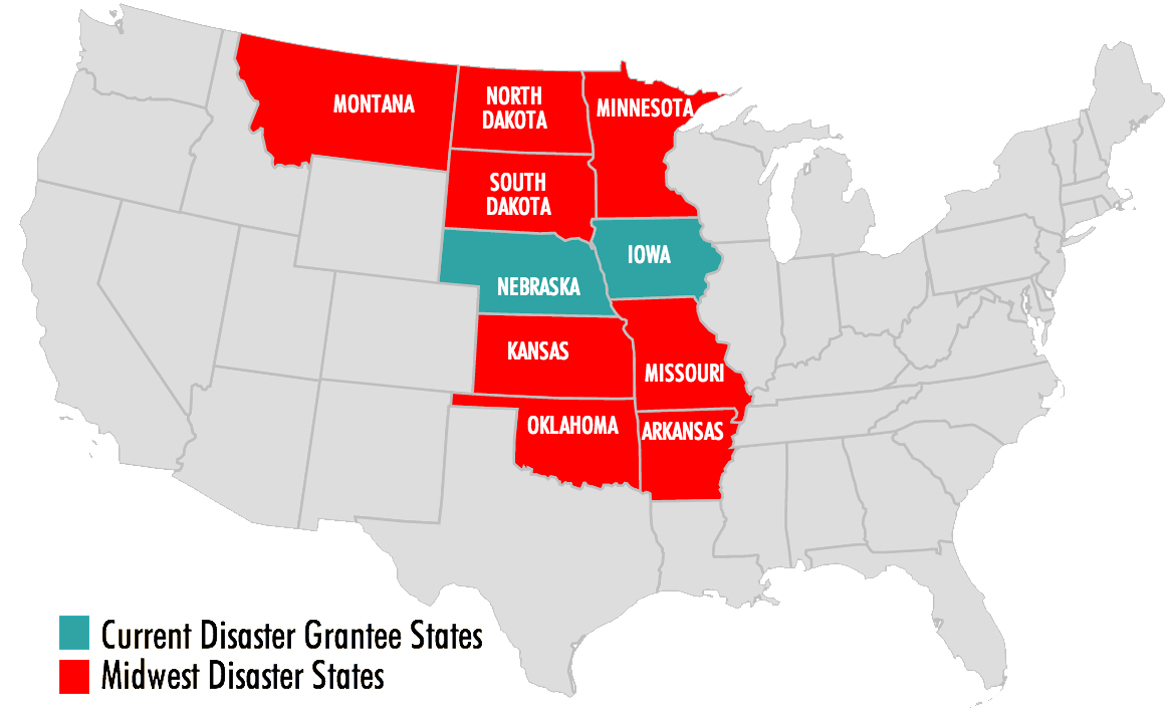 Iowa Legal Aid
Award amount: $367,700
Using its extensive experience in disaster recovery, Iowa Legal Aid developed mobile technology to help disaster survivors better reach legal aid programs after a disaster occurs. Iowa Legal Aid partnered with Pro Bono Net to adapt its mobile template for an application that provides disaster-related resources to clients and attorneys.
Additionally, Iowa Legal Aid created a multi-component toolkit for use by other legal aid organizations across the country. The toolkit helps legal aid programs prepare in advance for the legal responses often needed after disasters and provides best practices for responding to a disaster, including how to assist with long-term recovery.
The project helps legal aid programs cultivate relationships with their statewide disaster recovery community and develops training materials for legal and non-legal disaster responders.
Legal Aid of Nebraska
Award amount: $400,000
To help better prepare Nebraskans to access free legal services when disaster strikes, Legal Aid of Nebraska created an interactive web portal and a statewide legal disaster response training program for attorneys and other stakeholders.
Legal Aid of Nebraska hosted disaster preparedness workshops throughout the state and works closely with local pro bono attorneys to provide free onsite legal aid to disaster victims in afflicted areas. Legal Aid of Nebraska also leveraged its experience with automated forms preparation and online guidance for people without legal representation, forms that can be replicated in other regions.
Submission Deadlines
We accept applications on a rolling basis. If you are considering applying, we encourage you to email us to discuss your specific circumstances.