LSC's Office of Program Performance hosted a webinar on strategic planning, a critical tool that provides strategic clarity to internal stakeholders—board members, leadership, and staff—as well as external stakeholders, including funders, community partners, and the public. Strategic planning also ensures accountability and allows organizations to focus on using their resources effectively and efficiently.
The webinar covered the following topics:
The importance of strategic planning
The steps involved in strategic planning
Key participants to engage in the process
Strategies for implementation and ways to track progress
What Is Strategic Planning?
What is strategic planning and why do it?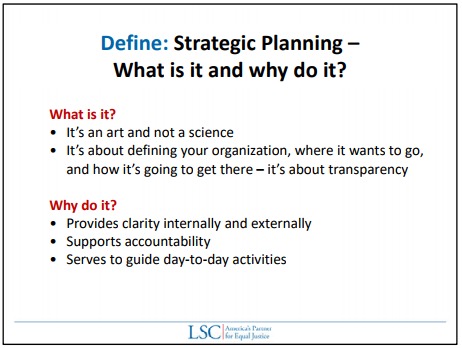 As mentioned in the webinar, there's really no one-size-fits-all approach to strategic planning. According to Ron Prater, founder and COO of Bent Ear Solutions and one of the presenters of the webinar, there are many models and programs, and you need to decide which one fits your needs and your environment.
"Strategic planning is about making decisions and gaining agreement that these decisions are the best choices given the environment, resources, and time constraints. It's meant to provide focus to an organization and articulating that focus to staff and key stakeholders. It's not, however, a one-time event. If done right, a strategic planning process can:
Provide clarity both internally and externally. It allows the board and staff to not just know what the organization is trying to accomplish, but to also be part of the sausage-making. This is important for buy-in. A key activity to obtain buy-in is including the right people in the process. Having the right people involved at the right time greatly increases the clarity of your plan. For example, a solid strategic plan can also provide private funders what they need in terms of the impact you'd like to have and how you plan on making that impact.
Support accountability. A well-written strategic plan identifies what it is you're trying to achieve, how to get there, and how to measure success. This, in turn, can help you measure the success of everyone involved, including the board, the executive director, as well as staff.
Serve to help guide day-to-day activities. Employees want to know how their work fits into the corporate vision, strategy, and goals. A well-written strategic plan helps communicate this relationship between the employee's work and what the organization wants to accomplish."
This process includes a few steps. According to Ron:
Part of defining the strategic planning process involves clarifying your intent. Why are you developing a strategic plan, and why now?
Feedback from the Field
To get some real-time insight into organizational strategic planning, and to craft a full picture of the process, we asked our webinar audience a series of questions throughout the program. The results of these poll questions are listed below and were discussed in the webinar.
Question 1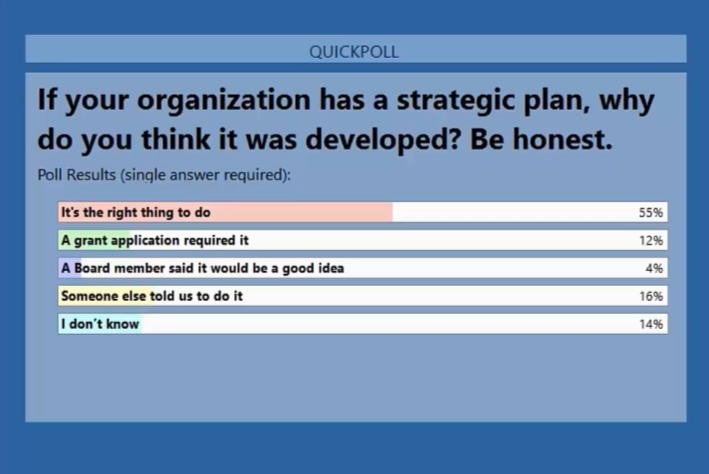 Question 2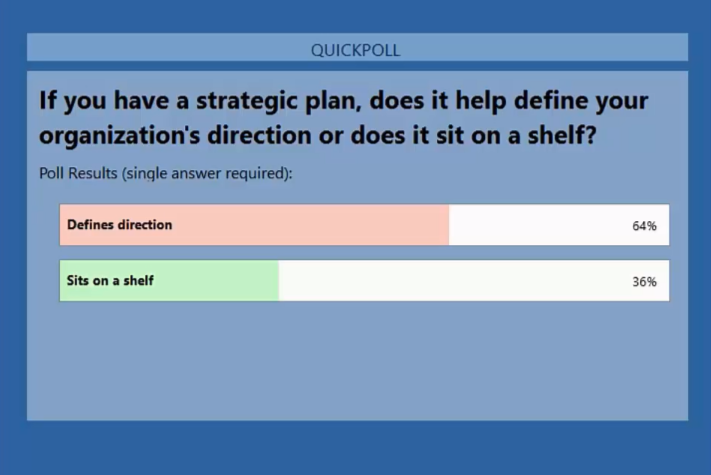 Question 3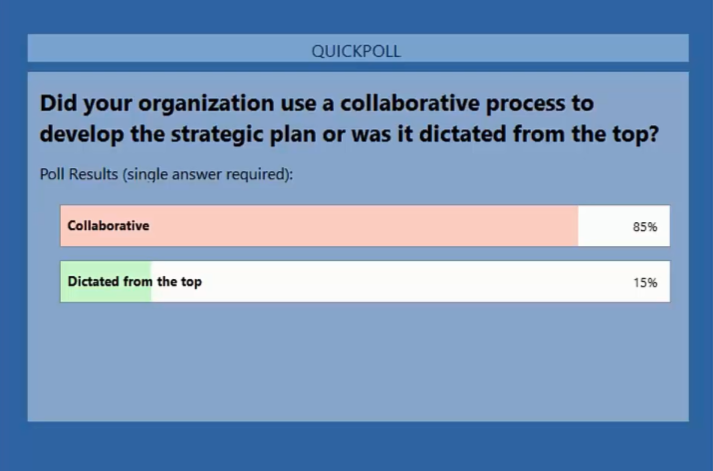 Question 4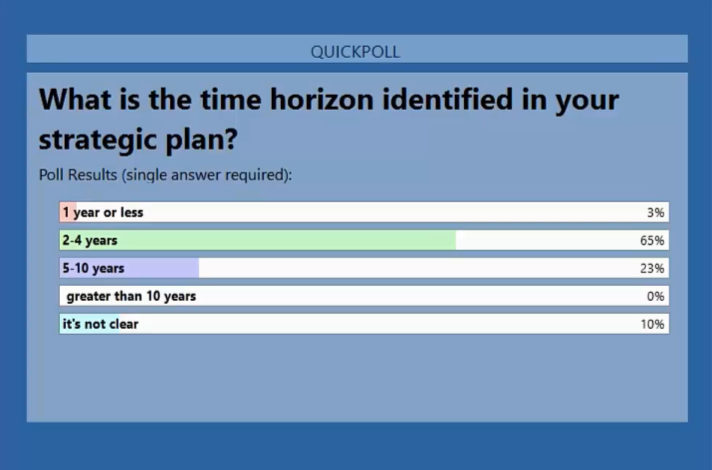 Question 5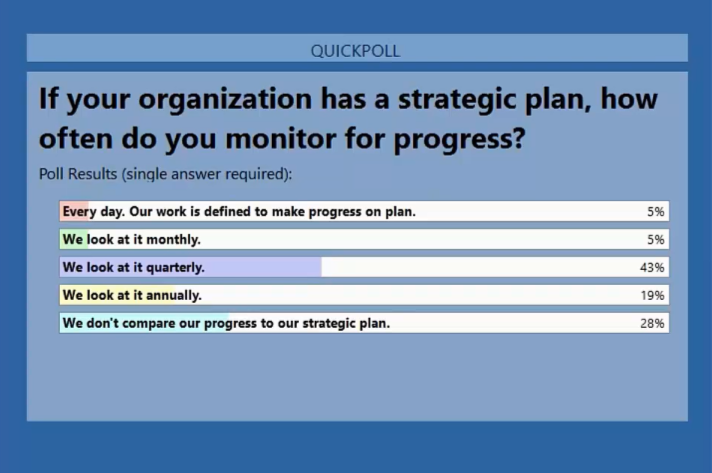 Strategic Planning at LSC Grantees
Three LSC grantees that do strategic planning well, as discussed in the webinar, are Legal Aid of Arkansas, Northeast New Jersey Legal Services, and the Legal Aid Society of San Diego.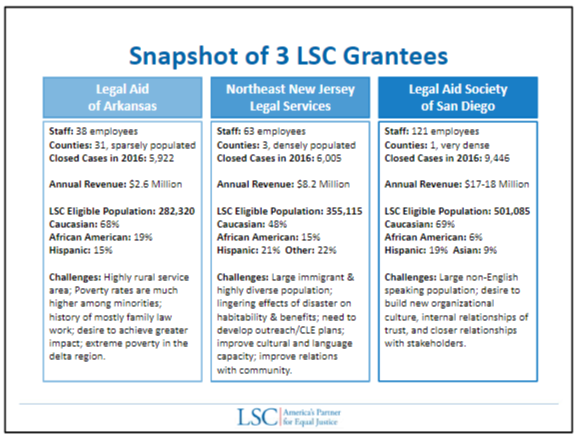 This snapshot is a side-by-side comparison of some important characteristics of the three grantees. The characteristics highlight the ranges of starting points from which legal services providers may begin. (Note the difference in the number of employees and geographic area served.)
Perhaps more importantly, check out the size of the eligible populations versus the budgets. Legal Aid of Arkansas has more than half the number of eligible persons but less than one-sixth the budget of the Legal Aid Society of San Diego, so it's important that they have a comprehensive strategic plan in place to efficiently and effectively provide services to the people in their community. Below is a graphic of Legal Aid of Arkansas' strategic planning process (the strategic planning processes of the Legal Aid Society of San Diego and Northeast New Jersey Legal Services are also covered in the webinar).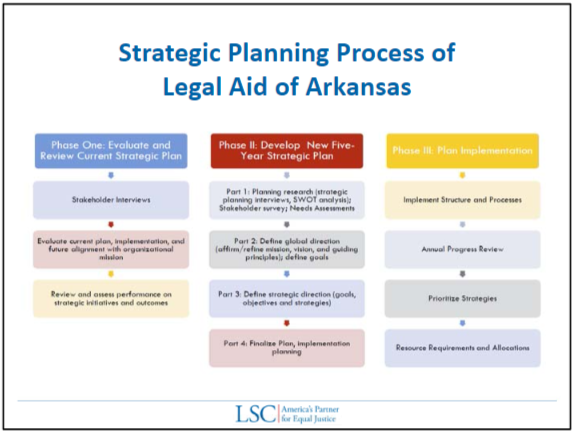 Legal Aid of Arkansas' strategic planning process starts with an evaluation of their current plan, during which they interview stakeholders for feedback.
In Phase 2, Part 1, they conduct interviews, surveys, and needs assessments prior to creating a plan. In Part 4 of Phase 2, they plan implementation. In Phase 3, as they implement, they conduct annual progress reviews.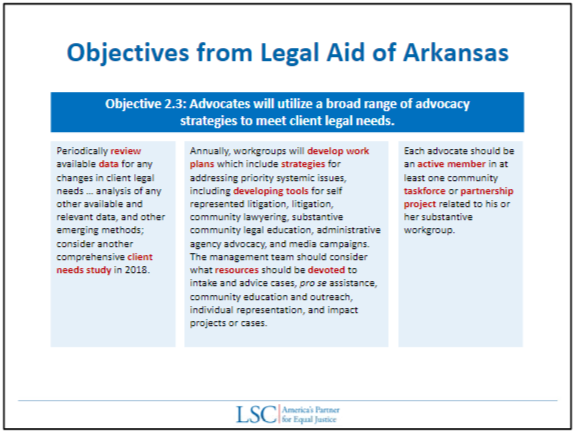 Here's one objective from one of Legal Aid of Arkansas's many goals in their strategic plan. This example is about strategies to meet client needs.
The highlighted words—done by the webinar presenters—represent key words and phrases that define action:
Periodic review of data
Develop work plans
Development of tools
Be an active member of a task force or partnership project (the program wants every advocate to be an active member of a community effort)
Conclusion
If you missed the webinar or would like to watch it again, you can do so here. Additionally, we've made the following files available to download:
Strategic planning is a long, iterative process—not a one-time event. Among its many uses, it can provide clarity both internally and externally, support accountability, and guide day-to-day activities. But most of all, strategic planning is a necessary process for an organization if it wants to succeed.
0