Legal aid organizations should seek to maintain and expand their bases of funding consistent with their mission with the goal of increasing the quality and quantity of services to their clients.
Successful resource development begins with the leadership of the organization's board, along with sufficient, capable, and trained staff—or consultants—dedicated to the development of new resources and maintenance of existing ones.
In order to achieve successful resource development, an organization:
Engages its board leadership in resource development planning and implementation
Implements a carefully designed resource development strategy
Stays abreast of and pursues new opportunities
Develops relationships with potential funders and key supportive organizations
Establishes staff leadership in the fundraising process
To help meet the growing need for private funding in legal aid, our Board of Directors Committee on the Promotion and Provision for the Delivery of Legal Services hosted a panel presentation in October 2012.
Presenters addressed trends in legal aid funding as well as the elements that comprise successful resource development. Presenters also supplemented the theoretical fundraising suggestions with specific examples and provided successes, which included:
Legal Services of South Central Michigan's statewide Access to Justice campaign allowed both individual donors and statewide firms to donate directly to the statewide endowment or to regional and local programs.
Eastern Missouri increased funding from state bar dues and pro hac vice fees.
The Legal Aid Defender Association's Legal Legacy campaign combined funding from law firms and corporations and focused on a capital campaign.
Atlanta Legal Aid Society launched its Private Bar campaign and established an endowment.
Establishing an Endowment
Pine Tree Legal Assistance's Endowment Fund
A number of legal aid organizations have endowment funds. However, at LSC grantees, they are less common. One of the few LSC-funded organizations that has one is Pine Tree Legal Assistance in Maine.
The idea of Pine Tree's endowment fund, dubbed "The Pine Tree Fund," was first conceived in 2011. It took a few years, though, for it to get off the ground.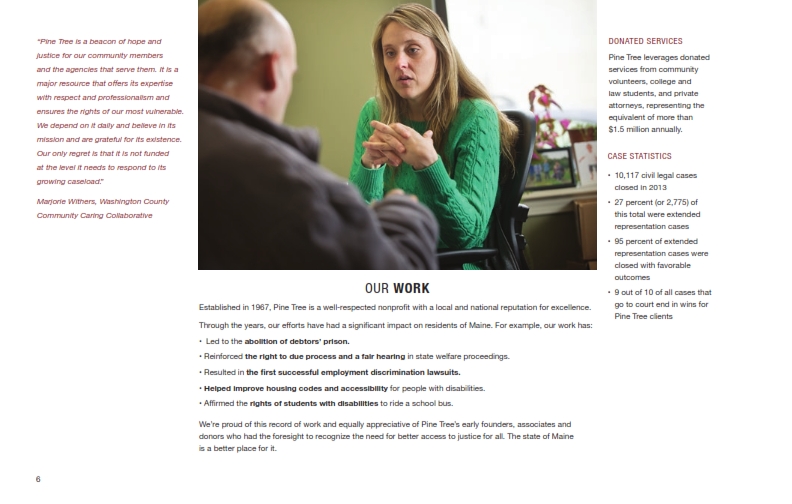 Early on, the organization's board of directors signed off on the fund. Then a feasibility study was conducted in the fall of 2013, which found that the fund's monetary goals could be successfully met. So Pine Tree launched its endowment effort in the summer of 2014, wrapping up in 2016 after surpassing its goal of $1.5 million.
As of December 2016, on the heels of its 50th anniversary in 2017—an event that it has been marketing as a fundraising opportunity—Pine Tree doesn't have all of the $1.5 million in the bank. This shouldn't give anyone pause; the endowment just needs time to grow.
According to the organization:
"The funds generated by a successful $1.5 million campaign will generate annual returns that will help 150 Mainers per year, providing help at a critical moment in their lives and making a difference in their ability to succeed in the future. … The endowment will provide much needed support where Pine Tree needs it the most. The flexibility and adaptability of the endowment fund will allow us to develop our expertise in emerging areas of need or use it to support critical infrastructure in years of financial uncertainty."
In Pine Tree's 12-page brochure for its endowment fund, four words adorn the front page: "Celebrating Achievement, Creating Legacy." (The brochure is a well-put-together and comprehensive tool that goes into detail about the organization's mission and legacy, effective strategies, clients, work, importance for people who need help, facts and figures, and more.) Indeed, contributing to the fund recognizes 50 years of achievements in fighting for equal justice; creating a legacy requires, at the very least, a sustained period of hard work, dedication, and a goal-driven focus.
From 2014 to 2016, Pine Tree worked to recruit a special cabinet for the fundraising effort—many of whom were neither on its board of directors nor lawyers; was confident in negotiating with colleagues about their fundraising commitments; and raised one-third of the $1.5 million from attorneys and law firms. And the program did all of this in spite of the fact that its program management and fundraising expenses were less than 15 percent of its total operating budget.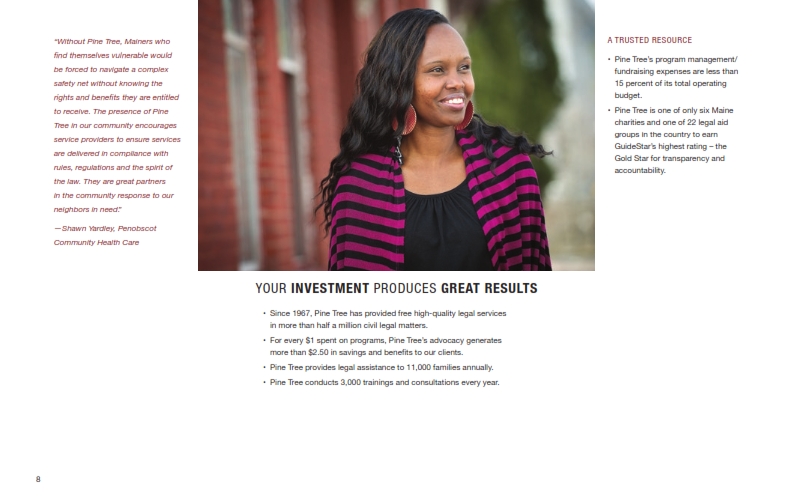 "I believe access to justice is more than an aspirational concept," said Pine Tree's campaign co-chair in the brochure. "As long as people can rely on getting high-quality legal representation at critical moments in their lives, our judicial system succeeds. Absent that access, people feel helpless and our system fails. By supporting this important endowment initiative and celebrating Pine Tree's 50 years of service, we help ensure Pine Tree's continuing legacy of providing a level playing field for the most vulnerable among us." 
Atlanta Legal Aid Society 2012 PBS Documentary
Atlanta Legal Aid Society commissioned David Hughes Duke to create a documentary that demonstrated the organization's history and successes. 
The documentary, "The Atlanta Legal Aid Society—In Its Own Words," describes the organization's early history and then shifts to three of Atlanta Legal Aid's most significant advocacy efforts:
Representation of the Mariel Cubans in the 1980s
Bill Brennan's work on predatory subprime lending, including appearances that he made in Congress
Olmstead v. L.C., the Supreme Court case that gives people with disabilities the right to live in their communities rather than being institutionalized
It concludes with a depiction of Atlanta Legal Aid Society's ongoing work, including a collaboration with Children's Health Care and Georgia State School of Law. The live premiere of the documentary served as a fundraising opportunity, and attendees contributed by making donations and purchasing ads and sponsorships. The documentary aired the day after the live premiere on Public Broadcasting Atlanta.
Raising the Bar in D.C. Funding Campaign
The D.C. Access to Justice Commission launched Raising the Bar in D.C. to encourage large firms to donate to local legal aid organizations.
The campaign had two goals:
Meet the urgent need for funding to support the District's legal services community by establishing benchmarks for law firm giving
Annually recognize and celebrate those firms that have donated at benchmark levels
The campaign urged all law firms, regardless of their size, to give to local legal aid providers at one of three levels:
Platinum – 0.11 percent of D.C. office revenue
Gold – 0.09 percent of D.C. office revenue
Silver – 0.075 percent of D.C. office revenue
By creating benchmarks that were set as a percentage of revenue, the tiers were equally accessible to firms of all sizes. Cash donations, donated attorney's fees, and payments for fellowships sponsored by the firm were all included.
Since its launch in 2010, the campaign grew by $830,000 and had received support from high-profile figures such as former Attorney General Eric Holder and former Washington, D.C. Major Vincent Gray.
Legal Aid of East Tennessee Fifty-Fifty Plan for Equal Justice
The Fifty-Fifty Plan for Equal Justice, launched by Legal Aid of East Tennessee in 2010, encourages private attorneys to increase private giving and pro bono work simultaneously. Not only does the Fifty-Fifty Plan request that private attorneys donate $50 a month to local legal aid organizations, but it also asks that private attorneys volunteer 50 hours of legal services per year.
0