Effective nonprofit management requires a thoughtful plan for the transition of key leadership positions, whether planned or due to emergency. Succession planning anticipates such transitions and encompasses an intentional and systematic effort to ensure leadership continuity, as well as preserve institutional knowledge and minimize interruptions in service.
The need for an organization to have a clear, reasonable, and written succession plan can't be overstated, especially in today's legal aid landscape. According to data from 2015, 94 out of the 138 executive directors of LSC grantees had 30 or more years of experience in the profession, while 3 executive directors had 14 or fewer years of experience in the profession. This means that there's significant leadership experience among LSC grantees, but also a number of likely transitions in which advance planning can play an important role.
Succession Planning in Legal Aid Programs
2016 Snapshot
From executive directors to deputy directors to directors of litigation and more, LSC grantees have a diverse group of leaders who are key to their organizations' success. Over time, however, the composition of management changes with the inevitable retirements, departures, and other transitions.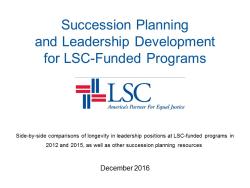 Using data from 2015 and 2016, LSC produced "Succession Planning and Leadership Development for LSC-Funded Programs," which features side-by-side comparisons of longevity in leadership positions at LSC-funded programs in 2013 and 2016, executive director transitions from 2012 to December 2016, and other succession planning resources. For a more comprehensive breakdown of the staffing at LSC grantees, see the 2015 edition of "LSC by the Numbers."
LSC's Promotion and Provision for the Delivery of Legal Services Committee Videos
During the January 2013 meeting of LSC's Promotion and Provision for the Delivery of Legal Services Committee, a panel was convened on succession planning in legal aid programs.
The videos below, taken from the meeting, provide an overview of succession planning and highlight three essential topics:
The importance of planning for succession
The responsibility of a board of directors to choose an executive director
Leadership development
LSC Board's Succession Planning Panel: Overview
LSC Board's Succession Planning Panel in New Orleans: Leadership Development
0