How To Address Community Needs with Medical Legal Partnerships 
Image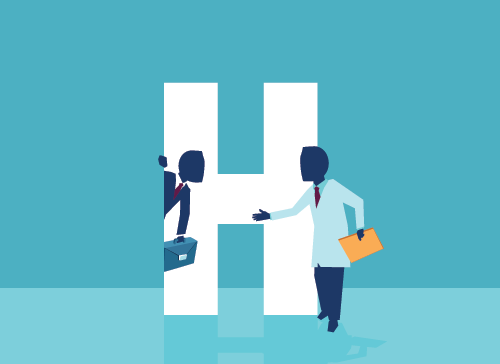 Why create a Medical-Legal Partnership
Medical-Legal Partnerships (MLPs) allow legal aid and healthcare workers to identify patients whose medical maladies might also be tied to civil legal issues.
MLPs can help legal aid providers reach clients who would not normally connect with legal aid. An individual's legal problems may exacerbate a patient's medical condition.  Addressing a patient's legal issues can improve their health outcomes, thereby reducing the patient's trips to the hospital and healthcare costs.
Organizations have launched MLPs in 49 states and the District of Columbia, according to the National Center for Medical-Legal Partnership. Below is more information about two LSC grantee-run MLPs.
Case Study One: A Multi-hospital Network of MLPs
Over the last decade, Indiana Legal Services, Inc (ILS) has launched 12 MLPs in hospitals across the state in partnership with Community Health Network in Marion County and Eskenazi Health centers in Indianapolis. Eskenazi also funds ILS' housing hotline MLP – a resource that can help legal aid attorneys reach clients remotely.
ILS' largest MLP is with the Indiana University Health IU Riley Hospital for Children where five full time ILS staff attorneys work with pediatric care providers. Its two smallest MLPs are the single-full-time attorney MLPS with Eskenazi for the eviction hotline and the Community Health Network Community Hospital East.
All the MLPs focus on helping clients address legal challenges that may be negatively impacting their health. One example was an elderly client, Janet, who complained to her primary care physician at Community Hospital East in 2016 about how the stress of her living situation was harming her mental health.
Janet had struggled to find affordable housing after losing her husband and surviving two bouts of cancer and a hysterectomy. Adding to her challenges were the expensive student loan payments for her medical assistant job and the fact a roommate left to her to pay her unit's total rent. Jane received some money from her late mother's estate, but the checks only arrived after rent was due - which led her to incur $50 late fees each month.
ILS staff negotiated with Janet's apartment complex to stop the $50 late fees, and negotiated with her student loan provider to grant Janet a three-month moratorium on loan repayments. Thus, the Community Hospital East were able to treat her cancers and the ILS staff attorney was able to remedy some of the legal challenges causing her stress. Janet shared in a testimonial that the MLP helped "removed a horrendous burden from my life and made my life lighter."
Eligible clients are referred to ILS' MLP attorneys in different ways depending on the participating hospital's IT infrastructure. Some hospitals refer patients to the legal aid organization via patients' electronic medical records, a form on the hospital's intranet, or in bulk via a secure email.
In March 2020, ILS attorneys ceased in-person visits to the hospitals. Although MLP attorneys were well-prepared for remote work because of how frequently they traveled, ILS noted that not visiting clinics in person did initially reduce referrals. ILS is currently preparing for a rise in housing case referrals in light of the end of the moratorium on evictions.
In addition, the healthcare partners also help advertise the MLPs. Eskenazi Health, for example, displays posters about the legal aid service in its hospitals. It has also given a news interview about their work with ILS and features information about the MLP on its website. The health system also shares information on social media about upcoming legal clinics at its hospitals.
Through the #EskenaziHealth Medical-Legal partnership, Eskenazi Health will be hosting a legal aid clinic today from 11 a.m. – 3 p.m. at Sidney & Lois Eskenazi Hospital. For more information on the #EskenaziHealth medical-legal partnership, please visit => https://t.co/3hHivzdhSZ pic.twitter.com/lmhCzNxNdo

— Eskenazi Health (@EskenaziHealth) June 10, 2019
Currently, ILS employs ten full-time MLP attorneys and five intake specialists and paralegals. In 2019, those attorneys and support staff handled 1,000 advice and extended cases. Housing cases made up the majority of the team's work, followed by public benefits and family law. Common cases include helping clients gain guardianship over grandchildren and expunging records for clients looking for housing and employment.
ILS' goal is to make each MLP financially self-sustainable with funding from its healthcare partners. These partners fully fund each program's staff attorneys, as well as provide access to computers, printers, and telephones when ILS staff were on-site for intake. Two of its MLPs – the Ryan White Legal Project and Project CLeAR – are funded with grants from the Indiana State Department of Health and the Indiana Bar Association, respectively.
ILS estimates it costs $102,000 to run an MLP with one full-time attorney for one year.
Case Study Two: A Pro Bono Program
Community Legal Aid (CLA) created several MLPs since the early 2000s, but launched their first pro-bono MLP in Worcester, Massachusetts in 2015 together with the University of Massachusetts Memorial Health Care (UMass) hospital. Today, CLA runs several MLPs in Central and Western Massachusetts.
CLA launched its Worcester MLP in 2015 with a $209,524 Pro Bono Innovation Fund grant from the Legal Services Corporation. This funding allowed the organization to assess the community's legal needs and develop training materials for the pro bono attorneys. CLA created a steering committee with the hospital's vice president and general counsel, leadership from UMass Memorial and medical providers that met monthly to discuss any problems.
Since 2015, the MLP has recruited a total of 112 volunteer attorneys from small and large local firms as well as solo practitioners. The program focused on addressing the community's need for housing, special education, public benefits, and guardianship.
CLA assigns both short advice cases and longer cases to these pro bono attorneys, who spend an average of 10 hours with each client. Staff say some cases (such as social security and disability cases) can last a year and a half while clients wait for hearings. And some pro bono attorneys have followed special education cases for over two years as families seek medical diagnoses for their children and update their Individual Education Program. CLA staff reported that pro bono attorneys find working these extended cases meaningful and rewarding. Forty pro bono attorneys worked on MLP cases in fiscal year 2020 and donated a total of 344 hours to the partnership.
The Worcester MLP now operates in four UMass Memorial clinics that target different patient populations, including pediatric and elderly patients. One CLA staff attorney manages the UMass MLP full-time alongside an AmeriCorp intake paralegal. A part-time pro bono coordinator at CLA also helps manage the core group of local pro bono attorneys who volunteer with the partnership.
The four UMASS Memorial clinics referred a total of 180 cases between October 2019 and September 2020, and have closed 145 of them so far. Pro bono attorneys handled about 70% of the MLP's caseload, per staff. The most common case type was housing, which made up 40% of the caseload. Disability and employment cases were also common.
Pre-COVID-19, the CLA staff attorney and AmeriCorp intake-paralegal at the Worcester MLP visited their four clinics once a week for on-site intake hours or scheduled meetings with clients. CLA staff also conducts phone intake with clients five days a week. Staff then work with their pro bono coordinator to assign cases to the best local pro bono attorneys for the subject matter.
CLA mentors and assists its pro bono attorneys in various ways through this MLP:
CLA staff holds regular training sessions on different areas of law and also issues training materials.
CLA staff also prepares cases materials for volunteer attorneys. For example, CLA staff gather documentation for housing cases (like pictures of mold and letters to the landlord) before they refer cases to the pro bono attorney.
The MLP staff also check in with pro bono attorneys throughout the case. They also help connect attorneys and clients with the medical team if the case requires further medical input – such as a letter of support for a client with back pain who needs to move to a ground floor apartment.
This collaboration helps the volunteer attorney liaise with healthcare workers as needed, and address problems that arise, like reaching a client whose phone number has changed.
Client Stories Video from STRIDE/UMass Medical School on Vimeo.
In 2017, CLA received a $60,000 subgrant from the UMass Medical School to evaluate the MLP. Medical school researchers analyzed case data from 2017-2019 and surveyed 188 former clients into a 29-page report. The analysis found that:
55% of clients surveyed said the MLP improved their health, and 86% said they would use the program again.
In several instances, healthcare workers referred patients to CLA with one legal problem (e.g.,  eviction) and  attorneys regularly discovered that the clients had several other legal issues (e.g., access to disability payments, help requesting reasonable accommodations, etc.), which they could address.
While the MLP initially required UMASS to increase its commitment of resources UMass in its first 90 days, the evaluation found that the partnership "substantially" reduced the hospital's costs over two years.
As with ILS, CLA ceased in-person visits to UMass Memorial in March due to COVID-19 restrictions. Staff report that they continue to receive referrals from healthcare professionals, but the inability to visit in person has made it harder to onboard new CLA staff hires and train pro bono attorneys.
Lessons Learned
ILS and CLA both recommend that civil legal aid organizations spend at least a year brainstorming how a MLP will work and be funded before launching. CLA emphasized the usefulness of their steering committee staffed by CLA and hospital representatives, including UMass's general counsel who helped recruit pro-bono attorneys.
Both legal aid organizations recommend securing funding from a health partner for at least one full-time attorney to manage an MLP. For larger healthcare systems, ILS recommends staffing the MLP with at least two attorneys and support staff. ILS found the best way to train new MLP attorneys was to have them shadow working MLPs.
Attorneys at ILS and CLA stressed the need to train MLP staff and volunteers in cultural competency to better connect with clients. Both grantees recommended specific training to cultivate empathy for clients in crisis who may be difficult to reach. Grantees also recommended communicating realistic timelines to staff and pro bono attorneys when, for example, it may take some time to schedule a call together with a client, attorney, and intepreter.
Both organizations recommended having laptops for traveling attorneys and a private meeting room in the hospital or clinic where client conversations cannot be overheard.
ILS staff recommended being flexible on referral systems and to choose whatever methods are easiest and quickest for healthcare staff to use.
Additional Resources
How To Address Community Needs with Medical Legal Partnerships
0