COVID-19 Website Banners and FAQ pages
Image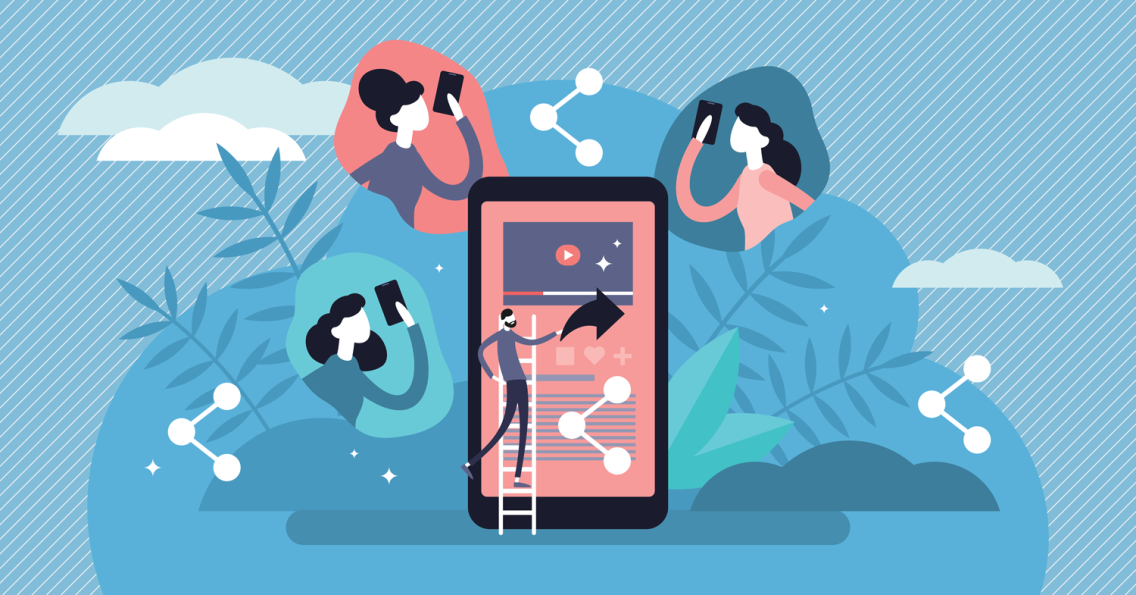 Case Study One: A Pop-Up Announcement, Website Banner, and Resource Page
Land of Lincoln Legal Aid developed a COVID-19 resources page in March and promoted it on social media. Some readers reported difficulty finding the page, so staff added a COVID-19 pop-up announcement and a website banner to their homepage.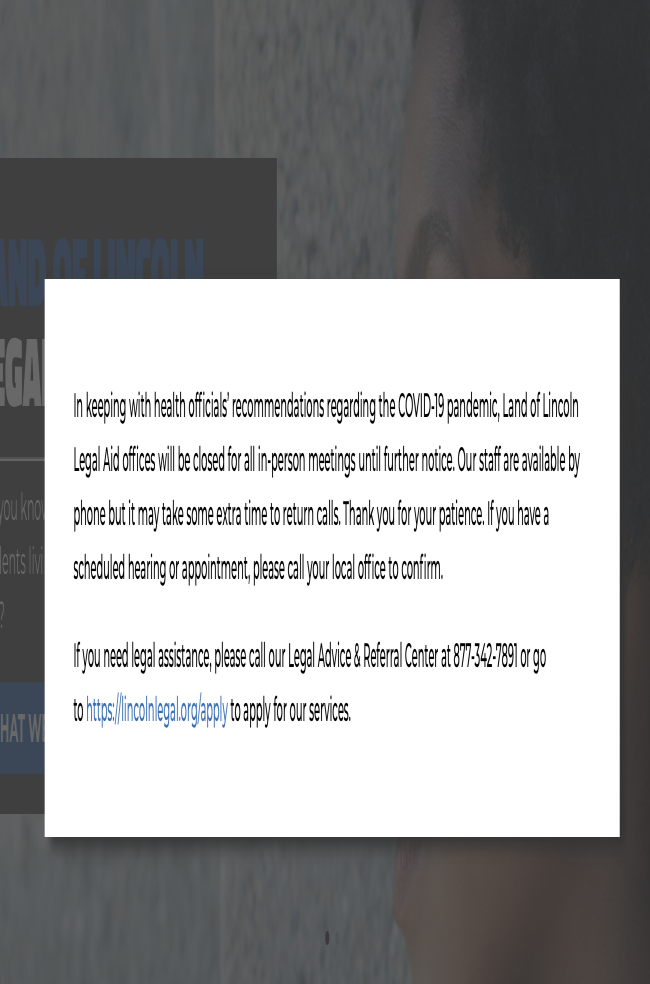 The website's pop-up is the first thing readers see. It alerts potential clients that they can ask for help online or by phone. When readers close the pop-up, they can click on the blue "Learn More" button on the website's COVID-19 banner.

Land of Lincoln's resource page compiles a list of answers to frequently asked questions about how COVID-19 impacts topics like landlord-tenant law.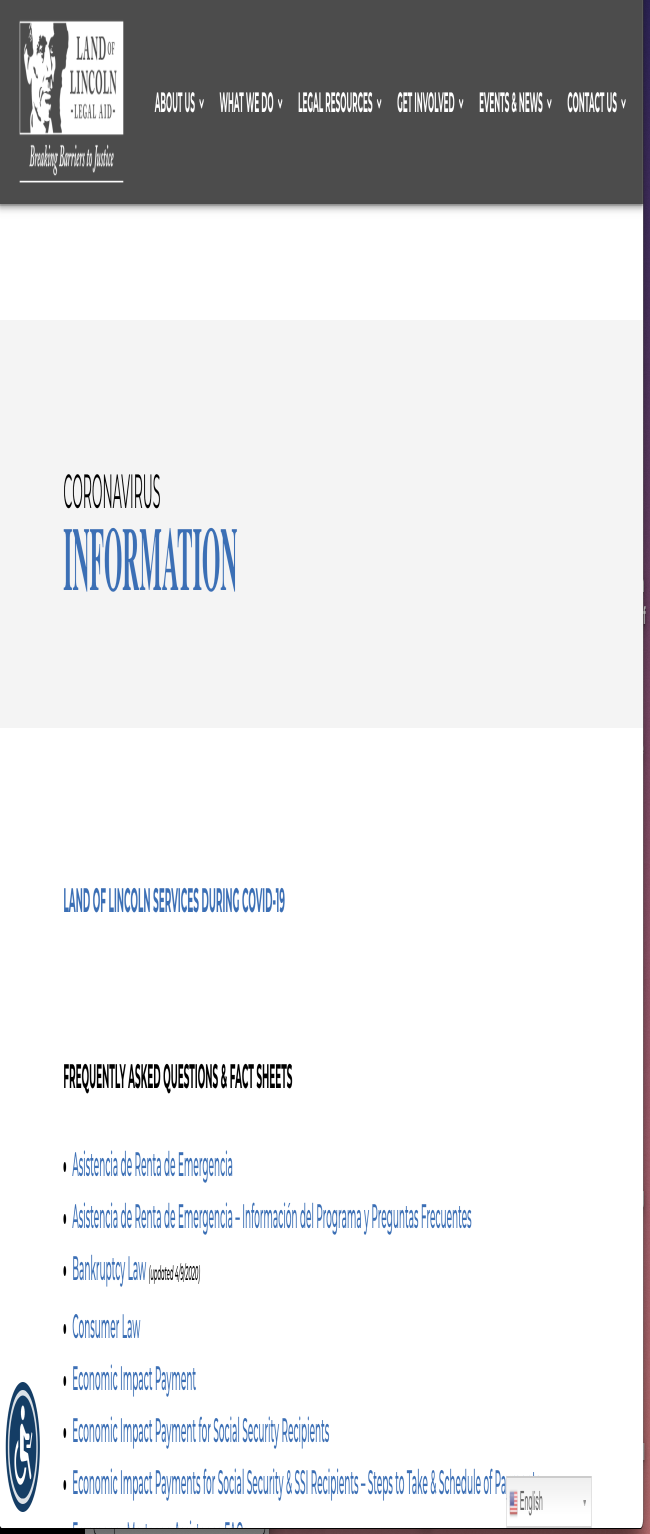 Internally, Land of Lincoln's Director of Litigation and Advocacy works with the organization's various Task Force Chairs to create or update these answers. The organization's Manager of Donor Development and Communications is then in charge of posting any updates to the resource page, banner, or pop-up.
Land of Lincoln's website uses a Google Translator plugin. However, the plugin does not work with the COVID-19 pop-up or the PDF files on the resources page. The website also has a UserWay Accessibility Widget to toggle options like contrast and text size. The widget also does not work with the COVID-19 PDF files but does work with the pop-up on the homepage.
Land of Lincoln, which contracts out their website design, reported it took three hours for their designer to create the pop-up and website banner.
Case Study Two: An Accessible, Integrated Banner and Resources Page
GeorgiaLegalAid.org is a statewide website and self-help resource run by the Georgia Legal Services Program (GLSP) and Atlanta Legal Aid Society (ALAS). ALAS staff who work on statewide website content added a "Coronavirus Information" button to the top of the website in March.
The button was originally part of the navigation bar. However, the staff found that mobile users could not see the navigation bar and missed this link to their resources page about the pandemic. So, the program's staff also added a COVID-19 banner message. That message sits on the top right of their homepage, next to the logo.
[caption]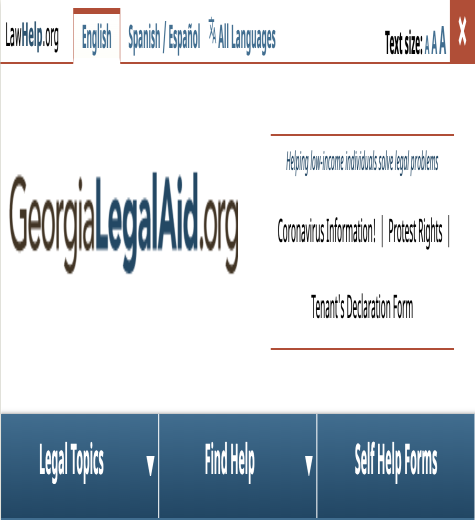 [/caption]
The statewide website's COVID-19 banner and the navigation bar both link to the same, bilingual resource page. This page features collapsible text sections in Spanish and English. Each section explains what federal and local resources exist for healthcare, stimulus payments, consumer scams, school and court closings, and other topics. The section lists website links, phone numbers, and other self-help resources for readers.
The bottom section embeds short, bilingual YouTube videos produced with Atlanta Legal Aid about filing unemployment benefits and fighting evictions, among other topics

The website had been overhauled recently to meet more accessibility standards, ensuring both the current homepage banner and COVID-19 resource page comply with many of those standards. ALAS staff also worked with a Spanish translator from the Atlanta mayor's office to create the bilingual website videos.
Thanks to a 2017 TIG grant, the statewide website staff had already organized workflow and identified content experts for the videos by the time COVID-19 hit. ALAS staffers were also able to use their Teleworking Capacity Building Grant to purchase their video creation software, Lumen5, which costs $19 a month for basic projects.
But while the teleworking grant, TIG grant preparation, and Atlanta collaboration helped, staff reported that creating all their COVID-19 resources was still time-consuming. The web content writer assigned to the job worked exclusively on creating the text resources for three weeks between March and April. Each video also required an additional two to three hours of labor.
Lessons Learned
Land of Lincoln's staff report that their resource page took their designer a day to build and cost $250 because originally, each FAQ was a separate web page. The staff has since transitioned to using one page with links to information in PDFs – something they can upload more quickly themselves and which is cheaper to create.
Both Land of Lincoln and the staff working on the Georgia Legal Aid website learned it was easier to have one person in charge of publishing and updating COVID-19 web content. They reported that a clear workflow was important for quickly reviewing content with staff attorneys and maintaining a consistent, accessible writing style.
Staff working on Georgia's statewide website previously updated their style guide to require public resources be written for a 5-6th grade reading level. Staff noted having this guidance made it easier to write COVID-19 resources in a consistent, accessible style. 
Each of the Georgia COVID-19 resource videos run less than a minute long – a length staff said was necessary to qualify for instant play on Instagram and reach more viewers.
Additional Resources
COVID-19 Website Banners and FAQ pages
0