LSC Updates - April 16, 2010
LSC Board Elects John G. Levi Chairman, Martha Minow Vice Chair
Six presidential appointees to the Legal Services Corporation's Board of Directors were sworn in to office on April 7 and at their inaugural Board meeting elected John G. Levi, a partner in the Chicago office of Sidley Austin, as Board chairman and Martha Minow, dean of the Harvard Law School, as vice chair.
The oath of office was administered by Supreme Court Associate Justice Anthony M. Kennedy during a ceremony at The Eisenhower Executive Office Building that was attended by family members and friends of the appointees.
In addition to Levi and Minow, the new Board members are Sharon L. Browne, a principal attorney in the Pacific Legal Foundation's Individual Rights Practice group and a member of the foundation's senior management; Robert J. Grey Jr., a former president of the American Bar Association and a partner in the Richmond, Va., and Washington offices of the Hunton & Williams law firm; Charles N.W. Keckler, a professor at Pennsylvania State University's Dickinson School of Law; and Victor B. Maddox, a partner in the Louisville, Ky., law firm of Fultz Maddox Hovious & Dickens.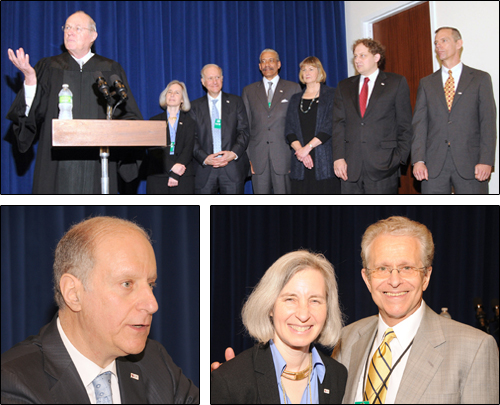 Above: Justice Kennedy administered the oath of office to new LSC Board Members (left to right) Minow, Levi, Grey, Browne, Keckler and Maddox. Below left: John G. Levi, the new chairman, speaks at the swearing-in ceremony. Below right: Martha Minow, the new vice chair of LSC's Board, with Laurence Tribe, Senior Counselor for Access to Justice at the Department of Justice, who attended the event. Pictures by Peter Cutts.
Speakers at the swearing-in ceremony included LSC Board Chairman Levi, Vice Chair Minow, outgoing LSC Board Chairman Frank B. Strickland, LSC President Victor M. Fortuno, Daniel Meltzer, principal deputy White House counsel to the President, and Harold Hongju Koh, legal adviser at the State Department.
Levi, in his remarks, said, "Today, LSC funding, now over $400 million annually, is an essential part of our country's effort to provide civil legal aid for the poor, and we take our Board positions at a time when our nation's poor desperately needs that aid."
Requests for help with foreclosures, unemployment benefits and consumer issues are rising at LSC programs, Levi said. But "even as the need for LSC services increases, the funding resources necessary to make it happen are dwindling," he said, adding that "we will need to find ways to make our dollars go further while seeking even greater financial support."
Learn more about LSC's Board of Directors.
LSC Vice Chair Said to be Potential Supreme Court Nominee
Martha Minow, the new vice chair of LSC's Board of Directors and the Dean of Harvard Law School, is said to be among those being considered by President Obama to replace retiring Supreme Court Justice John Paul Stevens, according to news reports.
Minow, who has taught at Harvard Law School for almost 30 years, counts Obama among her former students and is credited for convincing him to seek a career in public service, according to an April 14 article in the Boston Globe.
"When I was at Harvard Law School I had a teacher who changed my life-Martha Minow,'' said President Obama during the 2008 presidential campaign, according to the Globe article. A spokesman for Minow told the Globe that she is "deeply honored to be considered" for the Supreme Court.
Martha Minow became Dean of Harvard Law School in June 2009. She is also the school's Jeremiah Smith Jr. Professor of Law and has served as the William Henry Bloomberg Professor of Law and the acting director of what is now Harvard's Safra Foundation Center on Ethics.
President Obama nominated Minow to serve on LSC's Board of Directors on August 6 and the Senate confirmed her nomination on March 19. She was sworn in to the Board and elected vice chair by her fellow Board members on April 7.
For more information, read, "Harvard Law dean considered for Supreme Court," in the Boston Globe.
Texas Self-Help Forum Included LSC Presentation
The Texas Access to Justice Commission, the Texas Access to Justice Foundation, the Texas and Dallas bar foundations and other groups hosted a statewide symposium in Dallas on April 8-9 to explore ways to help self-represented litigants protect their rights in Texas courts.
Speakers included Texas Supreme Court Chief Justice Wallace B. Jefferson and Justice Harriet O'Neill, Texas District Court Judge Lora Livingston, and other judges, attorneys and representatives of self-help centers and networks. Jess Dickinson, associate justice of the Mississippi Supreme Court, delivered the keynote address. After the presentations, the attendees worked in groups by counties and regions to create action plans for improving access to justice in their respective courts.
Glenn Rawdon, program counsel for technology at LSC, spoke about the importance of automated forms in providing equal access to justice. In most cases, Rawdon said, automated forms reduce the time that judges and court staff spend in explaining filing requirements and help self-represented litigants start their cases and feel less pressure in the courtroom because they know that the forms present their key information.
For automated forms to be effective, judges and courts must support such initiatives by standardizing practices and forms, discouraging the proliferation of local and individual court forms and requirements, and providing insights into what information judges actually need and use in their courtrooms, Rawdon said.
Prior to the symposium, Chief Justice Jefferson and Harry M. Reasoner, chairman of the Texas Access to Justice Commission, had an op-ed published in three major daily newspapers describing efforts underway in the state to give citizens the tools to protect their legal rights.
Learn from the Experts on LSC's Foreclosure Conference Calls
Are you a legal aid lawyer handling foreclosures for the first time or an experienced advocate frustrated by your steadily growing foreclosure caseload? Are you confused by the complex tangle of state and federal laws at play in this area?
If so, join LSC on its next nationwide foreclosure prevention conference call to listen to and talk with experts in the field about new laws, new strategies and new resources for legal aid lawyers and other advocates working to keep low-income Americans in their homes.
The next call is scheduled for April 29 at 3 p.m. EST. Those interested in participating should contact Malika Bouhdili at bouhdilim@lsc.gov or (202) 295-1550 for instructions. For additional information and resources, visit LSC's Foreclosure Prevention Wiki (contact Ms. Bouhdili for the required log-in information) or the Foreclosure Resources section of the LSC Resource Initiative.
LSC Issues Legal Opinion Regarding Aliens with Citizen Children
LSC's Office of Legal Affairs issued an Advisory Opinion on April 14 entitled, "Legal Assistance to Ineligible Alien Parents with U.S. Citizen Children."
The opinion discusses whether Part 1626 of the Corporation's regulations permits LSC grantees to provide services to parents who are ineligible for services due to their immigration status, but have children who are U.S. citizens and are eligible for services, if the services provided would benefit the children.
The opinion finds that grantees may generally not provide services to the ineligible parents just because those services would benefit the eligible children. In addition, grantees may not provide services to eligible children for their parents' legal claims if the children do not have "legally cognizable claims" of their own. However, grantees can provide services to eligible children, even if the services might benefit the ineligible parents, so long as the children have their own legal claims.
Download the full opinion (
25k) or download other advisory opinions from LSC's Office of Legal Affairs.
Field News
Maryland Legislature Approves Fee Increase to Benefit Legal Aid
The Maryland General Assembly has approved a bill that will increase filing fees for certain court cases in order to generate revenue for the state's legal aid programs.
The increases are estimated to raise about $6 million for the Maryland Legal Services Corporation (MLSC), which distributes state funding to Maryland's legal aid programs, by raising fees from $25 to $55 for civil cases filed in the state's circuit court and by raising district court filing fees from $5 to $18. LSC's grantee in Maryland, the Legal Aid Bureau, receives more than half of the funding distributed by the MLSC.
The bill, which was approved on the last day of the legislative session, is a compromise between the Senate, which sought greater increases in order to raise $9 million, and the House, which sought lower fees that would have raised $4.5 million. Under the final bill, the fee increases are scheduled to expire after three years.
Maryland, like many other states, has experienced a dramatic shortfall in funding from Interest On Lawyers' Trust Accounts, a major source of funding for legal aid programs. The fee increases are an effort to address that shortfall.
Click here for more information.
Atlanta Legal Aid Receives Grant from Christopher Reeve Foundation
The Atlanta Legal Aid Society has received a $5,000 Quality of Life grant from the Christopher and Dana Reeve Foundation to support the work of its Disability Rights Project.
C. Talley Wells, director of the project, says the grant will be used to help disabled individuals, including those diagnosed with quadriplegia like the late Christopher Reeve, move out of nursing homes and live fuller lives in their communities.
Peter T. Wilderotter, the president and CEO of the foundation, said, "We are happy to be able to support Atlanta Legal Aid to create more independence, increase opportunities, and provide support for those living with paralysis along with their families and caregivers."
The foundation's Quality of Life grants were created by the late Dana Reeve in 1999 and are awarded twice a year to non-profit groups that serve paralyzed individuals. More than $13 million has been awarded since the program's inception.
Learn more about the Christopher and Dana Reeve Foundation at www.christopherreeve.org.
Tennessee Bar Honors Law Firm for Pro Bono Work
The Tennessee Bar Association has recognized the law firm of Miller & Martin PLLC for its commitment to providing pro bono legal services to the poor in Chattanooga and Nashville, including through its partnerships with Legal Aid of East Tennessee and the Legal Aid Society of Middle Tennessee and the Cumberlands.
Lawyers with the firm volunteer at the Legal Aid Society's legal advice clinic for the homeless and provide free legal advice to the organization as its special counsel. The firm's lawyers also participate in Legal Aid of East Tennessee's legal advice clinics and serve on the organization's board of directors.
The firm was also recognized for its work with the Nashville Bar Association's Pro Bono Program and for its lawyers who serve as leaders of access to justice efforts throughout the state, including the Tennessee Supreme Court Access to Justice Commission and the Tennessee Bar Associations Access to Justice Committee.
Click here for more information.
Success Story from Central California Legal Services
Legal aid is about helping ordinary people with real-life problems. Client stories illustrate the day-to-day struggles-and victories-of poor Americans seeking justice under law.
DOJ Grant Helps Protect Victim of Domestic Violence
Mai Vang (names have been changed) came to the United States with her husband, Tou Lee, and two small children in 2007. She had suffered many years of violence at the hands of her husband while in Thailand. Her mother-in-law and father-in-law perpetuated her husband's violence against her by always telling her that if she were just more obedient, patient, and didn't argue back with her husband things would be better.
The violence against Mai continued when she came to the United States. She never called the police because she did not speak English and her husband would tell her, "If you call the police, you will be dead before they get here." The violence escalated after she had her third child.
In October of last year, he ran after her with a knife during one of his fits. She left the home the next day with all three children and fled to another state where she obtained a protection order with the help of legal aid there. In the mean time, Mr. Lee had filed for custody here in Fresno. She was afraid she would have to return to Fresno for her custody case and once again put herself in danger. Mr. Lee had repeatedly told Mai, when they were still living together, that if she ever left him and took the children with her, he would find her and kill her and the children.
As a result of a new two-year grant from the Department of Justice, Office on Violence Against Women Legal Assistance Victim Program the program was able to represent her at the custody hearing in Fresno and have her appear by telephone as well as get a court order that all her appearances are by telephone. "This is extremely important because it is a known fact that the most dangerous time for a victim is when she leaves her abuser. Without this grant and therefore without our representation, she probably would have returned to Fresno to attend the court hearing and put herself in danger or not have shown up to the hearing at all and therefore would have lost her children to Mr. Lee," says attorney Jaime Xiong-Vang.
Note: This story originally appeared in the February 2010 issue of Central California Legal Services' newsletter, The People's Advocate. Download the full issue (
1mb) or visit the group's website, www.centralcallegal.org, to learn more.
---