LSC Updates - April 4, 2011
Assistant Attorney General West Speaks at LSC Black History Observance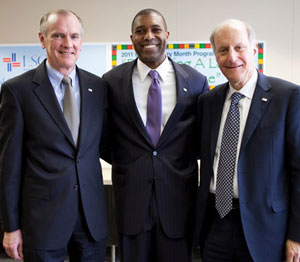 Above: Assistant Attorney General Tony West speaks at LSC's Black History Observance. Below: West stands with LSC President James J. Sandman (left) and LSC Board Chairman John G. Levi. Photos by Dakota Fine.
Addressing the audience at LSC's Black History Observance, Assistant Attorney General Tony West said, "We know that access to justice requires access to quality legal services. Access to justice requires you."
Mr. West, who heads the Justice Department's Civil Division, was the keynote speaker for the March 15 event, "Preserving a Legacy of Service." LSC President Jim Sandman welcomed guests, including students from the Cesar Chavez Public Charter School for Public Policy, and LSC Board Chairman John G. Levi introduced Mr. West.
"Since becoming Assistant Attorney General two years ago, I've often talked about LSC's legacy of service and about your tireless work to ensure access to justice to communities across our country. I've often spoken about your work because, first, it inspires me deeply, and second, it reminds me of the conviction that I know we share—that the small steps in service that we take can create giant leaps of difference," Mr. West said.
"Service is the road on which justice travels," he added.
Mr. West noted that LSC-funded programs lack adequate resources to meet the legal needs of low-income Americans, adding, "We know investment matters." That is why President Obama has proposed a $30 million increase in LSC's budget over current levels, to $450 million, Mr. West said.
LSC is the single largest funder of civil legal assistance. Established in 1974, LSC operates as an independent 501(c)(3) corporation and receives an annual appropriation from Congress to help ensure the delivery of civil legal assistance to low-income Americans. LSC grants are distributed to 136 nonprofit legal aid programs in every state, the District of Columbia and the U.S. territories.
Board Chairman Levi delivered the opening remarks for the Black History Observance. Invoking the program's theme, he said, "The staff attorneys, paralegals and administrative staff in LSC programs are the true heroes of the legal profession—working for far too little pay and very long hours. Serving others is what is important to them, as professionals, and in their private lives."
In his remarks, Mr. West also recognized and praised the everyday work of legal aid attorneys and support staff as important to clients and the nation. "You remind us that the unfinished work of justice is not past, it is here. It is now. Because families facing foreclosure or bankruptcy—they need your legal expertise right now. The couple who has lost their small business to illness but desperately need medical coverage—they need your counsel right now. The 20 million children who qualify for LSC-funded programs, many of them are in families that have fallen apart—they need your advocacy now," he said.
Guests included three students from the Cesar Chavez school who were winners of a student essay challenge and school representatives; Jo-Ann Wallace, president of the National Legal Aid and Defender Association; Alan W. Houseman, executive director of the Center for Law and Social Policy; Ann Carmichael, legislative counsel, American Bar Association; Julie Clark, vice president for strategic alliances, NLADA; Don Saunders, vice president for civil legal services, NLADA; Melanca Clark, senior counsel, Access to Justice Office, Department of Justice; Danielle Grey, senior counsel to Mr. West; Natalia Merluzzi, special assistant to Mr. West; Brenda Ford Harding, executive director of the Neighborhood Legal Services Program of the District of Columbia, and Jack Keeney, director of the Barbara McDowell Appellate Advocacy Project of the Legal Aid Society of the District of Columbia.
LSC Chairmen: Legal Aid Cuts Will Harm Access to Justice
By John G. Levi and Frank B. Strickland, Atlanta Journal Constitution - March 31, 2011
The House of Representatives' proposal to cut funding this year for the Legal Services Corp. (LSC) goes to the heart of our American values — equal access to justice and equal justice under law.
These values are not lofty abstractions. As we have seen firsthand, legal aid attorneys across the nation find solutions to critical legal problems confronting low-income Americans. These attorneys last year handled nearly 1 million civil matters involving households with 2.3 million people. They helped families fight unlawful eviction, ensured military veterans received fair treatment, helped women escape domestic violence, protected the elderly from scam artists and responded to the needs of disabled citizens.
For the last 36 years, Congress has appropriated funds for civil legal assistance, and the current level is $394.4 million. Now, in the middle of a fiscal year, the House has targeted LSC for a $70 million cut in these funds, which would immediately impact 136 nonprofit legal aid programs assisting clients in the 50 states, the District of Columbia, Puerto Rico and U.S. territories.
The House-passed cut would mean fewer low-income people, by the tens of thousands, being able to obtain help for their critical legal problems.
John G. Levi and Frank B. Strickland are the current and immediate past chairmen, respectively, of LSC's Board of Directors. Click here for the full article.
National Law Journal Publishes Special Report on Legal Aid
The National Law Journal published "Legal Aid: A Special Report" on March 14 examining the impact of legal aid programs on the clients they serve and the funding crisis facing LSC programs.
"As these stories demonstrate, the need is great, and cases run the gamut—from domestic violence to home foreclosures to medical claims. In all, a common theme emerges: Legal aid, for these clients, was their only hope," the National Law Journal said in its introduction to the report.
The National Law Journal found that state support for civil legal assistance has been harder to come by for legal aid providers in recent years as state lawmakers have grappled with budget shortfalls.
Wisconsin has proposed reallocating 75 percent of the money generated by a $4 justice information fee, typically a court fee or a filing fee. That money has gone to legal aid providers in the past, but it would be used to fund other projects in the criminal justice system under the governor's proposal. Legal aid providers have said it would result in a $4 million loss in funding.
The Legal Services of New Jersey system, which is made up of six legal aid organizations across the state, saw a nearly $10 million decrease in state support during the 2010-11 fiscal year coupled with a decline in Interest on Lawyers' Trust Account funds from more than $40 million in 2007 to $8 million in 2010. It has cut about 200 of its 700 positions since 2007 as a result.
LSC Board Chairman John G. Levi and LSC Board member Sharon L. Browne were interviewed as part of the special report. LSC "is a program that goes to the heart of our country—equal justice under law," Mr. Levi said.
Click here for the National Law Journal report.
New York Times: Slashing Civil Legal Aid is "Penny and Pound Foolish"
"Given the economic crisis, and the long line of desperate clients, this is the worst time to be cutting federal support for civil legal services," wrote The New York Times in a March 8 editorial opposing a proposed cut to LSC's budget.
The article, part of the paper's "Penny and Pound Foolish" series on proposed federal budget cuts, notes that cash-strapped states have already cut their funds for civil legal aid and once-reliable revenue from Interest on Lawyers' Trust Accounts has all but evaporated due to low interest rates.
"That makes federal dollars even more crucial," wrote the Times.
ABA President Urges Support for LSC Funding
The president of the American Bar Association, Stephen N. Zack, has urged the Congress to "make it clear" that civil legal assistance is off limits to budget cuts at a time when justice is already threatened by a funding crisis in state courts.
Writing in The Hill newspaper on March 17, Mr. Zack said, "Access to justice will worsen if Congress slashes its funding of the Legal Services Corporation, the go-to provider of civil legal help for poor and working class Americans. Right now, proposals are on the table to cut legal aid for the rest of this year by $70 million. . . . Legal aid providers tell us that many of their clients are people they've never seen before—the new poor, the newly struggling due to long-term unemployment. Legal aid lawyers stand between these people and total financial and legal disaster. We need Congress to act now and make it clear that legal aid is simply off limits in this economy."
The current Continuing Resolution for Fiscal Year 2011, an interim funding bill, expires on April 8. The bill maintains LSC at its Fiscal Year 2010 budget levels. The House of Representatives has passed a $70 million cut in LSC basic field funding from current levels, reducing the funds to LSC grantees by about 18 percent. The impact of the proposed reduction would be devastating. An estimated 160,000 fewer low-income Americans would receive civil legal assistance and an estimated 80,000 fewer cases would be handled by LSC-funded programs.
Click here to read "Justice in Jeopardy," by Stephen N. Zack.
LSC President Praises Collaborations
The 6th annual national medical-legal partnership conference was held March 24-25 in Baltimore, and the conference theme, "A New Standard of Care," explored transformations in the legal and health-care communities and partnership innovations with an eye to sustainability.
LSC President James J. Sandman, in his remarks at the conference, recommended that legal services providers focus on the lessons learned from medical-legal partnerships and propagate the model in other areas where different professions overlap in serving low-income people.
To help expand the model, Mr. Sandman said LSC can offer access to the largest national legal aid network—136 LSC programs with 919 offices in every state and territory—and can serve as a "national convener" to bring together interested parties from the federal, state and local levels.
Mr. Sandman also participated in a March 29 national disaster telephone conference call that included updates from the Federal Emergency Management Agency and the American Red Cross. He expressed his support and gratitude for the collaboration and said it too could be a model for the delivery of legal services—"going to where our clients are when they need us."
On March 22, Mr. Sandman met with Pennsylvania project directors, IOLTA officials and others in the Pennsylvania Legal Aid Network during a visit to Harrisburg.
After the meetings, Mr. Sandman said, "I am very impressed by the extent of collaboration among all those involved in legal services in Pennsylvania—LSC programs, non-LSC programs, the judiciary, the state and local bar associations, the state bar foundation, the IOLTA program, and private attorneys. The statewide awards dinner was a great demonstration of the variety of people involved, the quality of the work they do, and the sense of teamwork that pervades the delivery of legal services throughout the state."
Field News
New Report on Poverty in New Jersey
Nearly two million people in New Jersey are living in or on the brink of poverty, a report issued on March 23 by the Legal Services of New Jersey's Poverty Research Institute found.
Child poverty increased substantially in 2009, to 13.5 percent from 12.5 percent in 2008. An additional 19,000 children fell into poverty in 2009, the report said.
The rise in poverty was especially severe for Hispanic residents. It increased to 18.3 percent in 2009, up from 16.5 percent the previous year.
Click here for a news summary of the report and click here to download the full report. (

3mb)

Connecticut: Federal Cut Would Impact Entire Legal Aid System
Marie P. Grady, Connecticut Law Tribune – March 21, 2011
A proposed $70 million cut in federal legal aid would devastate a Connecticut clearinghouse that assists 15,000 clients a year and further hobble three other agencies still reeling from a dramatic drop in state-based funds, officials said.
Janice Chiaretto, executive director of Statewide Legal Services, said her agency is receiving about $2.7 million this year in federal Legal Services Corp. funding. The proposed cut would mean a $500,000 reduction, or the equivalent of half a dozen staff positions and thousands of clients assisted. Statewide Legal Services is the only Connecticut agency to receive the federal funds, but others would feel the loss because many of their cases are pre-screened and referred by Statewide.
"It would be enormous," said Chiaretto of the proposed cut.
Click here to continue reading.
New York: Civil Legal Aid Cuts Would be "Devastating"
Denise M. Champagne, The Daily Record – March 14, 2011
Proposed federal cuts to funding for legal aid to the poor would severely impact local providers that are already struggling to serve clients.
The House has passed a $70 million cut in Legal Services Corp. funding from the current fiscal year that ends Sept. 30. The corporation is a federal provider of legal services to low-income Americans. One of its recipients is Legal Assistance of Western New York Inc., which serves 14 counties including Monroe and surrounding counties from Lake Ontario to the Pennsylvania border.
LawNY Executive Director Kenneth C. Perri said locally that would result in a loss of nearly $240,000—about 14 percent—in funding.
"That in and of itself would be devastating," he said. "What really exacerbates that is that it's current funding, so the cut would be double. We would have six months to absorb it as opposed to 12 months."
Perri said conservatively speaking, that amount would fund about four full-time attorneys which, if cut, would mean 800 fewer families being served.
Click here to continue reading.
Tennessee: "Legal aid a sacrifice our society can't afford"
Gary Housepian, Executive Director, Legal Aid Society of Middle Tennessee and the Cumberlands
These are difficult times for all of us. Though improving, the economy is certainly not out of the woods, and everyone seems to agree that it is time to get serious about the mounting federal debt.
All of us need to make sacrifices and choices, including the federal government, but we should also remain true to our commitment to a fair and just society. As U.S. District Judge Learned Hand once said, "If we are to keep our democracy, there must be one commandment: Thou shalt not ration justice.''
An essential component of this is the availability of legal aid, especially to those most vulnerable to losing the absolute necessities of life. Providing access to justice to every American is not a luxury; it is an obligation.
Note: The above is an excerpt from an op-ed published by The Tennessean on March 15. Click here for the full article.
Success Story from Coast to Coast Legal Aid of South Florida
Legal aid is about helping ordinary people with real-life problems. Client stories illustrate the day-to-day struggles—and victories—of poor Americans seeking justice under law.
Legal Aid Helps a Grandmother Keep Her Family Intact
Note: This story is part of the National Law Journal's special report on legal aid. Click here for the full report.
Clary Fitzpatrick was raising four grandchildren, caring for her bedridden daughter and facing the prospect that all of them could soon be on the street.
The 69-year-old retiree from Lauderdale Lakes, Fla., had spent so much on medical expenses for her daughter that she fell two months behind on her rent. Fitzpatrick received an eviction letter last October. "I was passing by the legal aid building all the time," Fitzpatrick said. "But I was too ashamed to go in and say, 'Hey, I might be put out.'"
Fitzpatrick eventually contacted Coast to Coast Legal Aid of South Florida in Plantation. All she wanted was help with her landlord, but Fitzpatrick ended up with help for her daughter, too.
Click here for the full story.
---