LSC Updates - August 13, 2010
LSC Board Meets in Milwaukee
LSC's Board of Directors held its third quarterly meeting of 2010 in Milwaukee from July 29-31. The meeting included speeches from Wisconsin's governor and chief justice, an awards ceremony honoring local pro bono attorneys, presentations from the state's two LSC grantees and a roundtable discussion with grantee directors from around the country.
Chief Justice Shirley S. Abrahamson of the Wisconsin Supreme Court spoke at an evening reception for the Board on July 29. In her remarks, she conveyed the state judiciary's support for Wisconsin's legal aid programs and discussed various access to justice initiatives considered during the recent meeting of the Conference of Chief Justices in Colorado, which she attended. LSC Board Chairman John G. Levi also spoke at the reception. Download his remarks. (

22k)
The reception included an awards ceremony for attorneys who had volunteered their time on behalf of legal aid clients. Receiving awards were Mike Gonring, a partner with Quarles & Brady LLP; Shari LePage Locante, president of Gleiss, Locante & Associates LTD; Christine R. Olsen, a family law attorney in Wausau, and John Skilton, a partner with Perkins Coie LLP. Also receiving an award was the staff of the Milwaukee-based Legal Action of Wisconsin. The award was presented by John Ebbott, the program's executive director.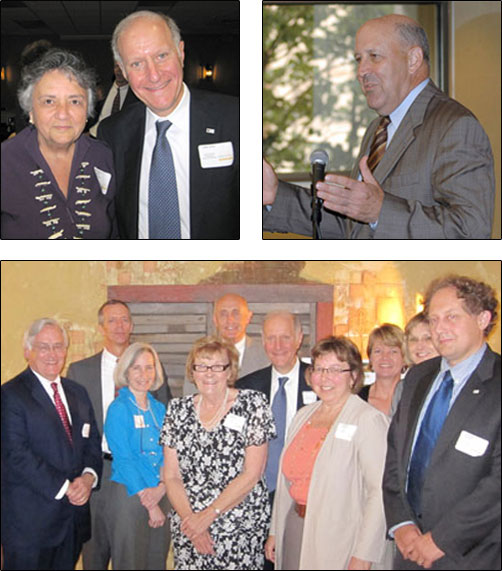 Left: Chief Justice Abrahamson with Chairman Levi. Right: Governor Doyle. Below, from left to right: John Skilton, LSC Board Member Victor Maddox, LSC Vice Chairman Martha Minow, Rosemary Elbert, Mike Gonring, Chairman Levi, Christine Olsen, Shari LePage Locante and LSC Board Members Sharon Browne and Charles Keckler. Credit for Governor Doyle Photo: La Haye Photography.
On July 30, Board members heard presentations from John Ebbott and Rosemary Elbert, executive director of the Wausau-based Wisconsin Judicare, and their staffs about the challenges of struggling to serve a growing client population while coping with funding shortages. Read this issue's client success story to learn how Legal Action of Wisconsin recently helped one woman save her livelihood.
Following the presentations, Wisconsin Governor Jim Doyle, a former Reginald Heber Smith Fellow, spoke at a luncheon for the Board, where he discussed his experiences as a legal aid lawyer in Arizona following his graduation from Harvard Law School and a stint in the Peace Corps, and state support for Wisconsin's legal aid programs, including his successful efforts to secure state funding for legal aid.
Board members then participated in a roundtable discussion with the executive directors of seven LSC grantees from around the country. The directors were Jon Asher from Colorado Legal Services, Colleen Cotter from the Legal Aid Society of Cleveland, John Ebbott from Legal Action of Wisconsin, Nan Heald from Maine's Pine Tree Legal Assistance, Klaus Sitte from Montana Legal Services and Diana White from the Legal Assistance Foundation of Metropolitan Chicago.
Official actions taken by the full Board during its July 31 meeting include approval of a charter for a new Development Committee, adoption of LSC's 2011 Grant Assurances, approval of revisions to the Corporation's benefits package and employee handbook to comply with a new District of Columbia law regarding domestic partners and same-sex spouses, and approval of a resolution recognizing Edna Fairbanks-Williams, a former LSC Board member who recently passed away.
For more information on LSC's Board of Directors, including meeting transcripts and Board resolutions, visit www.lsc.gov/about/board.php.
LSC and Legal Aid at the ABA Annual Meeting
LSC Board Chairman John G. Levi, President Victor M. Fortuno and Vice President Karen J. Sarjeant attended the American Bar Association's 2010 Annual Meeting in San Francisco, held from August 5-10.
Chairman Levi gave brief remarks at the meeting of the Commission on Interest on Lawyers' Trust Accounts (IOLTA) and at the Access to Justice Reception hosted by the ABA Division for Legal Services on August 6. He also spoke briefly during the business meeting of the Standing Committee on Legal Aid and Indigent Defendants (SCLAID) on August 7.
President Fortuno participated in a panel discussion on August 6 sponsored by the ABA Coalition for Justice entitled "Crisis in Representation!" Download the presentation. (

643k) Rebekah Diller, deputy director of the Justice Program at the Brennan Center for Justice, and Peter Koelling, professor at the University of Denver's Sturm College of Law, were also on the panel.
Vice President Sarjeant was a panelist on the August 5 IOLTA Workshops sponsored by the Commission on IOLTA.
Also at the meeting: the ABA's House of Delegates, the group's policy-making body, approved a model statute for implementing a civil right to counsel, and Stephen N. Zack, the new ABA president, appointed a task force on the preservation of the justice system.
For more information about the ABA Annual Meeting, visit http://new.abanet.org/annual/.
DOJ's Tribe Discusses Access to Justice at ABA Annual Meeting
Laurence Tribe, senior counselor for access to justice at the Department of Justice, spoke at the American Bar Association's 2010 Annual Meeting in San Francisco on August 9, discussing the key issues confronting the equal justice community, including the need for increased pro bono work, the establishment of a civil right to counsel, inadequate funding for the Legal Services Corporation and unbundling legal services to increase access to justice.
"The problems we face are not episodic, they're systemic," said Tribe. "Over half of those who qualify for and seek assistance from the 137 principal federally funded legal assistance programs must be turned away because the level of available funding is so low. Many of them have no other option, they simply become more vulnerable to injustice because they're poor."
"When only the wealthiest among us have their legal needs met," he said, "justice remains an unrealized ideal."
Click here to watch Tribe's speech.
Medical-Legal Partnership for Health Act Introduced in Congress
The Medical-Legal Partnership for Health Act, a bill that would create a grant program to fund medical-legal partnerships (MLPs), was introduced in both houses of Congress on July 29.
In the Senate, Tom Harkin (D-Iowa) introduced the bill along with Evan Bayh (D-Ind.) and Christopher S. Bond (R-Mo.). Rep. Daniel Maffei (D-N.Y.) and six cosponsors introduced the House bill.
"Assistance in navigating our legal system is sometimes all it takes to prevent individuals and their families from making repeated trips to the doctor or hospital for a reoccurring condition," said Senator Harkin. "MLPs help people obtain legal aid necessary to ensure that they receive the care and benefits they deserve, to lead healthier lives and to avoid future injuries and illnesses."
Sen. Bond said, "No one should be denied the medical attention they need because they cannot navigate the labyrinth of our legal system. Cutting the red tape between doctors and lawyers will not only save money, but by improving public health and awareness, will have the potential to save lives."
Rep. Maffei said, "Medical-Legal Partnerships have been helping families across the country identify and address the underlying factors that affect their health. Working together, doctors and lawyers can help patients find solutions. This is a model that has been shown to save money, and it should be expanded."
The bill would require the Secretary of Health and Human Services to establish a program to provide grants to MLPs to help patients and their families navigate health-related programs. The bill authorizes $10 million a year from Fiscal Years 2011-2015 for the program.
The Senate bill (S. 3668) has been referred to the Committee on Health, Education, Labor and Pensions, chaired by Sen. Harkin, and the House bill (H.R. 5961) has been referred to the Committee on Energy and Commerce.
LSC Issues 2010 Poverty Guidelines
The Legal Services Corporation issued its income eligibility guidelines for 2010 on August 6. The guidelines establish maximum income levels for individuals and families eligible for assistance from LSC-funded legal aid programs. The 2010 guidelines are substantively unchanged from the 2009 guidelines.
LSC's guidelines are based on the federal poverty level established annually by the Department of Health and Human Services (HHS). In general, those receiving legal assistance from an LSC grantee must live below 125 percent of the federal poverty level, meaning they can earn no more than $13,538 for an individual and $27,563 for a family of four.
Click here for the guidelines.
Field News
Budget Cuts Mean Staff, Service Cuts for New Jersey Legal Aid Program
The Press of Atlantic City – August 2, 2010
The executive director of nonprofit South Jersey Legal Services said state budget cuts meant his organization would be laying off about a third of its employees-including about a quarter of its attorneys-by the end of the year.
Executive Director Douglas E. Gershuny said in a statement that his nonprofit had already cut $1.1 million from its budget in response to falling revenue from interest on legal trust accounts, which helps fund state legal-aid programs.
The agency provides no-cost legal assistance in some civil cases to qualified lower-income people in seven counties including Atlantic, Cape May and Cumberland. The cuts mean it will handle about 3,500 fewer cases, Gershuny said.
The state budget adopted in June cuts funding for state legal aid programs by one-third, or $9.7 million, across the state, removing another $1.8 million from South Jersey Legal Services funding.
In response, the nonprofit said it expected to lay off 27 of its 95 employees, including 10 of its 43 attorneys, by year's end.
Click here to continue reading.
Northwest Justice Project to Host Fellow for Veterans Legal Aid Project
A county agency has agreed to provide $12,000 in funding for a full-time AmeriCorps fellow at the Seattle-based Northwest Justice Project to help remove barriers to housing, employment and self-sufficiency for veterans in King County, Washington.
The funding will be provided by the King County Veterans Citizen Levy Oversight Board, which oversees a public fund established to provide housing help and other supportive services to veterans, members of the military and their families. Other groups have also agreed to provide funding for the fellowship, which will be sponsored by Equal Justice Works and the Corporation for National and Community Service.
The AmeriCorps Fellow will work with Northwest Justice Project staff and coordinate with other organizations in providing a full range of legal services to at-risk and homeless veterans. The fellow will assist with housing application denials and evictions, VA and public benefit applications, criminal records, and will give advice regarding other civil legal problems.
Csar Torres, executive director of the Northwest Justice Project, expressed his "deep appreciation for the support from the Veterans Citizen Levy Oversight Board and [King County] Council Chairman Bob Ferguson for helping to make possible critically needed work on behalf of veterans needing legal assistance to overcome barriers to self-sufficiency."
Read the press release from King County to learn more.
Legal Aid, State Bar Launch Lawyer Information Service in West Va.
Jessica M. Karmasek, The West Virginia Record – August 9, 2010
The West Virginia State Bar and Legal Aid of West Virginia announced this month the launch of a collaborative effort that will provide legal information and services to state residents.
While the Lawyer Information Service, as they are calling it, does not guarantee legal representation, it does offer the opportunity to at least speak with a lawyer and provide the caller with some legal information.
The service will be staffed with volunteer attorneys from local law firms from 6 p.m.-8 p.m. each Tuesday. The public also may call the emergency legal help line at 1-800-642-3617.
Cathy Wallace, director of the Access to Legal Aid Services Program of Legal Aid of West Virginia, has worked hard in bringing the program to fruition.
"Despite our best efforts, Legal Aid simply cannot provide services to everyone who needs them," she said. "The Lawyer Information Service provides one more way, through the help of volunteers, that we can help desperate people in need."
Click here for more information.
Justice Sotomayor to Appear at Legal Aid Society of Cleveland Event
Supreme Court Justice Sonia Sotomayor will be in Cleveland on September 9-10 as a guest of the Legal Aid Society of Cleveland, the law schools at Cleveland State University and Case Western Reserve University, and the Hispanic Roundtable.
Justice Sotomayor will provide short remarks during a dinner program on Sept. 10 entitled, "The Presence of Justice – Legal Aid's Annual Report to the Community," an event expected to attract 1,300 legal aid supporters. She will also participate in private events for students of the two law schools and leaders with the Hispanic Roundtable.
Click here for more information about the Presence of Justice event.
Legal Aid of NorthWest Texas: Working for Equal Justice Under Law
Betty Dillard, Fort Worth Business Press – August 9, 2010
For almost 60 years, Legal Aid of NorthWest Texas has provided free legal assistance to eligible low-income residents.
And for the past six decades, the range of civil cases attorneys for the nonprofit organization handle has remained about the same, including: wills and estates, foreclosures, landlord-tenant issues, access to benefits, health care, employment law, divorce, adoption and custody, protecting families from domestic violence and preventing homelessness.
Today, the agency-the fifth largest legal aid program in the country-is enhancing its presence with newly renovated headquarters in downtown Fort Worth, a just-launched capital campaign, new outreach programs, a revamped website and technology, and a rebranding that emphasizes its mission of "equal justice under law."
Click here for more information.
Minnesota Legal Aid Director to Retire in 2011
Press Release, Mid-Minnesota Legal Assistance – July 29, 2010
Mid-Minnesota Legal Assistance (MMLA) has announced that Jerry Lane will be leaving his role as Executive Director in 2011. MMLA is an urban-rural Legal Aid program serving 20 counties in central Minnesota, including Minneapolis. Lane has been with Legal Aid for a total of 41 years, serving as Executive Director of MMLA for the past 30.
MMLA will consider both internal and external candidates to fill the Executive Director position. Lane will continue in his role until his successor has been selected and then will assist with the transition.
"Legal Aid makes a difference in the lives of thousands of Minnesotans every year and will continue to serve our community's most vulnerable." Lane said. "I have been privileged to serve our clients throughout my career. Time and again they have set an example for me of dignity, courage and generosity in the face of adversity the likes of which I have never had to endure. I look forward to the next chapter in our history. I remain committed to our staff, our supporters and our partners. I hope to help build our resources so we can be there for our clients when they need us in the future."
Click here to continue reading.
Due Soon: HotDocs Renewals, Legal Assistance LRAP Applications
LSC grantees that have received free HotDocs licenses through the LexisNexis software donation program must renew their licenses by August 31 to continue receiving the software through the new HotDocs Charitable Organization Program, courtesy of HotDocs Ltd., which acquired the software business from LexisNexis last year. Once renewed, the licenses will never expire or require reapplication, but grantees must act by the deadline to qualify. Learn more.
Applications for the Department of Education's new Civil Legal Assistance Attorney Student Loan Repayment Program are due by August 16. Participants may receive up to $6,000 in loan repayment assistance a year up to a total of $40,000. Eligible applicants must be full-time civil legal aid lawyers, must seek repayment assistance for eligible federal student loans, must not be in default on those loans and must be continually licensed to practice law. Learn more.
Upcoming NTAP Trainings for Legal Aid Advocates
Leveraging technology to support pro bono, document collaboration in Word 2010 and GIS mapping are among the subjects of training sessions hosted by the Legal Services National Technology Assistance Project in the coming months. All of the sessions are hosted online and are free for staff of LSC-funded programs, though participation may be limited.
Visit LSNTAP's training calendar for more information.
Awards
Marcia K. Cypen, executive director of Legal Services of Greater Miami, received the Mattie Belle Davis Award from the Miami-Dade chapter of the Florida Association for Women Lawyers on July 24. Cypen was honored for successfully developing LSGMI for more than three decades. Cypen started as a law clerk with the program in 1974 and worked her way up to the executive director position in 1983. Learn more.

Karla M. Gray, former chief justice of the Montana Supreme Court (and the subject of a Judicial Profile in LSC's Equal Justice Magazine), has received a Distinguished Service Award from the National Center for State Courts for championing equal access to justice for all Montanans and encouraging pro bono service during her 18 years on the court. The award is one of the highest honors given by the group. Learn more.

Clifton R. Jackson Jr., former administrative director of the Acadiana Legal Service Corp., has received the 2010 Career Public Interest Award from the Louisiana State Bar Association. Jackson, who retired in 2009 after 30 years of service, is credited with establishing the program's policies and procedures and overseeing the design and construction of the program's headquarters building. Learn more. ( 37k)

Frank B. Strickland, former chairman of LSC's Board of Directors, has been honored by the board of the Atlanta Legal Aid Society (ALAS) for his more than 30 years of commitment to legal aid on a national and local level. Matthew J. Calvert, ALAS board president, presented Strickland with a plaque featuring his trademark bow tie and words of appreciation from Steve Gottlieb, the program's executive director.
Success Story from Legal Action of Wisconsin
Legal aid is about helping ordinary people with real-life problems. Client stories illustrate the day-to-day struggles-and victories-of poor Americans seeking justice under law.
Food Stamp Mix-Up Almost Costs Woman Caregiver License
Angela Kondell admits she's made mistakes. They include getting some food stamps she shouldn't have, more than a decade ago.
But she's worked hard to turn her life around. Today she owns a home in Milwaukee, runs a daycare business, pays taxes and cares for her children.
And, she says, "all of it would be gone if Legal Action hadn't helped me."
Kondell worked in a daycare facility when she first moved to Milwaukee from Rhinelander in 2003 "to change my life and do good," she says. In 2007 she opened her own facility, where she now cares for eight children.
Her nightmare began in 2009, when her licensing agent told her new state rules would bar her from running a child-care center, or even working in one, for the rest of her life. The state adopted the rules in the wake of a widely publicized investigation of daycare fraud.
Back in 1998, Kondell had been prosecuted for receiving too many food stamps. It was an honest mistake, she says. She didn't understand that even though her son's father was not living with her, his income needed to be part of the calculation of whether she was eligible.
She was assigned a public defender, who told her to plead no-contest "and it would all go away," she says. She was put on probation and paid more than $1,800 in restitution-many times the value of the extra food stamps she'd received. She thought she had put her mistake behind her.
And now, 12 years later, her licensing agent was telling her to surrender her license over it.
Kondell says she started emailing "everybody I could think of" in search of help. "I even emailed the governor."
Her luck changed when a consumer-protection reporter at Milwaukee's Fox TV station told her about Legal Action.
Once Legal Action got involved, "everything was fixed very quickly," Kondell says.
A Legal Action lawyer contacted a state Department of Children and Families official and clarified the law: Kondell had not knowingly applied for an overpayment of benefits, and simply misstating facts was not sufficient legal grounds for taking away Kondell's daycare license.
Note: The above story is excerpted from Legal Action of Wisconsin's website, www.legalaction.org. Kondell's story also appeared as a segment on FOX6 Now, the Milwaukee FOX News affiliate that referred Kondell to Legal Action of Wisconsin. Click here for the video.
---