LSC Updates, December 2012
Subscribe to LSC Updates • "Like" LSC on Facebook • Follow LSC on Twitter
In this Issue:
The Senate Appropriations Committee introduced legislation on December 12 for $60.4 billion to assist victims of Hurricane Sandy in the recovery efforts. The bill includes $1 million for LSC, matching the request submitted by the White House on December 7, to support LSC grantees in the areas significantly affected by Hurricane Sandy for storm-related services.
This is the first time since 1993 that a supplemental appropriations bill has included funding for LSC after a disaster. If passed, the supplemental funding would be used to give programs the necessary mobile resources, technology, and disaster coordinators to provide storm-related services to eligible clients.
LSC-funded programs in the areas most severely affected by Hurricane Sandy reported significant office damage and prolonged power outages. They are struggling to provide legal assistance to thousands of storm victims. Supplemental disaster funding would help LSC's grantees provide essential legal aid to low-income individuals and families.
Read the full Emergency Supplemental bill.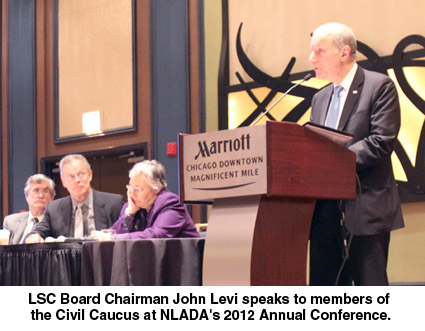 LSC Board Chairman John G. Levi spoke at the National Legal Aid and Defender Association's (NLADA's) Civil Caucus on December 6 in Chicago. The event was part of NLADA's 2012 Annual Conference. Levi reviewed highlights of his first two-and-a-half years as chair, which include a White House forum on the state of civil legal assistance, public forums of state chief justices and judges on access to justice, the hiring of LSC President James J. Sandman, the issuance of reports by LSC's Fiscal Oversight and Pro Bono task forces, and the launch of a nationwide initiative to improve service to veterans and their families.
Levi said the LSC board will continue to hold public forums that highlight the crisis in civil legal assistance. (The next forum will be held January 25 in New Orleans.) He also pledged LSC's ongoing leadership and support for technology innovation.
"Continuing to expand access to justice is not only important to those of us gathered here today, and to millions of low-income Americans who are being shut out of the system," he said, "but also to the future of our great democracy."
The Hon. John T. Broderick, Jr., former chief justice of the New Hampshire Supreme Court and former LSC Board member, and Deborah Weinstein, executive director of the Coalition on Human Needs, also addressed the Civil Caucus.
Read the full text of Chairman Levi's remarks.
LSC Board Vice Chair and Harvard Law School Dean Martha Minow received the Gold Medal for Outstanding Contribution to Public Discourse from the College Historical Society of Trinity College Dublin at a ceremony on Nov. 13. Established in 1770, the College Historical Society is one of the world's oldest undergraduate debating societies. It is "built on a belief that discourse and intellectualism are vital to the program of society."
Minow received the award for her leadership in the area of human rights and her advocacy for members of racial and religious minorities, women, and persons with disabilities. At the awards ceremony, she gave a lecture on the question, "Should Child Soldiers Be Forgiven?"
Previous recipients of the award include Iranian judge and civil rights activist Shirin Ebadi; Burmese politician and democracy advocate Aung San Suu Kyi; Archbishop Desmond Tutu; author, activist and philosopher Noam Chomsky; economist Jeffery Sachs; economist Joseph Stiglitz; and former president of South Africa F.W. de Klerk.
Minow is the Jeremiah Smith, Jr. Professor of Law and has taught at Harvard since 1981. She is the author of many works on issues of justice, including her most recent book, In Brown's Wake: Legacies of America's Educational Landmark (2010, Oxford University Press). Minow served on the Independent International Commission on Kosovo, a program of the U.N. High Commissioner for Refugees, to promote peaceful development in post-conflict societies. She was appointed to the LSC Board by President Obama in 2009.
LSC is pleased to announce that Peter Campbell will join its staff in the new role of chief information officer on January 2. He will be responsible for all aspects of LSC's technology strategy.
"Peter is known as a leader and an innovator in integrating technology into nonprofit management," said LSC President Jim Sandman.
Campbell has significant expertise in advancing productivity, collaboration, and efficiency through creative use of technology. He has served as information technology director for the nonprofit environmental law firm Earthjustice and for the law firm Lillick & Charles. At Goodwill Industries of San Francisco, where he was vice president and director of information technology, he led the use of technology to transform inventory management and retail operations for an 18-store system.
Campbell is also the author of "How to Decide: IT Planning and Prioritizing," a chapter in the Nonprofit Technology Network's award-winning book, Managing Technology to Meet Your Mission – A Strategic Guide for Nonprofit Leaders. He serves on the board of Idealware, a nonprofit that helps nonprofits make smart software decisions.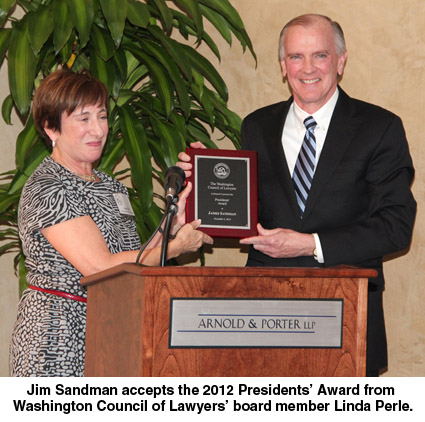 LSC President Jim Sandman received the 2012 Washington Council of Lawyers (WCL) Presidents' Award, which recognizes exceptional commitment to public service, pro bono, and the public interest community. The award was presented Dec. 4 at a reception in Washington. Harold Koh, legal adviser for the Department of State, delivered keynote remarks.
In an interview with the Washington Examiner newspaper, Sandman said: "It is a great honor to receive an award from people you respect and admire, whose values you aspire to apply to your day-to-day life, and that's what the Washington Council of Lawyers is all about. It's an organization that lives the highest values of the legal profession, including providing legal representation for those who might otherwise not be able to hire an attorney on their own. To have an award by a group like this is totally extraordinary."
On November 2, Sandman was the featured speaker at the City Club of Cleveland's Friday Forum. He spoke on "The Threat to Justice for All, and Why You Should Care About It." The speech was later broadcast on PBS station WVIZ.
Read the Washington Examiner interview.
Listen to the City Club of Cleveland speech and Q & A.
2013 TIG (Technology Initiative Grants) Conference – January 16-18, 2013, Jacksonville, Florida
Report of the Task Force to Expand Access to Civil Legal Services in New York – released November, 2012
DisasterLegalAid.org – Information for victims of Hurricane Sandy in New Jersey, Connecticut and New York.
Disaster Relief Legal Assistance Manual – Developed by Legal Services of New York City for victims of Hurricane Sandy
Fact Sheet on the Economic Benefits of Civil Legal Aid – Two-page summary of research, Prepared by the National Center for Access to Justice at Cardozo Law School
Guide to the Legal Rights of Illinois Service Members – Published by the Office of the Illinois Attorney General
LegalAidResearch.org – A new, online repository of civil legal aid research, curated by NLADA and funded by the Public Welfare Foundation
StatesideLegal.org – New design, same great resource for military members, veterans and their families
Mortgage Catch Pushes Widows Into Foreclosure (National)
Budget Cuts Could Hurt Low-Income Legal Service (Ohio)
Arizona Community Legal Services Marks 60th Anniversary
Iowa Legal Aid marks 35th anniversary
VA Clinics Offer Free Legal Help for Local Veterans (Florida)
State Appeals Court Restricts Payday Lenders' Interest Rates (Ohio)
MidPenn's Shelter Project brings legal help to transitioning families