LSC Updates - December 6, 2011
In this Issue
The House and Senate voted on November 17 to provide the Legal Services Corporation (LSC) with $322.4 million in basic field funding for Fiscal Year 2012, a reduction of about $56 million, or 14.8 percent, from Fiscal Year 2011.

The LSC funding was a part of a Fiscal Year 2012 appropriations bill for several federal departments and programs, including Commerce, Justice, Science and Related Agencies. President Obama signed the appropriations bill on November 18.
Read the statement by Board Chairman John G. Levi.

The Legal Services Corporation's Board of Directors held its quarterly meeting on October 17 and 18, 2011, at the American Bar Association headquarters in Chicago. In addition to official convenings of the full Board and its committees, members participated in roundtable discussions with Executive Directors of LSC-funded programs in Illinois, representatives of the American Bar Association, and the deans of three Illinois law schools.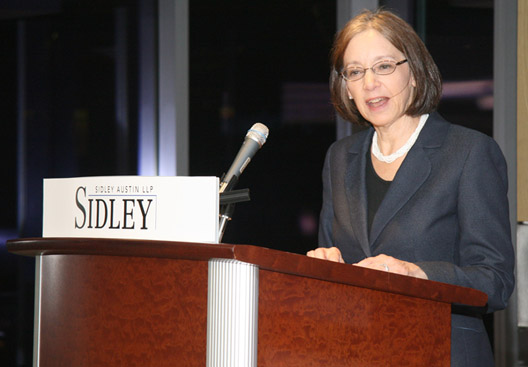 Judge Diane P. Wood, of the U.S. Court of Appeals for the Seventh Circuit, delivers keynote address at Chicago reception honoring pro bono contributions to Illinois programs. Photo by Pierre R. Cameron.
Board members also recognized the pro bono contributions of lawyers and law firms in Illinois at an October 17 reception keynoted by Judge Diane P. Wood of the U.S. Court of Appeals for the Seventh Circuit. Speakers at Board luncheons on October 17 and 18 included Illinois Attorney General Lisa Madigan; Illinois Supreme Court Chief Justice Thomas L. Kilbride; Chief Judge James F. Holderman, of the U.S. District Court for the Northern District of Illinois; and the Honorable Abner J. Mikva, former Chief Judge of the U.S. Court of Appeals for the District of Columbia Circuit and former Member of Congress from Illinois.
Judge Wood, in her remarks, called for "new models and new approaches" in the delivery of civil legal assistance to low-income Americans. "The lion's share of the legal business of the poor occurs before administrative agencies, in state courts, and in out-of-court settings—the telephone call to the landlord, the encounter with the social worker, the exchange with the physician's assistant about health benefits. The only way that we as a society will come close to meeting the legal needs of this vast population is to redouble our efforts to be creative and to leverage our resources as far as they will go. . . . We are in need of new models and new approaches; otherwise, we risk leaving behind millions of people who are trying to cope with foreclosures, unemployment, bankruptcy, domestic violence, reentry to civilian life after military service, and so many other problems. One thing that seems essential is what you might call more troops on the ground—more people to whom LSC-eligible clients can turn for help," Judge Wood said.
To read Judge Wood's remarks, click here.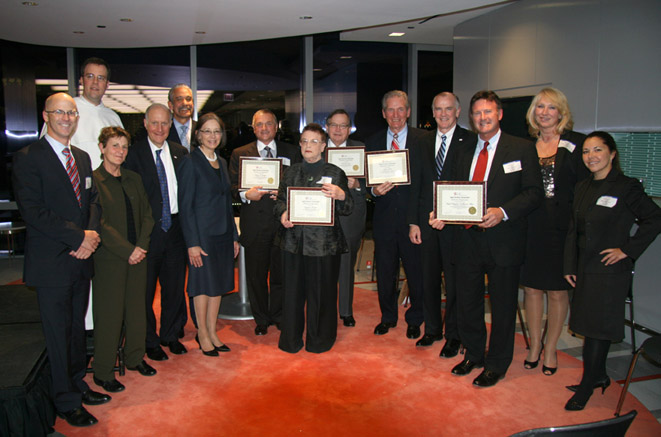 Judge Wood joins LSC Board members and pro bono honorees at Oct. 17 reception. Photo by Pierre R. Cameron.
Going forward, she continued, the legal profession needs to think about how to expand law school and bar relationships, how to tap the talent of retired or semi-retired lawyers, and how to expand legal services into more community locations, such as Social Security offices, public libraries, elementary schools, health clinics and retail stores.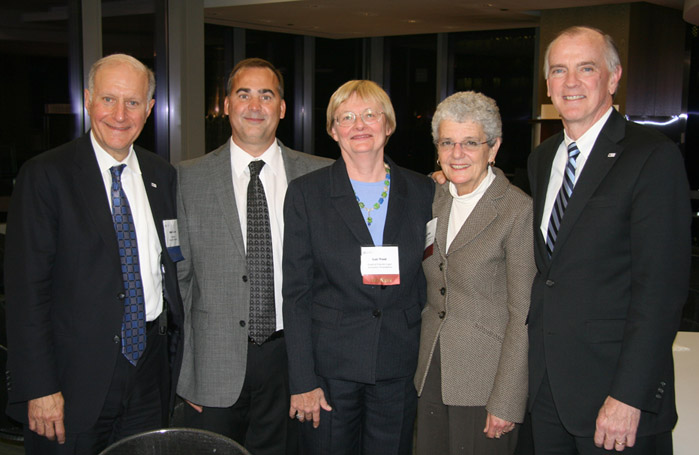 From left, LSC Chairman Levi, Executive Directors Michael O'Connor, Lois Wood and Diana White, and LSC President Sandman at reception. Photo by Pierre R. Cameron.
"We need to be open to new thinking, because the toxic combination of huge numbers of people who need legal services and strained public budgets is not going away any time soon. The Legal Services Corporation is in an excellent position to collect, vet, and try out ideas that hold promise," Judge Wood said.
At the reception, LSC Pro Bono Service Awards were presented to five lawyers and a law firm in recognition of their volunteer service to legal services programs in Illinois.
Board Vice Chair Martha Minow, Dean of the Harvard Law School, presented awards to attorney John Held and retired human resources executive Malou Roth for their contributions to the Legal Assistance Foundation of Metropolitan Chicago. Board member Robert J. Grey Jr. presented awards to attorney Rory Weiler and the law firm of Heyl, Royster, Voelker & Allen for their contributions to Rockford-based Prairie State Legal Services. Board member Laurie Mikva recognized attorneys Russell Scott and Eugenia Hunter for their volunteer service to Land of Lincoln Legal Assistance Foundation, based in East St. Louis.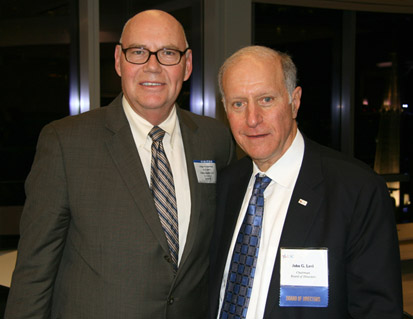 Chief Judge James F. Holderman of the U.S. District Court for the Northern District of Illinois, and LSC Chairman Levi at reception. Photo by Pierre R. Cameron.
LSC Board Chairman John G. Levi, in his remarks, noted that the Board has established a Pro Bono Task Force to take "a good, hard look at how the profession can use technology and the sharing of best practices to better match unmet civil legal needs with the potential pro bono talent."
Read an excerpt of the Chairman's remarks.
The Board also presented a Pro Bono Service Award to DLA Piper for volunteering to support the work of the LSC Pro Bono Task Force. Chairman Levi presented the award to Lee I. Miller, Joint Chief Executive Officer of DLA Piper, and Lisa Dewey, Pro Bono Partner at DLA Piper and consultant to the Task Force.
The Board engaged in a discussion of law school clinical education that was moderated by Vice Chair Minow. She was joined by Daniel B. Rodriguez, the incoming Dean of Northwestern University School of Law; Thomas F. Geraghty, Associate Dean for Clinical Legal Education at Northwestern; Michael H. Schill, Dean of the University of Chicago Law School; Jeff Leslie, Acting Associate Dean for Clinical and Experiential Learning at Chicago; Bruce P. Smith, Dean of the University of Illinois College of Law, and Nina W. Tarr, Director of Clinical Education at Illinois.
| | | |
| --- | --- | --- |
| Illinois Attorney General Lisa Madigan addresses LSC's Board on Oct. 17 at the American Bar Association headquarters in Chicago. Photo by Pierre R. Cameron. | | Hon. Abner J. Mikva, former Chief Judge of the U.S. Court of Appeals for the District of Columbia Circuit, speaks at Oct. 17 luncheon. Photo by Pierre R. Cameron. |
In another presentation, the three Executive Directors of LSC-funded programs briefed the Board on the services they provide across Illinois. Diana White, of the Legal Assistance Foundation of Metropolitan Chicago, described the program's recent strategic reorganization and focus on key practice groups, such as housing, children and families and economic stability. Lois Wood, of the Land of Lincoln Assistance Foundation, described pro bono and medical-legal partnership initiatives and the evolution of strategic planning by the program to better serve communities. Michael O'Connor, of Prairie State Legal Services, said his program only accepts applications involving "basic human need," such as shelter and benefits for individuals with disabilities. Prairie State, he noted, has reduced staffing by 10 percent because of declines in a variety of funding sources and is looking at the prospect of office closures in 2012.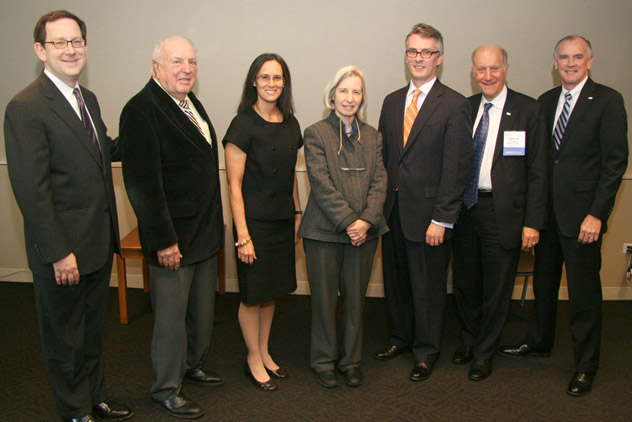 From left, Michael H. Schill, University of Chicago Law School Dean; Hon. Abner J. Mikva; Attorney General Lisa Madigan; LSC Board member Martha Minow; Bruce P. Smith, Dean of the University of Illinois College of Law; LSC Chairman Levi; and LSC President Sandman. Photo by Pierre R. Cameron.
The three Executive Directors also were part of a panel on technology and how it is used to expand access to justice in Illinois and nationally. They were joined by Lisa Colpoys, Executive Director of Illinois Legal Aid Online, and Glenn Rawdon, head of the LSC Technology Initiative Grants (TIG) team.
The panel described the three legal aid websites in Illinois, the case management system used by the LSC programs there, and the legal self-help centers in libraries and courthouses across the state.
The Board's Committee on the Promotion and the Provision of Legal Services, chaired by Laurie Mikva, heard about help desks from a panel that included Coordinated Advice and Referral Program for Legal Services Executive Director Allen C. Schwartz; Brandon Williams, a Chicago Legal Clinic Managing Attorney; and Ms. White. The panel was moderated by Chicago Bar Foundation Executive Director Bob Glaves.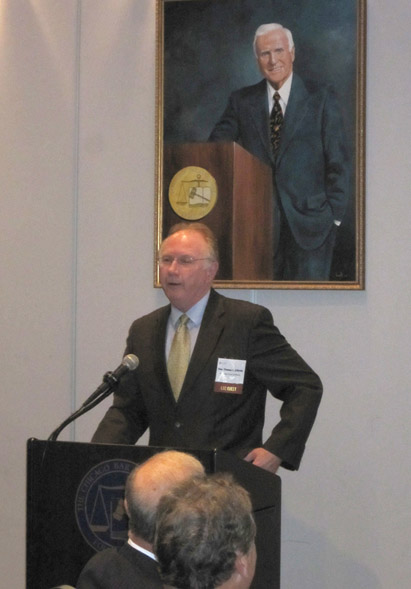 Illinois Supreme Court Chief Justice Thomas L. Kilbride addresses LSC Board members at the Chicago Bar Association on Oct. 18. Photo by Steve Barr.
Chicago's Richard J. Daley Center, which houses the Circuit Court of Cook County and other government agencies, has help desks that assist thousands of people each year. For example, Mr. Williams said the Chancery Division Advice Desk, which focuses on mortgage foreclosure and name changes, saw about 15,000 people last year, up from 2,000 to 3,000 in previous years. Other help desks focus on guardianship, debt collection, evictions, child support, domestic violence and other areas. Help desks at the Dirksen Federal Courthouse in Chicago focus on bankruptcy and creditor issues and employment discrimination.
At the full Board meeting, a panel of ABA representatives discussed opportunities for the ABA and individual lawyers to help expand access to justice. The ABA panel members were Robert Stein of the Standing Committee on Legal Aid and Indigent Defendants; Judge Lora Livingston of the Commission on IOLTA; Mary Meixner of the Standing Committee on Legal Assistance for Military Personnel; Larry McDevitt of the Standing Committee on Pro Bono and Public Service; and ABA Executive Director Jack Rives.
Read more about the ABA presentation.
Also at the full Board meeting, Chairman Levi noted the upcoming (January 2012) retirement of Linda E. Perle, Director of Legal Services at the Center for Law and Social Policy (CLASP), and an advisor and counsel on civil legal services to the National Legal Aid & Defender Association. The Chairman thanked Ms. Perle, who has dedicated her career to enhancing access to justice, for her many contributions. Charles Greenfield, formerly a Program Counsel in LSC's Office of Program Performance, has joined the staff of NLADA and will assume a number of the civil legal services counsel responsibilities held by Ms. Perle.

Legal Services Corporation Board members and staff, and LSC-funded programs across the nation, were proud to join with the ABA and others in the third annual National Pro Bono Celebration, October 23-29.

National Pro Bono Summit
In Washington on October 24-25, five LSC representatives—Board Chairman Levi, Board member and Pro Bono Task Force Co-Chairman Harry Korrell III, President James J. Sandman, Program Counsel Stephanie Edelstein, and Senior Assistant General Counsel Mattie Cohan—participated in the National Pro Bono Summit sponsored by the ABA's Standing Committee on Pro Bono and Public Service.
One of LSC's priorities is to expand pro bono resources for nonprofit legal aid programs. The LSC Board has established a Pro Bono Task Force to examine best practices for delivering pro bono services in low-income urban and rural communities, to identify the barriers that discourage or limit pro bono participation, and to promote "big ideas" that hold the potential to increase pro bono resources for legal aid programs. The Task Force convened its first meeting August 1 and is led by Mr. Korrell and Board Vice Chair Minow.
For information on the LSC Pro Bono Task Force, see the LSC press release and the statement by LSC Board Chairman Levi.

"Celebrate Pro Bono" Events Nationwide
Hundreds of "Celebrate Pro Bono" events were held across the country. Some involved complex training in family and housing law, others reaffirmed the appreciation of legal aid programs for their volunteer lawyers who contribute valuable time and expertise to legal aid clients. Following is a partial list of activities by LSC-funded programs:
Texas RioGrande Legal Aid recognized more than 2,500 private attorneys who helped in its access to justice efforts.


More than 800 attorneys and law firms, including attorneys from State Farm Insurance, Caterpillar Inc., and Deere & Co., were recognized for their volunteer service by Prairie State Legal Services in Illinois.


The Legal Aid Society of Cleveland had nearly 750 attorneys participate in clinics and training sessions during this year's pro bono week.


Central California Legal Services presented certificates from the State Bar of California to all attorneys who had performed 50 hours or more of pro bono services in a 12-month period.


Bay Area Legal Aid in Oakland, Calif., hosted a "recognition event" for pro bono attorneys and conducted family law training for pro bono attorneys in partnership with the Alameda County Bar Association's Volunteer Legal Services Program.


Legal Services of North Florida hosted a pro bono recognition ceremony in the state's 1st Judicial Circuit.


The Legal Aid Foundation of Los Angeles provided training on assisting domestic violence victims to attorneys from large and small firms.


Kansas Legal Services held a training session on limited scope representation in a family law context, followed by an event where volunteers assisted clients with pro se documents.


The Legal Aid Society of Hawaii participated in a training program, "Pro Bono Experiences and Ethical Considerations," sponsored by the Hawaii Access to Justice Commission's Committee on Increasing Pro Bono Legal Services.


Legal Aid of West Virginia recognized volunteer attorneys and held training sessions, including a discussion of "tax and ethical issues in domestic violence cases."


Legal Services of Northwest Minnesota honored two retired attorneys for their pro bono work. The LSC program also participated in the Minnesota State Bar Association's Legal Services Access to Justice Summit, which brought together judges, legal aid directors, law firm pro bono coordinators and others.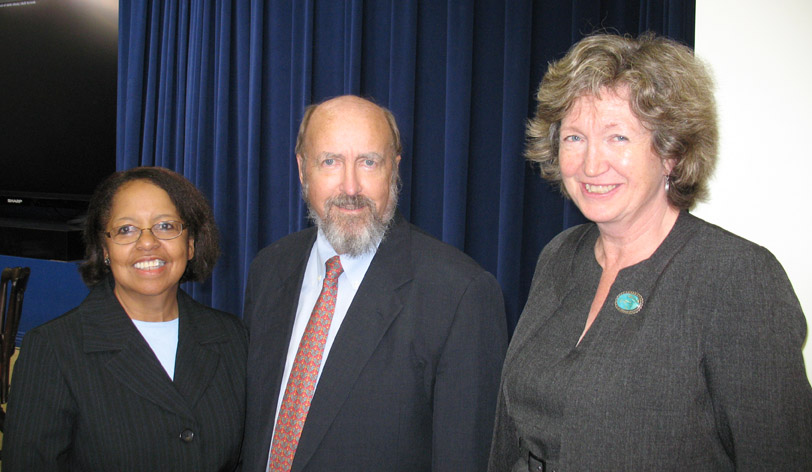 From left, Lillian Johnson, David G. Hall, and Nan Heald, who serve as Executive Directors of LSC-funded programs, were honored on Oct. 18 as Champions of Change at a White House event. Photo by Steve Barr.
The White House, on October 13, honored four longtime leaders of legal aid programs funded by LSC as Champions of Change for dedicating their lives as lawyers to closing the justice gap in America.
The four honorees were David G. Hall, Executive Director of Texas RioGrande Legal Aid; Nan Heald, Executive Director of Pine Tree Legal Assistance in Maine; Lillian Johnson, Executive Director of Community Legal Services in Phoenix; and Addison Parker, former Litigation Director at the Appalachian Research and Defense Fund of Kentucky.
"These honorees have made extraordinary contributions to their communities and in helping low-income Americans find solutions to their pressing civil legal problems. All of us at LSC join in applauding this recognition of their commitment to fulfilling the nation's promise of equal access to justice," LSC President Sandman said.
The four were among 16 leaders in the legal profession honored at an event hosted by the White House Office of Public Engagement and the Justice Department's Access to Justice Initiative.
Read the Justice Department's announcement.
Read the White House blog on the event.
View photographs from the event.

LSC has awarded a disaster relief grant of $65,103 to Legal Services Law Line of Vermont to provide civil legal assistance to low-income persons affected by the widespread flooding caused by Tropical Storm Irene in August, LSC President Sandman announced on November 1.
"This will help some Vermonters who are struggling in Irene's aftermath," Sen. Patrick J. Leahy (D-Vt.), said Chairman of the Senate Judiciary Committee. "The need for this help is acute among many Vermonters who have suffered devastating losses and face great difficulties going forward. My office has fielded hundreds of case work requests from Vermonters hurt by this storm, and many have a legal component. They range from real estate law questions from a person who literally saw her house go downstream, to labor law questions from people unable to get to work."
The emergency grant to Legal Services Law Line of Vermont is the second made by LSC this year. Legal Services of Alabama received a grant of $68,629 to assist victims of the April tornadoes that destroyed communities in that state. An emergency grant of $188,333 to assist victims of the May, 22, 2011 tornado disaster in Joplin has been approved for Legal Aid of Western Missouri. It will be awarded next summer to help support LAWMO's second year of recovery work.

Through its Technology Initiative Grants (TIG) program for 2011, LSC has awarded 37 grants totaling more than $3.6 million. The TIG grants went to LSC-funded programs in 25 states. The grants will support a range of initiatives designed to improve access to justice for low-income Americans. A partial list includes: development of online intake systems; enhancement of access to Web-based resources for Spanish-speaking, limited English proficient clients; and expansion of StatesideLegal.org, a website that provides information and resources to veterans and military families.
Rep. Chaka Fattah (D-Pa.) said, "These grants will go a long way to help some of our nation's most vulnerable receive the legal services they need. It is especially important that our veterans and military families who have served our country well have access to quality legal resources." Rep. Fattah serves on the House Appropriations Subcommittee that oversees LSC funding.

Registration is now open for LSC's 12th Annual Technology Initiative Grants (TIG) Conference, January 11-13, 2012 in Albuquerque, N.M. The TIG Conference is the only national event focused exclusively on the use of technology in the legal aid community. The conference provides a unique opportunity to learn about effective uses of technology in legal aid, network with a national community of colleagues, and cultivate project ideas that could lead to successful TIG proposals.
Plenary sessions will feature presentations by Stephanie L. Kimbro, Esq., M.A., J.D., a recognized thought leader on ethics and technology issues in delivering legal services online, and by Gartner, Inc., the world's leading information technology research and advisory company.
Breakout session topics will include online intake, eLawyering, document management systems, telephone systems, information security, rural service delivery innovations and challenges, online videos, mobile apps, and statewide websites. The conference will also provide opportunities for more informal affinity group sessions determined by attendees, and an Ignite-style plenary of fast-paced presentations highlighting technology projects, new ideas and lessons learned.
This year, for the first time, LSC is providing scholarships for 10 LSC-funded programs to send either an information technology staff member, or an attorney or manager who helps oversee the program's information technology, to the conference. The purpose of these scholarships is to encourage programs to expand their knowledge and use of technology, and to better enable them to submit successful TIG applications in the future. Only programs that have never received TIG funding were eligible to apply. The 10 winners were chosen using a randomized sorting process.

New Report on Civil Justice Mapping
American Bar Foundation News, October 10, 2011
"Access Across America" is the first state-by-state portrait of the services available to assist Americans in accessing civil justice. The report includes information on eligibility for civil legal assistance and how legal assistance services are delivered, coordinated and funded.

Getting By: Lawyers of Last Resort
Newly Unemployed Swell Workload as Legal Services Struggle to Keep Up
Heather Rawlyk, The Capital, HometownAnnapolis.com, November 6, 2011
As the economy has slowed, former middle-income wage earners are flocking to Maryland Legal Aid. The LSC-funded program has seen its annual caseload increase, especially cases involving unemployment insurance, consumer debt, food stamps and public benefits.

Provide Legal Support to Those Most Vulnerable
Margaret H. Marshall, The Boston Globe/boston.com, October 29, 2011
The Honorable Margaret Marshall, retired Chief Justice of the Massachusetts Supreme Judicial Court, writes that "nonprofit legal aid organizations are the most effective supplement to our court-sponsored programs for civil litigants in need. The dedicated lawyers and other professionals of legal aid organizations provide legal counseling to help ensure that low-income citizens at tipping points in their lives are represented in legal proceedings that can determine whether they can stay in their homes or keep their families safe from violence and abuse."

Montana Legal Services Association Cutting Staff
Sanjay Talwani, Helena Independent Record, October 25, 2011
The Montana Legal Services Association is cutting the equivalent of 7.75 full-time positions out of about 50 in 2012 in response to funding losses of about $500,000, or 15 percent of its annual budget. Executive Director Alison Paul said the Association will work on creative ways to improve and maintain services, ramp up funding and try to gain more volunteer, pro bono attorneys.