LSC Updates - February 15, 2007
Senate Approves $22 Million Increase for LSC in FY 2007
On February 14, 2007, the United States Senate approved HJ Res 20, an appropriations continuing resolution containing $348.5 million for LSC in FY 2007, a $22 million increase over LSC's FY 2006 budget. The funding level contained in the resolution represents an approximate mid-point between the $338.8 million approved by the House, and the $358.5 million approved by the Senate Appropriations Committee for LSC's FY 2007 budget in the summer of 2006.

HJ Res 20 was approved by the House of Representatives on January 31, and will now go to the President for approval. LSC is currently operating at FY 2006 levels under an appropriations continuing resolution that expires today, February 15. LSC received $326.5 million in FY 2006.
HJ Res 20 does not specify how the $348.5 million appropriated to LSC should be divided among the sub-accounts, but LSC expects that approximately $330 million will go to basic field programs.
For the full text of HJ Res 20, click here.
For the Senate's vote on the resolution, click here.
LSC Requests $430.6 million for FY 2008
LSC is requesting $430,681,000 from Congress for FY 2008, $82.1 million more than the amount approved by the U.S. Senate for LSC's FY 2007 appropriation on February 14, 2007.
Of the total amount requested:
$407.8 million will go to basic field programs,
$5 million will go to the Technology Initiative Grant program,
$1 million will go to the Loan Repayment Assistance Program,
$13.8 million will go to Management and Administration, and
$3 million will go to the Office of Inspector General.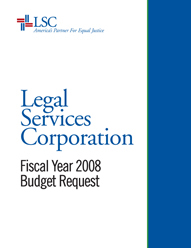 Over 95% of the requested increase will be distributed in grants to 138 legal aid programs providing high-quality civil legal assistance to low-income Americans in every state and territory in the nation. Additional grants will fund innovative technology projects aimed at improving the quality and availability of legal services.
Grants from the Legal Services Corporation represent the largest single source of funding for civil legal services programs nationwide, and much more is needed to begin addressing the significant gap in unmet civil legal needs documented in LSC's Report, Documenting the Justice Gap in America: The Current Unmet Civil Legal Needs of Low-Income Americans. Most significantly, the Report found that for each person who received legal assistance from an LSC-funded program, at least one eligible client was turned away due to lack of resources. The Report, unanimously approved by LSC's Board of Directors, found that a doubling of federal and non-federal support of LSC grantees would be necessary just to serve the individuals and families who were eligible for and seeking assistance from LSC-funded programs.
LSC Board Chairman Frank B. Strickland said "LSC recognizes the fiscal constraints facing Congress. However, we hope Congress will conclude that turning away over 50 percent of eligible individuals who need legal assistance is an unacceptable situation."
"The proposed LSC budget, which would increase funding for the delivery of basic legal services by 20 percent more than what the Senate Appropriations Committee approved for FY 2007, represents a necessary step towards addressing the needs documented in the Justice Gap Report and meeting our nation's goal of equal justice for all," noted LSC President Helaine M. Barnett.
To download a copy of LSC's FY 2008 Budget Request, click here.
To download a copy of LSC's Justice Gap Report, click here.
LSC Chairman and President Speak at ABA SCLAID Meeting
On February 10, 2007, LSC Chairman Frank B. Strickland and LSC President Helaine M. Barnett addressed the American Bar Association's Standing Committee on Legal Aid and Indigent Defendants. Chairman Strickland reported to the committee on the activities of the LSC Board and announced that President Barnett agreed to, and the Board approved, a two-year extension of her contract to lead LSC.
President Barnett updated the attendees on recent activities and developments at LSC, including:
the status of LSC's FY 2007 appropriation and the issuance of LSC's FY 2008 Budget Request;
recently completed efforts to incorporate references to the ABA Standards for the Provision of Civil Legal Aid into LSC's Performance Criteria;
LSC's 2007 Private Attorney Involvement Action Plan--"Help Close the Justice Gap, Unleash the Power of Pro Bono;"
The next steps in LSC's Leadership Mentoring Pilot Project;
The completion of the first year of LSC's Pilot Loan Repayment Assistance Program;
LSC's grant from Google to advertise statewide websites for legal services programs; and
LSC's continuing work with programs in the Gulf region to help address the legal needs of low-income Americans affected by natural disasters.
LSC's Inspector General Kirt West also addressed the Committee.
For more information on any of the above-mentioned topics, visit LSC's website at www.lsc.gov.
LSC Helps Return Money to America's Working Poor
Every year, millions of dollars go unclaimed by 15% to 25% of qualified Americans who fail to file for their federal Earned Income Tax Credit (EITC), which provides a tax refund--up to $4,500 for parents with children--to working Americans with low to moderate incomes.
To help more people take advantage of this valuable resource, the Legal Services Corporation awarded Technology Initiative Grants to help fund I-CAN! E-File, a website developed by the Legal Aid Society of Orange County that allows all low-income Americans--regardless of where they live--to file their federal taxes online and apply for the EITC, easily and for free. The website, www.icanefile.org, asks questions in English or Spanish and then prepares and electronically files the user's tax forms, including their EITC application. Residents of California, Michigan, New York, and Montana, as well as residents of states that do not require a state tax form, can also use the website to file their state tax returns.
Last year, 2,658 people used the website to prepare and submit their 2005 federal tax returns and received $4,233,127 in Earned Income Tax Credits alone. As of February 15, 2007, more than 4,300 people have already used the website to file their 2006 returns and have received nearly $4 million in EITCs, a dramatic increase in usage from last year.
On February 7, 2007, California First Lady Maria Shriver launched a statewide Federal Earned Income Tax Credit (EITC) Initiative in partnership with the Legal Aid Society of Orange County and others. See story below for more information.
For more information on I-CAN! E-File, click here.
First Lady Maria Shriver Launches Statewide EITC Efforts in Orange County
Press Release, Office of the First Lady – February 7, 2007
First Lady Maria Shriver launched a statewide Federal Earned Income Tax Credit (EITC) Initiative and hosted a resource fair at Santa Ana College, in partnership with Orange County United Way, Legal Aid Society of Orange County and the City of Santa Ana, with hundreds of families in attendance.
"I am thrilled that Orange County United Way, the Legal Aid Society of Orange County and the Internal Revenue Service are joining me in launching my statewide EITC Initiative. The EITC is one of the most powerful programs for working families and it's time Californians claim their nearly 1 billion dollars in earned income tax credits! I'm also excited to bring together in one location, so many services, both government and community based, to help those who are most in need," stated First Lady Maria Shriver.
More than 75 Orange County community service providers were on site, as part of the EITC resource fair, showcasing their valuable services, with the purpose to move families on the path to self sufficiency. In addition, financial institutions were on hand to educate individuals on ways to save and strengthen assets for financial independence.
Families and individuals who visited took advantage of free tax preparation services, signed up for free checking and savings accounts through onsite financial partners and took part in free financial literacy seminars, offered in both English and Spanish.
Families and individuals can file their taxes and claim the Earned Income Tax Credit online for free by visiting www.icanefile.org/myrefund.
To read the press release in its entirety, click here.
$9.6 Million for Civil Legal Services Included in Historic New York State Budget
On January 31, 2007, New York Governor Eliot Spitzer issued his proposed budget for the 2007-2008 fiscal year, and for the first time in history, funding for civil legal services is included. In the past, state funding for civil legal services came through "member items"--amendments to the budget added by state legislators.
The budget includes a total of $9.6 million for civil legal services, including $4.6 million in general funds to be distributed by the state's Interest on Lawyer Account program through a competitive grants process, and $5 million for the state judiciary's Access to Justice Board, which also funds civil legal services programs. Spitzer's proposed funding represents an increase from last year, when the state provided $6.8 million in funding for civil legal services.
Commenting on the proposed budget, Executive Director of the Legal Aid Society of Northeastern New York Lillian Moy said, "We're very grateful to Governor Spitzer for including funding for civil legal services in the Executive budget for the first time. We're hoping this funding will improve our stability and expand our ability to serve more clients. The Justice Gap report has been very helpful in making the case for increased state funding."
Barbara Finkelstein, Executive Director of Legal Services of the Hudson Valley said, "This is a very positive step in the right direction...providers of civil legal services in New York State are thrilled that Governor Spitzer has recognized that access to justice in the civil arena is critical and view this as a step to be built upon in the future."
For more information on Governor Spitzer's budget, click here.
Kentucky Legal Services Attorneys to Benefit from Bill
On February 7, 2007, the Judiciary Committee of Kentucky's House of Representatives approved House Bill 226, which would create a loan repayment assistance program for attorneys engaged in public service, including those employed by legal services programs. Kentucky's Higher Education Assistance Authority would administer the program, which would be funded by 2% of court costs that now go to the state's general fund. No more than $1.2 million a year would be available for the fund. The bill will now go to the committee on Appropriations and Revenue for consideration.
The problem the Kentucky legislature is looking to solve is also a national one, and one that strikes at the very heart of the civil legal services delivery system. According to a 2003 American Bar Association report, law students graduate with an average educational debt load of $80,000. Meanwhile, the average starting salary of a staff attorney at an LSC-funded program is $37,000, much less than starting salaries at private law firms. The result is that attorneys literally can not afford to work for legal services programs at all, or for very long. This inability to recruit and retain highly qualified attorneys can directly affect the ability of legal services programs to provide high-quality civil legal services to clients.
To help solve this problem on a national scale, the Legal Services Corporation established its own Pilot Loan Repayment Assistance Program, which recently completed its first year. Seventy-one attorneys from LSC-funded legal services programs participated in the program, which will provide them up to $5,000 a year for up to three years if they remain eligible. LSC will soon begin surveying the participants as part of an evaluation of the program.
For the full text of the bill, click here.
For more information on LSC's Pilot Loan Repayment Assistance Program, visit LSC's website at www.lsc.gov.
Poor Often Go It Alone In Utah's Legal System
Pamela Manson, The Salt Lake Tribune (UT) – February 1, 2007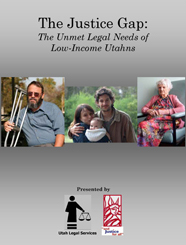 Trying to divorce an abusive spouse? Illegally fired from your job? Being evicted for something you didn't do?
If you're poor, the odds are you'll have to go it alone, without the help of a lawyer.
A study released [January 31] shows that only 13 percent of low-income households with a legal problem in Utah received professional legal help last year.
That adds up to more than 80,000 cases a year where the legal needs of Utahns are unmet, according to the report by Utah Legal Services and And Justice for All, groups that work to increase access to legal help for disadvantaged Utahns and people with disabilities.

"All the numbers in this report represent actual problems faced by your fellow Utahns," said lawyer Jody Burnett, a board member of And Justice for All.
Burnett pointed out that while there is a constitutional right to legal representation in a criminal case, there is no right to help in a civil matter.
And those matters deal with fundamental needs, such as survival, the need to thrive, to have meaningful work and satisfying relationships, said Chief Justice Christine Durham of the Utah Supreme Court.
The study, which surveyed members of Utah households with incomes below 130 percent of the federal poverty level, found that only 26.8 percent of all households were satisfied with the outcome of their problems. The percentage shot up to 71.9 percent among those who received legal help.
Other major findings of the legal aid report:
About 67 percent of low-income households face a civil legal problem each year, such as a divorce or an employment dispute. The number of problems exceed 92,000.
The civil legal help most needed by low-income Utahns involves family law, employment, housing and consumer law.
Only 18.4 percent of these households looked for legal help and only 13 percent reported having received it.
To download a copy of the report, click here.
To read the article in its entirety, click here.
Website On Prisoner Re-Entry Issues Launched
Press Release, Legal Aid of Western Michigan – January 31, 2007
Helping ex-convicts navigate obstacles they may face as they make the transition from prison to the general population is the focus of a website recently launched by Legal Aid of Western Michigan's Re-Entry Law Project (RLP) and the Michigan Poverty Law Project.
The Michigan Re-Entry Law Wiki (http://reentry.mplp.org/wiki) provides visitors with answers to frequently asked questions, current case law, statutes, trends regarding prisoner re-entry, and downloadable forms for everything from obtaining a state identification card to expunging criminal records. It also contains a wealth of information to help lawyers, judges, social service providers, and others involved in the re-entry process.
The wiki format allows the site's collaborators to easily update information. The RLP and the Michigan Poverty Law Program spearheaded the site's implementation and design, with financing provided by the Michigan State Bar Foundation, the Grand Rapids Community Foundation, the Open Society Institute, and the Justice, Equality, Human Dignity, and Tolerance Foundation.
For more information on the Michigan Re-Entry Law Wiki, contact SBM Equal Access Initiative program manager Laura Graham at (517) 346-6417 or lgraham@mail.michbar.org.
Note: LSC-funded programs do not provide criminal legal services and are prohibited from providing civil legal services to prisoners.
Banks To Boost Trust Fund Interest Rates
Brian Mackey, Chicago Daily Law Bulletin - January 25, 2007
The Lawyers Trust Fund of Illinois is expected to see revenue more than double under a new rule approved Thursday by the Illinois Supreme Court.
The rule requires that attorneys' pooled interest-bearing trust accounts be kept only with institutions approved by the Lawyers Trust Fund.
To be eligible, banks must offer the same interest rates to lawyer trust accounts that are available to other customers.
Last year the Lawyers Trust Fund collected $4.5 million from IOLTA accounts...and the resulting funds were used to make grants to more than 30 legal aid organizations. The largest grants in the current fiscal year were to the Land of Lincoln Legal Assistance Foundation in Alton, $1.18 million, and Prairie State Legal Services in Rockford, $1.02 million.
To read the article in its entirety, click here. (REGISTRATION REQUIRED)
Mendocino County Gets Grant For New Self-Help Center
The Associated Press - January 30, 2007
Legal Services of Northern California is establishing a new center offering legal assistance for people representing themselves in court matters through a grant from the California State Bar's Equal Access Fund
The Mendocino County Self Help Center at the Ukiah courthouse will focus on helping people represent themselves in matters such as family law, guardianships, civil restraining orders, harassment orders and small claims matters.
The center, slated to open in March, also will provide monthly clinics at the courthouses in Fort Bragg and Willits.
"The Center will be a perfect complement to our services and meet the needs of folks in our community who can't afford to hire a lawyer," said Lisa Hillegas, supervising attorney for Legal Services of Northern California.
To read the article in its entirety, click here.
[Maine] Supreme Court Justice To Retire
Gregory D. Kesich, The Portland Press Herald (ME) – January 31, 2007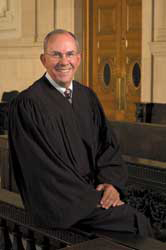 Maine Supreme Judicial Court Justice Howard Dana will retire from the bench in March, Chief Justice Leigh Saufley announced Tuesday.
Dana will have served two seven-year terms on the state's highest court, since being appointed by Gov. John McKernan in 1993. He is the second-longest-serving justice, following Robert Clifford, who was first appointed in 1984.
Dana is called a "careful" and "thoughtful" judge who wrote a wide variety of opinions for the court on issues from freedom of speech to tax policy. His most lasting legacy, observers say, may be in his advocacy for access to legal assistance for the poor, for which he is considered a national leader.
He was appointed to the board of directors of the Legal Service[s] Corp. by President Reagan in 1982, and by President George H.W. Bush in 1990.
In 1994, when federal funding was denied to organizations such as Pine Tree Legal Services unless they stopped engaging in class-action lawsuits and lobbying on behalf of clients, Dana was a leader in finding funding for Maine Equal Justice Partners, an alternative organization that could continue that work.
To read the article in its entirety, click here.
---