LSC Updates - February 2, 2011
New LSC President Takes Office
James J. Sandman, the former top lawyer for the D.C. Public Schools and a longtime managing partner at Arnold & Porter LLP, took office Jan. 31 as the new president of the Legal Services Corporation. His selection was announced by LSC's Board of Directors on Jan. 3.
Speaking to The Washington Post following his selection, Mr. Sandman described his new position as "the best job in American law."
"It is a unique opportunity to improve access to justice at a time when too many poor Americans are facing difficulty in getting fair treatment," he said.
Mr. Sandman has dedicated himself to pro bono and public service throughout his career. He has served as president of the District of Columbia Bar and currently chairs its Pro Bono Committee, is a former member of the American Bar Association's Standing Committee on Pro Bono and Public Service and a former board member of the Neighborhood Legal Services Program of D.C., an LSC grantee. He currently co-chairs the District of Columbia Circuit Judicial Conference Committee on Pro Bono Legal Services and is a member of the Pro Bono Institute's Law Firm Pro Bono Project Advisory Committee.
"Jim is a very distinguished attorney admired by his colleagues for his service to the community and to the legal profession. He is an extraordinary leader and we are thrilled and excited that Jim is joining us as the Corporation's chief executive," said LSC Board Chairman John G. Levi.
Victor M. Fortuno, LSC's longtime general counsel, has been serving as president since Jan. 2010, following the retirement of Helaine M. Barnett, who held the office from 2004 through 2009.
For more information, read LSC's press release announcing Mr. Sandman's selection.
LSC Board Meets in Washington
Foreclosures, military veterans, disaster response and the decline of a key funding source for LSC grantees were among the topics taken up at the 2011 Annual Meeting of the LSC Board of Directors. The Jan. 27-29 Board meeting and briefings included unanimous votes re-electing John G. Levi as the Board Chairman and Martha Minow as the Board Vice Chair. The meeting also marked the introduction of James J. Sandman as the new LSC President.
The foreclosure prevention panelists told the Board that many low-income people, particularly seniors, own their homes; that programs began seeing high numbers of requests for assistance with foreclosures and related predatory lending issues starting in 2006 and 2007; and that they do not expect the numbers of foreclosure cases to decrease soon. Legal services programs assist home owners and their families to stay in their homes through mediation, loan restructuring, and legal challenges to predatory loans and improperly documented foreclosures. Appearing on the foreclosure panel were: Karen Brown of the Atlanta Legal Aid Society, Melanca Clark of the Justice Department, Meghan Faux of South Brooklyn Legal Services, Chet Randall of Pine Tree Legal Assistance of Maine, Charles Evans of the Legal Aid Foundation of Los Angeles and Ira Rheingold of the National Association of Consumer Advocates. The panel was organized by Michael Genz and Elizabeth Arledge of LSC.
The Board briefing on the provision of civil legal services to veterans followed last year's launch of StatesideLegal.org, made possible by a Technology Initiative Grant from LSC to Pine Tree Legal Assistance, and the start of an outreach campaign by LSC grantees to local veteran readjustment counseling centers in their service areas. The panel members for the discussion were: Jack Block of the Legal Assistance Foundation of Metropolitan Chicago, Nicole Perez of the Legal Aid Foundation of Los Angeles and Marc Theriault of the Legal Aid Society of Louisville, Ky. The three grantees sponsor veterans projects and each speaker described the challenges they face in helping homeless veterans and in assisting veterans appealing denial of disability and other benefits. Bristow Hardin of LSC organized the panel.
The importance of LSC partnerships was underscored by the panel discussion on disaster relief services. Participants included Jack Rives of the American Bar Association, Juliet Choi of the American Red Cross, Mary Ellen Martinet of the Federal Emergency Management Agency and Don Saunders of the National Legal Aid & Defender Association. Encouraging local legal aid programs, Red Cross chapters and other disaster relief responders to collaborate on planning prior to disasters is vital, the panelists said. John Eidleman and Elizabeth Arledge of LSC organized the panel.
The slow economic recovery has put enormous stress on the resources that support legal services, including Interest on Lawyers' Trust Accounts (IOLTA) and state funding, at a time when increasing numbers of low-income Americans are in need of civil legal assistance. Betty Balli Torres of the National Association of IOLTA Programs told the Board that IOLTA has historically provided a significant source of revenue for legal services but that national IOLTA income had dropped from about $360 million in 2007 to about $124 million in 2009. She noted that IOLTA reserves have been mostly depleted at a time where the nation's poverty population is growing.
At the Board meeting, Lillian Johnson on behalf of the African American Project Directors Association and Ben Obregon on behalf of the Latino Advocate Section of the National Legal Aid & Defender Association briefed the Board on the goals of their organizations and offered to be resources for the Board.
Learn more about LSC's Board of Directors at www.lsc.gov/about/board.php.
LSC Chairman's Statement on Passing of Sargent Shriver
R. Sargent Shriver, a founding father of the federal government's role in providing civil legal aid to low-income Americans, died Jan. 18 at the age of 95.
"Sargent Shriver will be remembered as an extraordinary American, a giant who led the 'war on poverty' and fought for equal justice for all Americans," said LSC Board Chairman John G. Levi. "His passion for equal justice and opportunity helped define our nation and shaped the lives of generations of Americans."
Mr. Shriver was the first director of the Office of Economic Opportunity, the cabinet agency created by President Lyndon Johnson to fight the War on Poverty. In that role, he oversaw the creation of the Legal Services Program, which represented the first federal investment in civil legal aid to the poor and was the forerunner of the Legal Services Corporation.
Click here for Chairman Levi's full statement.
Remembering Bob Evans, a Friend of LSC
Robert D. Evans, the former longtime leader of the American Bar Association's Washington office and a key advocate for the Legal Services Corporation, died Jan. 16 at the age of 65.
At its meeting in Washington on Jan. 29, LSC's Board of Directors passed a resolution expressing gratitude for Bob's service to LSC and his contributions to efforts to provide equal justice for all. The resolution was offered by Robert J. Grey Jr., a member of the Board who served as president of the ABA from 2004 to 2005.
Bob Evans was director of the ABA's Governmental Affairs Office from 1982 to 2007, during which time he was instrumental in solidifying the ABA's role as a chief defender of LSC on Capitol Hill. In 1981, before taking the helm of the office, Bob organized the ABA March on Washington, a seminal event that brought bar leaders to the halls of Congress to oppose plans to eliminate LSC. Thirty years later, the March on Washington (now called ABA Day) is an annual event and thanks in large part to Bob's leadership, support for LSC remains one of the ABA's highest legislative priorities.
Following Bob's retirement from the ABA in 2007, Sen. Edward Kennedy paid tribute (

193k) to him on the floor of the U.S. Senate.
"With his dedication to the rule of law, his professionalism, his expertise and his unfailing good humor, Bob has fulfilled the highest ideals and goals of the legal profession," said Sen. Kennedy. "He has improved the administration of justice, and brought greater access to legal representation and American justice for all persons, regardless of their economic or social condition. Bob will be greatly missed."
For more information, read Bob's obituary in The Washington Post or an article from The Blog of LegalTimes.
LSC Hosts 2011 Technology Initiative Grants Conference
The Legal Services Corporation hosted its 2011 Technology Initiative Grants Conference in Albuquerque, N.M., from Jan. 12-14. The annual TIG Conference brings together techies, legal aid lawyers and others to learn how technology can improve the delivery of legal services to low-income Americans.
A record-breaking 148 people attended this year's conference, including LSC Board Members Julie A. Reiskin and Gloria Valencia-Weber. The conference featured sessions on topics such as online legal forms, social media, online intake and web accessibility for disabled persons. LSC staff hosted a number of sessions dedicated to the TIG grant process, including grant evaluation planning, grantee documentation and reporting requirements and LSC rules regarding subcontractors, vendors and consultants.
To learn more about the TIG Conference, visit www.tig.lsc.gov/presentations2011.
LSC Seeks Input for Strategic Planning Process
The Legal Services Corporation is soliciting comments from the public and all interested stakeholders as it works to develop a strategic plan for 2011-2015.
Specifically, LSC is seeking comments that address the extent to which the goals, objectives and strategies set forth in the Corporation's Strategic Directions 2006-2010 (

124k) are still relevant, that identify other realistic yet meaningful goals and that address how LSC can most effectively achieve its goals. LSC is also seeking suggestions for incorporating performance measures into its strategic plan.
Written comments should be submitted by March 15 to Mattie Cohan, LSC Senior Assistant General Counsel, by e-mail to mcohan@lsc.gov, by fax to (202) 337-6519 or by mail to 3333 K St., NW, Washington, D.C., 20007.
There will be additional opportunities for stakeholder input throughout the strategic planning process.
Click here for more information.
LSC Issues 2011 Income Eligibility Guidelines
The Legal Services Corporation has issued its income eligibility guidelines for 2011, which establish maximum income levels for individuals and families eligible to receive legal assistance from LSC grantees.
LSC's guidelines are based on the federal poverty level established annually by the Department of Health and Human Services. In general, those receiving legal assistance from an LSC grantee must live at or below 125 percent of the federal poverty level, which in 2011 is equivalent to $13,613 for an individual and $27,938 for a family of four.
Field News
Legal Aid Available for Oil Spill Victims
Five LSC Grantees Involved in Effort
The Gulf Coast Claims Facility, which BP has funded to administer the claims process for victims of last year's oil spill in the Gulf of Mexico, has provided $1.9 million to a consortium of legal aid programs in five states for representation of low-income claimants, according to a Jan. 25 article in Alabama's Press-Register.
The funding will support a total of 16 full-time lawyers and one part-time lawyer at legal aid programs in Alabama, Florida, Louisiana, Mississippi and Texas, including the LSC-funded Legal Services Alabama, Legal Services of North Florida, Southeast Louisiana Legal Services, Mississippi Center for Legal Services and Lone Star Legal Aid. The consortium is led by the Mississippi Center for Justice.
Last October, leaders from three Gulf-area LSC grantees briefed (

153k) the LSC Board on the legal needs of oil spill victims, which in addition to help with the claims process included foreclosure, domestic violence and tax issues.
Pennsylvania Chief Justice Seeks Lawyers' Help with "Civil Legal Aid Crisis"
Pennsylvania Chief Justice Ronald D. Castille is asking the state's 70,000 lawyers to volunteer more of their time and money to help address Pennsylvania's "civil legal aid crisis."
"Pennsylvania lawyers have a proud tradition of pro bono service," wrote Castille in a Jan. 7 letter to the state's 70,000 lawyers, "but now is the time to do more." He notes that half the qualified people seeking help from a legal aid program are turned away due to a lack of resources and that only 10 percent of the state's lawyers do pro bono work each year.
Castille urges every Pennsylvania lawyer to take at least one new pro bono case, continue working on an ongoing case or make a donation to a civil legal aid or pro bono program.
"The resources that would be available to those with the inability to access legal services in our Commonwealth if every lawyer stepped forward are staggering," he wrote.
Click here for more information. (

834k)
Texas Legislature Urged to Maintain Legal Aid Funding
The Houston Chronicle and the San Antonio Express-News have published editorials urging the Texas legislature to maintain state funding for civil legal aid programs as it addresses the state's budget shortfall.
"Some services are essential, even in tough times, and legal aid to the poor is one of them," said the Chronicle.
Last year, faced with dwindling funding from Interest on Lawyers' Trust Accounts, the legislature provided a one-time $20 million allocation to the state's legal aid system, hoping it would bridge the gap until the economy improved and IOLTA rebounded.
"As we all know, that has not happened," said the Express-News, noting that interest rates on many IOLTA accounts are still below one percent. "Continued state funding for state legal aid is needed until interest rates go back up and can provide the indigent civil legal aid system with enough income to sustain itself."
The Chronicle notes that legal aid programs in other states and cities are routinely government-supported "because it makes sound fiscal sense. Handling problems promptly can keep families in their homes, children in school and workers in jobs, and domestic violence can be addressed before tragedies happen."
Visit the Texas Access to Justice Foundation's website, www.teajf.org, for more information on legal aid funding in Texas.
ABA Language Access Project Seeks Comments on Draft Standards
The American Bar Association's Language Access Standards Project is seeking written comments on its draft standards for language access in state courts.
The project, led by the ABA Standing Committee on Legal Aid and Indigent Defendants and other ABA groups, seeks to create practical, universal and effective standards for access to state courts for individuals with limited English proficiency. The project is chaired by the Hon. Vanessa Ruiz of the D.C. Court of Appeals and is guided by a 30-member advisory committee. Mytrang Nguyen, program counsel in LSC's Office of Program Performance, is an ex officio member of the committee.
Comments on the draft standards (

272k) should be e-mailed to project consultants Kristi Cruz or Gillian Dutton.
Click here to learn more about the project.
MIE to Host Conference for Legal Services Managers in Nashville
The Management Information Exchange (MIE) is hosting its biennial conference for legal services managers on March 10 and 11 in Nashville, Tenn.
This year's conference, "Management Essentials in Challenging Times: Tools and Best Practices," is designed for both new and experienced legal aid managers and will cover topics such as communicating in a crisis, nurturing the next generation on a shoestring budget, leading effective teams and managing grants and projects.
Click here for more information.
Success Stories from the Legal Aid Foundation of Los Angeles
Legal aid is about helping ordinary people with real-life problems. Client stories illustrate the day-to-day struggles—and victories—of poor Americans seeking justice under law.
Vietnam Vet, Cambodian Genocide Survivor Tell their Stories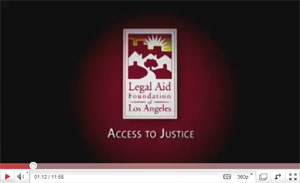 The Legal Aid Foundation of Los Angeles has released a new video that tells the story of how legal help made a big difference for two clients—a homeless Vietnam vet suffering from Post-Traumatic Stress Disorder and a Cambodian woman who fled her home country to escape the murderous Khmer Rouge regime.
Watch the full video on YouTube.
---