LSC Updates, February 2013
Subscribe to LSC Updates • "Like" LSC on Facebook • Follow LSC on Twitter
In this Issue:
Supplemental Disaster Funding Includes $1 Million for LSC
The Hurricane Sandy Disaster Relief Act, passed by Congress and signed by President Obama in January, includes $1 million for the Legal Services Corporation (LSC) to provide assistance to low-income people in areas significantly affected by the hurricane. The funding will be distributed via grants to LSC-funded programs.
"Legal issues caused by natural disasters often disproportionately affect low-income families, seniors, veterans, and others who are least able to deal with them," said LSC President James J. Sandman. "We are grateful for this supplemental appropriation, which will fund legal services for Sandy's most vulnerable survivors."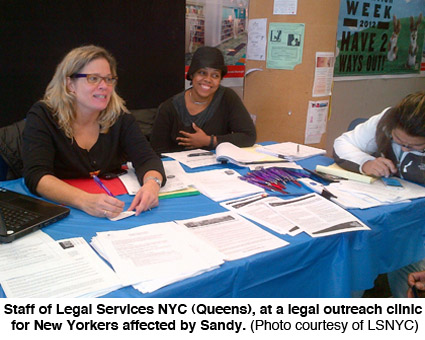 Just a few days after Hurricane Sandy struck, legal aid programs in the hardest-hit areas of New York and New Jersey began providing assistance to survivors via telephone hotlines, FEMA Disaster Recovery Centers, neighborhood-based legal clinics, community legal education presentations, and online and printed information.
With tens of thousands of homes destroyed by the superstorm, housing issues are particularly pressing. LSC grantees report that clients need legal help with a wide range of storm-related housing issues, including improper evictions, denial of insurance claims or inadequate reimbursement by insurance companies, delays in critical repairs, and home repair scams.
In addition to direct service, legal aid lawyers are also recruiting and training pro bono attorneys and participating in long-term community recovery groups.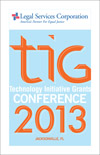 More than 170 "techies" and others interested in the intersection of technology and legal aid gathered in Jacksonville, Fla., in January for the 2013 Technology Initiative Grants (TIG) Conference.
"Measuring the Networked Nonprofit" author Beth Kanter challenged participants at the opening plenary to embrace the work of collecting, making sense of, and – "where the real magic happens" – applying data to improve programs and get results. That theme was echoed at a later session on Using Data to Improve Program Performance.
Data was one of several conference topics. Sessions highlighted innovations in case management systems; new developments in web-based legal resources (including using video to reach clients); and use of technology to enhance internal legal services operations, encourage pro bono, and address persons with limited English proficiency.
In a luncheon speech, LSC President Jim Sandman told the participants that they are key to the future of legal services.
"Technology is at the epicenter of innovation in legal services today," he said. "I think you are the people who can help us demonstrate that this is an area where legal services can lead. My goal is to have the rest of the legal profession asking the question, 'How are they doing it in legal services?' and looking to us for the example we set and the leadership we show."
See TIG Conference materials and session videos.
Read LSC Chief Information Officer Peter Campbell's reflections on the TIG Conference and Technology Summit.
TIG Application Cycle to Open Soon
LSC's Technology Initiative Grants (TIG) program will soon begin accepting letters of intent for the 2013 funding cycle. A webinar for potential applicants will be held on Thursday, February 21, 2013 at 1 p.m. Eastern time.
Get more information about the TIG application process and register for the webinar.
The current issue of The Harvard Journal of Law and Technology features six papers on the topic of "Using Technology to Enhance Access to Justice." The papers were written for the recent LSC Technology Summit, which was a two-part gathering of thought leaders in legal services technology. LSC plans to issue a report from the summit later this year.
One of the papers – "Web-Based Legal Services Delivery Capabilities" – was authored by Jane Ribadeneyra, a program analyst on LSC's TIG team. Others whose articles are featured in the collection are James E. Cabral, Abhijeet Chavan, Thomas M. Clarke, John Greacen, Bonnie Rose Hough, Phil Malone, Linda Rexer, and Richard Zorza.
Justices, judges and a panel of disaster experts addressed the LSC Board of Directors on January 25 at the fourth LSC Board-sponsored forum on The State of Civil Legal Assistance. The forum, held at the Louisiana Supreme Court building, was convened in conjunction with the board's quarterly meeting.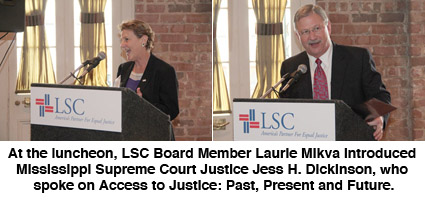 Louisiana Supreme Court Chief Justice-Elect Bernette Joshua Johnson, Judge Madeleine M. Landrieu of the Louisiana State Court of Appeals Fourth Circuit, and LSC Board Chairman John G. Levi made opening remarks.
Panelists discussing "The Importance of Access to Justice to the Judiciary" were: Justice Michael Bolin, of the Alabama Supreme Court; Justice Jess H. Dickinson, of the Mississippi Supreme Court; Justice Nathan L. Hecht, of the Texas Supreme Court; Judge William A. Van Nortwick, Jr., of the Florida First District Court of Appeal; Judge Landrieu; and Marc Theriault, General Counsel of the Kentucky Court of Justice. LSC Board Vice Chair Martha Minow, dean of the Harvard Law School, moderated.
Watch a video of the opening remarks, and the panel of justices and judges.
The forum also featured a panel on the role of legal aid in disaster preparedness and relief. Panelists included Brad J. Kieserman, general counsel for the Federal Emergency Management Agency (FEMA); Robert Horowitz, director of the American Bar Association Special Committee on Disaster Response and Preparedness; Martha Bergmark, founding president and CEO of the Mississippi Center for Justice; Paul E. Furrh, Jr., executive director of Lone Star Legal Aid; Raun Rasmussen, executive director of Legal Services NYC; Marta Schnabel, President of the Louisiana Civil Justice Center and O'Bryon & Schnabel shareholder; and Ranie T. Thompson, managing attorney for Southeast Louisiana Legal Services. LSC President Jim Sandman moderated.
Watch a video of the disaster preparedness and relief panel.
At a luncheon during the forum, Mississippi Supreme Court Justice Jess H. Dickinson spoke on Access to Justice: Past, Present and Future.
Following the forum, LSC's Board of Directors recognized five Louisianans and a Lafayette firm with its Pro Bono Service Award. Anu Kakonen, Winfield E. Little, Jr., Robert Owsley, Judge Melvin A. Shortess (retired), Mark Surprenant, and Laborde & Neuner received awards.
Read more about the award winners.
See photographs taken at the Pro Bono Awards event.
The Legal Services Corporation's Herbert S. Garten Loan Repayment Assistance Program (LRAP) is currently accepting applications from both new and renewing participants. The application period began on February 1, and will remain open until 5:00 p.m. EST on Monday, February 25.
Find out more about LSC's LRAP and how to apply.
Each year, LSC publishes Appendix A to 45 CFR Part 1611, which provides client income-eligibility standards based on the Department of Health and Human Services' (DHHS) most recent federal poverty guidelines. On January 24, 2013, DHHS released the 2013 federal poverty data, and LSC has revised its regulations to reflect the new information.
The guidelines are published in the Federal Register and are also available on the LSC website.
State Bar Honors Lillian Moy for Diversity Efforts (New York)
Legal Aid Society of Cleveland Presses on Despite Budget Cuts
Legal Services of Northern California to expand services for Lake, Mendocino County seniors
Judges, Lawyers Seeking More Funding for Legal Aid (Massachusetts)