LSC Updates - July 1, 2010
House Subcommittee Approves $20 Million Increase for LSC
The House Appropriations Subcommittee on Commerce, Justice, Science and Related Agencies approved a $440 million Fiscal Year 2011 budget for LSC on June 29.
The funding increase was announced by Rep. Alan B. Mollohan (D-W.Va.), chairman of the House Appropriations Subcommittee, and represents a nearly 5 percent increase in the LSC budget. Rep. Frank R. Wolf (R-Va.) is the Subcommittee's ranking member.
"LSC is enormously grateful for the strong support of Chairman Mollohan, Ranking Member Wolf and all Subcommittee members. The ranks of low-income Americans are growing and LSC-funded programs report that requests for legal assistance are increasing. This new funding approved by the Subcommittee will help legal aid programs to better serve the nation's poor," LSC President Victor M. Fortuno said.
The Subcommittee bill continues existing restrictions on the use of funds, but lifts the restriction on the ability of LSC-funded programs to consolidate related client cases into class-action suits. Chairman Mollohan and Reps. Patrick J. Kennedy (D-R.I.) and Adam B. Schiff (D-Calif.) urged the Subcommittee to permit class actions. "Lifting this restriction will allow grantees to more efficiently address systemic issues such as predatory lending or wrongful eviction," Chairman Mollohan said in a statement.
Click here for more information.
White House Nominates Final Appointees to LSC Board
President Obama has nominated his final two appointees to the Board of Directors of the Legal Services Corporation. They are Harry Korrell, a partner in a Seattle law firm, and the Rev. Joseph Pius Pietrzyk of Zanesville, Ohio.
Earlier this year, six presidential nominees were confirmed by the U.S. Senate to serve on the LSC Board of Directors, and they joined a presidential nominee confirmed last year. The nominations of two appointees await confirmation by the Senate. The June 25 announcement by the White House of the president's intent to nominate Mr. Korrell and Fr. Pius will begin a confirmation process that will complete the formation of the new Board.
Mr. Korrell is a partner in the Seattle office of Davis Wright Tremaine, LLP. His practice focuses on employment law and he has extensive experience in large-scale and high-profile cases, including class actions and commercial, civil rights and election litigation. Mr. Korrell is a member of the Employment Rights and Responsibilities Subcommittee of the American Bar Association and the National Executive Board of the Labor and Employment Law Practice Group of the Federalist Society for Law and Public Policy. He is a recipient of the Federalist Society's Justice Theodore Stiles Award.
Fr. Pius Pietrzyk, O.P., is a priest in the parish of St. Thomas Aquinas in Zanesville. Fr. Pius was ordained to the priesthood on May 23, 2008, after having entered the novitiate for the Dominican Province of St. Joseph in 2002 and studied for his License in Sacred Theology. Prior to that, he worked for three years in the Corporate and Securities practice of Sidley Austin, a large international law firm based in Chicago.
Click here for the White House announcement.
Congressman, ABA President Call for Increased Legal Services Funding
Rep. Steve Cohen (D-Tenn.) and American Bar Association (ABA) President Carolynn Lamm held a news conference on June 22 at the offices of Memphis Area Legal Services to highlight the need for increased legal services funding in light of the ongoing foreclosure crisis and the increased number of Americans living in poverty.
"Memphis Area Legal Services has helped thousands of people over the years," said Cohen, whose district includes the city of Memphis, in a press release. "Whether you're facing domestic violence, mortgage foreclosure or predatory lending, Memphis Area Legal Services is there when you need help. It is vital that we work to ensure that those who need a lawyer get the legal representation they deserve."
Rep. Cohen, chairman of the House panel responsible for oversight of LSC, is a cosponsor of Rep. Bobby Scott's (D-Va.) Civil Access to Justice Act of 2009, a bill that would reauthorize the Legal Services Corporation and raise its authorized annual funding level to $750 million.
At the news conference, ABA President Lamm noted that the number of Americans living in poverty has increased while legal services funding from major sources has declined. "The funding from other sources for legal services is diminished significantly," she said. "So, all we got is what Congress will give them."
Click here for more information.
Sen. Cardin Questions Kagan on Access to Justice
Sen. Ben Cardin (D-Md.), who has worked during his career on equal access to justice issues, engaged Supreme Court nominee Elena Kagan, the U.S. Solicitor General and a former dean of the Harvard Law School, at her Senate Judiciary Committee confirmation hearing June 29 in a discussion on legal aid for low-income Americans.
Sen. Cardin cited LSC studies that show a substantial difference in the numbers of lawyers available to low-income Americans compared to the general public and that show legal aid programs turn away half of those seeking help because of a lack of resources. "Unfortunately, today many low-income individuals are denied the opportunity for legal services, which is hardly equal justice under the law, which is what I think we all want to achieve," Cardin said.
According to a transcript provided by Congressional Quarterly, Ms. Kagan agreed "the need is so vast in this area" and said that "this country should be able to work out a system in which such help can be provided."
While serving as the Harvard law school dean, she said, the law school expanded its clinical programs and other kinds of pro bono opportunities for students. Students were required to complete 40 hours of pro bono service by graduation, but the average amount upon graduation "was something like 500 hours, sort of 10 times the amount that we required [of] them," General Kagan said.
"What they discovered was this incredibly meaningful part of being a lawyer, that you can provide real services to people who need them, that you can make a difference in the world, that you can make a difference in the lives of ordinary human beings," she testified.
Sen. Cardin closed his remarks by asking, "How well do you think we're doing as a legal profession on pro bono work? And what can you do as a justice to help advance these issues?"
"We surely can do better," Ms. Kagan said, adding that "how the justices approach these big questions about the legal profession is something that I would want to talk with my colleagues about, if the Senate sees fit to confirm me."
"But," she continued, "I think that there's got to be a role for Supreme Court justices, given the positions that they have . . . to try to make sure that [in] the practice of law, the legal profession really lives up to the ideals that it has."
Federal Pro Bono Program Expands to New York City
Legal Services NYC a Partner in Effort
The Department of Justice announced on June 16 the launch of a New York City branch of the Federal Government Pro Bono Program, a DOJ-led effort to connect lawyers working for federal agencies with low-income Americans in need of legal help.
The program, which received the American Bar Association's Pro Bono Publico Award in 2009, began in Washington, D.C. in 1996 and expanded to Chicago in 2008. Local legal services organizations, including D.C.'s Neighborhood Legal Services Program and Chicago's Legal Assistance Foundation, partner with the program to provide representation to clients.
In New York, Legal Services NYC has been selected as a partner and will work with federal lawyers on projects involving family law and domestic violence, child support, credit counseling and ID theft, wills and pro se assistance.
Laurence Tribe, senior counselor for access to justice at DOJ, spoke at the launch. "We talk a lot about making justice more accessible, equal and fair," he said. "But today we do more than talk. Today we take action. In what we do here today, justice becomes an active verb."
Click here for more information.
LSC Holds Conference Call on Oil Disaster in Gulf
Legal services advocates from Alabama, Florida, Louisiana and Mississippi-states impacted by the oil disaster in the Gulf of Mexico-have met several times to discuss timelines, plans and legal issues that are expected to emerge as a result of the fatal explosion and fire on a drilling rig on April 20 that left oil flowing into the Gulf.
Most of the casework is expected to center around the claims process. Many low-income clients may have difficulty demonstrating proof of income, either because they work for cash, participate in an informal barter system or have incomplete income tax documentation, according to the update provided by Brian D. Lenard, executive director of Southeast Louisiana Legal Services Corporation.
The update was provided during the June 15 LSC National Disaster Conference Call, chaired by John Eidleman, the LSC disaster coordinator. Updates also were provided on Tennessee floods and the California Imperial Valley earthquake.
The immediate challenge facing legal aid attorneys in the Gulf region is finding expertise in maritime legal issues, oil pollution law and other laws and regulations that may be needed during the claims process. To facilitate information sharing, legal services advocates have launched a website: www.probononet/la/oildisaster/.
For the White House overview on the claims process, click here.
LSC President Speaks at New York State Bar Event
LSC President Victor M. Fortuno spoke at the Joint Meeting of the New York State Bar Association's Committee on Legal Aid and President's Committee on Access to Justice on June 14, part of the bar's 2010 Legal Assistance Partnership Conference.
Fortuno, a native New Yorker, discussed events in Washington, D.C., including LSC's new Board of Directors, the Corporation's funding outlook for Fiscal Year 2011, congressional efforts to reauthorize LSC and the importance of partnerships in the delivery of legal services.
Following Fortuno's remarks, former LSC President Helaine M. Barnett gave an update on New York Chief Judge Jonathan Lippman's Initiative on State Funding for Civil Legal Services. Lippman appointed Barnett to chair the newly formed Task Force to Expand Access to Civil Legal Services in New York.
Click here for more information.
New Accounting Guide for LSC Grantees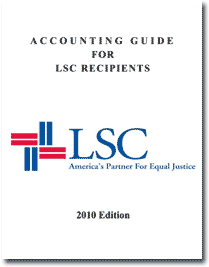 LSC's Board of Directors approved on June 15 a revised version of the Accounting Guide for LSC Recipients, which sets forth the Corporation's accounting, financial management and reporting guidelines for LSC-funded legal aid programs. The revised guide, last updated in 1997, becomes effective 30 days after publication in the Federal Register, which is expected in the coming week.
The revisions to the guide address subjects such as new internal control provisions for electronic banking transactions and contracting, a significantly revised internal control checklist, financial oversight concepts from the Sarbanes Oxley Act of 2002 and key practices to enhance fraud prevention.
The revised guide is the result of a year-long effort by LSC's Fiscal Advisory Group, composed of LSC staff and eight chief financial officers from legal aid programs: Laura Brown of Legal Action of Wisconsin, Ann Gorman of South Jersey Legal Services, Bettina Kaplan of the Legal Aid Society of Cleveland, Mel Miller of Florida's Bay Area Legal Services, Mary Ortegon of Texas RioGrande Legal Aid, Steve Pelletier of Washington's Northwest Justice Project, Paul Saggese of Ohio's Advocates for Basic Legal Equality and Greg Trautwein of the Legal Services of Northwest Minnesota Corporation.
Download the guide. (

843k)
Field News
AMA Supports Medical-Legal Partnerships
The American Medical Association (AMA), during its 2010 Annual Meeting on June 15, adopted a policy to encourage physicians to develop medical-legal partnerships (MLPs)-collaborations between doctors and lawyers that seek to remedy the legal causes of poor health.
"Through this partnership, the unmet legal or environmental needs of patients can be addressed before they reach crisis proportions," said AMA Board Member Dr. David O. Barbe in a press release. "The AMA encourages physicians to develop medical-legal partnerships, and we will help them do this by creating a model agreement and working with key stakeholders on education."
Dr. Barry Zuckerman, Chief of Pediatrics at Boston Medical Center and Founding Director of the National Center for Medical-Legal Partnership, said in an announcement, "Thanks to organizations such as the AMA, the MLP model we pioneered in Boston is receiving widespread support in the legal and medical communities and beyond, ensuring more people access to vital legal services."
Carolyn Lamm, president of the American Bar Association, issued a statement praising the AMA's action. "The asthmatic child, disabled veteran and elderly widow are just a few examples of those whose lives can be positively changed when lawyers and doctors work hand in hand to address interrelated legal and medical problems," she said.
"The attorneys who work in such partnerships on a pro bono basis deserve high praise and we encourage more lawyers to pursue similar, pro bono work," Lamm said. "It also is critical that Legal Services Corporation gain additional resources so their grantees can expand partnership efforts."
LSC-funded legal aid programs are the legal partners in more than half of MLPs throughout the country.
Click here to learn more about medical-legal partnerships.
Feds Fine Texas for Faulty Food-Stamp Program
TRLA Recently Sued State over Same Issue
The federal government has fined Texas nearly $4 million for errors in its administration of food-stamp benefits, according to a June 28 article in the Austin American-Statesman.
The fine stems from the state's high rate of overpayments and underpayments two years in a row, according to a letter from the U.S. Department of Agriculture. The letter said the state's "payment error rate," a measure of over- and underpayments, and its "negative error rate," a measure of improper denials, exceeded the national average, which prompted the fine.
A spokesman for the Texas Health and Human Services Commission said the state will appeal the fine, arguing that the number of food-stamp recipients has spiked as a result of Hurricane Ike in 2008 and the current economic downturn. The spokesman also noted that the error rates mentioned in the letter are now below the national average.
Texas RioGrande Legal Aid sued the commission in state court last December over its inability to process food-stamp applications within the amount of time required by law. TRLA expanded its suit this month, adding plaintiffs and arguing that hungry Texans are purposefully dissuaded from participating in the food-stamp program.
"Throughout the course of our lawsuit, [the commission] has continually tried to avoid accountability for running a system that violates state law and purposefully discourages low-income Texans from taking advantage of assistance they need to survive," said Cynthia Martinez, communications director for TRLA, in a statement on the federal government's action.
"No child should have to go to bed hungry because the state cannot run an effective system. No family should have to sacrifice nutrition or choose between food and rent because the state knows how to come up with an exhaustive list of excuses but cannot fix the problems it has caused."
Tennessee Supreme Court Announces Access to Justice Goals
Press Release, Supreme Court of Tennessee – June 22, 2010
The Tennessee Supreme Court [on June 22] unveiled plans to host a statewide pro bono summit as a part of the Court's effort to address access to justice in Tennessee. The pro bono summit was just one of several action items outlined by the Court, as it announced the adoption of four over-arching goals to guide its Access to Justice Initiative in the coming years.
The pro bono summit, which will be held in Nashville on January 21, 2011, will bring together members of the legal community to discuss pro bono issues, preview available technology, and seek input on the development of a statewide pro bono referral system.
"We believe that this summit will be a great launching pad for increasing pro bono efforts throughout the state, and we hope to see many of the people here today join us for this event," Chief Justice Holder said during her remarks.
The Court also announced plans for an access to justice website, which will be a repository of resources and information for Tennesseans. The site will include videos about the court system, links to local resources throughout the state, and downloadable plain-language forms, which will be approved by the Supreme Court. The new site is expected to launch in January 2011.
Click here for more information.
Opinion: Maintain State Funding for Legal Services in New Jersey
Bergen County Record – June 21, 2010
The proposed state budget is emaciated. New Jersey's fiscal ill-health has resulted in starvation rations. That means, for example, eliminating adult enrollment in NJ FamilyCare and getting rid of school-breakfast funding. Still, we are saddened to hear of the massive proposed cut to Legal Services of New Jersey, which has already suffered several rounds of off-at-the-knees reductions.
We call on the governor and lieutenant governor, two seasoned lawyers, to come up with a creative way to continue this crucial program at a funding level that keeps it running effectively.
There is no guarantee in this country of legal representation in civil legal matters. If you don't have the money to hire a lawyer, your custody, eviction, discrimination or wrongful termination case is your problem - unless you are among the lucky few who manage to get a free legal aid lawyer. But in New Jersey, Legal Services is facing a funding cut of nearly $10 million, or 33 percent, so there will be even fewer fortunate clients next year.
Click here to continue reading.
D.C. City Council Restores Legal Services Funding
D.C. Bar – June 17, 2010
Access to justice advocates were handed a big victory in May when the Council of the District of Columbia passed a $3.5 million budget for funding for civil legal services providers.
The approved 2011 budget restores a substantial portion of funding in comparison to 2009, which was $3.6 million. Originally, Mayor Adrian M. Fenty had proposed a budget cut of $1.8 million for 2011-a trim that would have represented a 50 percent decrease from 2009 levels.
"Even without these cuts from the District, the legal services network has taken a substantial financial hit due to the recession," said Jessica Rosenbaum, executive director of the D.C. Access to Justice Commission. "Further cuts will undermine the network's ability to provide urgent services to indigent clients; $1.8 [million] was really a scary number."
Click here to continue reading.
LSC Funding Helps Florida Program Move to Central Location
Press Release, Bay Area Legal Services – June 17, 2010
Joined by St. Petersburg Mayor Bill Foster, City Council members, and other government, community and business leaders, Florida's Bay Area Legal Services celebrated the Grand Opening of its new St. Petersburg office.
The mayor praised Bay Area for choosing to relocate its branch office to the low-income community of Greater Childs Park. "This decision demonstrates Bay Area Legal Services' commitment to serving the public and providing access to legal services."
Bay Area has provided legal services to residents of Pinellas County since 2004. In 2009, Bay Area received $300,000 in funding from the Legal Services Corporation to acquire permanent office space in St. Petersburg. Its new office was selected for its central location and easy access for clients.
"When LSC presented us with the opportunity to purchase an office in St. Petersburg, it gave us the chance to better serve our clients," said Lisa Brody, managing attorney of the St. Petersburg office. "With the decrease in overhead, we would be able to shift our resources into direct client services and could move closer to the client communities we serve to provide increased access to our services."
Learn more about Bay Area Legal Services on its new blog, www.balsblog.org.
Awards
As noted in the last issue of LSC Updates, summer seems to be award season in the legal community and the honors for public interest work are pouring in. Here are some of those being recognized:
William M. Barker, former chief justice of the Tennessee Supreme Court, has received the Equal Access to Justice Award from Legal Aid of East Tennessee and the Young Lawyers Division of the Chattanooga Bar Association for making access to justice the court's top priority during his tenure.
Burton Harding, a private attorney in Girard, Kan., received the Pro Bono Award for his volunteer service to Kansas Legal Services. Harding helped the program file guardianship actions to give grandparents the legal authority to meet the needs of their grandchildren. Learn more.
Jeff L. Hogue, supervising attorney of Legal Assistance of Western New York, received the New York State Bar Association's 2010 Denison Ray Civil Legal Services Award in recognition of his leadership in increasing access to justice through the use of technology. Learn more.
Anne Milne, executive director of Utah Legal Services, has been honored by the Utah State Bar and the staff of Utah Legal Services for her leadership and dedication to the program and in recognition of her 25 years at the helm of the organization. Learn more.
Robin Phillips, an attorney with Procopio, Cory, Hargreaves & Savitch LLP, received the California State Bar's Wiley W. Manuel Award and the Legal Aid Society of San Diego's Outstanding Service Award for his pro bono service to the Legal Aid Society, including his more than 200 hours of volunteer work on a single employment case. Learn more.
The Washington State Bar Association joins the Tennessee Bar Association in receiving a 2010 Harrison Tweed Award from the American Bar Association and the National Legal Aid and Defender Association. The Washington Bar is being honored for its role in providing funding for the provision of legal services and for its Home Foreclosure Legal Aid Project. Learn more.
Success Story from Pine Tree Legal Assistance
Legal aid is about helping ordinary people with real-life problems. Client stories illustrate the day-to-day struggles-and victories-of poor Americans seeking justice under law.
Foreclosure Mediation Saves Home for Client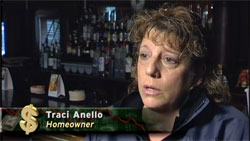 The latest episode of "Making $ense New England," a public broadcast series focusing on economic challenges facing New England communities, features a client of Maine's Pine Tree Legal Assistance who was facing foreclosure but was able to save her home thanks to foreclosure mediation.
The client, Traci Anello, began to miss mortgage payments in early 2009 when the bakery she owned started having problems: an investor pulled out, the landlord raised her rent and the crumbling economy took its toll.
Nearing foreclosure, a court granted her the right to participate in what was then a pilot foreclosure mediation program. During the mediation, Anello and the bank worked out an agreement that allowed her to save her home.
Anello now has a new job and recently celebrated her daughter's graduation from college. "If it wasn't for…mediation," says Anello, none of that would have happened.
Chet Randall, an attorney with Pine Tree Legal Assistance who represented Anello throughout the mediation process, led a commission that helped turn the pilot program into one that is now statewide and mandatory.
"It's often hard for homeowners to get anybody to tell them what's going on with their application request for help," says Randall. "Mediation is designed to have somebody there who does have the authority to go through it, who's got the information in front of them now, who can talk to the homeowner about realistic options, and the homeowner can have an exchange making sure that the information the creditor is claiming they have is accurate…and can provide some meaningful dialogue between the two to get someplace. That in the past has been very, very difficult."
Click here to watch the episode. (Scroll to 6:25 for the segment.)
---