LSC Updates - June 11, 2010
LSC Board Members Visit Chicago Legal Aid Program
LSC Board Chairman John G. Levi and Board Member Laurie Mikva visited offices of the Legal Assistance Foundation of Metropolitan Chicago (LAF) last month, where they were given a front-line view of the day-to-day work that goes into meeting the legal needs of low-income Americans.
LAF serves the low-income residents of Chicago and suburban Cook County with six offices-four in Chicago, one in Evanston and one in South Holland-that employ about 170 people, including 90 lawyers and 38 paralegals. The group's budget in 2009 was $14 million, slightly more than half of which came from LSC.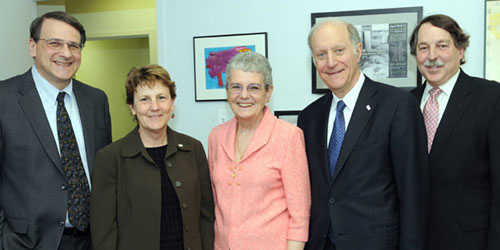 Left to right: Alan Alop, LAF Deputy Director for Service Offices; Laurie Mikva, LSC Board Member; Diana White, LAF Executive Director; John G. Levi, LSC Board Chairman; Jack Block, LAF Deputy Director for Special Projects. Photo by Ben Speckmann.
At LAF headquarters in downtown Chicago, Levi and Mikva met with Cynthia Sadkin, head of the program's new centralized intake unit, which has made the client screening process more efficient, allowing attorneys to spend more time on case work. They also met with Diana White, executive director of LAF, and the program's deputy directors Alan Alop and Jack Block, and discussed how the program provides services in the face of daunting challenges.
At the program's branch office in Evanston, Levi and Mikva met with William A. Kolen, the office's supervising attorney, volunteer attorneys and staff attorneys and sat in on the office's weekly case acceptance meeting, where decisions are made about which cases to accept. They also discussed the office's success in recruiting private attorneys to represent their clients.
"On behalf of Laurie Mikva and myself," said Chairman Levi, "I want to thank everyone at the Legal Assistance Foundation for giving us such a compelling briefing and for taking the time to show us what it really takes-and what it really means-to be out in the field every day working for equal justice. The work they do exemplifies the very best of the legal profession and not only gives hope to millions of Americans, but gives life to one of our country's highest ideals."
Download a report (

141k) by LAF Deputy Director Jack Block and Supervisory Attorney William Kolen for more information. See this issue's success story to meet some clients who have been helped by LAF.
LSC President Speaks at Pennsylvania Project Directors Meeting
LSC President Victor M. Fortuno spoke at the Pennsylvania Project Director Association Meeting in Harrisburg on June 7. The association is composed of the heads of the state's civil legal aid programs, eight of which are LSC grantees.
Fortuno, who began his legal career as a legal services attorney in Pennsylvania, praised the state's legal aid community for working hard to offset recent decreases in IOLTA funding and to protect funding for civil legal aid in the state budget.
He also spoke about developments in Washington, including the Corporation's budget request for Fiscal Year 2011 and congressional efforts to reauthorize LSC.
Fortuno concluded his remarks with a reminder of the importance of governance and accountability at LSC and its grantees, especially in the wake of recent news reports about employee embezzlement at LSC-funded programs.
"Although these events are rare and out of the ordinary, they are most unfortunate," said Fortuno. "As we seek higher federal funding for legal services to meet the increasing demand for services, we must work together to show the public and Congress that we are always striving to be the best stewards of taxpayer dollars."
Fortuno also spoke at the board of directors meeting of the Pennsylvania Legal Aid Network (PLAN) on June 8. PLAN provides leadership and strategic coordination to ten regional legal aid programs and six specialized legal resource programs in the Commonwealth of Pennsylvania.
For more information about legal aid in Pennsylvania, visit PLAN's website: www.palegalaid.net
Action Required: Free HotDocs Software Offer Expires Aug. 31
For the LSC programs that have participated in the HotDocs donation program and wish to continue, it's deadline time.
The HotDocs software business has a new owner who welcomes the opportunity to continue providing HotDocs to support legal services, charities and community initiatives through a new HotDocs Charitable Organization Program.
Participants in the previous HotDocs software donation program, as well as other eligible organizations developing online assembly templates in conjunction with Pro Bono Net's Law Help Interactive program, will be eligible for free copies of HotDocs Developer 10 and HotDocs User 10.
These product licenses will never expire or require reapplication, but the offer expires on August 31, 2010.
These products were formerly known as HotDocs Pro and HotDocs Standard.
The free copies of the HotDocs software are being made available to LSC programs by HotDocs Limited (formerly known as Capsoft UK Ltd.), through its U.S. business, HotDocs Corporation. HotDocs Limited acquired the software business from LexisNexis in 2009.
"We appreciate this generous offer by HotDocs Limited and its chief executive, Russell Shepherd," said Glenn Rawdon, who heads the Technology Initiative Grants program at LSC. "The HotDocs software will contribute to the efficiency of our nonprofit legal aid programs and help us better deliver legal assistance to low-income Americans."
Following the August 31 deadline, organizations that qualify for the HotDocs Charitable Organization Program will be able to buy software licenses at a 70 percent discount.
HotDocs is a software program that saves time by creating templates for documents that law offices use every day, such as court forms, real estate and lease agreements, contracts, proposals, correspondence, compliance reports and other material.
Read the announcement of the new HotDocs Charitable Organization Program. (

287k)
New Loan Repayment Program for Civil Legal Aid Attorneys
Apply by August 16 to participate in the U.S. Department of Education's new Civil Legal Assistance Attorney Student Loan Repayment Program.
Successful applicants will receive $6,000 in loan repayment assistance in exchange for a three-year service commitment and may receive a lifetime maximum of $40,000 if the program continues to be funded by Congress. Funding is available on a first-come first-served basis to eligible, full-time civil legal aid attorneys with federal student loan debt.
Equal Justice Works notes in a recent blog entry that participants in the new program cannot receive benefits from the Public Service Loan Forgiveness program for the same time period and therefore should "carefully consider" whether to apply for the new program.
The draft application (

307k) is available on the website of Equal Justice Works, which has dedicated a section of its site to information about the new program. Equal Justice Works will host a webinar on June 17 for those seeking additional information.
Click here for more information.
Tribute to Andrew Scherer, Outgoing Legal Services NYC Director
New Interim Director Takes Office
Legal Services NYC paid tribute on May 25 to Andrew Scherer, who recently stepped down as executive director and president of the organization, which he has served in various capacities for 31 years.
Scherer, a legal services housing attorney in New York City since the late 1970's, has led the program since October 2001. He had previously served as the program's acting executive director, deputy executive director, director of its Legal Support Unit and housing coordinator. He started as a staff attorney at Bronx Legal Services, part of the Legal Services NYC network.
LSC President Victor M. Fortuno spoke at the event, praising Scherer and thanking him for his leadership, service and many contributions to the cause of equal access to justice for the poor and most vulnerable in our nation. Also speaking at the event were Mark G. Cunha, chair of the program's board of directors, the Honorable Fern Fisher, a judge in the New York City courts and director of the state courts' Access to Justice Program, Raun J. Rassmussen, chief of litigation and advocacy for the program's Legal Support Unit, and John S. Kiernan, a member of the program's board.
Legal Services NYC announced in May that Michael D. Young would serve as interim executive director while the program's board undertakes a nationwide search for a new executive director. Young began his legal career as a staff attorney at the Legal Assistance Foundation of Metropolitan Chicago and currently serves on the board of South Brooklyn Legal Services, a part of the Legal Services NYC network.
Visit Legal Services NYC's website to learn more.
Barnett to Teach NYU Law School Seminar on Access to Civil Justice
Helaine M. Barnett, president of LSC from 2004 through 2009, will be teaching a third-year seminar on civil legal services at New York University School of Law in the fall.
The course is entitled Access to the Civil Justice System and Delivering Civil Legal Services to the Poor: Policies, Practices and Current Challenges. Barnett, a graduate of NYU law school, will base the course on her 37-year career at the Legal Aid Society in New York and her six years as LSC President.
The seminar will focus on the concept of "equal justice for all" as it relates to providing civil legal aid to low-income Americans and will provide an overview of the history and origins of the idea of equal justice and civil legal aid, culminating in the formation of the Legal Services Corporation. The role of other key players-IOLTA programs, private attorneys, the organized bar, the judiciary, law schools and state access to justice commissions-will also be discussed.
A central theme of the course will be the impact of the justice gap on the American legal system, the continuing efforts to close the gap and new strategies to help low-income Americans protect their fundamental rights without the help of an attorney.
Field News
California Legal Aid Group Releases Report on Recruitment and Retention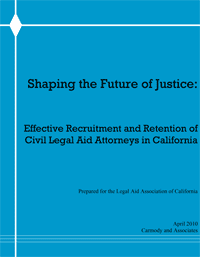 The Legal Aid Association of California has released a comprehensive report on one of the most intractable and persistent problems confronting civil legal aid programs throughout the country: how to recruit and retain talented, dedicated-and often debt-burdened-attorneys while offering salaries that are among the lowest in the entire legal profession.
The report, Shaping the Future of Justice: Effective Recruitment and Retention of Civil Legal Aid Attorneys in California, is based on a survey of attorneys at 37 civil legal aid programs throughout the state, which together employ about 70 percent of California's legal aid lawyers.
The report finds that California's legal aid programs are losing attorneys at a fast rate, attorneys will continue to leave as the economy improves, low salaries are the number one reason for why attorneys leave, and many attorneys have crushing levels of educational debt. The report also found that many attorneys wish for greater professional development and advancement opportunities and put a high priority on work/life balance.
The report concludes that legal aid programs and other stakeholders must work to improve attorney salaries and workplace practices in order for attorneys to continue serving their clients effectively while maintaining a financially stable lifestyle.
Click here to download the report. (

1.5mb)
Tennessee: Crisis in Need for Civil Legal Services
"The current economic climate has created a crisis in the need for civil legal services," wrote Janice M. Holder, chief justice of the Tennessee Supreme Court, in her recent state of the judiciary report (

653k) to the state legislature.
The report notes that Tennessee has only 81 federally funded, full-time civil legal aid lawyers to provide services to the state's one million qualified low-income residents.
Zachary and Lauren Tubb are two of those million. Their story, which was featured in a June 1 article in The Tennessean, is all too typical: job loss, bankruptcy, debt and the specter of homelessness brought the couple to a county courtroom with no lawyer and little hope.
On June 22, Chief Justice Holder will make an announcement that could provide some hope to people like the Tubbs. She will discuss the state access to justice commission's strategic plan and will announce the court's goals and outline its next steps regarding access to justice.
"The Tennessee Supreme Court is getting it right…on the issue of access to justice," said The Tennessean in a June 9 editorial. "All of us should pay attention to what Chief Justice Janice Holder says" on June 22.
Note: Gary Housepian, executive director of the Legal Aid Society of Middle Tennessee and the Cumberlands, one of four LSC grantees in the state, wrote a June 9 op-ed also appearing in The Tennessean. He notes the recognition that lawyers have received for helping victims of the state's recent floods, but reminds readers that "it doesn't take a natural disaster for Tennessee families to need this kind of help" and that legal aid programs "help rebuild Tennessee families every day and every year."
First-Ever Bar Campaign a Success for Missouri Program
Legal Services of Eastern Missouri's (LSEM) First Annual Bar Campaign, launched in May, has already netted the group substantial funding commitments from two law firms.
LSEM announced (

42k) on June 2 that the law firm of Husch Blackwell Sanders LLP had made a three-year commitment to provide $55,000 annually to LSEM for its ongoing advocacy for victims of domestic violence.
"Husch recognizes that legal work is one of the most effective tools to aid women and families in domestic violence situations and to ultimately help end the cycle of violence in their lives," said Dan Glazier, executive director of LSEM, in the announcement.
The program announced (

40k) on June 8 that another law firm, Bryan Cave LLP, had also made a three-year $50,000 annual funding commitment to LSEM.
The goal of LSEM's bar campaign is to raise $600,000 a year for three years to support its representation of low-income clients throughout the program's 21-county service area.
Visit LSEM's website, at www.lsem.org, to learn more.
Community Legal Services of Mid-Florida: Four Decades of Service
Sam Gilkey, Osceola News-Gazette (FL) – June 1, 2010
For more than 40 years, Community Legal Services of Mid-Florida has provided help for thousands of people who otherwise would be unable to obtain legal assistance because of their incomes.
With main offices in Daytona Beach, the organization has nine regional offices and serves 12 counties. The $8 million budget this year is funded primarily by federal grants from the Legal Services Corporation and interest on attorney trust accounts maintained by the Florida Bar Foundation.
"The Kissimmee office generates more cases than any other in our coverage area," said Roberto Cruz, [managing attorney for the office].
"We have three attorneys, three legal assistants and a receptionist," he added. "And we also have staff attorneys from Orlando and Ocala who help out as well as some interns."
The organization provides free civil legal services to residents whose income is at 125 percent of the U.S. poverty level. The agency says there are more than a half-million people in its service area living in poverty.
Click here to continue reading.
Go "Back to the Future" at MIE's National Fundraising Conference
The Management Information Exchange is hosting its 2010 National Fundraising Conference, "Back to the Future," in Atlanta, Ga., from July 28-30.
The conference sessions will cover topics including web-based fundraising and social networking, developing a fundraising board of directors and Legal Aid Fundraising 101. The event will also include a celebration of the 20th anniversary of MIE's Fundraising Project.
The opening plenary session, "Motivate Me: How the Generations Respond to Marketing," will focus on how different generations respond to fund- and friend-raising efforts through traditional and social media. Jenny Schmitt, founder of CloudSpark, a strategic communications and social media company, will speak at the session.
MIE asks interested parties to register by July 7, 2010. Click here for more information.
Awards
Summer seems to be award season in the legal community and the accolades are (quite literally) pouring in. Here are some organizations and individuals who are being honored for their work to increase access to justice.
Success Stories from the Legal Assistance Foundation of Metropolitan Chicago
Legal aid is about helping ordinary people with real-life problems. Client stories illustrate the day-to-day struggles-and victories-of poor Americans seeking justice under law.
"They gave their hearts for my case."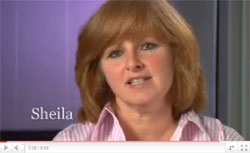 A mother trying to protect her children from their abusive father. A young man facing homelessness. A woman trying to save her house from foreclosure.
These are some of the clients whose lives have been changed thanks to the help of the Legal Assistance Foundation of Metropolitan Chicago.
They tell their stories in their own words in this video created by the program. Watch the video to learn how legal aid can truly be a life-changing force in the lives of Americans.
---