LSC Updates - June 6, 2007
House Subcommittee to Mark-up LSC's FY 2008 Appropriation
The House Appropriations subcommittee responsible for funding LSC will have $53.5 billion to distribute when it marks-up the FY 2008 Commerce, Justice, Science, and Related Agencies appropriations bill on Monday, June 11.
The subcommittee is chaired by Rep. Alan Mollohan (D-WV), with Rep. Rodney Frelinghuysen (R-NJ) as its Ranking Member.
The subcommittee's allocation is $3.2 billion, or 6.4%, more than the $50.3 billion it received in FY 2007.
When completed, the subcommittee will send the bill to the full House Appropriations Committee, which has scheduled its mark-up for June 18.
LSC received $348.6 million for FY 2007, its first budget increase since FY 2003, and its largest appropriation since FY 1995. LSC has requested $430.7 million for FY 2008, $82 million more than it received in FY 2007.
To download LSC's FY 2008 budget request, click here.
LSC in the News
South Jersey Legal Services Stops Eminent Domain Plans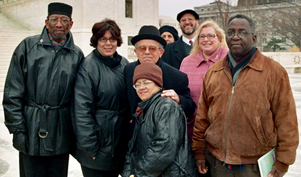 Attorneys with South Jersey Legal Services
Hundreds of low-income residents of Camden, New Jersey will be able to remain in their homes thanks to South Jersey Legal Services (SJLS), which waged a lengthy legal battle against an eminent domain plan requiring the demolition of more than 500 federally-subsidized, low-income homes in Camden's Cramer Hill neighborhood.
On May 30, Camden city officials announced they would drastically scale back the plan to avoid forcing any residents from their homes.
SJLS initially filed suit in 2004, after Camden's municipal council adopted the plan despite wide-spread community opposition. Since then, the state Superior Court has invalidated the plan on procedural grounds on three separate occasions.
In a press release, SJLS Deputy Director Douglas Gershuny said the city's announcement to revise the plan is "a monumental victory for our clients and the residents of Camden...thousands of families will be spared forced displacement from their homes."
To read "Cramer Hill Plan Won't Take Houses" from the Courier-Post, click here.
For more information, read "A Community's Quandary" from the Spring 2005 issue of LSC's Equal Justice Magazine.
New York: IOLA Regulations Would Boost Funding For Civil Legal Aid
State funding for New York's civil legal aid organizations could increase dramatically if new regulations governing Interest on Lawyer Account (IOLA) funds are adopted.
The new regulations were proposed by the Board of Trustees for the state-run IOLA Fund on May 31, and would require banks to pay interest rates on IOLA accounts commensurate with rates paid on similar accounts.

According to a press release issued by New York Governor Eliot Spitzer, the top 80 banks handling IOLA funds currently pay an average interest rate less than 1%. Under the new regulations, banks would pay interest rates closer to 2.7%.
"The increased revenue from the amended IOLA regulations will provide poor New Yorkers with greater access to civil legal services," said Governor Spitzer. "This initiative...will go a long way toward supporting civil legal services programs that help prevent homelessness and assist victims of domestic abuse and discrimination, and ensure that families can access health care and other necessary services."
The new regulations do not require legislative approval, but are subject to a 45-day comment period ending July 15.
Efforts to increase interest rates on IOLTA accounts have succeeded or are underway in other states. The Illinois Supreme Court has required banks to increase their rates, and the Minnesota State Bar Association has asked their state's Supreme Court to adopt similar requirements. The District of Columbia Bar Foundation has increased IOLTA returns through an initiative aimed at getting banks to voluntarily increase their interest rates on IOLTA accounts.
To read Governor Spitzer's press release, click here.
Massachusetts Bar Association Unanimously Supports Civil Gideon
On May 23, the Massachusetts Bar Association's (MBA) House of Delegates unanimously agreed to support a resolution affirming the right to counsel in civil cases involving basic human needs. This concept is known as Civil Gideon, after the landmark 1963 U.S. Supreme Court case, Gideon v. Wainwright, which established the right to counsel in criminal cases. Currently, no right to counsel exists for civil cases.
The resolution adopted by the House of Delegates is modeled after American Bar Association (ABA) resolution 112A, which urges state, federal, and territorial governments to pay for counsel for low-income people involved in cases "where basic human needs are at stake, such as those involving shelter, sustenance, safety, health or child custody."
Michael Greco, former President of the ABA and the MBA, urged the group to support the ABA's resolution, saying, "It is shameful, shameful, that in the most bountiful country in the world, that 80 percent of the legal needs of the poorest Americans go unmet year after year."
"Imprisonment is not just being behind bars," he said. "It can be living in poverty day after day. This issue is the defining issue for the legal profession, for the organized bar, for society."
For more information, read "House of Delegates unanimously supports principle of civil Gideon" in the MBA's Lawyers e-Journal.
To read ABA resolution 112A, click here.
D.C. City Council Allocates $3.2 Million For Civil Legal Services In Fiscal Year 2008
Press Release, District of Columbia Access to Justice Commission - June 5, 2007
Today, the D.C. City Council finalized legislation that will provide $3.2 million for civil legal services in fiscal year 2008, which begins on October 1, 2007. This is the second straight year that the Council has provided this funding, and comes in response to recommendations made by the D.C. Access to Justice Commission.
As requested by the Commission, the money will go to the D.C. Bar Foundation, which will run a competitive grant program to distribute these funds. The funds will provide support for additional legal services in housing-related matters, put more lawyers in underserved areas of the District, and pay for a shared legal interpreter bank. A portion of the appropriation will also fund the District of Columbia Poverty Lawyer Loan Assistance Repayment Program Act of 2006.
"By continuing public funding for civil legal services in fiscal year 2008, the District government has renewed its commitment to help those most in need..." said Commission Chair Peter Edelman. "We are extremely pleased that the District has taken this step and are committed to ensuring that this funding continues in future years because the needs continue to be vast."
For more information, click here.
LSC-Funded Programs Receive $2.5 million in Low-Income Taxpayer Grants
In 2007, more than 40 LSC-funded programs received grants totaling $2.5 million as part of the IRS's Low-Income Taxpayer Clinic (LITC) program. The program provides up to $100,000 in matching grants to organizations representing low-income taxpayers involved in disputes with the IRS, or organizations educating non-English speakers on their rights as taxpayers.
Three LSC-funded programs--the Legal Aid Society of Middle Tennessee and the Cumberlands, Oklahoma Indian Legal Services, and South Brooklyn Legal Services--each received $97,250, the single largest amount provided in the 2007 grant cycle.
To read the IRS's press release announcing the grants, click here.
To download a list of all the grants, click here.
Free Trial Skills Training Sessions for Legal Services Lawyers
The National Institute for Trial Advocacy (NITA) is offering two, free, week-long Legal Services Trial Skills training sessions in Louisville, Colorado on July 30-August 3, and October 29-November 2.
From NITA's website:
"These specially designed programs use fact patterns that replicate common cases brought to legal services offices, including dependency and neglect, consumer, and landlord/tenant fact patterns. Participants learn to develop case analysis and hone the trial skills necessary for the heavy case load of so many public service lawyers and advocates. Faculty for these programs are drawn from NITA's best and brightest instructors, many of who work, or have worked, in the public service community."
For information on how to apply for these sessions, click here.
Pro Bono Awards
Legal Services of Southern Missouri (LSSM) awarded Sidney Pearson with its Philip S. Huffman Memorial Award, which recognizes the commitment of volunteer time to LSSM's clients by a private attorney. Pearson has been providing pro bono legal services to the low-income community since the early 80's. During the past six years he handled 115 bankruptcy cases for clients of LSSM. The award's namesake served on LSSM's Board of Directors from 1996 until his death in 2005. For more information, click here.
Legal Aid of North Carolina honored Sean F. Perrin of Womble Carlyle Sandridge and Rice with its 2007 Pro Bono Attorney of the Year Award. The award is given annually to a Mecklenburg County lawyer who has provided significant pro bono representation in the past year. Perrin handled nearly 30 cases in the last year alone, helping victims of domestic violence obtain restraining orders, assisting abused and neglected children through the state's guardian ad litem program, and other matters. For more information, click here. For more information, click here.
Local Lawyer Rebecca Santo Tomas Selected To Lead GLSC
Mindy Fothergill, KUAM News - June 4, 2007
The Guam Legal Services Corporation's board of directors has selected Attorney Rebecca Perez Santo Tomas as their new executive director. She replaces Daniel Sommerfleck who resigned last week. Santo Tomas has been an attorney on Guam for more than ten years and previously worked as a staff attorney for the GLSC.
According to a release from the board, Santo Tomas previously worked as a social worker and a special education social worker and teacher. She begins her first day on the job on June 11.
To view the article at its original source, click here.
Longtime State Bar Employee Dies at 63
Mike McKee, The Recorder (CA) - June 6, 2007
Judith Garlow, an employee of the State Bar of California for 32 years and a national leader in securing funds for legal services to the poor, has died.
Garlow, 63, passed away at her San Francisco home on [June 2] after a long battle with a brain tumor. Funeral services will be held at 10 a.m. [June 8] in the historic Golden Gate Room at San Francisco's Fort Mason Center.
Garlow was the director of the State Bar's Legal Services Trust Fund Program until she retired last year, and was instrumental in leading statewide and national efforts to expand legal help for the poor. Even during her illness, she continued to contribute her expertise toward enhancing the funding streams she pulled together.
"Besides being one of the nicest, warmest and most genuine people you'd ever meet, Judy was a pioneer in legal services access," State Bar Executive Director Judy Johnson said Tuesday. "She was recognized as a national expert in funding of legal services through interest from lawyer trust accounts. And she galvanized support from the legal community for defense of IOLTA [Interest on Lawyers Trust Accounts] funding when it was challenged in the courts. It was ultimately upheld in the U.S. Supreme Court."
To read the article in its entirety, click here.
Success Story From The Atlanta Legal Aid Society
Legal aid is about helping ordinary people with real-life problems. Client stories from the field illustrate the day-to-day struggles--and victories--of poor Americans seeking justice under law.
Health Law Partnership Secures Benefits For Sick Child
Lawyers with the Atlanta Legal Aid Society's Health Law Partnership (HeLP) recently secured full Social Security benefits for "Danny" a six-year-old boy with Duchenne muscular dystrophy, a disease that eventually destroys all voluntary muscles, the heart, and breathing muscles. An older brother of Danny's died from the same disease at age 13.
Despite the seriousness of his condition and short life-expectancy, Danny was denied Social Security disability insurance benefits. Lawyers with HeLP appealed the decision on Danny's behalf. Four months later, an administrative law judge reviewed the case and found that the evidence supported a fully favorable decision, and awarded the maximum level of Social Security benefits as well as 15 months of back benefits, starting when the initial application was filed.
About the Health Law Partnership
HeLP brings together lawyers and doctors to provide a holistic set of services that address the physical, social, and economic factors affecting the health of children. This project is part of the Medical Legal Partnership for Children, a national network of programs dedicated to promoting the health and wellbeing of low-income children and families by confronting the non-biologic factors that influence health.
For more information about HeLP, click here.
---