LSC Updates - March 5, 2010
Attorney General Holder Speaks at LSC Black History Month Observance
The Legal Services Corporation and the Justice Department are partners in "our country's ongoing pursuit of justice," Attorney General Eric H. Holder, Jr., said March 2 in a keynote address at LSC's Black History Month celebration.
"In the last 35 years, LSC has proven to be one of our nation's most effective agents for meaningful change. You all empower Americans who are struggling to live with dignity, who want to keep their jobs, who want to stay in their homes and who want to secure the basic necessities for their families. Quite simply, you change and you improve lives. And you've succeeded in pushing our nation toward progress and toward fairness. These are the achievements we've gathered here today to celebrate," the Attorney General said.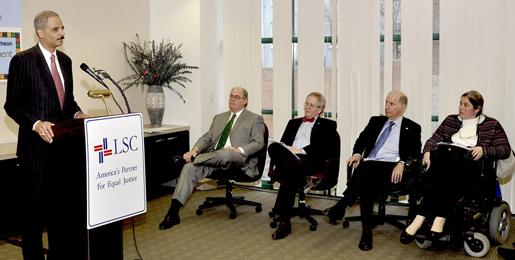 U.S. Attorney General Eric Holder addresses the staff of the Legal Services Corporation as current and prospective members of LSC's Board of Directors look on. From left to right: Michael D. McKay, Board Vice Chairman; Frank B. Strickland, Board Chairman; John G. Levi, Board nominee; and Julie Reiskin, Board nominee. All photos by Marshall H. Cohen.
LSC was established in 1974 to promote equal access to justice and to ensure the delivery of high-quality civil legal services to the nation's poor. The Corporation is the single largest funder of civil legal aid, providing grants to 136 independent nonprofit legal aid programs across the country.
In his address, Attorney General Holder said the nation has "faced the most serious financial crisis in generations" and that "we must not allow this next generation, especially young African Americans, to become the first generation in decades not to keep pace with or exceed their parents' standard of living. LSC is an ally in this work. In fact, LSC-funded programs are critical to ensuring that employment practices are not used to illegally discriminate against any category of job applicants."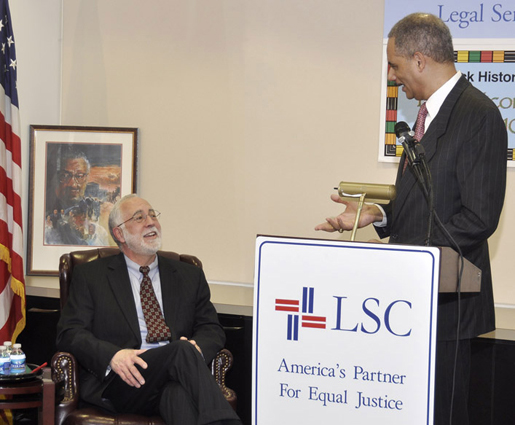 Forty years later: Attorney General Holder jokes with LSC President Victor M. Fortuno. The two native New Yorkers graduated from Columbia Law School a year apart in the 1970s.
The LSC Black History Month program honored four students from the Csar Chvez Public Charter Schools for Public Policy, Capitol Hill campus, for their scholastic achievements. Attorney General Holder told the students that "we're proud of your hard work, and we look forward to great things from each of you. You are our future leaders."
LSC President Victor M. Fortuno welcomed Attorney General Holder, a friend since their days as undergraduates and law students at Columbia University, to the Corporation. The Attorney General also was welcomed by LSC Board Chairman Frank B. Strickland of Atlanta, Board Vice Chairman Michael D. McKay of Seattle, and two White House nominees to the LSC Board, John G. Levi of Chicago and Julie Reiskin of Denver.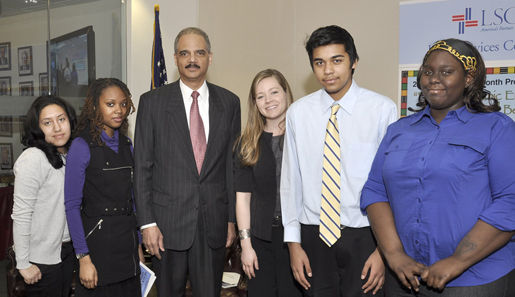 Holder with students and faculty from the Capitol Hill campus of the Csar Chvez Public Charter Schools for Public Policy in Washington, D.C. From left to right: Jacqueline Sorto, Mariah Green, Public Policy Director Julie Harris, Marc Sibaja and Dominique Johnson.

More than 100 LSC staff members and guests gathered for the program, held at the Corporation's offices. Among the guests were Jo-Ann Wallace, president of the National Legal Aid and Defender Association; Alan W. Houseman, executive director of CLASP; William H. Orrick III, counselor to the Assistant Attorney General for the Justice Department's Civil Division; Julie M. Strandlie, Legislative Counsel, American Bar Association; Brenda Ford Harding, executive director of the Neighborhood Legal Services Program of the District of Columbia, and Helaine M. Barnett, the past president of LSC.
The nation "has made tremendous progress on the path towards justice. And although this progress may seem slow and halting at times, each of us has the power to make sure that it is inevitable," the Attorney General said.
He concluded by saying, "I'm proud to call all of you here at LSC partners in this work. I'm grateful to count you as stewards of our justice system and advocates for equal opportunity and economic empowerment."
Read the full text of the Attorney General's remarks, as prepared for delivery.
LSC, NYU Law Announce Helaine Barnett Summer Fellow
New York University School of Law and the Legal Services Corporation (LSC) are pleased to announce the selection of Renee Hatcher as the first Helaine Barnett Summer Fellow at the Corporation's headquarters in Washington, D.C.
Ms. Hatcher brings a demonstrated interest in public interest law and substantial leadership experience to the fellowship at LSC. Her experience includes serving in a congressional office, completing an internship at the International Network for Economic, Social and Cultural Rights, and working at the NYU Racial Justice Clinic.
The Helaine Barnett Summer Fellowship Program at LSC will provide an opportunity for the Fellow to gain insights into federal funding for civil legal services through LSC, the single largest funder of civil legal aid for the poor in the nation, and the work of the 136 legal aid programs funded by the Corporation. The Fellow will learn about the different ways that LSC provides oversight to legal services programs through on-site program visits and other activities that ensure the programs provide high-quality legal services in compliance with LSC regulations and congressional requirements. The Fellow will also gain insight into the congressional relations and public affairs activities of LSC, including the federal funding process.
Field News
Ohio Legal Aid Attorney Seeks "Loan Mod" for Client Facing Foreclosure
A recent article in Ohio's Vindicator newspaper tells the story of a woman struggling to save her house from foreclosure and her attorney, Jeff Lilly of Akron-based Community Legal Aid, who is struggling to secure a loan modification on her behalf.
"I hope they have a heart and let me keep my house," says Rachel Wilkins, referring to the bank and loan-servicing company that claim she owes about $62,000 plus nearly 8 percent annual interest. Wilkins, who survives on Social Security disability benefits and food stamps, says she is willing to pay something, but can not afford to pay what they are asking.
Lilly says he is seeking a loan modification for his client. "We're hoping that they'll reduce her interest rate to make her payments more affordable," or reduce the principal.
Legal Action of Wisconsin Receives $10,000 Donation from Law Firm
The Milwaukee-based Legal Action of Wisconsin announced on March 2 that it had received a $10,000 donation from the law firm of Foley & Lardner LLP. The donation comes from attorneys' fees recovered in a case won by a Foley attorney representing a Legal Action client pro bono.
"We are pleased to support Legal Action of Wisconsin in its efforts to provide legal representation to individuals in need," said the managing attorney of Foley's Milwaukee office. "At Foley, we are deeply committed to pro bono service and proud to have achieved great results on behalf of the underserved."
Pat Risser, coordinator of Legal Action's Volunteer Lawyers Project, says, "Foley & Lardner has always been a mainstay of our efforts to make equal justice a reality for our clients. We truly appreciate the time and services contributed by Foley's attorneys, as well as their generous financial support, all of which help Legal Action to help others in this community."
NALP Public Interest Salary Survey Deadline Extended
The deadline to participate in the National Association for Law Placement's (NALP) 2010 Public Sector and Public Interest Salary Survey has been extended to March 19.
The biannual survey collects important data on attorney salaries, benefits packages and loan repayment assistance programs at civil legal aid programs, prosecutors' offices, public defenders and other nonprofit public interest law organizations.
A hard copy of the survey was mailed to public interest organizations throughout the country in January. The survey is also available online at https://vovici.com/wsb.dll/s/9c6eg423bc.
Contact Steve Grumm, NALP's Director of Public Service Initiatives, for more information: sgrumm@nalp.org or (202) 296-0057.
Equal Justice Works to Host Webinars on Student Debt Relief
Equal Justice Works, a nonprofit organization that encourages law school graduates to seek public interest legal careers, is hosting two free webinars in its Student Debt Relief series on March 9 and March 31.
The webinars will focus on how government and nonprofit employees can benefit from public service loan forgiveness provisions in the federal College Cost Reduction and Access Act of 2007. Specific topics of discussion include, qualifications for public service loan forgiveness, details of the Act's Income-Based Repayment Plan, and determining how much one can benefit from the Act's provisions.
Heather Jarvis, Senior Program Manager for Law School Advocacy at Equal Justice Works, will present both webinars. Jarvis is a leading national advocate and expert on the College Cost Reduction and Access Act.
Success Story from Texas RioGrande Legal Aid
Legal aid is about helping ordinary people with real-life problems. Client stories illustrate the day-to-day struggles-and victories-of poor Americans seeking justice under law.
Back Wages Secured for Workers in Overtime Case
Press Release, Texas RioGrande Legal Aid – March 1, 2010
Six Rio Grande Valley residents have received an award totaling more than $34,000 in back wages after filing a lawsuit against Weslaco-based Joli's Orthopedic Shoes and Medical Supplies over unpaid overtime.
Represented by Texas RioGrande Legal Aid (TRLA) and the Equal Justice Center (EJC), the workers were employed by Joli's Orthopedic Shoes and Medical Supplies, which has stores across the Rio Grande Valley. According to the arbitrator's decision, the workers worked more than forty hours per week but were not paid the required overtime.
One of the workers, Jose Hernandez, said the experience showed him that "if you stand up for your rights, you can get what you should be paid."
The workers sued under the Fair Labor Standards Act (FLSA). Under the FLSA, an employer generally must pay overtime of 1.5 times an employee's hourly rate for each hour worked beyond forty in a given week. The FLSA also prohibits an employer from retaliating against an employee for asserting his/her rights under the FLSA.
"Employers often think they can save money by not paying overtime. But they end up spending a lot of money on court proceedings and their attorneys only to find they were required to pay overtime," added TRLA attorney Kathryn Youker, who represented the workers. "Not paying employees overtime can be a costly mistake."
Click here for more information.
---