LSC Updates - May 6, 2010
LSC Chairman Urges Higher Authorized Funding Level for LSC
John G. Levi, Chairman of LSC's Board of Directors, testified before a House Judiciary Subcommittee on April 27 in support of an authorized annual funding level of $750 million "because it will significantly strengthen our ability to provide legal aid to the poor."
Chairman Levi appeared before the Commercial and Administrative Law Subcommittee of the House Judiciary Committee, which held a hearing on the Civil Access to Justice Act of 2009. The legislation would reauthorize the Corporation's activities, lift certain funding restrictions, and authorize $750 million in annual funding for a five-year period.
In his testimony, Chairman Levi said, "Higher annual funding for LSC will help expand the capacity of local legal services programs to meet the needs of their communities. Those needs are on the rise, especially given the risks that the economic downturn raises to jobs and homes, the jeopardy of physical violence and family conflicts, and the special needs of veterans."
He added, "With 54 million Americans-one-sixth of our population-qualifying for legal assistance, the magnitude of this issue cannot be overstated."
Click here to continue reading or click here to access materials from the hearing.
ABA Day in Washington Urges Increased LSC Funding
The American Bar Association hosted its annual ABA Day in Washington from April 20-22. The event brought state and local bar leaders to the nation's capital to meet with legislators about issues of importance to the legal profession, including increased LSC funding and reauthorization of the Corporation by Congress.
In connection with the event, ABA President Carolyn B. Lamm joined the presidents of 50 state bar associations, four national Bars of Color and two territorial bar associations in signing a letter (

132k) urging Congress to provide LSC with at least a $15 million increase for Fiscal Year 2011 "as the next step toward closing the justice gap and meeting the critical need that exists today because of the rise in foreclosures, unemployment and related issues resulting from the economic downturn."
On April 20, the ABA hosted a Congressional awards ceremony to honor Senators Olympia Snowe (R-Maine) and Richard Lugar (R-Ind.), and Congressmen Steve Cohen (D-Tenn.) and John Lewis (D-Ga.) for their efforts to improve the American justice system.
Click here for more information on ABA Day.
LSC Board Honors Pro Bono Volunteers in Arizona
LSC's Board of Directors met April 16 and 17 in Tucson, Arizona, where Board members heard presentations from the three LSC programs in the state and recognized the pro bono efforts by volunteer lawyers to assist clients of the three programs.
Executive directors of the three programs-Community Legal Services, based in Phoenix; DNA-People's Legal Services, based in Window Rock, and Southern Arizona Legal Aid, based in Tucson-provided the LSC Board with an overview of the challenges they face in delivering civil legal assistance to eligible clients. The presentations were made by Lillian O. Johnson of Community Legal Services, Levon Henry of DNA-People's, and Anthony L. Young of Southern Arizona Legal Aid.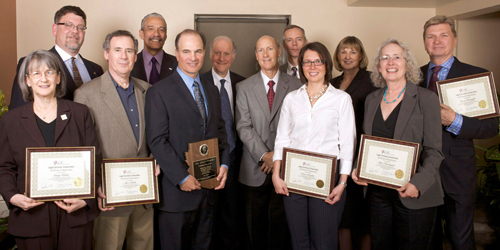 Left to Right: Pro bono awardees Gina Kalish, Todd Lang and Marc Kalish; LSC Board Member Robert J. Grey Jr.; Judge Joseph Kreamer, Maricopa County Superior Court; LSC Board Chairman John G. Levi; Justice John Pelander, Arizona Supreme Court; LSC Board Member Victor B. Maddox; awardee Laura Bergland; LSC Board Member Sharon L. Browne; awardees Alyce Pennington and Dean Christoffel. Photos by Dan Stein.
According to the LSC programs, the state has about 1.2 million Medicaid recipients, up 14 percent from 2009, and about 1 million food-stamp recipients, a 31 percent increase from 2009. Foreclosure rates are high, with one in 49 properties subject to a foreclosure filing during the first quarter this year, nearly three times the national average.
Geography and linguistics also present challenges, the programs said. Some legal aid offices are 200 to 300 miles apart, and there has been high staff turnover in the rural offices, the programs said. In addition to geographical challenges, there are 21 tribal nations in the state, each with differences in law, language and civil legal needs. Twenty-six percent of Arizona residents speak a language other than English at home, primarily Spanish and Native American languages. Native American languages are spoken in tribal courts and in business settings.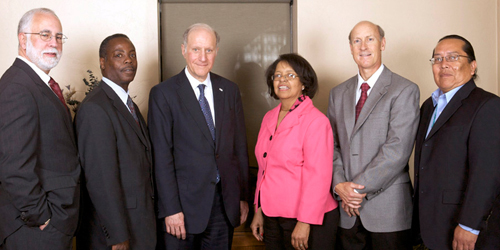 Left to Right: Victor M. Fortuno, president of LSC; Anthony L. Young, executive director of Southern Arizona Legal Aid; Chairman Levi; Lillian O. Johnson, executive director of Community Legal Services; Justice Pelander; and Levon Henry, executive director of DNA-People's Legal Services.
Because of the economic downturn, demand for legal services has increased in Arizona, but resources for programs are eroding. Southern Arizona Legal Aid has experienced a decline in state and local funding for legal services, including a 46 percent reduction in funds from Interest on Lawyers' Trust Accounts, Executive Director Young told the Board. The Tucson program has been fortunate in that it has been able to rely on volunteer lawyers to take cases, Young said.
The Board honored pro bono volunteers at an April 16 reception hosted by the Arizona Foundation for Legal Services and Education that was held at the Tucson offices of the State Bar Association. At the reception, State Supreme Court Justice John Pelander welcomed the Board and spoke about the importance of access to equal justice.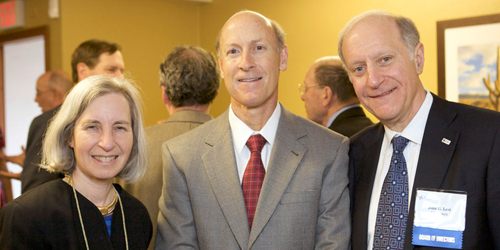 Left to Right: LSC Vice Chair Martha Minow, Justice Pelander and Chairman Levi.
Board member Robert J. Grey Jr., joined by Board Chairman John G. Levi, presented pro bono certificates to Todd Lang and Marc and Gina Kalish, volunteer lawyers at Community Legal Services; Dean Christoffel and Alyce Pennington, volunteer lawyers at Southern Arizona Legal Aid, and Phillip "Jay" McCarthy Jr. and Laura Bergland, volunteer lawyers at DNA-People's Legal Services. In addition, the LSC programs presented the Champion for Justice Award to Judge Joseph Kreamer of the Maricopa County Superior Court for his leadership and support regarding the creation of Arizona's statewide delivery system for civil legal services.
During the Board's quarterly meeting, members approved resolutions to create a Search Committee for a new LSC president, to establish a protocol for Board committee self-evaluations and for a 2010 Board training plan and conducted other business.
Click here for transcripts and other Board meeting materials.
LSC Seeks Search Firm to Assist in Recruitment of New President
LSC announced on April 29 that its Board of Directors had launched a nationwide search for a new president and published a request for proposals for executive search services in connection with the effort.
John G. Levi, chairman of LSC's Board, will oversee the search along with four other Board members and an Advisory Committee composed of former LSC Board leaders and representatives from the American Bar Association and the National Legal Aid and Defender Association.
Executive search firms should submit their proposals to the Corporation no later than May 24.
Read the full announcement or download the Request for Proposals. (

35k)
Law Day 2010: Statement of LSC Board Chair John G. Levi
Every year on May 1, the nation celebrates Law Day. President Dwight D. Eisenhower established Law Day in 1958 as "a day of national dedication to the principle of government under law."
The theme for this year's observance is Law in the 21st Century: Enduring Traditions, Emerging Challenges. The Legal Services Corporation fulfills the national pledge of equal justice, assisting low-income Americans who otherwise would not have access to our civil legal system. As millions more Americans find themselves at risk of slipping into poverty because of the current weak economy, the mission becomes ever more important.
In these challenging times, all of us in the legal profession must act so that justice is more than just an idea. Access to legal aid helps people maintain their livelihoods, helps victims of domestic violence obtain protective orders, helps keep people in their homes and helps protect the elderly and others from being victimized. Civil legal assistance helps build strong and stable communities across this nation.
The Legal Services Corporation has a never-ending responsibility to speak up for those in need. In providing low-income Americans with access to our legal system, we hopefully help win their confidence in the judicial system, in our government and in the promise of America.
Click here for the full statement and for videos of legal aid clients telling how LSC programs changed their lives.
LSC Issues Final Rule on Attorneys' Fees
LSC published in the Federal Register on April 26 a Final Rule concluding its rulemaking repealing its regulatory prohibition on the claiming of, and the collection and retention of attorneys' fees.
The Final Rule was adopted by the LSC Board of Directors at its April 17 meeting and was effective as of the date of publication. This action has been taken in accordance with the elimination on the statutory prohibition on attorneys' fees in LSC's FY 2010 appropriation legislation.
In February, LSC issued an Interim Final Rule and Request for Comments eliminating the attorneys' fees regulation at 45 CFR Part 1642. The Interim Final Rule was effective as of March 15. The Interim Final Rule also moved provisions on accounting for and use of attorneys' fees and acceptance of reimbursements from clients from Part 1642 to Part 1609 of LSC's regulations.
The Interim Final Rule also made technical changes to its regulations to remove cross references to the obsolete statutory and regulatory citations. With the publication of the April 26 Final Rule, LSC responded to the comments received and confirmed the Interim Final Rule without change.
Download the Final Rule (

53k) or the Interim Final Rule (

23k) from LSC's website.
LSC Hosts Eighth National Foreclosure Conference Call
LSC hosted on April 29 the eighth installment in its series of nationwide conference calls with legal aid programs and national consumer and poverty law organizations to discuss initiatives aimed at addressing the nationwide foreclosure crisis.
Topics of discussion included federal programs administered by Fannie Mae, the Federal Housing Administration and the U.S. Department of Agriculture, as well as Bank of America's mortgage modification program. Participants also heard an update on the status of LSC's appropriation for Fiscal Year 2011 and prospects for additional federal funding for foreclosure initiatives.
Participants on the calls include representatives from national consumer and poverty law organizations and civil legal aid programs from across the country. If you are interested in participating on the next call, please contact Malika Bouhdili at bouhdilim@lsc.gov or (202) 295-1550.
Three Cheers for the LSC Charity Drive
The final tally is in, and LSC employees pledged $15,950 in the Corporation's annual Charity Drive, an increase of $3,500 from the previous year. LSC Updates gives a tip of the hat to all who participated in the 2010 campaign and made their pledges in November.
"Many thanks to all who participated in the Charity Campaign and to the Charity Committee for all their hard work to make the event a huge success," Alice C. Dickerson, director of the LSC Office of Human Resources, said.
LSC participates in the annual fundraising drive by America's Charities, founded in 1980. America's Charities manages employee workplace giving campaigns and ensures that 98 percent of employee donations go directly to the designated charities.
In addition to the annual Charity Drive, LSC sponsors other charitable events throughout the year. LSC participates in National Denim Day, a fundraiser to support breast cancer programs, and sponsors a Blood Drive with the American Red Cross, a Food Drive to help stock area food banks, and other community-oriented events.
Learn more about America's Charities.
Field News
NY Chief Judge Announces Effort to Expand Civil Legal Services
Former LSC President Helaine Barnett to Chair New Task Force
The Chief Judge of the State of New York, Jonathan Lippman, announced during his Law Day address on May 3 that the state judiciary would embark on a "comprehensive, multi-faceted, systemic approach to providing counsel to the indigent in civil cases."
As the centerpiece of that effort, Judge Lippman has appointed The Task Force to Expand Access to Civil Legal Services in New York, which will be chaired by Helaine M. Barnett, former president of LSC, and will be composed of representatives from the courts, legal services providers, bar groups, law schools and other groups.
A major responsibility of the Task Force will be to help set the agenda for a series of annual public hearings that will be presided over by Judge Lippman and will be aimed at assessing the unmet civil legal needs of New Yorkers in order to recommend to the legislature the level of public resources necessary to meet those needs.
In addition, the Task Force will have a broad mission, including recommending statewide priorities, defining the types of legal matters in which civil legal services are most needed, and proposing standards, such as income levels for determining which litigants should be eligible.
For more information, read, "Lippman Pledges Effort to Boost Civil Legal Services for the Poor," from the New York Law Journal.
Legal Aid of NorthWest Texas on a Mission to Help Low-Income Residents
Robert Miller, Dallas Morning News – May 2, 2010
The slogan of the nonprofit Legal Aid of NorthWest Texas is "one firm, one focus, one mission."
Sam Prince, the agency's development officer, says the mission is to provide free civil legal aid to low-income residents.
Low-income was originally defined as at or below 125 percent of the poverty level, Prince said, but in the last several years it has been redefined as people living at or below 200 percent of poverty.
"The legal problems that fill the reception areas in Legal Aid's 15 branch offices-the home office is in Fort Worth-are the same today as they were 40 years ago," he said.
The problems include protecting families from violence, helping families gain access to benefit programs, preventing homelessness and safeguarding families from fraud and theft.
Click here to continue reading.
CRLA Raising Awareness of Farmworker Sexual Harassment
Jennie Rodriguez, The Record (Stockton, CA) – April 27, 2010
Irma didn't know what to do when her supervisor made unwanted sexual advances toward her. His unwelcome overtures happened nearly every day at work.
She just kept doing her job at the Linden vineyard, and she kept silent about her predicament.
"It made me feel ashamed, and, well, I was afraid," said 38-year-old Irma, a Mexican immigrant who on the advice of her attorney asked her last name not be used because her case is in litigation.
Sexual harassment and gender discrimination are common for female immigrant workers, according to California Rural Legal Assistance, a nonprofit legal group. In a recent statewide survey, about 90 percent of female farm workers who were questioned said sexual harassment was a problem, the Southern Poverty Law Center reported.
Irma, like many women in the fields, wasn't aware of sexual harassment laws. She thought if she told her husband, he might blame her. Or she might be fired. "Sometimes one keeps quiet for fear of losing a job," the mother of five said.
CRLA is trying to raise awareness of the sexual exploitation and unfairness immigrant women experience in agricultural fields, factories, packing plants and other industries.
Click here to continue reading.
TRLA Lawyer Elected Chair of Texas Bar Board of Directors
Press Release, State Bar of Texas – April 16, 2010
Pablo Javier Almaguer of Hidalgo [has been] elected to serve as Chair of the Board of Directors of the State Bar of Texas.
Almaguer is the Private Attorney Involvement Group Coordinator for Texas RioGrande Legal Aid, Inc. (TRLA), and was previously the Branch Manager for the Edinburg Office, and Team Manager for the Domestic Violence/Family Law Practice Area Team. His practice has focused on the areas of domestic violence and employment/labor law and he has extensive bench and jury trial experience. His current position includes the organization-wide responsibility of bridging the communication gap between pro bono volunteers and TRLA's opportunities.
Almaguer served as President of the Hidalgo County Bar Association/Hidalgo County Bar Foundation and currently serves as President of the Board of Directors of the Texas Civil Rights Project.
Note: Almaguer is the first legal aid lawyer to serve on the Board of Directors of the State Bar of Texas.
Click here to continue reading.
Pennsylvania: Former Legal Aid Employee Guilty of Embezzlement
The office of the U.S. Attorney for the Western District of Pennsylvania announced on April 27 that a former employee of the LSC-funded Southwestern Pennsylvania Legal Services had plead guilty in federal court to a charge of theft from a program receiving federal funds.
According to the U.S. Attorney's office, the employee committed various acts of embezzlement, which included writing checks to herself but recording them as legitimate payments, making unauthorized withdrawals using the program's ATM card, processing unauthorized electronic funds transfers to pay her own bills and making improper charges with the program's credit card. The instances of embezzlement listed by the U.S. Attorney's office in its announcement involve nearly $200,000 in funds.
Sentencing for the employee is scheduled for August. The law provides for a total sentence of 10 years in prison, a fine of $250,000, or both, though the actual sentence will be based on the seriousness of the offense and any criminal history the defendant may have.
LSC's Office of Inspector General conducted the investigation that led to the prosecution of the employee. The program's executive director reported to LSC's OIG after learning of possible wrongdoing. LSC has been informed that the former employee has paid back the stolen funds to the program.
Click here the full announcement from the U.S. Attorney's office.
Practising Law Institute Offers Free Memberships for LSC Attorneys
The Practising Law Institute, a non-profit organization dedicated to providing affordable continuing legal education (CLE) to lawyers, is continuing to offer free memberships to all attorneys at LSC-funded legal aid programs.
Members will have unlimited access to the Institute's "CLE Now" web-based and audio trainings, including those that have been archived. Many of the trainings provide CLE credit.
To take advantage of this offer, program attorneys must individually express their interest by completing an online application, available here: https://www.surveymonkey.com/s/GD3BFSL.
Attorneys who registered in 2009 must register again to continue their memberships. Applications must be submitted no later than May 14.
Click here to learn more about the PLI.
Success Stories from Legal Aid of Western Michigan
Legal aid is about helping ordinary people with real-life problems. Client stories illustrate the day-to-day struggles-and victories-of poor Americans seeking justice under law.
In Their Own Words: Clients Tell How Legal Aid Changed their Lives
LSC is posting videos on its website featuring clients of LSC-funded programs describing how legal aid changed their lives.
This video from Legal Aid of Western Michigan features an elderly woman who entered into a housing contract she didn't understand and couldn't afford, a domestic violence survivor whose husband had her detained by immigration officials when she filed for a divorce, and a young mother whose former in-laws kidnapped her son.
"We make a big difference in people's lives because we're able to protect them against someone trying to take something away from them," says Staff Attorney Gregory Tasker in the video.
Click here to watch the full video.