LSC Updates - May 6, 2011
Legal Aid Programs Mobilize to Help Storm Victims in South
Legal aid programs throughout the South are mobilizing to provide legal help to low-income residents affected by the recent, deadly tornadoes that destroyed countless homes across the region.
The federal government has issued major disaster declarations for Alabama, Arkansas, Georgia, Kentucky, Mississippi, North Carolina and Tennessee following the outbreak of tornadoes—the largest in U.S. history, according to The Weather Channel—that killed hundreds of people and caused billions of dollars in estimated damage. Meanwhile, large amounts of rain and snow melt have caused flooding along the Mississippi River, including in Missouri and Tennessee, that has threatened homes and businesses.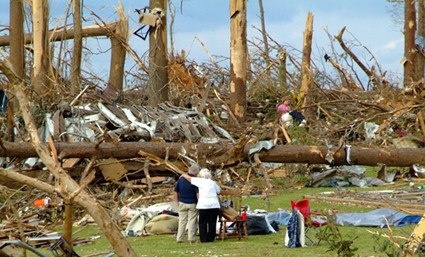 A couple surveys storm damage in northeastern Alabama on May 1.
More photos available at www.fema.gov/photolibrary.
Photo Credit: FEMA/Adam Dubrowa.
LSC-funded programs in communities affected by the tornadoes are undertaking a series of initiatives to help low-income citizens, including collaborations with the American Red Cross and the Federal Emergency Management Agency (FEMA). The LSC programs will be helping disaster victims obtain FEMA and other government disaster-related benefits; assisting with life, medical and property insurance claims; replacing wills and other important legal documents destroyed in the storms; providing counsel on mortgage-foreclosure problems, and counseling on landlord-tenant matters.
"Our hearts go out to all those affected by this devastation," LSC President James J. Sandman said. "I commend the LSC-funded programs for their quick response in providing needed civil legal assistance and in helping people restore some order in their lives. I also want to thank the local and state bar associations, law schools, Red Cross, FEMA and others who collaborate with legal aid programs to deliver services under such challenging circumstances."
Legal Services Alabama has begun a large-scale, coordinated effort to provide civil legal assistance in the state that was hardest hit by the deadly storms. The Alabama program is collecting information on shelters and disaster recovery centers throughout the state, on the most pressing needs for each legal services office, on the immediate legal needs in each storm-damaged community and on the number of people who have been left homeless.
David Webster, a supervising attorney in the Anniston office of Legal Services Alabama, drove across Northeast Alabama this week and found that "almost every town I went through was hit—houses damaged or destroyed, power lines still on the road and downed poles, trees lying everywhere. . . . A lot of the power grid infrastructure is simply gone." A disaster resource center is opening in Gadsden in a building with legal aid offices, "so we will be very close. . . and maybe there will be other locations where we can place a legal aid representative."
The Alabama program is working with the four volunteer lawyer projects in the state, all of which receive funding from the program. The state bar's Young Lawyers Program is working with FEMA representatives in federal centers, and the University of Alabama School of Law is opening a clinic to help people fill out FEMA paperwork and answer questions. Legal Services Alabama also has produced informational fliers on how to deal with contractors for repairs, how to terminate a lease because of storm damage, and what kinds of benefits are available to victims.
As a general matter, LSC programs do not see an increase in requests for assistance until about 30 days after a disaster, in part because the first wave of emergency response focuses on providing basic survival needs, such as food and shelter. Legal requests often focus on landlord-tenant matters, insurance claims and disaster benefits. In Alabama, for example, tenants have 14 days to give notice that they are terminating a lease on destroyed or damaged rental property or they could be liable. Other possible early requests for legal assistance may involve child-custody agreements affected by a parent's death and child-support payments that have not been made because of storm-related issues.
The Georgia Legal Services Program is part of the state's emergency management system, which is establishing disaster assistance centers in 13 locations. These centers are staffed by representatives from FEMA, the Red Cross, the state Department for Family and Children's Services and, upon request, the Georgia Legal Services Program. The Floyd County and Walker County disaster centers have requested that legal aid attorneys be available, and the program is responding to requests for legal assistance. The program also is preparing informational brochures and working with the state bar's Young Lawyers Division to screen and accept referrals from their hotline.
Legal Aid of East Tennessee has been in touch with its Red Cross partners and multiple United Way affiliates and is working with bar associations and disaster centers. The state attorney general has issued a warning about scams and fraudulent contractors promising to repair damage to roofs and cars, and the LSC program expects to see an increase in requests for legal assistance in coming weeks.
Devastating storms also hit Mississippi, and LSC programs in the state have been in touch with emergency officials. Areas served by North Mississippi Rural Legal Services were severely damaged, and the program has provided the Red Cross with brochures for placement in informational packets and will be publicizing the program's hotline number in newspapers.
In addition to providing assistance on the ground at disaster centers, LSC-funded programs also are posting material on their websites to help disaster victims. Georgia Legal Services, for example, has updated www.legalaid-ga.org for consumers and www.georgiaadvocates.org/gojc for volunteer attorneys with information about benefits, legal assistance and common disaster-related legal problems.
The rising Mississippi River, meanwhile, is creating challenges for LSC-funded programs in several areas. Memphis, Tenn., for example, has flooding in downtown streets, forcing authorities to close streets and to urge residents to leave areas where homes are being threatened. Memphis Area Legal Services has a hotline set up for legal assistance and is coordinating referrals to volunteer attorneys with the Tennessee Bar Association's Young Lawyers Division.
"We know that people are going to need legal services in the South and LSC will do its best to coordinate information-sharing and best practices with local legal aid programs," Jim Sandman said.
LSC's points of contact for disasters are John Eidleman and Elizabeth Arledge in the Office of Program Performance. LSC is updating the National Disaster Legal Aid website (www.disasterlegalaid.org) with information on disaster legal hotlines, FEMA resources and Red Cross shelters.
LSC President Tours Red Cross Disaster Headquarters
LSC and the American Red Cross continue to partner on procedures to ensure the delivery of civil legal assistance to low-income victims of disasters, including those impacted by the deadly storms that recently swept southern and coastal states.
On May 4, LSC President Jim Sandman met with Juliet K. Choi, senior director, disaster partnerships at the Red Cross, and Mary DeWitt-Dia, senior associate, disaster partnerships, and received a briefing on the LSC-Red Cross partnership and a tour of the Red Cross Disaster Operations Center, located in Washington, D.C.
"As a newcomer to LSC, I appreciate receiving such a warm welcome from the Red Cross," Mr. Sandman said. "Our partnership has made steady progress since it began in 2008 and allows legal aid attorneys to help disaster victims as quickly as possible—especially those who lose their homes and loved ones and need legal assistance to start the process of rebuilding their lives."
More than 20 Red Cross operations were underway on May 4, with about 4,200 Red Cross staff and volunteers deployed, primarily in areas hit hard by tornadoes and severe storms. The Red Cross briefing included information on advance planning, travel logistics for responders, mobile feeding stations for victims, emergency shelters for victims, mapping and disaster assessments. Red Cross teams include nurses to provide disaster health services and mental health professionals and chaplains to help victims in emotional distress. LSC-funded attorneys join in staffing Red Cross service centers to assist disaster victims with their legal matters.
Elizabeth Arledge of the LSC Office of Program Performance participated in the briefing and tour. Neal Denton, senior vice president for government relations and strategic partnerships at the Red Cross, welcomed LSC to the Disaster Operations Center.
LSC President Meets Legal Aid Leaders in Midwest, New England
LSC President James J. Sandman attended meetings of the Midwest and New England Project Directors in Omaha, Neb., on April 21 and Framingham, Mass., on April 28 to meet with legal aid leaders in those regions and learn how their legal aid programs work together to meet the needs of clients.
At the Midwest meeting, Mr. Sandman toured Legal Aid of Nebraska's new A2J (Access to Justice) Center, which opened last fall in downtown Omaha and serves as a one-stop, self-help center for people who cannot afford a lawyer and are representing themselves in court. Mr. Sandman also held a one-hour Q&A session with the directors in attendance. Don Saunders of the National Legal Aid and Defender Association also briefed the directors.
The New England meeting featured a telephone briefing by Mr. Saunders of NLADA, a presentation by Ellen Hemley of the Center for Legal Aid Education and panel presentations on Access to Justice Commissions, collaborations involving LSC Technology Initiative Grants and challenges arising from the loss of funds from Interest on Lawyers' Trust Accounts.
"These regional meetings highlight the importance of collaboration and partnership within the legal aid community," said Mr. Sandman. "With budgets stretched as thin as they are, it is vital for programs to weave themselves into the fabric of their communities to maximize their impact."
LSC President Honored for Service to D.C. Community
LSC President James J. Sandman received the first annual Celebration of Service Award from the D.C. Law Students in Court Program at a May 5 reception for his extraordinary contributions to the Washington, D.C., community.
Peter Edelman, chairman of the D.C. Access to Justice Commission and a professor at the Georgetown University Law Center, presented Mr. Sandman with the award and praised his deep commitment to the community and for entering public service after spending 30 years with Arnold & Porter LLP and serving as D.C. Bar president. Mr. Sandman was general counsel for the D.C. Public Schools prior to joining LSC this January.
In accepting the award, Mr. Sandman praised the Law Students in Court Program for its accomplishments since it began more than 40 years ago and for embedding in young law students the importance of service to others.
"D.C. Law Students in Court is not only a critical part of the access to justice network in Washington, it also instills in students a life-long appreciation for their personal obligation to narrow the justice gap," said Mr. Sandman. "Throughout my career, I've been fortunate to have great role models of service to one's community—particularly ones who, like so many in legal services, have devoted the entirety of their careers to the service of others."
Mr. Sandman served as the elected president of the D.C. Bar from 2006-2007, served on the Bar's Board of Governors from 2003-2008 and served on the board of the Neighborhood Legal Services Program, LSC's grantee in the District of Columbia.
He currently co-chairs the District of Columbia Judicial Conference Committee on Pro Bono Legal Services, serves as chairman of the D.C. Bar Pro Bono Committee, is vice chairman of the Washington Performing Arts Society and is on the board of the Meyer Foundation, which supports community development throughout the D.C. region.
The Law Students in Court program works with students from five area law schools to provide legal help to low-income residents. Mr. Sandman is a founding member of the group's Advisory Council, a panel of high-profile leaders in law, business and government who support the program by helping develop fundraising strategies, serving as liaisons to the community, providing technical expertise and taking on special projects.
Yvonne Williams, counsel at Miller & Chevalier Chartered, opened the reception with a welcome and Richard C. Goemann, executive director of the D.C. Law Students in Court Program, recognized sponsors for the reception and donors to the nonprofit program.
Learn more about the Law Students in Court Program at www.dclawstudents.org. Learn more about LSC President James J. Sandman at www.lsc.gov/about/sandman.php.
LSC Chairman John G. Levi's Statement on Law Day 2011
President Dwight D. Eisenhower celebrated our nation's commitment to the rule of law in his inaugural 1958 proclamation designating May 1 as Law Day, calling on Americans to "vigilantly guard the great heritage of liberty, justice, and equality under law which our forefathers bequeathed to us."
Sixteen years later, near the end of the Nixon Administration, Congress passed the Legal Services Corporation Act declaring that "there is a need to provide equal access to the system of justice in our Nation" and "to provide high quality legal assistance to those who would be otherwise unable to afford adequate legal counsel."
Today, LSC is the nation's single largest funder of civil legal assistance, and is at the center of access to justice efforts across our country. Through extraordinary public-private partnerships, LSC-funded programs help the elderly, victims of domestic violence, veterans, disabled individuals and others confronting serious civil legal matters.
Continue reading Chairman Levi's statement. Download President Eisenhower's Law Day proclamation.
Field News

Maine Legal Aid Group Estimates Impact of LSC Cuts
Tom Porter, Maine Public Broadcasting Network – April 27, 2011
Recently announced federal budget cutbacks are likely to mean hundreds of poor Mainers going without important legal help: That's the assessment of the director of one of the state's leading providers of free legal aid.
Nan Heald heads Pine Tree Legal Assistance, a non-profit that provides free legal help to low-income Mainers in non-criminal cases, often involving foreclosures or domestic abuse.
Forty percent of the organization's $4.5 million budget, she says, comes in the form of federal funding, and for her, the $38 billion recently cut from this year's federal budget means a loss of $64,000 for Pine Tree.
"Which may not seem a lot when you look at size of our budget, but we're an organization that really prides itself on taking every dollar and maximizing the impact of that, and so conversely when you lose a dollar, the impact is pretty great," she says.
With the average assistance for each case amounting to about $500, Heald estimates the federal cutbacks will affect around 125 Maine families this year.
"Pine Tree has been a tremendous help," says Paula Golder from York County, one Mainer who's relied on Pine Tree's help in the past. "I've actually used them for a protection order in a case with my daughter, and they were a tremendous help to me, led us in the right direction and provided us legal help that, as a single mom before, I would never have been able to afford."
Continue reading. Learn more about Pine Tree Legal Assistance at www.ptla.org.
Legal Services of New Jersey Issues Civil Justice Gap Report
Susan Loyer, MyCentralJersey.com – April 26, 2011
Fewer low-income residents are receiving the legal representation they are entitled to receive in civil cases, according to a report released by Legal Services of New Jersey.
"The Civil Justice Gap," released [April 26], examines the shortfalls in legal aid for New Jerseyans living in poverty, its consequences and offers solutions.
"There are many more people in poverty because of the recession," said Melville D. Miller Jr., president of Legal Services of New Jersey. "The newly poor, who lost jobs and were middle class, are dealing for the first time with things like foreclosures, evictions and domestic violence, all of which is induced by the new poverty. As a result, the demand for our services is up sharply."
With a 20 percent to 45 percent increase in the demand for free legal services statewide and funding down by 35 percent during the past few years, Legal Services is forced to turn people away, Miller said.
Continue reading. Learn more about New Jersey's civil justice gap and download the report.
Los Angeles Legal Aid Groups to Staff Court's Eviction Assistance Center
Victoria Kim, Los Angeles Times – May 2, 2011
Thousands of residents in Los Angeles' poorest neighborhoods will get new legal help in fighting high-stakes eviction cases involving slumlords and foreclosures under a pilot project approved by the state's judicial leaders [April 29].
The new Eviction Legal Assistance Center at Los Angeles County Superior Court's downtown civil courthouse will provide legal representation to about 15,000 people facing eviction over three years, according to legal aid groups, which will be jointly running the center.
In the majority of the county's 70,000 annual eviction cases, poor and unrepresented tenants are pitted against landlords who have private attorneys, and they face uphill battles in navigating housing laws, protecting their rights and reaching reasonable settlements, the groups say.
Note: The LSC-funded Legal Aid Foundation of Los Angeles and Neighborhood Legal Services of Los Angeles County are among the legal aid programs that will staff the Eviction Legal Assistance Center.
Continue reading the Los Angeles Times article or read the joint press release from the legal aid groups involved in the program.
Pro Bono Goes Online in Tennessee
Tennessee Alliance for Legal Services, Tennessee Bar Association – May 4, 2011
A new website that allows Tennesseans to seek free legal advice from volunteer lawyers is now available at OnlineTNJustice.org. The service—a joint project of the Tennessee Alliance for Legal Services and the Tennessee Bar Association—will provide an immediate resource for victims of recent storms, flooding and tornadoes who need legal assistance. Beyond that, it will provide an on-going service for Tennesseans who need civil legal help but are unable to afford a lawyer. More than 250 volunteer lawyers stand ready to provide services through the site.
The website is a virtual walk-in clinic where clients can request brief advice and counsel about a specific civil legal issue from a volunteer lawyer. The lawyers will provide information and basic legal advice without any expectation of long-term representation.
While Tennessee lawyers have held thousands of legal clinics and helped tens of thousands of fellow residents through traditional pro bono methods, this website was created to eliminate any lingering barriers—such as geographic location, work schedule or family obligations—that keep those in need from receiving free legal help. It also was developed to expand pro bono services in rural areas of the state and to provide an alternative source of assistance for legal aid clients who are eligible for services but turned away due to an agency's lack of resources.
Opinion: Poor Face Many Barriers to Legal Services
Note: The following is excerpted from an op-ed published in the Guam Pacific Daily News by Harold F. Parker, the head of LSC's grantee on the island. His article highlights some of the universal challenges inherent in providing legal services to the poor. Click here for the full article.
There are innumerable difficulties in providing legal services for indigents. A major concern is maintaining contact with our clients. Often this is because, out of necessity, they move frequently and change telephone carriers, but even more it is because of their inability to rely on public transportation—sometimes they have to plan to leave four hours early for an appointment or court hearing.
Public defenders and legal aid counsel cannot provide transportation, although we try to accommodate as much as possible. Driving to meet the clients on a regular basis is unrealistic, because of the time and costs.
This just scratches the surface of the barriers to services, (which include) language and cultural differences, educational needs, illnesses making it hard to understand or assist counsel, employers unwilling to allow time to resolve problems, and many other concerns.
Funding is the ultimate difficulty for all of us. Public defenders rely on local funding, federal defenders are federal employees and Guam Legal Services is a nonprofit relying mostly on federal grants and donations.
When the economic times are tough, the needs of indigents are overlooked and the government cuts services to the poor just as their needs become greatest, because "the money just is not there." There is only so far that families can go to help their indigent relatives, and then they fall back on government services.
If the government then cuts them off, where are they going to go?
Accolades for Iowa Medical-Legal Partnership
Iowa Legal Aid received two awards in April for its Health and Law Project, a medical-legal partnership between the legal aid group and community health centers in six Iowa cities.
The project received the United Way of Central Iowa's Organizational Advocacy Award on April 19 for its efforts to decrease the need for ongoing medical care by bringing medical and legal professionals together to address legal issues that cause health problems.
The project also received the Iowa Medical Society's Washington Freeman Peck Award on April 16, which recognizes outstanding contributions to public health by a lay organization.
Success Story from Virginia's Blue Ridge Legal Services
Legal aid is about helping ordinary people with real-life problems. Client stories illustrate the day-to-day struggles—and victories—of poor Americans seeking justice under law.
Virginia Top Court Outlaws Predatory Pay Day Loan Practice
Case brought by pro bono lawyer enlisted by legal aid program
Pete DeLea, Daily News-Record (Harrisonburg, Va.) – April 27, 2011
When Wilma Ruby, 70, entered a payday lending shop in Woodstock nearly six years ago, the widow only planned to borrow a couple of hundred dollars to fix her car.
But, in the end, Ruby ended up paying $1,700 interest on a $500 loan - a financial scheme that led city attorney Grant Penrod to volunteer his time to fight her battle in court.
"I didn't understand how they were getting away with this, and I didn't want them to get away with this," said Penrod, who first took on Ruby's lawsuit against the lenders while working for Blue Ridge Legal Services. "What was going on was wrong."
Last week, the fight paid off when the Virginia Supreme Court ruled in her favor and remanded the case back to a lower court, which will determine the amount of damages she's entitled to.
Click here for the full article. Download the court's opinion in the case. Learn more about Blue Ridge Legal Services at www.brls.org.