LSC Updates - May 9, 2007
Senators Urge Increased Funding For LSC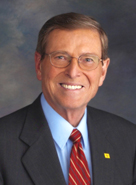 Senator Pete V. Domenici (R-NM)
Senator Pete V. Domenici (R-NM) has urged Senate appropriators to fund LSC at $380 million for FY 2008, a $32 million increase over LSC's current budget. Domenici made the request to the leadership of the Senate Appropriations Subcommittee on Commerce, Justice, and Science (CJS), which is responsible for funding LSC. Domenici is a member of the CJS subcommittee.
In a press release issued May 4, Domenici said, "Our justice system is designed to allow every citizen the right to representation. To protect this right, Congress tasked the Legal Services Corporation with providing legal services to vulnerable Americans all across the country. But LSC can't effectively do so under current funding levels....To underfund LSC, limiting the number of Americans served, is to deny justice to underprivileged persons in need."
Senator Domenici is a long-time supporter of the Legal Services Corporation. In 1995, during the height of opposition to LSC, he broke party ranks and offered an amendment to significantly increase LSC's FY 1996 budget. Since then, he has consistently advocated for increased LSC funding.
Senators Edward M. Kennedy (D-MA) and Gordon H. Smith (R-OR) are continuing their historic support of LSC by soliciting signatories for a letter to CJS leaders requesting $380 million for LSC in FY 2008. For years they have sponsored or signed letters to Senate appropriators requesting budget increases for LSC. Last year, a bipartisan group of 52 Senators joined Kennedy and Smith in requesting a $31.9 million increase for LSC in FY 2007.

To read the Kennedy and Smith letter, click here.
To read Domenici's press release, click here.
LSC Board Meets in Little Rock, Arkansas
On April 27-28, LSC's Board of Directors met in Little Rock, Arkansas for their second of four meetings in 2007.
Highlights of the meeting included a visit to the Center for Arkansas Legal Services to discuss their work and that of the other LSC-funded program in the state, Legal Aid of Arkansas, a VIP tour of the William J. Clinton Presidential Library, and meetings of all four of the Board's committees.
The Provision for the Delivery of Legal Services Committee met to discuss how LSC's Board can work to increase private attorney involvement (PAI) in the delivery of legal services by LSC-funded programs. The Committee adopted a resolution reaffirming their support of LSC's new PAI action plan, "Help Close the Justice Gap, Unleash the Power of Pro Bono." This resolution will be shared with LSC programs' governing bodies to encourage local expansion of private attorney involvement with LSC-funded programs. The committee also heard a presentation on recruitment and retention challenges facing LSC-funded programs in the state.
At a reception honoring LSC's Board of Directors at the Clinton Library, Pro Bono Awards were given to two individuals and three organizations for their efforts to provide, or support the provision of, free legal services to low-income clients. The honorees were:
VOCALS and the Pulaski County Bar Association. For 25 years, members of the Pulaski County Bar Association's Volunteers Organization Center for Arkansas Legal Services (VOCALS) provide pro bono legal representation to low-income clients and financial contributions to the Center for Arkansas Legal Services.
Arkansas State Senator Paul G. Miller. Senator Miller is responsible for creating the Public Legal Aid Fund, the first state funding mechanism for legal services programs in Arkansas.

Left to Right: William M. Griffin III, Pulaski County Bar Association President; James E. Hathaway, VOCALS President-Elect; Paul G. Miller, State Senator; Steven T. Shults, VOCALS President; J.T. Skinner, pro bono attorney; James Gresham, in-house counsel with FedEx Freight; Helaine M. Barnett, LSC President; David Hall, LSC Board Member and Chairman of the Board's Committee for the Provision of Legal Services; Jim Dunn, River Valley Volunteer Attorney Project Board Member; and Phillip Bagby, Crawford County Bar Association President.
J.T. Skinner, Partner, Murphy, Thompson, Arnold, Skinner and Castleberry. J.T. Skinner has made significant contributions of his time to Legal Aid of Arkansas's Equal Access to Justice Panel, handled 18 pro bono cases since 2002, and performed 101 hours of pro bono service in 2006 alone, primarily on behalf of abused women and children.
FedEx Freight. FedEx Freight, located in Boone County, Arkansas, made its first donation to Legal Aid of Arkansas's Equal Justice Panel in 2002, and is the only corporate partner to participate in the panel every year since, donating over $6,000 to the program.
The River Valley Volunteer Attorney Project and the Crawford and Sebastian County Bar Associations. The River Valley Volunteer Attorney Project, created in 1990, is the first organized pro bono program in Western Arkansas. In 2006, 135 volunteer attorneys contributed over 258 pro bono hours through the Project.
To download "Help Close the Justice Gap, Unleash the Power of Pro Bono," click here.
LSC President Keynotes Maryland Partners for Justice Conference
On May 3, LSC President Helaine M. Barnett was the keynote speaker at the 9th Annual Maryland Partners for Justice Conference, hosted by the Pro Bono Resource Center of Maryland. Ms. Barnett was introduced by Herbert S. Garten, LSC Board Member and founder of the Pro Bono Resource Center.
Speaking to the theme of the conference, Ms. Barnett focused her remarks on the importance of partnerships in the equal justice community, and the need to stretch limited resources through partnerships and collaboration with law firms, law schools, the courts, and other agencies that work with our client communities.
She discussed how the LSC-funded Legal Aid Bureau, which serves the entire state of Maryland, is a proven leader in forming effective partnerships. By collaborating with private law firms, other legal services programs, organizations like the AARP and United Way, and the University of Baltimore Law School, the Legal Aid Bureau has been able to achieve significant victories on behalf of their clients. She also discussed examples of successful partnerships from other states.
"These examples of what can be achieved through partnerships are an inspiration to the entire equal justice community--a call to action for us all," said Ms. Barnett.
For more information on the conference, click here.
LawHelp.org Wins Webby Award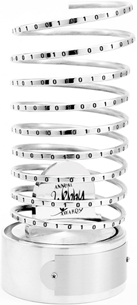 LawHelp.org, which provides free legal information for low- and moderate-income individuals, was honored as the best "Law" website by the 11th Annual Webby Awards. Described as the "Oscars of the Internet" by The New York Times, the Webby Awards are presented by the International Academy of Digital Arts and Sciences and are considered the leading international award honoring excellence on the internet.
In a press release issued May 3, Pro Bono Net Executive Director Mark O'Brien said "We are honored to be singled out as creators of the top legal website, but share this award with the more than 200 legal aid, pro bono, bar and court-based access to justice partners around the county with whom we have collaborated on LawHelp."
The Legal Services Corporation, through its Technology Initiative Grant (TIG) program, was the primary funding source for the development of LawHelp.org. The LawHelp.org template is one of two used by LSC-funded programs to develop their statewide legal assistance websites, and many TIG grants have gone to help improve it.
The Webby Award (pictured) is inscribed with binary code, the most basic computer programming language.
For more information, click here.
Reduced Rate for Shriver Center's Clearinghouse Review
A reduced rate is available for LSC-funded programs interested in subscribing to the Shriver Center's Clearinghouse Review: Journal of Poverty Law and Policy. The $105 price for a year's subscription is 58% less than the regular cost, and includes six issues and online access via www.povertylaw.org/clearinghouse-review. For more information contact Ilze Hirsh at ilzehirsh@povertylaw.org.
LSC in the News
Wall Street Journal Highlights Legal Services Programs
On April 28, The Wall Street Journal featured an article entitled "The Debt Collector vs. The Widow," which highlights the illegal practice of creditors garnishing Social Security and Veterans benefits to repay debts.
The article discusses how the LSC-funded Legal Services Alabama helped one victim of this practice, a 64-year-old widow, file a claim with a debt collector to prevent them from touching her Social Security benefits--her only source of income. Her entire bank account had been frozen on account of a three-year-old hospital bill for $125.
In a similar case, Southern Minnesota Regional Legal Services (SMRLS) helped a 79-year-old nursing home resident and stroke victim, Cloette Rice, try to stop a creditor from taking her benefits, which she needed to continue paying for her treatment. SMRLS filed claim after claim with the creditor, who claimed they never received the paperwork, and denied Mrs. Rice's request.
"Mrs. Rice said this caused her more stress than having her stroke," said Kathleen Eveslage, of Southern Minnesota Regional Legal Services. "They basically made her last days hell." Mrs. Rice died before her case settled.
To read the article in its entirety, click here. SUBSCRIPTION REQUIRED
Washington State Legislature Approves $5.27 Million for Civil Legal Aid
Press Release, Washington State Office of Civil Legal Aid - April 24, 2007
The final operating budget approved by the Washington Legislature includes an additional $5.27 million for FY 2007-09 to expand critically needed civil legal aid services to low income and vulnerable people in Washington State. The civil legal aid appropriation will allow for expanded civil legal aid services to low income clients living in the most rural and isolated communities of the state, and includes funding to unify client intake, advice and referral services in King County through a unique partnership between the state-funded Northwest Justice Project and the King County 211 system.
Note: The Northwest Justice Project is an LSC-funded program.
To read the press release in its entirety, click here.
Bill Would Allow Inactive Attorneys In N.C. To Lend A Hand To Legal Services Groups
Michael Dayton, North Carolina Lawyers Weekly - April 30, 2007
Lawyers who retire from the practice of law would still be able to handle pro bono cases under a bill filed April 16 in the General Assembly.
House Bill 1487, titled "Pro Bono Emeritus Lawyers," would allow attorneys to reap the benefits of inactive status--no Bar dues or annual CLE load--while lending a hand to the state's legal services groups.
Under current law and State Bar rules, lawyers who take inactive status are prohibited from practicing.
An amendment to G.S. Sect. 84-16 would carve out a narrow exception. Inactive members would be permitted "to solely represent indigent clients on a pro bono basis under the supervision of nonprofit corporations," including Legal Aid of North Carolina.
The House bill, sponsored by Reps. Dan Blue and Paul Stam on behalf of the State Bar, has drawn praise from legal services officials.
"This is a real opportunity to expand services for poor people with no real cost," said George R. Hausen Jr., LANC's executive director.
To read the article in its entirety, click here. SUBSCRIPTION REQUIRED
Legal Aid Office Plans Forum To Give Savvy To Consumers
Brian Lazenby, Chattanooga Times Free Press (TN) - May 1, 2007
Legal Aid of East Tennessee will sponsor its first public forum this month to educate consumers.
Mary Clement, director of the Tennessee Division of Consumer Affairs, will talk about issues such as how to file a complaint about a particular business at the Chattanooga Consumer Roundtable, said Brian Frye, an attorney with Legal Aid of East Tennessee.
"This is something new, but something we thought would be beneficial to consumers," he said.
The roundtable discussion will teach participants about a variety of consumer issues and let them ask questions and voice concerns, according to information provided by Legal Aid of East Tennessee.
To read the article in its entirety, click here.
Success Story From Northeast New Jersey Legal Services
Legal aid is about helping ordinary people with real-life problems. Client stories from the field illustrate the day-to-day struggles - and victories - of poor Americans seeking justice under law.
Legal Aid Negotiates Settlement For Single Mother, Restores Hope
Wendy, a single mother with a three-year-old daughter, earns $11,000 a year working part-time for a healthcare provider-an income so low she qualifies for food stamps. Longer work hours are impossible. Wendy cannot afford day care and family members are not always available to baby-sit.
After her daughter's birth, Wendy began using a credit card to pay for necessities. Her unpaid balance grew quickly, along with interest and finance charges. Eventually, she could not afford even the minimum monthly payment. Wendy sought help from Northeast New Jersey Legal Services when the creditor sued her for $6,200.
The only options Wendy had considered would dash her hopes for the future. If the case went to court, she would probably lose-her case was weak. If she filed for bankruptcy, it would be harder for to get credit, buy a home-even get a job-in the future.

Northeast New Jersey Legal Services advised Wendy not to file for bankruptcy-she had no other debts-and agreed to represent her in settlement negotiations. A mediation session with the creditor secured an extremely favorable settlement. Wendy would pay a total of $1,900 at the rate of $75 a month-less than one-third the amount the creditor originally sought.
---