LSC Updates - November 5, 2009
LSC Leaders Testify Before House Judiciary Subcommittee
LSC Vice-Chairman Michael D. McKay and LSC President Helaine M. Barnett testified before the House Judiciary Subcommittee on Commercial and Administrative Law on Oct. 27 at a hearing on the Legal Services Corporation.
The subcommittee, which conducts oversight of the Corporation, is led by Chairman Steve Cohen (D-Tenn.) and Ranking Member Trent Franks (R-Ariz.). Other subcommittee members in attendance were Rep. Judy Chu (D-Calif.), Rep. Howard Coble (R-N.C.), Rep. Zoe Lofgren (D-Calif.), Rep. Steve King (R-Iowa), Rep. Bobby Scott (D-Va.) and Rep. Mel Watt (D-N.C.).
In his testimony, Vice-Chairman McKay discussed the obligation of all attorneys to contribute to equal justice efforts and of the government's responsibility to provide proper levels of funding to ensure equal access to justice for all Americans.
"The LSC Board of Directors over the last several years has worked hard to increase more private attorney involvement and has recommended increases in LSC funding to help meet that need. We sincerely appreciate the bipartisan support our requests have received," said McKay.
He also recounted the Board's efforts over the last two years to respond to issues raised in Government Accountability Office reports on the Corporation's governance and grants management.
President Barnett's testimony focused on the growing need for legal aid as a result of the foreclosure crisis and the economic downturn. She highlighted the findings of LSC's 2009 Justice Gap Report, which shows that LSC-funded programs are unable to serve half of the eligible clients seeking assistance due to lack of resources.
"For those millions of low-income Americans who are trying to keep a roof over their heads, who are trying to escape an abusive or life-threatening relationship, who are trying to keep their family together and safe, civil legal assistance is not an abstract concept, but a vital service rendered at a crucial moment in their lives," said Barnett.
The subcommittee also heard testimony from a second panel of witnesses: Harrison McIver, III, Executive Director, Memphis Area Legal Services; Donald Saunders, Director of the Civil Legal Services Division, National Legal Aid and Defender Association; H. Thomas Wells, Jr., Immediate Past President, American Bar Association; and Susan Ragland, Director, Financial Management and Assurance Team, Government Accountability Office.
Download witness testimonies or watch an archived webcast of the hearing.
LSC Board Meets with New Jersey Programs
LSC's Board of Directors held its fourth quarterly meeting of 2009 on October 30 and 31. The quarterly meeting included a presentation by all six LSC-funded New Jersey programs and a luncheon address by the Honorable Stuart Rabner, the Chief Justice of the state Supreme Court. The luncheon was held at the Rutgers University Camden Campus Center.
Executive directors of the LSC-funded New Jersey programs and the president of Legal Services of New Jersey met with LSC Board members at the Camden office of South Jersey Legal Services. Melville D. Miller Jr., president of Legal Services of New Jersey, provided an overview of statewide poverty statistics and demographics, the increasing demand for civil legal assistance by low-income residents of the state and the impact of reduced funding for civil legal services in New Jersey. The executive directors described cutbacks in funding that may lead to staff layoffs and furloughs next spring and summer at their programs and other budget restraints that will reduce legal services available to clients and persons seeking assistance.
The executive directors making presentations were Felipe Chavana of Essex-Newark Legal Services Project, John Fitzgerald of Northeast New Jersey Legal Services, Douglas Gershuny of South Jersey Legal Services, Paul Mullin of Central Jersey Legal Services, William Rempel of Ocean-Monmouth Legal Services and Diane Smith of Legal Services of Northwest Jersey. Edna Baugh, chair of the Essex-Newark Board, joined with Chavana in making that program's presentation.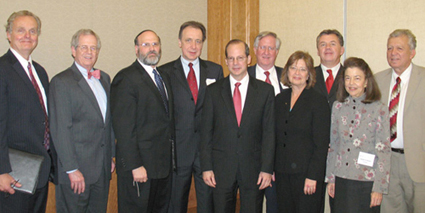 Left to right: Melville Miller, Chairman Strickland, Doug Gershuny, Paul Mullin, Justice Rabner, John Fitzgerald, Diane Smith, William Rempel, President Barnett, Felipe Chavana.
Low-income residents of New Jersey are losing jobs because of the weak economy and are increasingly seeking help for housing, consumer, bankruptcy and family problems, such as domestic violence, the executive directors said. But the weak economy also has led to reductions in state and local funding, including grants from Interest on Lawyers' Trust Accounts (IOLTA), and in charitable giving. Executive directors forecast layoffs at their programs in the spring and summer if funding does not improve, and said that LSC funding is more critical than before in helping their programs survive. Read more about the challenges confronting New Jersey's legal aid programs.
At the luncheon, Chief Justice Rabner pointed to LSC's new Justice Gap Report and the new state study on legal needs in New Jersey by Legal Services of New Jersey as highlighting the services required to help the poor. Legal services programs give voice to the voiceless and are healthy for democracy, the Chief Justice said. He praised Legal Services of New Jersey for the quality of the amicus briefs and for the technology support that permits low-income individuals to gain access to the courts through self-help kiosks. Despite the impact of IOLTA cuts, Rabner said the spirit and dedication shown by legal services staff would carry programs forward and ensure their survival. A pro bono awards ceremony followed the luncheon. See below for more information about the award winners.
The Board's official work began with a meeting of the Provision for the Delivery of Legal Services Committee, which heard presentations from the executive directors of LSC-funded programs in New Jersey and from the president of Legal Services of New Jersey.
The Operations and Regulations Committee asked LSC staff to prepare a rulemaking options paper for the next Board meeting that could be used as a starting point for deliberations on whether the Board should require grantees to create Audit committees as a way to magnify the importance of internal financial controls at LSC-funded programs.
The committees on Audit, Finance, and Governance and Performance Review also met, as well as the Search Committee, which is responsible for finding an interim president to replace Helaine M. Barnett, whose contract expires at the end of this year.
Following the committee meetings, Chairman Strickland opened the meeting of the full Board and heard reports from LSC President Barnett and LSC Inspector General Jeffrey E. Schanz. After hearing reports from committees, the Board approved a FY 2009 revised operating budget, adopted a new logo for the Office of Inspector General, and voted to add a compensation oversight function to the Governance and Performance Reviews committee.
Learn more about LSC's Board of Directors.
LSC Board Celebrates Pro Bono at Awards Ceremony
During a luncheon held as part of its meeting in Camden, N.J., LSC's Board of Directors hosted an awards ceremony to honor volunteer attorneys who perform pro bono work on behalf of the clients of the six LSC-funded legal aid programs in New Jersey.
The ceremony was held in conjunction with the American Bar Association's first-ever National Pro Bono Celebration, a coordinated nationwide effort encompassing more than 100 events in nearly 40 states and Puerto Rico aimed at showcasing the important difference that pro bono lawyers make to the nation, its system of justice, its communities and to the clients they serve.
"LSC's celebration is focusing on pro bono in the state of New Jersey," said LSC President Helaine M. Barnett to the attendees. "LSC would like to take this opportunity to acknowledge our appreciation of the outstanding pro bono work of leaders of the New Jersey equal justice community for their extraordinary commitment to providing equal access to justice through their pro bono work with all six LSC-funded programs in New Jersey, and whose pro bono achievements are an inspiration to us all."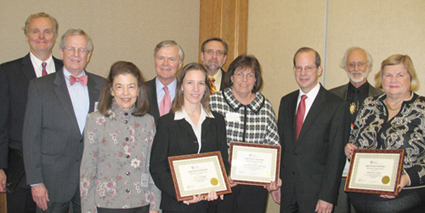 Left to right: Melville Miller, Chairman Strickland, President Barnett, Doug Eakeley, Vera Fedoroff, Daniel Yablonsky, Mary Ellen Koscs-Fleming, Justice Rabner, David Gladfelter,
and Katherine Suplee.
"As you all know, the Legal Services Corporation does not have the resources to make it possible for all, or even most, of the eligible low-income individuals and families who seek civil legal assistance, to receive it."
"Closing the justice gap will require a multifaceted approach that includes increased funding by federal and state governments, private funders and concerned private parties, and increased pro bono contributions by individual lawyers."
Those honored by the Board were: Daniel Yablonsky, who specializes in bankruptcy cases on behalf of Northeast New Jersey Legal Services; David Gladfelter, who handles public benefits cases for South Jersey Legal Services; Katherine Suplee, who takes bankruptcy clients for Central Jersey Legal Services; Vera Fedoroff, who volunteers for Ocean-Monmouth Legal Services, and Mary Ellen Koscs-Fleming, a volunteer attorney at Legal Services of Northwest Jersey.
Also honored was the law firm of Lowenstein Sandler for its years of pro bono service. Douglas S. Eakeley, a partner at the firm and a former LSC Board chairman, accepted the award on the firm's behalf.
"These award winners represent the diversity of volunteer lawyers in the legal profession: solo practitioners, corporate counsel, retired attorneys and law firms," says Barnett, "and their work demonstrates the wide variety of ways that pro bono lawyers can give back to their communities."
See below to learn how LSC-funded programs joined the American Bar Association to celebrate pro bono.
Board Nominee a Leader of Firm's Model School Partnership
The Chicago Public Schools system is honoring the law firm of Sidley Austin LLP for its 25-year-long partnership with the Gerald Delgado Kanoon Magnet Elementary School, a collaboration spearheaded in part by John G. Levi, a partner in the firm and a nominee to LSC's Board of Directors.
The partnership-the longest-running corporate sponsorship of any Chicago public school-brings the firm's lawyers and staff to the school for mentoring activities, mock trials, educational field trips, book chats, as well as clothing, food and school supply drives. The bi-lingual Kanoon school serves students in preschool through eighth grade from a primarily Latino community on the city's west side.
"Sidley's commitment to the communities in which we serve has long been an important part of the firm's culture," said Levi. "The Kanoon program has been an especially rewarding experience for me and so many of my colleagues."
In recognition of the relationship, the Chicago Public Schools system chose a partner in the firm to serve as honorary co-chair of its Principal for a Day program, an event that featured a luncheon sponsored by Chicago Mayor Richard M. Daley and a video commemorating the Sidley-Kanoon relationship.
Learn more about the partnership.
Passion for Justice Inspired Board Nominee
Martha L. Minow, the new dean of Harvard Law School and a nominee to LSC's Board of Directors, is featured in a recent article from The Harvard Crimson, the university's daily newspaper.
While the article focuses mainly on the challenges Minow will face as head of one of the country's premier law schools, it also discusses what initially attracted her to the practice of law: the idea of justice.
"I came to law school because I care about justice," Minow says in the article. "The questions of justice should be present in the classroom, present in the work of scholars, present in the career aspirations. What justice is, of course, is a very complicated matter."
One of Minow's colleagues, Professor Mary Jo Bane from Harvard's John F. Kennedy School of Government, says that Minow's passion for justice is one of her central qualities.
"I know that she is committed to a culture of public service and a culture of advancing justice," says Bane. "I remember that she said, What I really care about is justice, and what a law school ought to be about is justice-and I want to bring the Law School together around that."
Read the full article to learn more about Martha Minow.
Mentoring Program Participant Awarded for Leadership
Peggy P. Lee, a staff attorney at Southeastern Ohio Legal Services (SEOLS), has received a Leadership Award from her program and the Ohio State Legal Services Association "for her outstanding leadership in fulfilling the mission and vision" of SEOLS.
"She is tireless in her efforts in support of her clients and her colleagues," reads one of her nomination letters. "She does not preach what to do, she shows us how to get it done."
A graduate of Cornell Law School, Lee has worked for Southeastern Ohio Legal Services, an office of the Ohio State Legal Services Association, for about nine years. Since late 2007, her work has focused entirely on foreclosure defense in connection with Ohio's statewide "Save the Dream" foreclosure prevention initiative and through a NeighborWorks grant for pre-foreclosure, non-litigation work.
Lee was one of ten protgs who participated in LSC's Leadership Mentoring Pilot Program, which paired up-and-comers in legal aid with long-time leaders to support the development of a diverse corps of well-trained leaders in the legal services community. Another protg, Anthony L. Young, has since become the executive director of Southern Arizona Legal Aid.
The program provided protgs with an opportunity to form a lasting relationship with an experienced mentor, who provided confidential coaching, feedback, counseling and professional development opportunities. Mentors and protgs were able to meet in person and also network with other participants in the program.
Download LSC's final report on the mentoring program to learn more. (

937k)
LSC to Operate at Fiscal 2009 Funding Levels through Dec. 18
LSC will continue to operate at its Fiscal 2009 funding level of $390 million through Dec. 18, according to the continuing appropriations resolution passed by Congress and signed into law by President Obama on Oct. 30.
The resolution keeps most government programs, including LSC, running at last year's levels while Congress works to approve the remaining annual spending measures for Fiscal 2010, which began on Oct. 1.
LSC funding is contained in the Commerce, Justice, Science and Related Agencies appropriations bill, which has been passed by the House but not the Senate. The House approved $440 million for LSC in June while the Senate Appropriations Committee has approved $400 million. The full Senate first took up the bill in early October but debate stalled over an issue related to the 2010 Census. Debate restarted on Nov. 5 and as of this writing, is still ongoing. A measure to limit debate on the bill passed by a vote of 60 to 39, and a vote on final passage is imminent.
The Senate bill would continue existing limitations on the use of federal funds but would lift restrictions on the use of non-federal funds except in litigation involving abortion and cases involving prisoners. The House bill would continue existing limitations on LSC funds and non-LSC funds, but would remove the restriction on the ability to claim, collect or retain attorneys' fees, regardless of the funding source.
The two chambers will have to meet in conference to resolve differences in their versions of the bill before sending a final measure to the White House for the president's signature.
Field News
"Where Are All the Foreclosure Lawyers?"
That's the question posed by TIME Magazine in a recent article on the legal dimensions of the continuing home foreclosure crisis. The article cites the findings of a new report from the Brennan Center for Justice, which found that large percentages of Americans facing foreclosure in hard-hit areas were unrepresented by legal counsel. "The nation's massive foreclosure crisis is also, at its heart, a legal crisis," reads the report.
Why do lawyers matter? "Homeowners who have lawyers are usually prevailing in those cases," says Carolina Lombardi, a senior housing attorney with the Legal Services of Greater Miami, in the TIME article. Lawyers can also identify violations of the law, enforce consumer protection laws and convince lenders to renegotiate loan terms, says the Brennan Center.
So where are all the lawyers? TIME offers up one explanation for the shortage: the nature of foreclosure law itself-"a bureaucratically convoluted field worthy of a Dickens novel." The Brennan Center offers another: funding, or the lack thereof. "Civil legal aid, always underfunded, has suffered from acute shortages since federal funds were cut by one-third in 1996. Moreover, just as the need for legal representation has reached its apex, the recession has forced state and local governments and private charities to cut their support for legal services." A key recommendation of the report is to increase funding for foreclosure legal representation.
"Additional state and federal dollars should be dedicated to foreclosure legal assistance and directed to the hardest hit areas, often the areas with predominantly minority resident populations," reads the report.
Today, LSC-funded legal aid attorneys around the country are working in partnership with the courts, state and local bar associations, private attorneys and housing counseling groups to try and keep families in their home. Recently, the Legal Aid Society of Columbus received a $50,000 grant to represent homeowners facing foreclosure in Franklin County, Ohio, a state hard-hit by the foreclosure crisis.
On a national level, LSC coordinates bi-monthly foreclosure conference calls that bring together legal aid lawyers and housing and consumer advocates to discuss legislation, model projects and legal strategies for coping with the crisis. LSC also hosts a foreclosure resources page that contains valuable information for advocates.
LSC Programs Join ABA for National Pro Bono Celebration

Legal aid programs throughout the country were among the many groups who participated in the American Bar Association's National Pro Bono Celebration from Oct. 25-31. Sponsored by the ABA's Standing Committee on Pro Bono and Public Service, the nationwide celebration was the first of its kind and featured a range of events that highlighted the importance of pro bono to securing access to justice for low-income Americans. Following are just a few of the ways LSC-funded programs joined the celebration:
Learn more about the celebration.
California: Legal Aid Groups Reap Tobacco Settlement Windfall
Petra Pasternak, Law.com – Oct. 28, 2009
Christmas has come early for California's legal aid organizations.
[In October], $40 million [went] out to more than 100 nonprofits and charities across the state from money left over in a class action settlement with makers of chewing tobacco.
The money-in some cases hundreds of thousands of dollars-will help local legal groups avoid cutting services and jobs as they struggle through the recession.
A check for $800,000 arrived at the San Francisco office of California Rural Legal Assistance about a week ago. Jose Padilla, its executive director, said CRLA was bracing for a shortage of about half a million dollars next year in its $13 million program, thanks to uncertainty about federal and state funding. The cy pres money will save the organization from having to cut pay by 7 percent through furloughs, or laying off six to eight of its 60 lawyers. "This is a godsend," Padilla said.
Click here to continue reading.
Gates Foundation Gives $3 Million to Washington Legal Aid Fund
The Seattle-based Bill and Melinda Gates Foundation announced on Oct. 29 that it will donate $3 million over the next three years in grants to the Legal Aid for Washington (LAW) fund, which supports more than 20 legal aid programs throughout the state, including the LSC-funded Northwest Justice Project.
"The recession has affected thousands of families in our state, and many need a hand as they work toward economic recovery and stability," said William H. Gates Sr., co-chair of the Foundation. "At the same time, many of Washington's community support organizations are stretched thin by meeting a growing demand for services at a time when it's difficult to raise funds."
Karen Falkingham, director of the LAW fund and the statewide Campaign for Equal Justice, said, "The availability of civil legal aid is a critically important factor in helping families and communities maintain stability during times of great stress and adversity. With our grant from the Gates Foundation we can meet the urgent legal needs of our most vulnerable residents during this difficult time and help safeguard our state's extraordinary legal aid system for years to come."
Click here for more information.
Florida's Senior Legal Helpline Honored by State Coalition
Bay Area Legal Services' Senior Legal Helpline has been honored by the Florida Coalition on Aging with its Quality Senior Living Award. The award is presented annually to an individual or organization for actions that improve the lives of the state's older citizens.
"We are honored to have been chosen," said B. Maria Carruba-Fuentes, manager of the helpline. "It reflects the hard work of everyone who staffs the helpline."
Established in 2005 and funded by the Florida Bar Foundation and the Florida Department of Elder Affairs with a U.S. Administration on Aging Grant, the helpline provides a convenient point of access for Floridians aged 60 and older to receive free legal advice, brief services and referrals for extended legal representation.
Learn more about Bay Area Legal Services at www.bals.org.
Missouri Legal Aid Lawyer to Receive "Reggie" Award
The National Legal Aid and Defender Association announced on Oct. 5 that Ann B. Lever, the former director of litigation at Legal Services of Eastern Missouri, will receive the 2009 Reginald Heber Smith Award, known throughout the legal aid community as the "Reggie."
The award is named after for a former counsel at the Boston Legal Aid Society and the author of Justice and the Poor, published by the Carnegie Foundation in 1919.
Lever, who retired from Legal Services of Eastern Missouri in September after 30 years of service, has a "history as an innovative litigator [that] put her at the forefront in preserving low-income housing, enforcing fair housing laws and helping clients gain access to health care, education, public benefits and immigration benefits," says the NLADA. "Her extraordinary commitment to her clients in whose name action was brought has impacted thousands of individuals inside and outside the eastern Missouri legal community."
Some of Lever's achievements include drafting the legislation that became Missouri's first law granting legal protection to victims of domestic violence and leading an effort to file an Administrative Procedures Act Claim with the District Court for the Eastern District of Missouri, successfully challenging the government's withholding of decisions on naturalization for 50 Bosnian refugees.
Click here for more information.
Success Story from Memphis Area Legal Services
Legal aid is about helping ordinary people with real-life problems. Client stories illustrate the day-to-day struggles-and victories-of poor Americans seeking justice under law.
Medical Benefits Retained
A recent article from the Memphis Daily News tells the story of how Memphis Area Legal Services helped a mother fight to retain critical medical benefits for her seriously ill adult daughter.
When the mother, Linda Fann, became a certified Personal Needs Assistant to better care for her 49-year-old daughter-born with a spinal condition that qualified her for public assistance-she never imagined her action might jeopardize the medical benefits her daughter so desperately needed.
The state Medicaid agency, which had been paying for 16 hours of care a day for Fann's daughter, attempted to cut the services down to four hours a day, five days a week. They argued that Fann was now capable of taking care of her daughter, so the state could lessen its responsibility.
Fann sought to appeal the decision, but admits to being "nave" about the process. After a series of confusing conversations with agency personnel Fann sought the help of Memphis Area Legal Services.
Linda Warren Seely, director of pro bono projects for the legal aid program, agreed to represent Fann herself. At an administrative court hearing on the case, Seely argued that Fann received her certification to supplement the care being provided by the state, not to replace it, and that if she had not received the certification, the state would still have to pay.
The judge agreed and reversed the agency's ruling.
Read the full story in the Memphis Daily News.
---