LSC Updates - November 8, 2012
In This Issue:
Chairman Wolf Commends Pro Bono Recommendations
Task Force ​Report Released in Washington, Boston, Chicago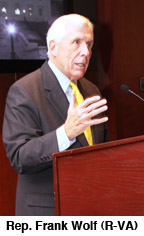 The task force charged by LSC's Board of Directors with identifying innovative ways to enhance pro bono throughout the country released a report of its findings and recommendations in October.
Rep. Frank Wolf (R-Va.), chairman of the House Appropriations Subcommittee on Commerce, Justice, Science & Related Agencies, and a strong proponent of pro bono, praised the report and called for its implementation.
"I think it's a very important opportunity for the legal profession," Wolf said. "You know, St. Francis of Assisi said, 'I'd rather see a sermon than hear a sermon,' and so I think it's important that we see this sermon carried out.
"I am committed to doing everything I can to make sure the funding for legal services" continues, he added. The combination of legal aid programs and pro bono attorneys working together to help people in need "will be really good."
See a video of Chairman Wolf's remarks.
Wolf spoke October 2nd, at the U.S. Capitol Visitor Center, where task force members from across the country joined the LSC Board and members of the Washington legal community to celebrate the report's release. Other speakers included the Honorable David S. Tatel of the U.S. Court of Appeals for the District of Columbia Circuit; LSC Board Chairman John G. Levi; Lisa Wood, chair of the American Bar Association's Standing Committee on Legal Aid and Indigent Defendants; Lee Miller of DLA Piper; Task Force Co-Chair Martha Minow of Harvard Law School; Task Force Co-Chair Harry J.F. Korrell III of Davis Wright Tremaine LLP, and LSC President James J. Sandman.
Implementation was a central theme of the event. In his remarks, Sandman said that while the collaborative effort that produced the report was exceptional, it was just the beginning. "The real work," he said, "is in implementation…. The spirit of collaboration that produced this report now needs to infuse the implementation of the recommendations at the local level. That will take a lot of work. But, just as this report reflects so much talent, it also reflects leadership of a quality that I am confident can and will make it happen. And that's my pledge to you, Chairman Wolf. We will make it happen."
Events highlighting the task force findings and recommendations were also held in Boston and Chicago.
Learn more about thoe Pro Bono Task Force.
Read a one-page summary of the report.
See a list of task force members.
See video and photos of and read about the Washington event.
See video and photos of and read about the Boston event.
See video and photos of and read about the Chicago event.
Judges, Veterans Experts Address LSC Board at North Carolina Forum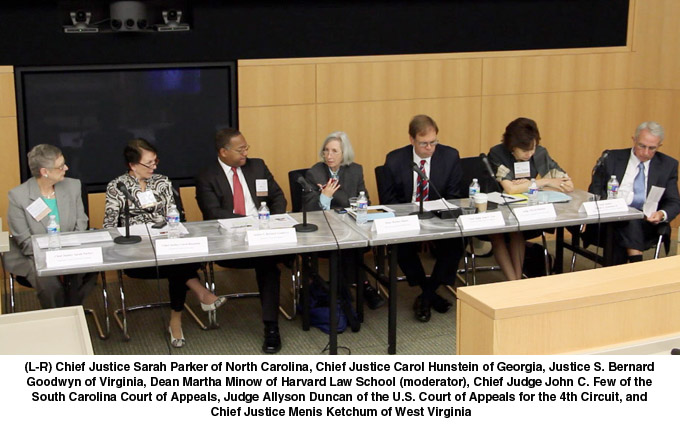 Six distinguished judges from the Southeast addressed the LSC Board of Directors at a forum on the role of legal services for the poor in safeguarding the fair administration of justice. The forum, held Oct. 1 at Duke University and hosted by Dean David F. Levi of Duke Law School, was convened in conjunction with the board's quarterly meeting.
The judges' panel included Judge Allyson Duncan of the U.S. Court of Appeals for the 4th Circuit; Chief Judge John C. Few of the South Carolina Court of Appeals; Justice S. Bernard Goodwyn of the Virginia Supreme Court; Chief Justice Carol Hunstein of Georgia; Chief Justice Menis Ketchum of West Virginia; and Chief Justice Sarah Parker of North Carolina. LSC Board Vice Chair Martha Minow moderated.
Listen to the full discussion, watch video excerpts or see more photos.
The forum also featured a panel on the civil legal needs of military veterans. Panelists included Will Gunn, general counsel for the U.S. Department of Veterans Affairs; George Hausen, executive director of Legal Aid of North Carolina; Nan Heald, executive director of Pine Tree Legal Assistance, which maintains the national website www.StatesideLegal.org for military members, veterans and their families; Kenneth Perri, executive director of Legal Assistance of Western New York; and Nicole Perez, an attorney with the Bill Smith Homeless Veterans Project at the Legal Aid Foundation of Los Angeles. LSC President Jim Sandman moderated.
Listen to the full presentation, or see a photo of the panel.
Congressman Conyers Applauds Legal Aid and Defender Association Technology Grant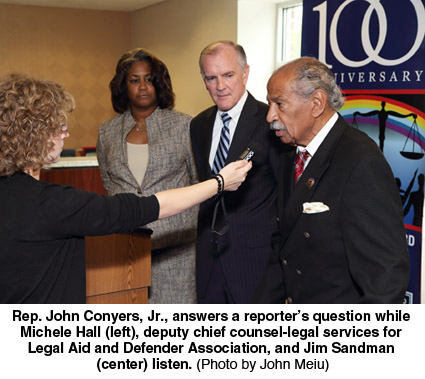 At a news conference in Detroit on Sept. 27, Rep. John Conyers (D-Mich.) joined LSC President Jim Sandman to commend the Legal Aid and Defender Association (LAD), which will receive $50,000 through LSC's Technology Initiative Grants (TIG) program to develop an online intake system.
"We feel extremely proud that Detroit was included in this activity," Conyers said at the event, which was held at LAD's client intake center.
The LAD grant, announced in September, is one of 46 TIGs, totaling more than $3.5 million, awarded by LSC in 2012. At legal aid programs in 25 states and the territory of Guam, the grants will help increase access to Web-based resources, enhance pro bono, expand websites for veterans and disaster recovery, and – a new category this year – improve data collection and analysis.
"Leveraging scarce resources to help expand access to legal assistance for low-income Americans requires innovative, smart use of technology," said Sandman. "I am particularly pleased that several of this year's grants will be used to help programs use data to improve their effectiveness and efficiency."
Five of the programs chosen for the 2012 cycle are first-time TIG recipients; Inland Counties Legal Services (Calif.), Coast to Coast Legal Aid of South Florida, Legal Aid of Southeastern Pennsylvania, Legal Aid Services of Northeastern Minnesota, and Legal Services of Northern Virginia.
Congress first authorized the TIG program in 2000. Including the 2012 grants, LSC has funded more than 525 TIG projects totaling over $40 million.
See the full list of 2012 TIG awards.
LSC Welcomes Vice President for Grants Management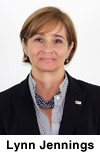 Lynn A. Jennings joined the LSC staff as vice president for grants management in September. She oversees the Corporation's day-to-day programmatic operations, competitive grants process, and assessment and oversight of grantees.
"Lynn is a strong addition to our team," said President Jim Sandman. "She has worked at the White House and on Capitol Hill and has held senior positions at federal agencies and nonprofit organizations. She has experience in grantmaking, both as a funder and as a grant recipient. Her broad expertise will be very helpful to LSC."
Before joining LSC, Jennings was the principal at Jennings Solutions, LLC, a management consulting firm. Her more than 20 years of experience includes serving as executive vice president and vice president for strategic initiatives at the Council for Excellence in Government, as director of strategic initiatives at CNA's Institute for Public Research, as general counsel for the U.S. Merit Systems Protection Board, and as acting assistant secretary for policy and senior advisor to the secretary at the U.S. Department of Labor.
She earned her law degree from the Columbus School of Law at The Catholic University of America and her Bachelor of Arts in political science from the University of Rochester.

Sandman, Valencia-Weber Visit DNA People's Legal Services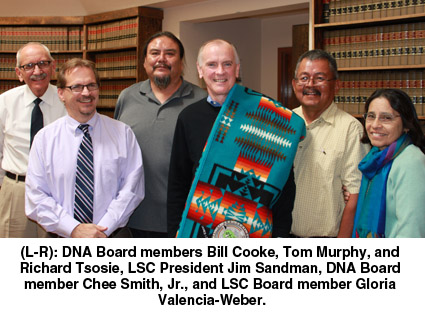 LSC President Jim Sandman and LSC board member Gloria Valencia-Weber, a professor at the University of New Mexico Law School and one of the country's leading experts in Indian law, visited DNA-People's Legal Services on September 17. DNA-People's service area is larger than eight states and covers portions of Arizona, Utah, New Mexico, and the entire reservations of seven tribes. The visit began at 7:00 a.m. with a blessing of Sandman, Valencia-Weber, and LSC by a Navajo medicine man. Sandman and Valencia-Weber met with board members and with staff in two of the program's 10 offices. Executive Director Levon Henry gave a tour of the service area that demonstrated the challenges that large distances and remoteness pose to the delivery of legal services.
Resources
Learning from the Field: Successful Fundraising to Support Legal Aid – Video of a presentation to the LSC Board that provides an overview of legal aid funding and focuses on examples of successful private resource development in the legal aid community.
Michigan Legal Help – An online, self-help resource created to make legal information easier to understand and to show people how to navigate the court system properly and efficiently, and provide help with finding an attorney or self-help center. Funded by an LSC Technology Initiative Grant and the Michigan State Bar Foundation.
Access to Justice Webinar Series for Librarians –With a surge in the number of people seeking assistance for issues with a legal dimension, partnerships between access to justice organizations and the libraries in their communities are more important than ever. Funded by an LSC TIG. Recordings of the webinars are available online.
The Cloud Beckons, But Is It Safe? — Recording of a TIG-funded webinar that may help legal services providers weigh the benefits and risks of "the Cloud."
Access to Justice Innovations Child-Support Fact Sheet – The U.S. Department of Health and Human Services Office of Child Support Enforcement recently published a fact sheet that highlights access to justice innovations, including court facilitators, self-help hotlines, and online tools.
News from the Field
Keeping Sick Buildings from Making Children Sick – A new article in the journal Pediatrics concludes that the Legal Aid Society of Greater Cincinnati's medical-legal partnership improved housing conditions for low-income children.
The State of Legal Aid – This radio interview with John Whitfield, executive director of Blue Ridge Legal Services, aired nationally on American Public Media's The Story.
Part of Oklahoma Mortgage Settlement Goes to Nonprofit Legal Aid, Others
Montanans Need Access to Courts (editorial)
Legal Aid Files Claims for 54 Migrant Workers (Nebraska)