LSC Updates - October 11, 2007
U.S. Senate Debates Bill Containing $390 Million for LSC in 08
LSC to Operate at FY 2007 Funding Levels through mid-November
On October 4, the U.S. Senate began debating the Commerce, Justice, Science and Related Agencies appropriations bill (HR 3093) for fiscal year (FY) 2008. The bill contains $390 million for LSC, $41.4 million more than LSC received in 2007.
An amendment to the bill sponsored by Sen. Jeff Bingaman, D-N.M., would allow LSC-funded legal services programs to provide legal assistance to "H2B" workers--temporary foreign workers employed in the forestry industry--in matters directly related to their employment. LSC-funded programs are currently prohibited from serving H2B workers. This amendment has not yet been acted on. The Senate is scheduled to resume consideration of the bill on October 15.
The U.S. House previously approved $377 million for LSC's FY 2008 appropriation. If the amounts passed by the House and Senate differ, they will have to meet in conference and agree on a final figure.
LSC will operate at FY 2007 funding levels through November 16, according to a continuing appropriations resolution passed by Congress and signed by President Bush on September 29. None of the Federal government's 12 spending bills for FY 2008 had been enacted when the fiscal year officially started on October 1. If any spending bills remain to be approved by November 16, Congress will need to pass another continuing resolution.
LSC Board Chairman Frank B. Strickland Receives St. Thomas More Award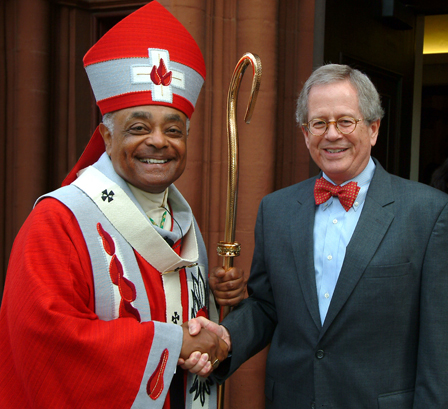 LSC Board Chairman Frank B. Strickland (right) shakes hands with Archbishop Wilton D. Gregory, head of Atlanta's archdiocese, following Red Mass. Picture courtesy St. Thomas More Society of Atlanta.
Frank B. Strickland, Chairman of LSC's Board of Directors, has received the St. Thomas More Award for making legal services to the poor a central focus of his professional life.

The award is given annually by the St. Thomas More Society in Atlanta, Ga., to one or more judges, lawyers, or public officials whose actions show a commitment to the principles of justice and humanity in difficult circumstances.
The Society notes that as Chairman of LSC, Strickland "has resisted pressure to reduce legal services to those of lesser means, even in the face of personal attacks. He has worked hard to ensure that the poor are provided effective legal representation, especially in matters involving basic human needs."
Strickland received the award at a luncheon hosted by the St. Thomas More Society following Red Mass--a 750-year-old tradition of the Catholic Church that brings together judges, lawyers, government officials and other members of the legal community to mark the beginning of the judicial year. The event gets its name from the scarlet robes worn by the clergy to symbolize the fire of the Holy Spirit.
The Honorable Doris Downs, Chief Judge of Fulton County Superior Court, and the Honorable Roy E. Barnes, former Governor of Georgia and practicing attorney also received awards.
The St. Thomas More Society of Atlanta is an organization of Catholic lawyers whose members meet regularly to foster the spiritual, intellectual, and professional growth of its members. It is independent from the Catholic Church, and its awards are given without regard to the recipient's religious or political affiliation.
For a biography of LSC Board Chairman Frank B. Strickland, click here.
For more information on Atlanta's St. Thomas More Society, click here.
U.S. Supreme Court Will Not Review Velazquez/Dobbins v. Legal Services Corporation
On October 1, the U.S. Supreme Court declined to review the U.S. Court of Appeals for the Second Circuit's ruling in the case of Velazquez v. Legal Services Corporation, also known as Dobbins v. Legal Services Corporation or South Brooklyn Legal Services v. Legal Services Corporation.
On September 8, 2006, the Second Circuit overturned a lower court's decision preventing LSC from enforcing its "program integrity" regulation against an LSC grantee and a potential grantee. The lower court had found that LSC's application of the regulation in this specific situation posed an "undue burden" on the grantee's First Amendment rights. The Second Circuit found that the lower court's "undue burden" test was "in error," because it had either "misinterpreted or missed" the Second Circuit's earlier guidance to apply an "adequate alternative channel for expression" standard.
The Supreme Court's decision leaves the Second Circuit's ruling intact, and the case returns to the lower court--the U.S. District Court for the Eastern District of New York--for a new ruling based on the proper standard.
The Velazquez case deals primarily with Section 1610.8 of the LSC regulations, which requires LSC grantees to maintain program integrity, including physical and financial separation, from anyone that performs work prohibited by the 1996 Congressionally-mandated restrictions on LSC-funded programs.
To read the Second Circuit's decision in its entirety, click here.
LSC President Speaks at Meeting of Mid-America Project Administrators
On September 28, LSC President Helaine M. Barnett was the featured speaker at the MidAmerica Administrators and Financial Officers Association's annual conference, hosted by Detroit's Legal Aid and Defender Association on September 27 and 28.
The conference brought together staff from 17 LSC-funded programs in 11 states who provide the "backbone" of support to legal services programs by ensuring that each organization has the financial and human resources necessary to carry out its mission.


LSC President Helaine M. Barnett stands with members of the MidAmerica Administrators and Financial Officers Association. Click photo to enlarge. From left to right: Pat O'Neill, Agency Administrator, Central Minnesota Legal Services; Angela Smith, Finance Director, Legal Aid and Defender Association of Detroit; Lynda Clegg, Controller, Legal Services of Eastern Michigan; Gregg Trautwein, Administrator, Legal Services of Northwest Minnesota; Mary Beth Denzer, Program Administrator, Legal Aid of Western Missouri; Joe Simpson, Director of Administration, Indiana Legal Services; Christine Robison, Financial Manager, Legal Services of South Central Michigan; Susan Kreidler, Director of Finance, MidPenn Legal Services; Van Izard, Business Manager, Center for Arkansas Legal Services; Susan Wright, Controller, Indiana Legal Services; Lynda Dahm, Chief Financial Officer, Southern Minnesota Regional Legal Services; Helaine M. Barnett, President, Legal Services Corporation; Nancy Hopper, Executive Administrator, Legal Aid Society of Greater Cincinnati; Angie Mackay, Controller, Legal Aid Society of Greater Cincinnati; Sheralyn Mueller, Accounting Assistant and Tokozeni Madondo, Program Accountant, Land of Lincoln Legal Assistance Foundation; Brenda Steiger, Accountant, Legal Services of Eastern Missouri; Bob Martinez, Deputy Director of Finance and Administration, Land of Lincoln Legal Assistance Foundation; Susan Hauser, Comptroller, Legal Services of Eastern Missouri; Rhonda Willis, Human Resources Director, Legal Aid and Defender Association of Detroit; Kevin Morrissey, Controller, Legal Assistance Foundation of Metropolitan Chicago; Tama Byrnes, Accountant, Legal Aid of Western Missouri.
Barnett updated the conferees on the status of LSC's FY 2008 appropriation and other legislation in the U.S. Congress, discussed how LSC is working with its grantees to encourage the use of technology, and discussed the key components of LSC's Quality Agenda, which seeks to ensure that LSC-funded programs are delivering the highest-quality legal services possible.
Barnett concluded her remarks by recognizing the unique contributions made by those in attendance. "The members of this association play a vitally important role in the delivery of civil legal assistance to low-income individuals and families. Without you, LSC-funded programs literally could not function. In today's world, managers, administrators, controllers, human resource professionals, and technology experts are essential to the functioning of LSC-funded programs."
Barnett also visited the LSC-funded Legal Aid and Defender Association, where she toured the organization's new headquarters with Executive Director Deierdre Weir and met with Joan Howard, Chief Counsel of the Civil Law Group, and members of her staff, including litigation directors and intake workers.
Fourteen More LSC-Funded Programs Adopt Pro Bono Resolutions
The Boards of Directors of fourteen more LSC-funded programs have adopted resolutions aimed at increasing the involvement of private attorneys in the delivery of legal services to their clients, bringing to 39 the number of programs who have adopted such resolutions. The fourteen programs are:
Appalachian Research and Defense Fund of Kentucky
Central Minnesota Legal Services
Kentucky Legal Aid
Legal Aid of West Virginia
Legal Aid Services of Oregon
Legal Services of Eastern Missouri
Legal Services of Southern Missouri
Legal Services of the Hudson Valley (New York)
Neighborhood Legal Services Association (Pennsylvania)
New Mexico Legal Aid
Ohio State Legal Services Association
Prairie State Legal Services (Illinois)
Southern Arizona Legal Aid
Statewide Legal Services of Connecticut
LSC is encouraging all program Boards of Directors to adopt pro bono resolutions modeled after one adopted by LSC's Board in April 2007. Urging programs to adopt local resolutions is a key element of LSC's private attorney involvement action plan, entitled "Help Close the Justice Gap, Unleash the Power of Pro Bono."
For a complete list of programs who have adopted pro bono resolutions, click here.
LSC in the News
Administration on Aging Awards $700,000 to help Seniors Access Legal Services
Press Release, U.S. Department of Health and Human Services' Administration on Aging – September 27, 2007
The Health and Human Services' (HHS) Administration on Aging (AoA) awarded more than $700,000 to seven states to develop innovative ways to enhance access to low-cost legal services for seniors who are most in need. Awards of approximately $100,000 each were made to Connecticut, Kentucky, Florida, Michigan, Nevada, New Hampshire, and Pennsylvania to expand the "Model Approaches to Statewide Legal Systems" Program established by the AoA earlier in 2007.
The new awards will help promote the continued development of statewide legal services delivery systems that coordinate efforts of senior legal help lines, legal resources, private bar pro bono activities, law school clinics, and self-help sites to ensure maximum impact from limited resources.
"Well-integrated aging and legal service delivery systems will enhance states' responses to critical threats facing elders who wish to remain independent. These threats include the loss of one's home through predatory lending and consumer scams, and the protection of essential benefits such as assisting with and access to disability benefits, Medicare, Medicaid, Supplemental Security Income and other public programs that promote safety and health," HHS Assistant Secretary for Aging Josefina G. Carbonell said. "We expect innovative service delivery models to emerge from these collaborative projects that can be replicated in other states that wish to increase legal services to those most in need."
To read the press release in its entirety, click here.
Mississippi Collaboration Expands Pro Bono Resources
ProBono.Net News – September 2007
One of the concerns commonly expressed by attorneys asked to do pro bono work in the areas of law that confront the poor is, "My expertise is in a different area. Where do I start?"
Responding to this concern just got easier in Mississippi, thanks to a far-reaching collaborative effort by 13 local law firms, in partnership with the Mississippi Volunteer Lawyers Project (MVLP), the Mississippi Center for Justice (MCJ), North Mississippi Rural Legal Services, the Mississippi Center for Legal Services and Pro Bono Net. Together, they have produced a comprehensive volunteer attorney practice manual, now available on http://www.probono.net/MS, Mississippi's statewide advocate and pro bono support website. The manual is a key element of a larger effort to recruit and support more volunteer lawyers from the private sector in Mississippi.
To read the article in its entirety, click here.
Utah Legal Services Files Suit Following Illegal Lock-out
Utah Legal Services (ULS) has filed suit against an apartment complex for illegally locking a tenant out of her apartment for late rent payments.
"We haven't filed a lawsuit over something like this...in maybe seven years," said ULS Deputy Director Ken Bresin in an article from Utah's Standard-Examiner. "But we get five complaints a week. It happens all the time, all over the state of Utah."
According to Utah law, it is illegal for an owner to "exclude a tenant from the tenant's premises in any manner except by judicial process."
In this case, ULS claims the landlord did not receive the necessary court order for eviction, but placed a lockout device on the tenant's door a few days after rent was due. The lockout device actually trapped the tenant inside her apartment for approximately five hours. She was able to leave only when a maintenance worker came to change the deadbolt on her door. The tenant then called ULS, which told her to call the police, who convinced the landlord to remove the locking device and stop changing the deadbolt.
The tenant continues to reside at the apartment complex while the suit is pending.
To read, "Suit Filed Against Ridgeview Apartments" in the Standard-Examiner, click here.
Legal Services Alabama Appoints New Executive Director
James H. Fry, new Executive Director of Legal Services Alabama.
On September 28, the Board of Directors of Legal Services Alabama (LSA) announced the appointment of James H. Fry as its new Executive Director.
"Jimmy is a dedicated and passionate advocate who will be a great leader for LSA as it seeks to bring equal access to justice to Alabama's disadvantaged residents," said LSA Board President Frances Heidt in a press release. "He is extremely experienced both as a lawyer and as a director."
Fry joined Legal Services Alabama in 2005 as a regional director for southern Alabama. Fry has previously served as a Judge on the Alabama Court of Criminal Appeals, as a District Attorney for Alabama's 39th Judicial Circuit, and as a lawyer in private practice.
For more information on Legal Services Alabama, click here.
Rhode Island Attorney Honored by Louisiana Bar and Supreme Court
Steve Fischbach, Attorney with Rhode Island Legal Services.
Steve Fischbach, an attorney with Rhode Island Legal Services, has been awarded by the Louisiana Supreme Court and State Bar Association for his generous donation of legal expertise and dedication to helping the victims and families affected by Hurricanes Katrina and Rita. He received the award at Louisiana's Out-of-State Volunteer Recognition Ceremony on October 1.
In the aftermath of Hurricanes Katrina and Rita, Fischbach worked on a number of projects aimed at helping survivors with their legal problems. He worked to connect survivors with law students from around the country they could use as a legal resource, he worked to create a proposal for a medical legal partnership in New Orleans, and he worked to create a program that would channel hurricane-related cases to pro bono lawyers and law school students in the Boston, Mass., area.
Success Story from Legal Aid of Nebraska
(Legal aid is about helping ordinary people with real-life problems. Client stories from the field illustrate the day-to-day struggles - and victories - of poor Americans seeking justice under law.)
Legal Aid of Nebraska Overcomes a "Hard Line" to Save Woman's Home

Laird Moore, attorney with Legal Aid of Nebraska.
Sometimes Legal Aid lawyers have to work extra hard to overcome a hard-line position taken by an otherwise well meaning public servant. Such a matter landed on the desk of Legal Aid Attorney Laird Moore recently when he took the case of a woman faced with loss of her Section 8 Omaha Metro Area home.
The Douglas County Housing Authority (DCHA) accused the woman of defrauding them by deliberately failing to timely report her daughter's income. The stakes were high because the working single mother not only faced termination of rights to live in the house with her children, she also faced a written finding of fraud which would have prevented her from ever qualifying again.
The client also faced health issues which frequently prevent her from working full time. Without Section 8 assistance, it would be nearly impossible for her to provide a safe and constructive home environment for the children. One daughter took a job while still a full-time student in high school, but the trouble began when she graduated in 2006. Under DCHA guidelines, the daughter's income had to be counted because she no longer was a full-time student. This triggered a reporting obligation for the mother and a change in the share of rent. DCHA took the unusually hard-line position that the mother deliberately and knowingly failed to disclose the daughter's income to avoid an increase in her portion of rent. The client essentially was accused of committing a crime. "A representative of DCHA was really quite adamant that our client was cheating the system and that she had caught her," said Moore. "In fact, the accusation was unjust."
A review of the DCHA file revealed that the mother, at her recertification meeting in January of 2007, actually did report her daughter's income.
"This supported our position that our client was honest and so was her omission. In fact, it was our client's honesty that drew DCHA's attention to the matter in the first place," said Moore. "To punish her and her children for that, to me seemed outlandish."
"Our client is trying to raise her children in a way that society should encourage--instilling a work ethic and stressing the importance of education. These are the keys to self-sufficiency and breaking the cycle of poverty," Moore added.
"Subsidized housing is designed to help achieve these goals."
Legal Aid argued to hearing officers that most Section 8 tenants have never seen nor been told about the regulation and there was no fraudulent intent on the part of the mother. She made a mistake. The hearing officer, a director of DCHA, agreed and overturned the termination order.
The officer wrote that it was "an honest mistake" and that the client "did not intentionally or fraudulently withhold the information."
Legal Aid also asked the hearing officer to allow the mother to enter into a repayment agreement, instead of being terminated for owing so much money, despite DCHA's position that such terminations
are mandatory.
Again, the hearing officer concurred and ordered the client to enter into a repayment agreement that was to be prepared by DCHA staff. The first draft alleged that the mother "committed a fraud violation." Following Legal Aid's protest, the language was changed to an admission that the client had "committed a violation while on housing assistance...failure to accurately report all income sources."
At Legal Aid's insistence, those words were changed, too. The final order said that the client "inadvertently fail[ed] to report all sources of income."
Said Moore: "In the end, justice prevailed because our client kept her Section 8 benefit, the appeal procedure provided for by Douglas County
Housing Authority worked, our client was cleared of unjust accusations of fraud, and the client entered into a repayment agreement she could live with."
Source: "Legal Aid of Nebraska Overcomes a Hard Line' to Save Woman's Home," Briefly, Legal Aid of Nebraska, July 2007. To download the issue in its entirety, click here.
For more information on Legal Aid of Nebraska, click here.
---