LSC Updates - October 22, 2010
LSC Board Hears From Grantees on Legal Aid Challenges
The problems of legal services delivery in rural areas, the challenges facing legal aid lawyers in the Gulf Coast states following the oil drilling disaster and the new Access to Justice Commission in Kentucky were among the presentations to the LSC Board of Directors at its fourth quarterly meeting in Louisville, Kentucky, on October 18 and 19.
It was the first meeting of the full Board that was nominated by President Obama and confirmed by the U.S. Senate. Board Chairman John G. Levi reviewed the Board's initiatives and outlined some of the themes he plans to stress in coming months. Click here to read the Chairman's Report. (

28k)
Board members began their activities with a visit to the offices of the Legal Aid Society in Louisville and were briefed on civil legal assistance in Kentucky by the executive directors of the four LSC-funded programs in the state: Jeffrey A. Been of the Legal Aid Society, Scott K. Crocker of Kentucky Legal Aid, Richard A. Cullison of Legal Aid of the Bluegrass, and Cynthia Elliott of the Appalachian Research and Defense Fund of Kentucky. Michael Brooks, a client representative on the Legal Aid Society board, told the LSC directors that without LSC support "our lives would be meaningless."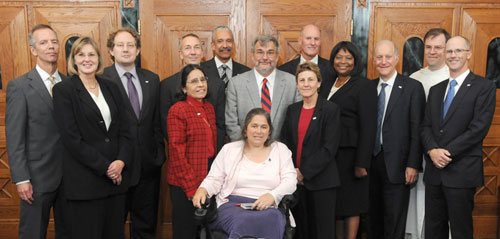 Left to right: LSC Board Members Victor Maddox, Sharon Browne and Charles Keckler; Legal Aid Society Executive Director Jeffrey Been; LSC Board Members Gloria Valencia-Weber and Robert Grey; Legal Aid of the Bluegrass Executive Director Richard Cullison; LSC Board Member Julie Reiskin; Kentucky Legal Aid Executive Director Scott Crocker; LSC Board Member Laurie Mikva; Appalachian Research and Defense Fund of Kentucky Executive Director Cynthia Elliott; LSC Chairman John G. Levi, and LSC Board Members Fr. Pius Pietrzyk and Harry Korrell. Brian Bohannon Photography.
The presentation of the problems of rural America and, in particular, the delivery of legal services in Appalachia, was moderated by Cynthia Elliot. Participants in a roundtable discussion were James Daniels of Ohio State Legal Services, David Yoder of East Tennessee Legal Services, Larry Harley of Southwest Virginia Legal Services, Adrienne Worthy of Legal Aid of West Virginia and Norman Metzger of Indiana Legal Services. Their presentation was followed by comments from William T. Robinson III, president-elect of the American Bar Association.
Providing civil legal assistance in remote, rural areas is often difficult because clients do not have access to broadband Internet service and lack public transportation. Rural communities also have trouble supporting mental health clinics and homeless shelters, and rely on federal and state funding for many social services. Rural areas also have few lawyers and rarely have law schools, and most legal aid nonprofit organizations find it difficult to recruit staff attorneys, the roundtable panelists said.
The challenges presented by the Gulf of Mexico oil drilling disaster were discussed by the Board during a panel presentation by three program executive directors: James Fry of Legal Services Alabama, Mark Moreau of Southeast Louisiana Legal Services and Sam Buchanan of the Mississippi Center for Legal Services. Much of the discussion focused on the claims application process overseen by Kenneth R. Feinberg, who is paying claims for financial hardship because of the oil disaster with a $20 billion BP fund. The executive directors anticipate that many low-income Gulf residents will have difficulty in supplying documentation for their claims and that some may confront tax issues. A new claims process begins November 25, and the executive directors suggested they could see a rise in requests for legal assistance related to the oil disaster over the next three years. James Fry predicted legal aid offices will see a spike in domestic violence, predatory lending and other consumer issues in coming months if the financial hardship caused by the oil drilling disaster deepens.
Board members also were provided with information about the creation of the Kentucky Access to Justice Commission announced on October 14 by state Supreme Court Chief Justice John D. Minton Jr. During a luncheon discussion, Judge Roger Crittenden, the interim chair of the commission, Judge Janet Stumbo of the Kentucky Court of Appeals, Judge James D. Moyer, a United States Magistrate, and William T. Robinson III, an attorney in Florence, Kentucky, and ABA president-elect, outlined the commission's goals, which include identifying the needs of the legal services community in providing assistance to low-income citizens and creating a statewide plan to deliver legal services.
At the Board meeting, Chairman Levi announced the appointments to the Board's Development Committee, which was established by the Board on July 31 to enhance awareness of the work of grant recipients and the issue of access to justice and to explore development opportunities for raising non-federal funds for use in carrying out LSC's mission. The committee members are Board members Martha Minow, Robert J. Grey Jr., Charles N.W. Keckler and the Rev. Joseph Pius Pietrzyk, O.P. , and two non-directors, Herbert S. Garten, a former LSC Board member, and Thomas Smegal, a former LSC Board member and current chairman of the Friends of LSC.
Two Appointed to Fiscal Oversight Task Force
At the Board's October 19 meeting in Louisville, Chairman Levi announced the addition of two members to the Special Task Force on Fiscal Oversight, which was established by the Board to review LSC's fiscal oversight responsibilities.
The two new task force members are David H. Hoffman, a former Inspector General for the city of Chicago, and Alan Jenkins, Executive Director of The Opportunity Agenda.
"We greatly appreciate David and Alan's willingness to volunteer for the fiscal oversight task force, which is now complete," Chairman Levi said. "We look forward to the task force's report on LSC's fiscal oversight responsibilities and how LSC conducts fiscal oversight of its grantees."
Click here to read the press release.
Louisville Reception Honors Pro Bono Volunteers
Six attorneys and two law firms were presented with certificates of appreciation from LSC for extraordinary commitment and pro bono service to clients of Kentucky legal aid programs at a reception hosted by the Louisville Bar Association on October 18.
Laurel S. Doheny, president of the Louisville Bar Association, welcomed the honorees and LSC to the reception, and Cynthia W. Young, the Legal Aid Society board chair, introduced the keynote speaker, Justice Lisabeth Abramson of the Kentucky Supreme Court.
"As economists and pundits debate recessions, economic downturns and rebounding economies, all around us life goes on," said Justice Abramson. "For many Kentucky citizens, life goes on without full-time employment, with excessive consumer debt, with fear of foreclosure and in all too many homes, with domestic violence fueled by some or all of the above."
After discussing Kentucky's continuing high unemployment rate, she noted that "it is scarcely surprising that the four legal aid organizations in Kentucky received an average of 4,000 calls per month last year from people who qualified for legal services. I would like to be able to tell you that everyone who placed a call received the needed legal service, but of course I cannot say that, and those who are present in this room know why: the need is so great that it exceeds our current ability to respond."


Left to right: Ned Pillersdorf, William Robinson, Murry Raines, LSC Board Member Maddox, Candy Englebert, Marshall Eldred, LSC Chairman Levi, Robert E. Ruberg, John Rosenberg and LSC Board Member Robert Grey. Brian Bohannon Photography.
Thanking the honorees for their service, she said, "These individuals and firms have devoted their time and expertise so our fellow citizens who otherwise could not afford legal services will have the benefit of a skilled attorney's advice, may achieve necessary access to the courts and can acquire some peace of mind in the ordering of their personal legal affairs."
LSC Board Chairman Levi introduced members of the LSC Board at the reception and noted that recently released Census Bureau poverty statistics show nearly 57 million Americans qualify for civil legal assistance. "That means that pro bono volunteers are more important than ever before," he said. Click here to read the Chairman's remarks. (

22k)
Pro bono certificates of appreciation were presented by LSC Board Members Robert J. Grey Jr. and Victor B. Maddox to Marshall P. Eldred, Candy Y. Englebert, Ned Pillersdorf, Murry Raines, William T. Robinson III and John M. Rosenberg and to the law firms of O'Hara, Ruberg, Taylor, Sloan & Sergent and Wyatt, Tarrant & Combs.
U.S. Lags in Access to Civil Justice, According to Rule of Law Index
A new world-wide look at the rule of law ranks the United States in last place among similar countries in the category of access to civil justice.
The report, the Rule of Law Index 2010, examines 35 countries according to 10 dimensions of the rule of law, including absence of corruption, order and security, fundamental rights and open government.
For one of those dimensions-access to civil justice-the U.S. is ranked last when compared with other "high-income" countries, including Canada, Singapore, France and South Korea, and when compared with other countries in North America and Western Europe.
The report lists eight sub-factors which make up the dimension of access to civil justice, including whether people can access and afford legal counsel in civil disputes and whether civil courts are accessible and affordable.
The report was released on October 14 by the World Justice Project, which is sponsored by a variety of groups from around the world, including the American Bar Association. William H. Neukom, president of the ABA from 2008-2009, is president and CEO of the World Justice Project.
Download the report. (

4mb)
New York Times Urges Increased Support for Civil Legal Aid Programs
"Need a lawyer? Good luck." That's the headline of a recent New York Times editorial outlining efforts to expand access to civil legal aid for poor New Yorkers and urging Congress to do more on a national level.
"Across the country, programs that provide legal representation in civil cases to low-income Americans are so cash-strapped that they are turning away numbers of people," says the Times. "Hard-pressed Americans fighting foreclosure or seeking protection from domestic violence or access to medical care or unemployment benefits must often navigate the judicial system on their own or give up."
The editorial notes that traditional sources of revenue for legal aid programs are in decline "while federal dollars are not taking up enough of the slack."
"After the election recess, Congress must approve the extra financing to provide legal services for struggling homeowners authorized in the financial reform law. It must also approve a substantial budget increase for the federal Legal Services Corporation…."
The Times has published a number of responses to the editorial, including letters from Barbara Finkelstein, executive director of Legal Services of the Hudson Valley, and Alexander D. Forger, former president of LSC.
Click here to read the full editorial or click here to read the responses.
Field News
Impact of Pro Bono Case Ripples Across Nation
A volunteer lawyer affiliated with Pine Tree Legal Assistance in Maine discovered that proper procedures were not followed in a foreclosure action, triggering foreclosure suspensions across the nation by large lenders.
"It shows the power of pro bono and how coordinated, volunteer efforts can help a person at a critical moment in their life," said Thomas Cox of Yarmouth, Maine, the volunteer lawyer.
People willing to give of their time and share their expertise "are vital to efforts to provide equal access to justice," said Nan Heald, executive director of Pine Tree, which is funded by LSC.
Almost three years ago, Pine Tree Legal Assistance and the Maine Volunteer Lawyer Project organized a program to bring private volunteer lawyers into the effort to provide legal representation to homeowners facing foreclosure. Lawyers from both organizations trained a network of Maine private lawyers on how to represent homeowners in these difficult cases. In return, the lawyers agreed to provide pro bono representation to eligible homeowners. This volunteer effort was given the name "MASH," for Maine Attorneys Saving Homes.
In the summer of 2009, the MASH program took on the defense of a Maine homeowner in a foreclosure action. The initial defense of the homeowner was undertaken by Mr. Cox, a retired attorney who volunteers as Program Coordinator for the MASH Program.
He works closely with Chet Randall, the director of Pine Tree Legal's Foreclosure Prevention Program. Mr. Randall and Mr. Cox collaborate on a daily basis to determine what cases are suitable for representation by MASH volunteer lawyers and to provide support to those lawyers in developing strategies for effective representation of homeowners.
Read The New York Times article on the foreclosure case or watch a CNN report on the issue.
Kentucky Supreme Court Launches Access to Justice Commission
Press Release, Kentucky Court of Justice – October 14, 2010
[On October 14] Kentucky joined the nearly two dozen states where supreme courts have formed Access to Justice commissions to engage the judiciary in delivering civil legal aid to low-income citizens.
Chief Justice John D. Minton Jr. announced the creation of the Kentucky Access to Justice Commission at a news conference in the Supreme Court Courtroom in the Capitol. Chief Justice Minton was joined by Justice Bill Cunningham, the Supreme Court of Kentucky liaison on the commission, and Judge Roger L. Crittenden (ret.), interim chair of the commission.
"The need for legal aid in Kentucky is great and it is growing," said Chief Justice Minton.
Memphis Area Legal Services Celebrates 40th Anniversary
Nicky Robert Shaw Hitching, The Daily News – October 15, 2010
Memphis Area Legal Services has plenty to celebrate: namely, 40 years of providing legal representation to thousands of Memphis-area residents who otherwise would have been unable to exercise their legal rights effectively.
"If we provide people legal rights but we don't give them the tools to exercise them, that's a big tear in the fabric of our society," said Vic Fortuno, executive director of the Legal Services Corp., Washington, D.C. A special guest at [last] week's 40th anniversary celebration, Fortuno praised MALS for its proud history of providing those tools to individuals who live at or below the poverty line.
MALS, one of 136 independent nonprofit legal aid programs funded by Legal Services Corp., today has an annual budget of $3.8 million, a staff of 19 full-time lawyers and a roster of committed local lawyers who work pro bono. Last year, it completed 4,261 cases.
However, the group's first director, retired circuit court judge George H. Brown, remembers 1970 when the nonprofit law firm was just him and an empty office. "I was literally the first employee, and I had the responsibility of putting together the staff," Brown recalled.
Upcoming Training on Board Development for Legal Aid Groups
The Center for Legal Aid Education will sponsor a training session entitled "Board Development: the Legal Aid Context," on November 10 in Atlanta, Ga., concurrent with the start of the Annual Conference of the National Legal Aid and Defender Association.
According to the Center's announcement, the training will provide a comprehensive framework for understanding the full range of roles, responsibilities and best practices for the governing bodies of civil legal aid programs. Specific topics to be addressed include Board-staff partnerships; recruitment, orientation and training; and oversight, fiscal management and planning.
The session will be hosted by the law firm of Kilpatrick Stockton LLP.
Click here to register or to learn more about the training session.
Success Story from the Legal Aid Foundation of Los Angeles
Legal aid is about helping ordinary people with real-life problems. Client stories illustrate the day-to-day struggles-and victories-of poor Americans seeking justice under law.
Afghan War Refugee Saved from Abusive Husband
In recognition of National Domestic Violence Awareness Month, LSC is featuring a video from the Legal Assistance Foundation of Los Angeles that tells the story of Farah, a woman who escaped the war in Afghanistan only to come to America and suffer years of abuse at the hands of her husband.
After one day escaping from her husband after a severe beating, a domestic violence shelter referred Farah to the Legal Aid Foundation. The group accompanied her to a criminal trial where she testified against her husband and also helped her with immigration, housing and benefits issues that allowed her and her children to live independently.
"I'm very happy," says Farah in the video. "Legal aid is my family and I am glad now I have-thanks to God-I have everything."
Watch the video or read LSC Chairman Levi's statement on National Domestic Violence Awareness Month.
---
Created by Congress in 1974, LSC's mission is to promote equal access to justice in our Nation and to provide high quality civil legal assistance to low-income persons. LSC Updates is produced by LSC's Office of Government Relations & Public Affairs. Questions, comments, or articles can be submitted to Sean Driscoll, Special Assistant, at driscolls@lsc.gov.