LSC Updates - September 24, 2010
LSC Board Approves $516.5 Million Appropriation Request for FY 2012
LSC's Board of Directors voted on September 21 to request $516.5 million from Congress for the Corporation's Fiscal Year 2012 appropriation.
The amount of the FY 2012 request is the same sought by LSC for FY 2011 and is $96.5 million more than the Corporation's current funding level.

In adopting the request, the Board recognized the serious financial condition facing the country and President Obama's request for restoring fiscal sustainability to the federal budget. They weighed their responsibility to meet the increased needs of the most vulnerable to obtain civil legal assistance against the nation's financial crisis and decided to seek the same funding level as requested last year.
Of the total amount requested for FY 2012:
$484.9 million would be for basic field grants to civil legal aid programs;
$6.8 million would support innovative technology projects at LSC grantees;
$1 million would provide loan repayment assistance to legal aid lawyers;
$19.5 million would fund LSC's grants management and oversight functions, and
$4.35 million would go to LSC's Office of Inspector General.
LSC is currently funded at $420 million and expects to operate at that level into the beginning of FY 2011, which begins October 1. Congress is expected to pass a continuing resolution before the end of September to keep the government operating.
Senate Committee Approves Final Slate of LSC Board Members
The Senate Committee on Health, Education, Labor and Pensions (HELP) on September 23 approved nominees for LSC's Board of Directors, completing the Obama administration's appointments.
The nominees are Harry Korrell, a partner in the Seattle office of Davis Wright Tremaine LLP; Rev. Joseph Pius Pietrzyk, a priest in the parish of St. Thomas Aquinas in Zanesville, Ohio, and Julie Reiskin, the executive director of the Colorado Cross-Disability Coalition.
Reiskin's nomination was first approved by the HELP committee in October 2009, but the term for which she was nominated ended in July 2010, prompting the White House to renominate her for a new term.
Gloria Valencia-Weber, a law professor at the University of New Mexico and an LSC Board nominee, was approved by the HELP committee last October.
All four remaining nominees must be confirmed by the full Senate before officially joining the LSC Board.
Click here for more information.
LSC Chairman Announces Members of Fiscal Oversight Task Force
LSC Board Chairman John G. Levi announced members of a Special Task Force on Fiscal Oversight during the Board's meeting in Washington on September 21. The Task Force is charged by the Board with reviewing LSC's fiscal oversight responsibilities and how LSC conducts fiscal oversight of its grantees.
The members of the Task Force include corporate executives, heads of charitable foundations, certified public accountants and other grant and audit experts. Chairman Levi said he may announce a few additional members in coming weeks. LSC Board Members Robert J. Grey Jr. and Victor B. Maddox are co-chairs of the task force.
"This group will be strong and cohesive, and I am confident that the collective expertise of the Task Force and its findings will help us in our efforts to continuously improve LSC's fiscal responsibilities," Chairman Levi said. "The findings will be especially important as the Board works to expand legal assistance to low-income Americans across the nation."
Click here for LSC's press release announcing the members.
New Poverty Stats are "Grim and Daunting" says LSC Chairman
"The Census Bureau released its official 2009 statistics on poverty today, and the numbers are grim and daunting," said LSC Board Chairman John G. Levi in a statement on September 16.
According to the Census, nearly 57 million Americans-19.6 million of whom are children-live below 125 percent of the federal poverty level and are therefore eligible for legal aid from LSC grantees. That's an increase of 3 million from 2008 and the largest number of eligible Americans in the Corporation's history.
"These numbers are likely to continue to grow," said Chairman Levi, "creating even greater challenges for legal aid programs funded by LSC in every state that already have to turn away far too many low-income Americans seeking help with pressing legal problems. These new numbers underscore the importance of additional federal funding and support for initiatives that expand access to justice in our nation."
Click here for Chairman Levi's full statement.
LSC, Red Cross Renew Partnership to Help Disaster Victims
LSC Board Chairman John G. Levi, Board member Laurie Mikva and LSC President Victor M. Fortuno toured the Disaster Operations Center at the American Red Cross National Headquarters on September 21.
LSC and the Red Cross recently renewed a Memorandum of Understanding that enhances disaster response activities by both organizations and facilitates the delivery of legal services to low-income persons following a hurricane, earthquake, floods and other disasters. The partnership formally began in September 2008.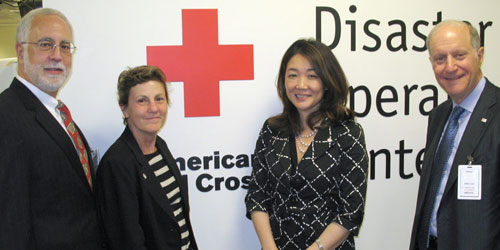 Left to right: Victor M. Fortuno, president of LSC; Laurie Mikva, member of LSC's Board of Directors; Juliet K. Choi, senior director for disaster partnerships at the Red Cross; John G. Levi, chairman of LSC's Board.
LSC representatives were briefed on Red Cross operations management, client services, information and planning, including a discussion of the logistics for responding to Hurricane Earl, which lashed the Eastern seaboard at the start of September. The Disaster Operations Center operates around the clock, seven days a week.
Juliet K. Choi, senior director for disaster partnerships at the Red Cross, conducted the briefing, joined by Red Cross officials Kevin Kellenberger, director of disaster partnerships; Mary DeWitt-Dia, senior associate for partnership development, and Neal Denton, senior vice president for government relations and strategic partnerships.
At LSC, John C. Eidleman, senior program counsel, serves as the point person for disaster operations.
Field News
Survey Says Civil Legal Aid Lawyers Still Lowest-Paid in Legal Profession
According to new statistics from the National Association for Law Placement (NALP), civil legal aid lawyers are still the lowest paid members of the entire legal profession, earning less than public defenders, many other public interest lawyers and in most instances far less than their counterparts in the private sector.
The statistics come from NALP's 2010 Public Sector and Public Interest Salary Report, which was released on September 9 along with a companion report on the salaries of private sector lawyers.
According to the reports, entry-level civil legal aid lawyers earn a median salary of $42,000 a year-less than local prosecutors, public defenders and lawyers at public interest organizations. By comparison, the median starting salary of a first-year lawyer at a private law firm is $115,000.
The statistics also show that the salary situation for legal aid lawyers does not improve over time. If a legal aid lawyer stays with a legal aid program for 11 to 15 years, he or she can expect to earn about $63,000 a year, still less than all other public and private sector lawyers with similar experience.
NALP's findings are consistent with LSC's salary statistics, which show that first-year staff attorneys at LSC grantees earn an average of $43,000 a year and can expect to earn about $59,000 a year after ten to 14 years of experience.
Click here for more information from NALP.
Maine Pro Bono Case Halts Foreclosures in 23 States
Press Release, Pine Tree Legal Assistance – September 20, 2010
Tom Cox, a volunteer attorney with Maine Attorneys Saving Homes (MASH), a foreclosure defense initiative between Pine Tree Legal Assistance and the Maine Volunteer Lawyers Project, has helped to push GMAC, one of the country's largest mortgage servicers, to put a stop on foreclosures in 23 states.
Maine has consistently had a high rate of foreclosure proceedings. Pine Tree Legal Assistance is a statewide legal aid provider funded by the Legal Services Corporation that has been prioritizing foreclosure advocacy since 2007.
In 2008, a new pro bono project (Maine Attorneys Saving Homes) was formed to provide additional resources for low-income homeowners. Retired attorney Tom Cox agreed to volunteer his time to lead MASH. Attorney Cox works closely with Pine Tree's lead foreclosure attorney Chet Randall on this work.
Tom Cox recently brought a series of motions in Maine federal court and several state court actions in which he established that the affidavits filed in support of motions for summary judgment on behalf of GMAC contained false representations.
He went on to show that the conduct extended to all or nearly all foreclosures filed by GMAC across the country. His investigation and litigation around GMAC practices has been a catalyst to the recent decision by GMAC to halt foreclosures in 23 States.
Click here to continue reading. (

41kb)
New Jersey: Cash-Squeezed Legal Services Offices Make Major Cuts
Charles Toutant, New Jersey Law Journal - August 27, 2010
As New Jersey state aid and other sources of operating funds dry up, regional legal services offices-which handle the bulk of noncriminal counseling for New Jersey's poor-are in retrenchment, and several are handing out scores of pink slips.
Aug. 6 was the last day for 18 of the 88 workers at Northeast New Jersey Legal Services, and six attorneys were among the casualties.
Eight of the 49 employees at Northwest Jersey Legal Services will be leaving Sept. 30.
At Ocean-Monmouth Legal Services, 23 out of 52 employees were let go over the last four months.
And at South Jersey Legal Services, 27 of its staff of 95 may be gone by the year's end, according to press reports.
Legal Services of New Jersey, of which the regional offices are affiliates, expects that further layoffs will follow. "Precisely how many more and when is all going to be a function of what happens in the next state budget," says LSNJ President Melville Miller Jr.
Miller says he has asked the six regional legal-services affiliates to update him on staffing issues, but that report will not be ready until next month.
Click here to continue reading.
The "New Poor" Are Seeking Help from Legal Aid of East Tennessee
Monica Mercer, Chattanooga Times Free Press – September 15, 2010
The woman with a master's degree in alternative medicine fidgets as she waits to talk to a lawyer at Legal Aid of East Tennessee on McCallie Avenue.
Still trying to salvage a small business, she makes $420 a month with a part-time job and remains saddled with $178,000 in student loan debt. None of it can be discharged in bankruptcy, but she hopes at least to get rid of $18,000 in consumer debt now that creditors have started to sue her.
She doesn't want her name to be used. It was "totally embarrassing," she says, to realize finally that her education and failed acupuncture clinic probably never will change her fortunes.
"Here I am with this degree, and I've been living in poverty for the last 10 years," the woman said.
Living below the federal poverty line might have been the only positive part of her situation that day, at least when it came to getting an attorney.
That's the main requirement for people seeking free legal help in this country, without which the woman would have had no hope of paying the $2,000 or so it would have cost her to file for bankruptcy through a private lawyer.
Her situation is why Legal Aid of East Tennessee and hundreds of other legal aid clinics across the nation exist. They largely are the only lifelines for people who face the double whammy of poverty and the chronic legal battles of the poor-fighting crooked landlords, fighting to keep the lights turned on, fighting to keep creditors at bay-that are almost impossible to win without a lawyer.
Click here to continue reading.
New Report Highlights Unmet Civil Legal Needs in Mississippi
Jimmie E. Gates, The Clarion-Ledger – September 15, 2010
Thousands of low-income Mississippians are shut out of civil legal help because they can't afford a lawyer, according to a report by a court-appointed panel.
On [September 14], the Mississippi Access to Justice Commission released a 48-page report that was more than two years in the making, outlining difficulties people encounter in gaining access to civil legal representation.
"We were able to learn the scope of the problem: There is a huge need for lawyers to help people access courts," said state Supreme Court Justice Jess Dickinson, commission chairman.
From April 2008 to February 2010, the 24-member Access to Justice Commission conducted public hearings in Jackson, Gulfport, Greenwood, Oxford and Meridian. The Mississippi Supreme Court created it in June 2006 to come up with a unified strategy to improve access to the civil courts for the poor.
Between a third and half of those who apply for legal aid are turned away, said Jayne Buttross, chairperson of the Mississippi Legal Services Foundation. About 550,000 poor people are eligible for services, and about 30 legal services attorneys are available in Mississippi.
While federal funding for legal services for the poor has shrunk, the need continues to rise, according to the commission's report.
The two Legal Services Corp. programs in the state, Mississippi Center for Legal Services and North Mississippi Rural Legal Services, have to turn away one client for every two that seeks help.
Continue reading or download the commission's report. (

5mb)
Supreme Court Justice Sotomayor Keynotes Cleveland Legal Aid Event
Supreme Court Justice Sonia Sotomayor was the keynote speaker at an event hosted by the Legal Aid Society of Cleveland on September 10.
The event, entitled "The Presence of Justice – Legal Aid's Annual Report to the Community," was Sotomayor's final stop on her two-day visit to the Cleveland area, which included private events for students of two law schools and a visit with leaders of the Hispanic Roundtable.
LSC President Victor M. Fortuno attended the legal aid event.
As reported in the Cleveland Plain-Dealer, Sotomayor recognized the 1,400 local lawyers who volunteered their time with the legal aid society for carrying out America's commitment to equal justice.
"Legal aid societies are crucial to ensuring that the least privileged and most vulnerable in our society have access to justice," she said.
Click here for more information.
LawHelp Interactive Honored with Award
Pro Bono Net, a nonprofit organization dedicated to increasing access to justice through innovative uses of technology, has been honored with the 2010 InnovAction Award for its LawHelp Interactive initiative.
The InnovAction Award is given by the College of Law Practice Management. LawHelp Interactive was launched in 2005 with support from Ohio State Legal Services through funding provided by LSC's Technology Initiative Grants program. Pro Bono Net operates the web-based LawHelp Interactive initiative, which was previously called National Public Automated Documents Online.
LawHelp Interactive last year was used to complete nearly 150,000 civil court forms covering such critical areas as child support, protection orders for victims of domestic violence, consumer debt and eviction. LawHelp Interactive helps increase the efficiency of legal aid and pro bono programs by allowing more people to be helped in less time. LawHelp Interactive is used in 27 states.
LSC has been funding self-help document preparation initiatives since 2000 through TIG.
The College of Law Practice Management was formed in 1994 to honor and recognize distinguished law practice management professionals. The InnovAction Awards were initiated in 2004.
Click here for more information.
Success Story from Florida's Bay Area Legal Services
Legal aid is about helping ordinary people with real-life problems. Client stories illustrate the day-to-day struggles-and victories-of poor Americans seeking justice under law.
Struggling Family Finds Justice
"Paul" had lost his job and was behind on the rent for the mobile home he shared with his wife and four children. The private landlord, not wanting to wait for the lawful procedure of eviction, posted a notice on the door: the family had to be out in three days.
When the deadline came and the family remained, the landlord kicked the water pipe, breaking the connection and stopping service to the mobile home. Paul called the sheriff's office, and the deputy watched as the landlord reconnected the pipe. When the deputy left, the landlord again broke the connection. The same deputy returned and watched as the landlord again reconnected the pipe. A few hours later, the landlord disconnected the power to the water pump. Paul again called the sheriff, but the deputy who responded this time said it was a civil matter and he couldn't take any action.
Paul turned to Bay Area Legal Services. The Bay Area lawyer drafted a letter demanding that the landlord reconnect the water service. The landlord did, but a few days later he moved the family's belongings outside and changed the locks. The next day, he filed an eviction notice. Bay Area filed an answer and a counterclaim.
At the hearing, the judge found that the landlord was entitled to five weeks' rent totaling $1,250, plus court costs.
The judge further ruled that because the landlord had violated the Landlord Tenant Act in four different instances, he would have to pay Paul's family $12,000.
Note: This article was originally published in a newsletter from Bay Area Legal Services. To learn more about the program, visit www.bals.org.