LSC Updates - September 28, 2011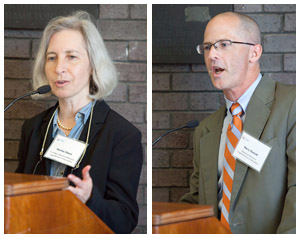 LSC Board Vice Chair Dean Martha Minow and Board Member Harry Korrell
The Pro Bono Task Force established by the Legal Services Corporation (LSC) Board of Directors held its first meeting on August 1 at Harvard Law School, hearing presentations by LSC Board members, the LSC President and four executive directors of LSC-funded programs.
The Task Force is co-chaired by Martha Minow, Dean of the Harvard Law School and Vice-Chair of the LSC Board, and Harry J.F. Korrell III, an LSC Board member and Partner in the Seattle office of Davis Wright Tremaine. Thirty-four members of the Task Force, drawn from the judiciary, corporations, private legal practice, and the legal aid community, attended the meeting and were joined by other members who participated by telephone.
After a lively, engaged round of discussion among Task Force members, the group agreed to split into working committees that will examine best practices for the successful implementation of pro bono initiatives to address the civil legal needs of low-income Americans, analyze the obstacles that hamper pro bono involvement at legal aid programs and by private practitioners, and develop "big ideas" for expanding pro bono services in support of legal aid programs.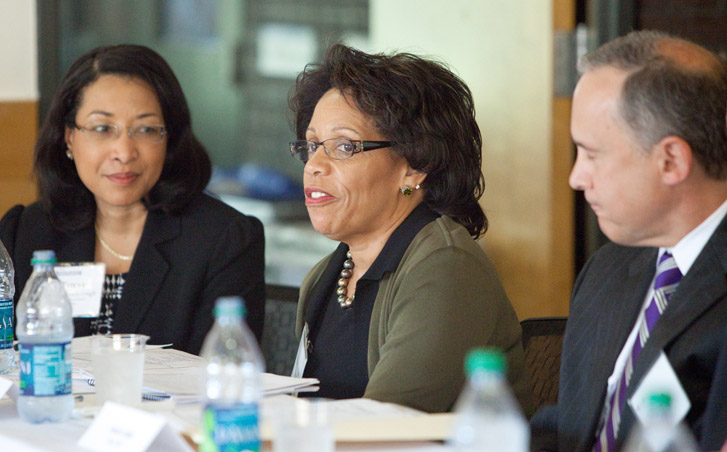 Pro Bono Task Force members Teresa Roseborough, JoAnne Epps and David Kutik (left to right).
"The unmet need in our civil justice system is staggering," LSC Board Chairman John G. Levi said in welcoming Task Force members. "Our LSC programs turn eligible clients away every day because of inadequate resources. The magnitude of this unmet need is what has brought us here together today. "
Participants at the meeting agreed that the work of the Task Force is critically important. Pro bono activity has increased over the last decade, but the ranks of the nation's poverty population have continued to grow and legal aid programs have been unable to meet the demand for legal services. In addition, significant sources of non-federal funding, such as Interest on Lawyers' Trust Accounts (IOLTA), for civil legal assistance to low-income Americans have declined.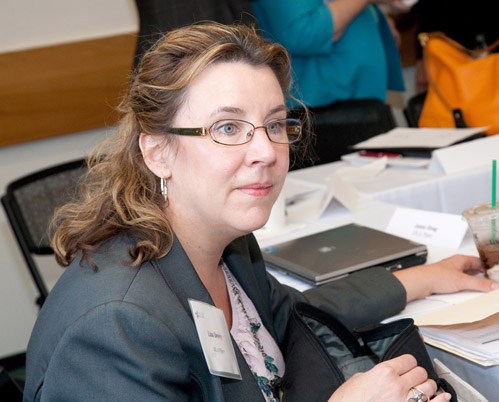 Lisa Dewey of DLA Piper, Consultant to the Pro Bono Task Force
At the meeting, LSC President James J. Sandman provided the Task Force with an overview of the LSC mission and activities, and introduced the four executive directors of LSC-funded programs who provided examples of successful pro bono initiatives in a panel discussion. Nan Heald of Pine Tree Legal Assistance discussed pro bono family law work in Maine; Colleen Cotter of The Legal Aid Society of Cleveland spoke on pro bono foreclosure efforts in northeast Ohio; John Whitfield of Blue Ridge Legal Services reviewed the history of the Harrisonburg, Va., bar and its leadership in urging universal participation by area attorneys in legal services work; and Diana White of the Legal Assistance Foundation of Metropolitan Chicago provided examples of partnerships in her area focused on immigration matters, including spousal abuse of women married to U.S. citizens.
After the panel presentation, Ms. Cotter moderated a wide-ranging discussion among Task Force members on the challenges of mobilizing and deploying pro bono attorneys for civil legal assistance and the conditions that need to be created to expand pro bono contributions.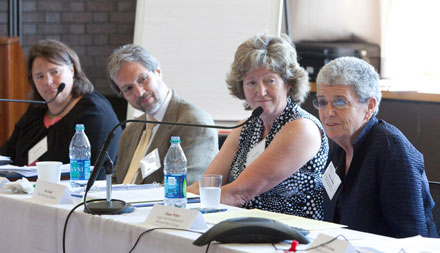 Left to right: Pro Bono Task Force Members Colleen Cotter, John Whitfield, Nan Heald and Diana White.
"Creating change requires leadership, and the members of this Task Force are among the most experienced, capable and thoughtful leaders in the legal profession," Dean Minow, the Task Force co-chair, said after the meeting. "John Levi, Harry Korrell and I cannot thank them enough for volunteering to work on this Task Force. Our focus is on identifying feasible actions and building meaningful commitment to increase and improve pro bono efforts on behalf of low-income Americans seeking access to justice."
Click here to read the announcement of the Task Force membership.
Photos by: Martha Stewart/marthapix
Nearly 1 in 5 Americans Qualify for LSC-Funded Services
More than 60 million Americans are now eligible for civil legal assistance at the legal aid offices funded by LSC, recently released U.S. Census Bureau data show. These Americans had incomes at or below 125 percent of the federal poverty line—$13,613 for an individual and $27,938 for a family of four.
To read LSC Chairman John Levi's statement on the new poverty data, click here.
Congressional Committees Working on 2012 Appropriations
House and Senate Appropriations Committees have approved differing proposals to fund legal services in Fiscal Year 2012, and a compromise will probably not be announced for several weeks. The Congress is operating in a difficult budgetary environment as it seeks to continue vital federal programs and also put in place a process for long-term debt and deficit reduction.
On September 15, the Senate Appropriations Committee approved $396 million in Fiscal Year 2012 funding for LSC, a reduction of $8 million, or 2 percent, from the current level. In July, the House Appropriations Committee recommended a reduction of $104 million, or 26 percent, in LSC funding, to $300 million. The House and Senate Committees began their appropriations process under different budget allocations for funding federal programs.
"LSC looks forward to working with the Congress on LSC funding," LSC President James J. Sandman said. "In particular, we greatly appreciate the guidance and support of our House Appropriations subcommittee leaders—Chairman Frank Wolf and Ranking Member Chaka Fattah—and our Senate Appropriations subcommittee leaders—Chairman Barbara Mikulski and Ranking Member Kay Bailey Hutchison. They and many other members of Congress are committed to equal access to justice and will do their best to expand legal services for low-income Americans."
LSC Board Recommends $470 Million Budget Request for FY 2013
The LSC Board on September 19 approved a resolution to request $470 million in funding from the Congress for Fiscal Year 2013. Robert J. Grey Jr., Chairman of the LSC Board's Finance Committee, convened Finance Committee meetings during the summer and in September to discuss the funding needs of local legal aid programs and LSC and to prepare a funding recommendation to the Board.
In adopting its FY 2013 budget request, the Board considered information on non-LSC funding for legal aid programs, the impact of funding reductions absorbed by LSC grantees, the impact of Census adjustments, and the projected demand for civil legal services among the poverty population in 2013. The Board also weighed its responsibility to meet the legal needs of low-income Americans against the imperative for federal deficit and debt reduction.
The Board's resolution regarding the appropriations request for FY 2013 asks Congress to provide $440.3 million for basic field grants; $5 million for technology innovation grants; $1 million for student loan assistance to help recruit and retain talented lawyers; $19.5 million for management and grants oversight, and $4.2 million for the LSC Office of Inspector General.
Board Briefings Include Pro Bono, Foreclosure, Tribal Courts
The LSC Board of Directors met in Seattle for a regular quarterly meeting that included a reception on July 20 to honor volunteer lawyers for their pro bono contributions and remarks by Chief Justice Barbara Madsen of the Washington State Supreme Court.
"Justice is a paramount duty of government," Chief Justice Madsen said. "It is the first order of business in our federal Constitution. . . . Each member of the LSC Board of Directors is committed to delivering on our promise of equal justice." Click here to read the Chief Justice's remarks.

Left photo: LSC President James J. Sandman, Washington State Chief Justice Barbara Madsen and LSC Board Chairman John G. Levi (left to right). Right photo: Russ Speidel, LSC Board Member Harry Korrell and Jean V. E. Speidel (left to right). Speidel Law Firm was honored for pro bono.
John McKay, who served as LSC President from 1997 to 2001 and is a professor at the Seattle University School of Law, addressed the Board's luncheon on July 21.
The Board's meeting included panel discussions on pro bono, the special projects of the Northwest Justice Project, the Washington state access to justice system, and LSC-funded initiatives in the Northwest region. The Board also received briefings on Native American courts and Indian legal services during a visit to the Tulalip Tribal Courthouse in Tulalip, Washington.
Julie Orr of Davis Wright Tremaine LLP; Nick Gellert of Perkins Coie, and Joanna P. Boisen of Foster Pepper PLLC made presentations on pro bono. Their themes included the commitment of firms to pro bono as a part of their partner culture, the opportunity that pro bono presents to young associates for professional development and training, the importance of cooperation of the firms to get the most out of pro bono, and the close relationship the firms have with the Northwest Justice Project, the statewide program funded by LSC, for case referrals, training, and assistance.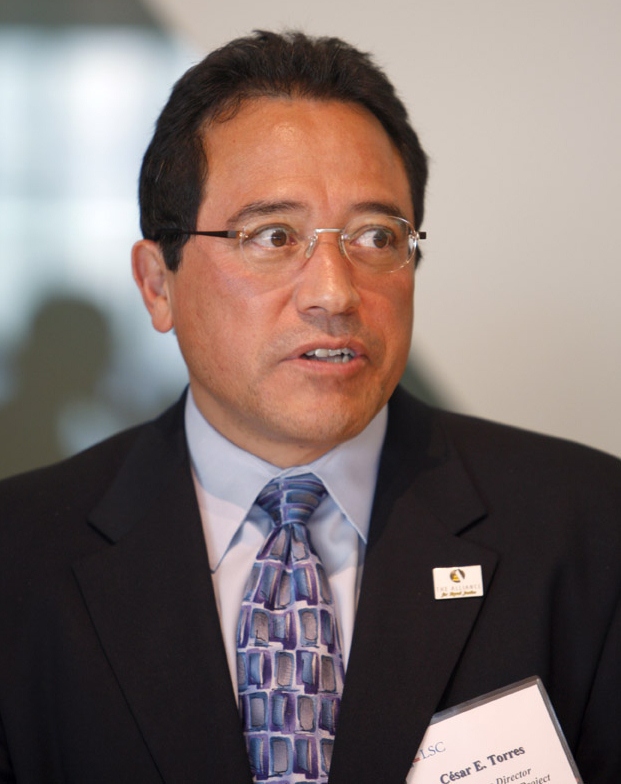 Cesar Torres.
The special projects panel presentation was made by Cesar Torres, Executive Director of the Northwest Justice Project; Lili Soltelo, Senior Attorney, Foreclosure Prevention Unit at Northwest Justice; Lauren Peach, Staff Attorney, Northwest Justice Veterans Project, and Blanca Rodriguez, Staff Attorney for the program's Amparo Project.
The Foreclosure Prevention Unit provides legal assistance to eligible low-income homeowners facing foreclosure throughout Washington State. The foreclosure unit represents eligible homeowners in pre-foreclosure mediation, negotiation of loan modification agreements or other arrangements and, where appropriate, challenging foreclosure through litigation and other advocacy. The program deploys a statewide team of attorneys and does client intake and referrals of appropriate cases to community-based housing counselors, private pro bono attorneys and staff attorneys.
The Veterans Project focuses on assistance for homeless veterans, outreach to veterans organizations, including Vet Centers, for a wide variety of legal services, including child-support and housing matters.
The Amparo Project combats sexual harassment and other forms of gender discrimination experienced by female farm workers and other low-wage workers in Washington state. Northwest Justice Project has teamed with Columbia Legal Services, the ACLU, and community organizations from eastern Washington in the project. The Amparo Project is working to identify and address legal issues that create barriers to women achieving economic justice in the agricultural labor force, and the project will provide legal representation as necessary.
The LSC Board also received a panel presentation on the Washington state access to justice system. The panel members were Steve Gonzalez, Chair, Access to Justice Board; Anne Lee, TeamChild; Catherine Brown, Washington State Bar Association; Jorge L. Baron, Northwest Immigrant Rights Project, and Cesar Torres of Northwest Justice Project. The panel discussed the cooperative delivery network of legal aid in the state of Washington—the Northwest Justice statewide program, specialty legal aid providers, and volunteer resources, including law school clinics and pro bono providers. Speakers noted that even their solicitation of state and private funding is performed through a cooperative effort.
The panel presentation by Northwest Regional Directors included Douglas Cummings, East River Legal Services, Sioux Falls, N.D.; James Fitzsimmons, Legal Services of North Dakota, Bismarck, N.D.; Thomas Matsuda, Legal Aid Services of Oregon, Portland, Ore.; Alison Paul, Montana Legal Services Association, Helena, Mont.; Cheryl Three Stars Valandra, Dakota Plains Legal Services, Mission, S.D., and Cesar Torres, Northwest Justice Project. The themes presented included the challenge of delivery of legal services in rural settings, including the difficulty of deployment of pro bono resources; the challenge of the current LSC and non-LSC funding environment and the associated layoffs and office closures ahead, and the need for reasonable, fair, and appropriate oversight by LSC.
The Board's visit began on July 19 with a tour of the Northwest Justice Project. Highlights included an explanation of CLEAR, Washington's toll-free, centralized intake, advice and referral service for low-income people seeking free legal assistance with civil legal problems, and an overview of case priorities and the organization of the Northwest Justice Project.
Prior to its departure from Seattle, the Board visited the Tulalip Reservation for a presentation on Native American law and tribal courts. The visit was coordinated by LSC Board member Gloria Valencia-Weber, a professor at the University of New Mexico School of Law. The Board was welcomed to the Tulalip Tribal Courthouse by Chief Judge Theresa Pouley and Tulalip Board Chairman Melvin Sheldon.
In addition, the Board also received a panel presentation on the delivery of Indian legal services. Presenters included Howard Belodoff of Idaho Legal Services; Devon Lomayesva of California Indian Legal Services, and Millie Kennedy and Steve Robins of the Northwest Justice Project.
Meetings of the Board were held at the offices of Davis Wright Tremaine LLP, courtesy of Board member Harry Korrell, a partner at the firm.
States Differ Greatly on Access to Civil Legal Aid, Study Shows
Access to civil legal aid in the United States for low-income populations is largely contingent on the state where they reside, said a new report, unveiled August 5 by the American Bar Foundation.
Although states have been tremendously creative in the way they deliver civil legal aid, they differ dramatically in the types of resources that they provide, the populations they are able to serve, and the amount of funding that is available, said Rebecca L. Sandefur, senior ABF researcher, who detailed the new report to an audience at "Access Across America: First Report of The Civil Justice Infrastructure Mapping Project," a program of the American Bar Association Annual Meeting in Toronto.
To read a summary of the meeting by Rabiah Alicia Burks of the ABA News Service, click here.
NALP Hiring Survey to End September 28
The National Association for Law Placement (NALP) is conducting a brief, anonymous survey of nonprofit and government public-interest law offices throughout the country about 1) recent law student and attorney hiring and 2) hiring expectations for the immediate future. NALP will use the data to produce a report about what the public interest employment market looks like now and how it may change in the near future. NALP will release the report later this fall. The report will be made freely available online. The report will not identify any responding organizations by name. NALP hopes the report will benefit the public interest legal community as well as law students and attorneys who are on public interest career paths. Please participate in the brief online survey by clicking here.
Please contact Steve Grumm with any questions: sgrumm@nalp.org.
LSC Chair Meets Another LSC Chair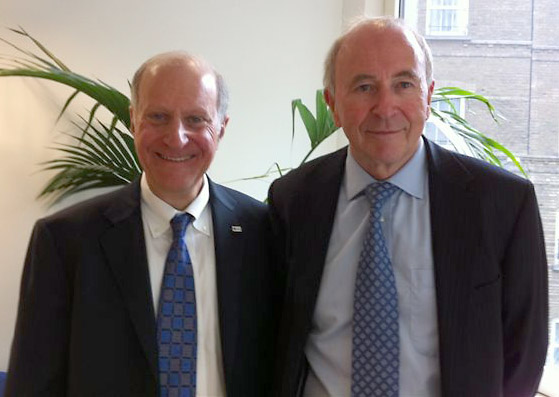 LSC Board Chairman John G. Levi (left) with Sir Bill Callaghan.
John G. Levi, the LSC Board Chairman, met with Sir Bill Callaghan, the chair of the Legal Services Commission, in London on July 5. The Commission is responsible for legal aid in England and Wales.
The two chairmen discussed the origins of their organizations, the role of civil legal assistance in their respective countries, and how priorities are established for meeting legal needs. Chairman Levi took time out for the meeting during a family trip to England.
Field News

Texas LSC Programs Respond to Wildfires
The three Texas civil legal aid programs funded by LSC are responding to the needs of Texas residents whose homes were damaged or destroyed or who have other legal needs as a result of this summer's wildfires.
Texas RioGrande Legal Aid is focused on helping people in Central Texas; Lone Star Legal Aid is focusing on residents of East Texas, and conducting outreach as appropriate, and Legal Aid of Northwest Texas is helping West Texas residents. All three programs have toll-free hotlines to provide disaster assistance, and Lone Star Legal Aid is working in partnership with the American Red Cross in affected counties. More than 1,500 homes have been destroyed or sustained major damage as a result of the recent wildfires. Most of the damage is in Bastrop County. The Red Cross is still providing food and operating joint assistance centers there, and is coordinating with local, state and federal agencies. Helpful information for victims of the Texas wildfires is available in the Disaster Relief section of TexasLawHelp.org. and the TRLA Times.
Success Story from Legal Aid Foundation of Los Angeles
Legal aid is about helping ordinary people with real-life problems. Client stories illustrate the day-to-day struggles—and victories—of low-income Americans seeking justice under law.
A low-income tenant with disabilities has won a case against the Santa Monica, California, Housing Authority, which had incorrectly increased her monthly share of rent by counting as income money received in a settlement and deposited into a Special Needs Trust.
Superior Court Judge James C. Chalfant ruled in favor of Sheila Finley, a 64-year-old participant in the Section 8 voucher program, under which a tenant's share of rent is limited to 30 percent of her income. The tenant was represented by attorneys Denise McGranahan of the Legal Aid Foundation of Los Angeles and Andrea Luquetta of the Western Center on Law & Poverty.
The case arose when Finley informed the Housing Authority that she was to receive settlements from two lawsuits against a former employer, and that the court in those lawsuits had ordered the creation of a trust fund. The Housing Authority raised Finley's rent after her trustee began making third party distributions from the trust on Finley's behalf. She brought suit. On June 30, Judge Chalfant entered judgment for Finley, relying on a federal regulation, which exempts from treatment as income "lump sums" such as personal injury settlements.
The decision was hailed by public interest attorneys, and is a long-awaited interpretation of complex federal regulations, which will likely have a national impact. For example, in light of this decision, HUD is looking at providing guidance to housing authorities on whether they should count distributions from special needs trusts (comprised of lump-sum payments) as income to the participant.
"We are pleased with the outcome of this case. It is our hope that all Section 8 participants who receive lump- sum income will be treated equally regardless of whether that money is placed in a checking account, an irrevocable trust, or under the person's mattress," said Attorney Denise McGranahan of the Legal Aid Foundation of Los Angeles.
---