Thomas A. Fuentes Remembered for Service to LSC Board
WASHINGTON, DC-- Thomas A. Fuentes, a former member of the board of directors of the Legal Services Corporation, died Friday night in Lake Forest, Calif. He was 63.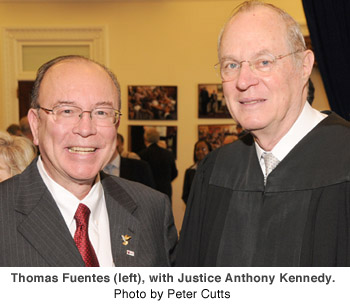 Appointed by President George W. Bush, Fuentes served on the board from 2003-2010.

"Tom Fuentes was the consummate board member," said Frank B. Strickland, who chaired LSC's Board of Directors from 2003-2010. "He brought his extensive board experience, as well as his background as one of the founders of the Second Harvest Food Bank in Orange County, California, to the LSC Board. He consistently supported more pro bono work by lawyers. Tom was a great American who wore his patriotism on his sleeve. He liked to tell us that when he traveled to our board meetings, he departed from the John Wayne Airport and flew on American Airlines."

John G. Levi, the current chairman of the LSC board, recalls that he and his colleagues "first met Tom as nominees and new board members, and he was most gracious, friendly and helpful in identifying the issues he thought most affected LSC and in helping us better understand our roles as LSC board members." Levi added that "Tom was an ardent advocate of expanding pro bono, something our board is working hard to achieve."

Fuentes' service to LSC is just one of many examples of his work in the public sector. He was perhaps best known for his tenure as chairman of the Orange County (California) Republican Party from 1985 – 2004. In addition to helping found Second Harvest Food Bank, he also served on both the Board of Advisors of the United States Elections Assistance Commission and the South Orange Community College District Board of Trustees. A devout Catholic, he served as communications director for the Roman Catholic Diocese of Orange from 1977 to 1989. Fuentes also served as a senior fellow with the Claremont Institute for the Study of Statesmanship and Political Philosophy and a director for Eagle Publishing Inc., in Washington, D.C.

Fuentes is survived by his wife, Jolene, and three children.
Legal Services Corporation (LSC) is an independent nonprofit established by Congress in 1974 to provide financial support for civil legal aid to low-income Americans. The Corporation currently provides funding to 132 independent nonprofit legal aid programs in every state, the District of Columbia, and U.S. territories.