---
Click here to view PDF version of 2015 Annual Report
---
Message from the Chairman
Seeking New Ways to Support and Promote our Equal Justice Mission
As LSC entered its fifth decade in 2015, the LSC Board pursued new ways to support projects vital to our mission and new ways to carry our message about the importance of civil legal aid to a broader audience.
The Campaign for Justice, which grew out of LSC's commemoration of its 40th Anniversary, continued its targeted effort to raise private funds to complement our Congressional allocation in order to help fund new initiatives to extend the work of civil legal aid providers nationwide.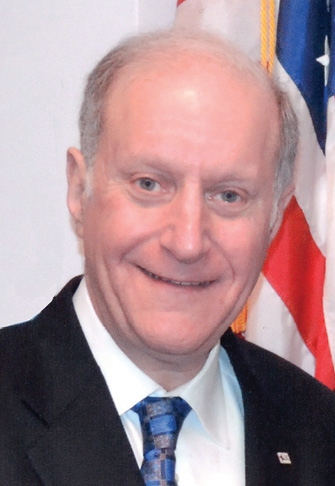 As I traveled around the country in support of this initiative, meeting with leaders of law firms, corporations, and foundations, I was happy to see how interested so many were to help once they learned of the magnitude and consequences of the justice gap and the efforts of LSC and its grantees to narrow it.
I also saw first-hand how much these Campaign for Justice grants can mean to LSC grantees when I visited with leaders of Legal Aid of Nebraska and Iowa Legal Aid in Omaha in July.
They had received generous grants funded by the Margaret A. Cargill Philanthropies for the Midwest Legal Disaster Coordination project, an effort to support projects that develop coordinated plans between disaster preparedness organizations and legal service providers in the region.
While in Omaha, I was very proud to announce another initiative—the Rural Summer Legal Corps. In partnership with Equal Justice Works for a 2016 launch, LSC will establish a fellowship program that recruits capable law students to serve as fellows at rural legal aid providers each summer. We have already raised sufficient funds from many leading law firms to ensure that this program will continue for at least five summers.
In December, LSC announced that seven legal aid organizations will receive grants from its new G. Duane Vieth Leadership Development Program, funded by the Arnold & Porter LLP Foundation, LSC's first grant initiative to support training in leadership skills in the field of civil legal aid.
In addition, thanks to support from several national foundations, LSC developed a toolkit and online guide that will enable our grantees to obtain better client resource data and worked on other grant projects to provide a comprehensive Justice Gap Report, develop a legal aid curriculum for public librarians, and evaluate the accessibility and usability of statewide and territory-wide legal aid websites.
In 2015, LSC also awarded its second round of Pro Bono Innovation Fund grants to 15 legal aid organizations across the country to support innovations in pro bono legal services for low-income clients. Congress allocated $2.5 million for it in its FY 2014 budget and increased that allocation to $4 million in its FY 2015 budget.
LSC continued its leadership in legal technology through its Technology Initiative Grants program (TIG). In 2015, Congress increased funding for the TIG program by $550,000 to $4 million. Thirty LSC grantees in 25 states received TIG grants.
We also continued our efforts to raise public awareness about the crisis in civil legal aid which the LSC Board began when it co-hosted a forum at the White House in April of 2012.
We have held similar forums—featuring leaders from business, government, and philanthropy as well as the greater legal community—at every LSC Board meeting around the country since and have returned annually to the White House four times to discuss the crisis and possible solutions to it.
In 2015, more than 61 million Americans qualified for civil legal aid during the entire year, and 30 million more qualified because they lived for two months or more at or below 125% of the federal poverty guideline—nearly 30% of our population.
But, unfortunately, LSC funding from our Congress continued at a near all-time low in inflation adjusted dollars in 2015—in actual dollars $375 million, which is still below the $400 million actually appropriated in the mid 90's, and less than half of what in today's dollars would be the $880 million appropriated just two years after LSC's founding in the 1970s, when only 12% of our population qualified for LSC-funded assistance.
Not surprisingly, our grantees and other providers cannot keep up with this demand and are being forced to turn away scores of low-income Americans seeking civil legal assistance.
A Boston Bar Association task force report in 2015 showed that civil legal aid providers in Massachusetts are unable to help two-thirds of those seeking assistance because of a lack of resources.
Other studies indicate that anywhere from 50% to 80% of low-income Americans' legal needs go unmet.
We must do a better job of keeping faith with this core American value.
As Attorney General Eric Holder stated at LSC's White House Forum in one of his last speeches before leaving office: "The work of ensuring meaningful access to justice is more than a professional responsibility, it is a moral obligation. It has to be a national commitment entrusted to every individual to use their tools to do their part."
As we continue our important work in 2016, we must redouble our efforts to honor this national commitment to ensuring access to justice for all Americans.
John G. Levi



Chairman, LSC Board of Directors
July 17, 2016
---
LSC President's Message
Keeping Congress Informed about LSC and the Importance of Civil Legal Aid
Every organization funded by Congress needs to demonstrate that it is a prudent and trustworthy steward of taxpayers' money.
LSC's task goes beyond this, however, because the nature and importance of what we do is often not well understood. The key for us is good communication—making sure that members of Congress know that LSC-funded legal aid organizations provide critical constituent services in every district in every state, and that funds appropriated to LSC are a wise and sound investment in a core American value—access to justice.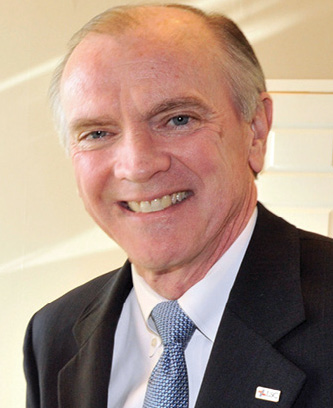 During the course of the year, we meet with members of Congress about the need for civil legal aid, and about LSC's work. We submit a comprehensive budget request detailing the services LSC-funded organizations provide and the funding necessary to support them.
Continuing our recent practice, LSC also co-sponsored briefings in both the Senate and House in 2015 on important legal aid issues.
In April, Texas Chief Justice Nathan Hecht, Florida Chief Justice Jorge Labarga, Tennessee Chief Justice Sharon Lee, and Kentucky Chief Justice John Minton Jr. took part in a Senate briefing on the challenges posed by the millions of pro se litigants flooding America's state courts.
A month later, LSC hosted a House briefing on veterans' issues, with a panel that included Will Gunn, former General Counsel of the U.S. Department of Veterans Affairs; former Pennsylvania Congressman and Iraq war veteran Patrick J. Murphy; Nan Heald, the Executive Director of Pine Tree Legal Assistance, which maintains Stateside Legal, the first website in the nation to focus exclusively on federal legal rights and resources important to military veterans and their families; and Bryan Noyes, a veteran who was a client of Pine Tree.
Both briefings attracted staffers from dozens of Congressional offices from both parties. LSC videotaped and live-tweeted the events to give them reach beyond the meeting rooms.
In addition, members of Congress joined LSC and its grantees at a half dozen events to announce Pro Bono Innovation Fund grants or Technology Initiative Grants (TIG).
When members of Congress visit our grantees, meet face-to-face with staff, and see firsthand the commitment and enthusiasm they bring to their jobs, they come away with a deep understanding of and appreciation for the value of civil legal aid. These visits yield lasting benefits, and many attract local press coverage.
These events took place across the country:
New York Rep. Jerry Nadler (NY-10) joined leaders of Legal Services NYC and me in New York on Sept. 22 to announce Legal Services NYC's Pro Bono Innovation Fund grant to address student debt issues for low-income individuals.
A week later in Albany, I joined New York Rep. Paul Tonko (NY-20) and leaders of the Legal Aid Society of Northeastern New York to announce our Pro Bono Innovation Fund grant to the Society to expand services to low-income people in rural areas.
In October, Illinois Rep. Mike Quigley (IL-5) and LSC Chairman John Levi joined leaders of LAF (formerly Legal Assistance Foundation of Metropolitan Chicago) to announce our Pro Bono Innovation Fund grant to LAF to help low-income seniors, as well as a TIG to expand text message access to legal services.
In Kansas City on Oct. 30, Rep. Emanuel Cleaver (MO-5) and I joined leaders of Legal Aid of Western Missouri to announce that the organization was receiving a Pro Bono Innovation Fund grant to improve neighborhood conditions by bringing large law firm pro bono resources to the city's urban core.
In November, Rep. Adam Smith (WA-9), LSC Board Member Harry Korrell, and leaders of the Northwest Justice Project announced a TIG to develop standards and best practices for mobile-compatible, web-based legal education videos that will be available to other legal aid programs to replicate.
In December, Rep. Joseph P. Kennedy III (MA-4) and I joined leaders from five Massachusetts legal aid and technology organizations in Boston to announce a TIG to the Volunteer Lawyers Project of the Boston Bar Association (VLP) and to convene a roundtable discussion on legal aid.
Several weeks before he appeared at the Boston VLP event, Rep. Kennedy, along with his colleague Rep. Susan Brooks of Indiana, took part in an exciting and unprecedented event—the launching of the Access to Civil Legal Services Caucus in the House of Representatives. This bipartisan group will advocate for civil legal aid programs and promote equal access to justice.
"Our legal system is where our nation makes good on the sacred promise of equal justice under the law," said Kennedy. "But too often that promise is far from guaranteed for low-income families, veterans, victims of domestic violence, and thousands of other Americans…. Through this caucus, we can build a strong coalition in Congress to advocate for civil legal aid programs and ensure access to representation is never limited by income."
This new caucus, combined with the exemplary efforts of LSC's grantees, gives us much to build on this next year. We will continue to do all that we can to support the vital work of the talented and hard-working staff at LSC-funded organizations, who make our nation's promise of justice for all real for thousands of Americans every day.
James J. Sandman



LSC President
July 17, 2016
---
Board of Directors and Committees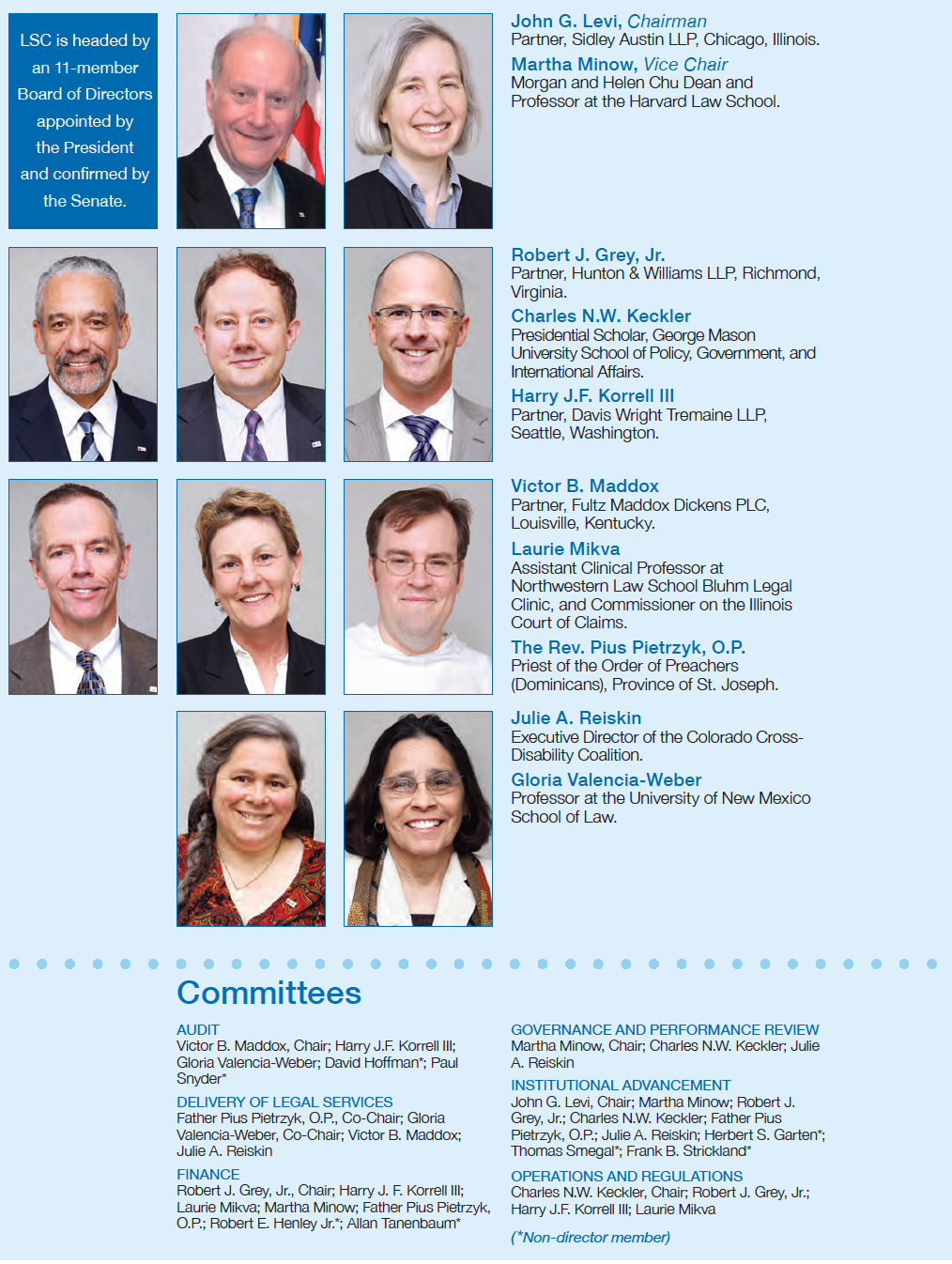 ---
2015—By the Numbers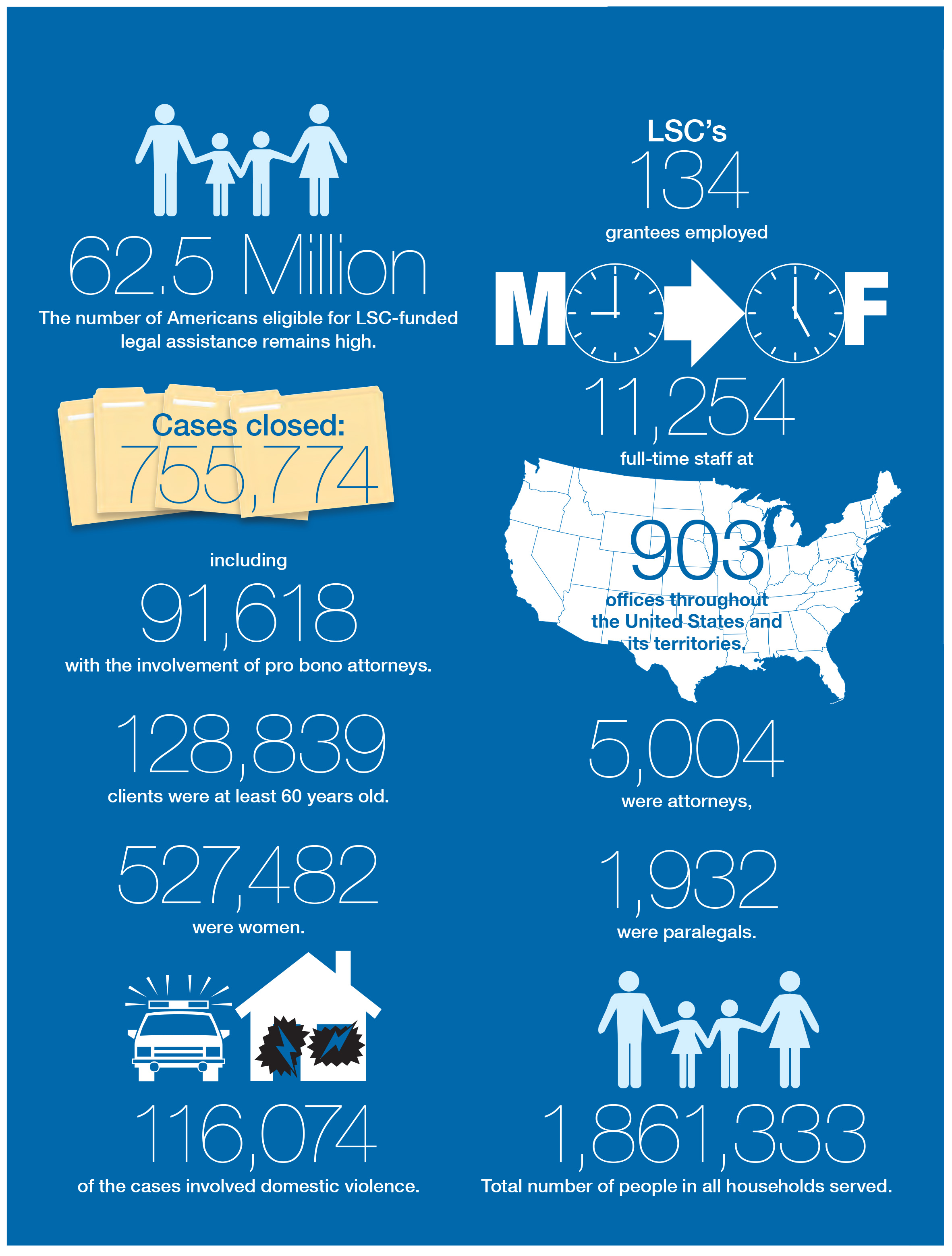 ---
LSC Grantees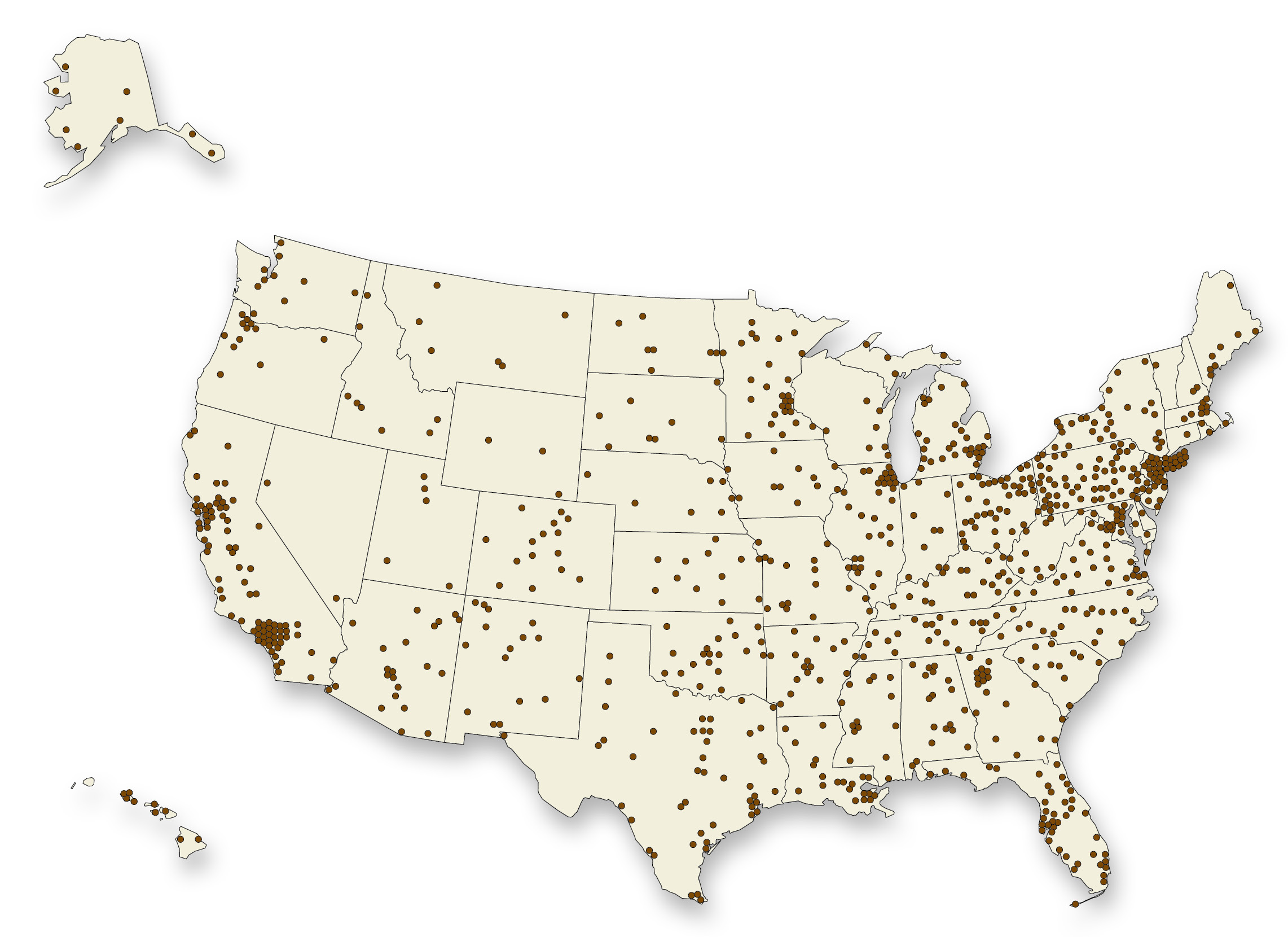 ALABAMA
Legal Services Alabama
ALASKA
Alaska Legal Services Corporation
ARIZONA
Community Legal Services
DNA-Peoples Legal Services
Southern Arizona Legal Aid
ARKANSAS
Center for Arkansas Legal Services
Legal Aid of Arkansas
CALIFORNIA
Bay Area Legal Aid
California Indian Legal Services
California Rural Legal Assistance
Central California Legal Services
Greater Bakersfield Legal Assistance
Inland Counties Legal Services
Legal Aid Foundation of Los Angeles
Legal Aid Society of Orange County
Legal Aid Society of San Diego
Legal Services of Northern California
Neighborhood Legal Services of Los Angeles County
COLORADO
Colorado Legal Services
CONNECTICUT
Statewide Legal Services of Connecticut
DELAWARE
Legal Services Corporation of Delaware
DISTRICT OF COLUMBIA
Neighborhood Legal Services Program
FLORIDA
Bay Area Legal Services
Coast to Coast Legal Aid of South Florida
Community Legal Services of Mid-Florida
Florida Rural Legal Services
Legal Services of Greater Miami
Legal Services of North Florida
Three Rivers Legal Services
GEORGIA
Atlanta Legal Aid Society
Georgia Legal Services Program
HAWAII
Legal Aid Society of Hawaii
IDAHO
Idaho Legal Aid Services
ILLINOIS
Land of Lincoln Legal Assistance Foundation
Legal Assistance Foundation of Metropolitan of Chicago
Prairie State Legal Services
INDIANA
Indiana Legal Services
IOWA
Iowa Legal Aid
KANSAS
Kansas Legal Services
KENTUCKY
Appalachian Research and Defense Fund of Kentucky
Kentucky Legal Aid
Legal Aid of the Blue Grass
Legal Aid Society
LOUISIANA
Acadiana Legal Service Corporation
Legal Services of North Louisiana
Southeast Louisiana Legal Services Corporation
MAINE
Pine Tree Legal Assistance

MARYLAND
Legal Aid Bureau

MASSACHUSETTS
Community Legal Aid
Merrimack Valley Legal Services
South Coastal Counties Legal Services
Volunteer Lawyers Project of the Boston Bar Association

MICHIGAN
Legal Aid and Defender Association
Legal Aid of Western Michigan
Legal Services of Eastern Michigan
Legal Services of Northern Michigan
Legal Services of South Central Michigan
Michigan Indian Legal Services

MINNESOTA
Anishinabe Legal Services
Central Minnesota Legal Services
Legal Aid Service of Northeastern Minnesota
Legal Services of Northwest Minnesota Corporation
Southern Minnesota Regional Legal Services

MISSISSIPPI
Mississippi Center for Legal Services
North Mississippi Rural Legal Services

MISSOURI
Legal Aid of Western Missouri
Legal Services of Eastern Missouri
Legal Services of Southern Missouri
Mid-Missouri Legal Services Corporation

MONTANA
Montana Legal Services Association

NEBRASKA
Legal Aid of Nebraska

NEVADA
Nevada Legal Services

NEW HAMPSHIRE
Legal Advice & Referral Center

NEW JERSEY
Central Jersey Legal Services
Essex-Newark Legal Services Project
Legal Services of Northwest Jersey
Northeast New Jersey Legal Services Corporation
Ocean-Monmouth Legal Services
South Jersey Legal Services

NEW MEXICO
New Mexico Legal Aid

NEW YORK
Legal Aid Society of Mid-New York
Legal Aid Society of Northeastern New York
Legal Assistance of Western New York
Legal Services NYC
Legal Services of the Hudson Valley
Nassau/Suffolk Law Services Committee
Neighborhood Legal Services

NORTH CAROLINA
Legal Aid of North Carolina

NORTH DAKOTA
Legal Services of North Dakota

OHIO
Community Legal Aid Services
Legal Aid of Western Ohio
Legal Aid Society of Cleveland
Legal Aid Society of Greater Cincinnati
Ohio State Legal Services

OKLAHOMA
Legal Aid Services of Oklahoma
Oklahoma Indian Legal Services

OREGON
Legal Aid Services of Oregon

PENNSYLVANIA
Laurel Legal Services
Legal Aid of Southeastern Pennsylvania
MidPenn Legal Services
Neighborhood Legal Services Association
Northwestern Legal Services
North Penn Legal Services
Philadelphia Legal Assistance Center
Southwestern Pennsylvania Legal Services

RHODE ISLAND
Rhode Island Legal Services

SOUTH CAROLINA
South Carolina Legal Services
SOUTH DAKOTA
Dakota Plains Legal Services
East River Legal Services

TENNESSEE
Legal Aid of East Tennessee
Legal Aid Society of Middle Tennessee and the Cumberlands
Memphis Area Legal Services
West Tennessee Legal Services

TEXAS
Legal Aid of NorthWest Texas
Lone Star Legal Aid
Texas RioGrande Legal Aid

UTAH
Utah Legal Services
VERMONT
Legal Services Law Line of Vermont
VIRGINIA
Blue Ridge Legal Services
Central Virginia Legal Aid Society
Legal Aid Society of Eastern Virginia
Legal Services of Northern Virginia
Southwest Virginia Legal Aid Society
Virginia Legal Aid Society
WASHINGTON
Northwest Justice Project
WEST VIRGINIA
Legal Aid of West Virginia
WISCONSIN
Legal Action of Wisconsin
Wisconsin Judicare
WYOMING
Legal Aid of Wyoming
U.S. Territories
AMERICAN SAMOA
American Samoa Legal Aid
GUAM
Guam Legal Services Corporation
MICRONESIA
Micronesian Legal Services
PUERTO RICO
Community Law Office
Puerto Rico Legal Services
VIRGIN ISLANDS
Legal Services of the Virgin Islands
---
White House Forum & Supreme Court Reception
Promoting Equal Justice at White House Forum, Supreme Court Reception
In 2015, LSC continued to promote a national dialogue on strengthening legal aid and improving access to justice for low-income Americans.
LSC co-hosted the fourth White House Forum on Increasing Access to Justice on April 14, 2015. The forum focused on ways to expand pro bono opportunities, spread technological innovations, and help ensure that all Americans are able to obtain the legal help they need. LSC held the forum in conjunction with its Board of Directors' spring meeting.
U.S. Attorney General Eric H. Holder Jr., White House Counsel W. Neil Eggleston, American Bar Association President William Hubbard, and Harvard Law School Professor David B. Wilkins spoke at the event. Other attendees included prominent business leaders, senior administration officials, federal agency representatives, members of the federal and state judiciaries, and bar leaders.
"Just this morning, we added three new case studies to the Toolkit that illuminate how civil legal aid can support our efforts to keep Americans working, to bolster tribal nations, and to prevent elder abuse," Holder said. "Thanks to LAIR's extraordinary, internationally recognized work, more than two dozen federal grants have been clarified to allow and include legal services." Holder discussed the impressive strides that have been made to support legal aid and ensure equal justice under law. He cited the recent efforts of the Legal Aid Interagency Roundtable (LAIR) to provide new training opportunities and research initiatives. Holder also provided an update on LAIR's Access to Justice Toolkit, an online resource providing information about civil legal aid.In his opening remarks, LSC Board Chairman John G. Levi called for greater support for LSC in its mission to help ensure a core American value—equal access to justice: "It was not that long ago that our ancestors fought … to give us a nation founded on principles of fairness that define us as Americans. Let us play our own part in making sure that the generations that succeed us share in the very blessings that we have inherited."
LSC President Jim Sandman moderated a panel discussion on "The Importance of Access to Justice to the Judiciary," featuring six state supreme court chief justices and two federal judges. The panelists were Chief Justice Tani G. Cantil-Sakauye, California Supreme Court; Chief Justice Nathan L. Hecht, Supreme Court of Texas; Judge Denise Page Hood, United States District Court, Eastern District of Michigan; Chief Justice Jorge Labarga, Florida Supreme Court; Chief Justice Sharon G. Lee, Tennessee Supreme Court; Chief Judge Jonathan Lippman, New York Court of Appeals; Chief Justice John D. Minton, Jr., Kentucky Supreme Court; and Chief Judge Diane P. Wood, United States Court of Appeals, Seventh Circuit.
Glenn Rawdon, a technology specialist at LSC, moderated five rapid-fire presentations on technology innovations that improve the delivery of civil legal assistance. Presenters included Abhijeet Chavan, Chief Technology Officer, Urban Insight; Nan Heald, Executive Director, Pine Tree Legal Assistance, Inc.; Anna Hineline, Technology Coordinator, Legal Assistance of Western New York, Inc.; Hanna Kaufman, a law student at Chicago-Kent Law School; and Angela Tripp, Project Manager, Michigan Legal Help Program.
For the final panel, LSC Board Vice Chair and Harvard Law School Dean Martha Minow moderated a discussion on "Perspectives on Access to Justice from the Business Community." This panel focused on how civil legal aid benefits the economy and investment in American business. Panelists included Christian L. Campbell, Senior Vice President, Secretary, General Counsel, & Chief Franchise Policy Officer, Yum! Brands, Inc.; Brackett B. Denniston III, Senior Vice President, Secretary & General Counsel, General Electric Company; Ivan Fong, Senior Vice President, Legal Affairs & General Counsel, 3M; Max W. Laun, Vice President & General Counsel, Alcoa; Shari Redstone, Vice Chair of the Board of Directors, CBS Corporation; Teresa Wynn Roseborough, Executive Vice President, General Counsel & Corporate Secretary, The Home Depot; and John Schultz, Executive Vice President & General Counsel, Hewlett-Packard Company. The panelists spoke about the importance of legal aid and why business and civic leaders should support access to justice.
The previous evening, LSC held a reception at the Supreme Court for supporters of legal aid, including state Supreme Court justices, policymakers, and executive directors of several LSC grantees. Justice Ruth Bader Ginsburg hosted the event and provided opening remarks. She highlighted the important work undertaken by the more than 900 LSC-funded law offices across the country.
"Sympathetic lawyers in those offices repair tears in the lives of the least advantaged," she said. "They provide quality legal services that can turn despair into hope for the future."
Chief Judge Merrick Garland, U.S. Court of Appeals for the District of Columbia Circuit, also addressed attendees, explaining why legal aid is central to a just society.