Fiscal Year 2016 Budget Request
Basic field grants, which support the provision of basic legal services, are the largest component of LSC's budget. LSC recommends that 93% of its budget be allocated to basic field grants for FY 2016. Four percent, ($19.5 million) is for grants management, compliance and oversight,...
Established by Congress in 1974, the Legal Services Corporation (LSC) promotes equal access to justice by funding high-quality civil legal assistance for low-income Americans. LSC is the single largest funder of civil legal aid for the poor in the country.
LSC is a grant-making organization, distributing more than 90% of its federal appropriation to eligible nonprofits delivering civil legal aid. LSC awards grants through a competitive process and currently funds 134 independent legal aid organizations with approximately 800 offices throughout the United States and its territories. LSC's grantees serve thousands of low-income individuals, children, families, seniors, and veterans in every congressional district.
LSC grantees handle the basic civil legal needs of the poor, addressing matters involving safety, subsistence, and family stability. Most legal aid practices are focused on family law, including domestic violence and child support and custody, and on housing matters, including evictions and foreclosures.
LSC conducts robust oversight of its grantees. To ensure grantee compliance with statutory and regulatory requirements and sound financial management practices, LSC conducts regular on-site fiscal and programmatic compliance reviews and investigations. LSC also assesses the quality of legal services our grantees deliver and provides training and technical assistance.
LSC Leadership
LSC is governed by an 11-member Board of Directors, each of whom is appointed by the President of the United States and confirmed by the Senate to serve a three-year term. By law the Board is bipartisan; no more than six members may be of the same political party. The current Board includes leaders from across the country with a wealth of professional experience at major law firms, law schools, civil legal aid providers; two Board members are client representatives. The Board is responsible for hiring the President of the Corporation; the President oversees LSC's staff and is responsible for the final approval of all awards made to the Corporation's grantees. LSC's senior management has considerable experience in both the public and private sectors.
LSC is committed to strong management of, and accountability for, federal funds. LSC has adopted rigorous oversight, enforcement, and training to promote grantees' compliance with all requirements and restrictions Congress has enacted. In 2014, LSC took the following actions pursuant to our strategic plan to improve performance, enhance fiscal responsibility, and leverage the federal investment in legal services with private support:
The role of LSC's Fiscal Compliance Analysts in the grant competition process was expanded. These analysts review the financial capabilities, policies, and processes of grant applications to ensure that grantees manage federal funds prudently and effectively. The analysts make recommendations regarding whether an applicant should receive funding and, if so, for how long, and whether special grant conditions should be imposed. In advance of the 2015 application cycle, the analysts drafted portions of the grant application relating to fiscal competence and developed scoring criteria for assessing applications.
LSC hired a new Deputy Director for Fiscal Compliance who is responsible for reviewing and revising LSC's processes for ensuring that LSC assesses its grantees' fiscal systems in the most effective and efficient manner possible.
LSC's Office of Compliance and Enforcement (OCE) increased the training and educational programs for LSC grantees in 2014.
OCE revitalized Technical Assistance Reviews, which provide one-on-one training and assistance to LSC grantees that have undergone senior management changes or structural reorganization. Three such reviews were conducted in 2014.
OCE, in conjunction with LSC's Office of Legal Affairs, developed a training program regarding the restrictions on political activity by LSC grantees. OCE plans to make this training, and other regulation-specific training programs, available online.
"The American ideal is not for some justice. It is, as
the Pledge of Allegiance says, 'Liberty and justice for all'….
Can there be a just society when some do not have justice? Equality, equal treatment, is perhaps the most fundamental element of justice."
—United States Supreme Court Justice Antonin Scalia
at LSC's 40th Anniversary Conference, September 2014.
---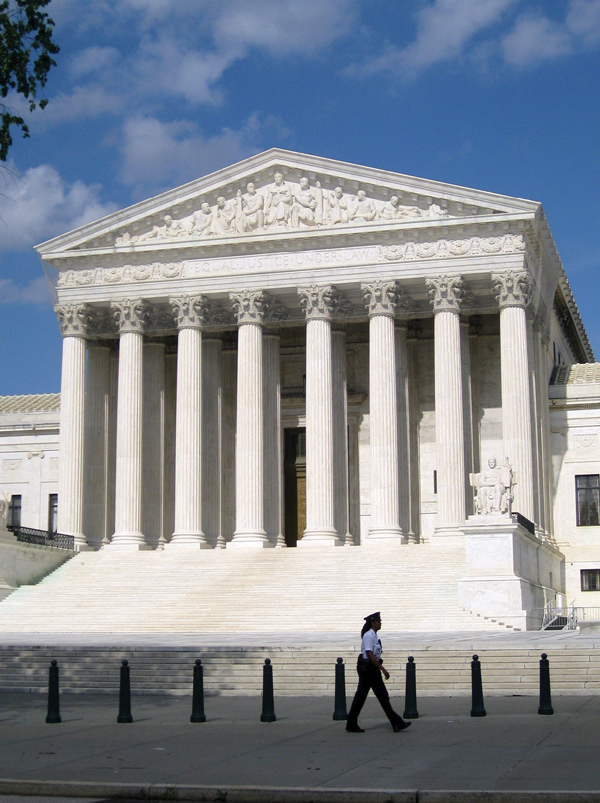 ---
LSC requests an appropriation of $486,900,000 for FY 2016. This is approximately the same amount LSC requested for the past two years.
LSC's FY 2016 request reflects a balancing of the need for civil legal services against budgetary realities. While the unmet need for civil legal aid would justify a far larger request, LSC recognizes the budget pressures on the federal government. Congress appropriated $375 million to LSC for FY 2015, $10 million more than the previous year. Compared to its largest appropriation of $420 million in FY 2010, however, LSC's funding has decreased by nearly 11 percent, or $45 million.
The need for basic civil legal assistance for people who cannot afford to pay for it is overwhelming. The most recent data from the U.S. Census Bureau shows that 63.6 million people were financially qualified for LSC-funded legal services in 2013. This represents the largest eligible population in LSC's 40-year history. Although LSC estimates that the number of people eligible for LSC-funded services will decrease slightly in FY 2016, the number of people eligible for services continues to be near an all-time high. Our FY 2016 request would return funding per eligible person to approximately the level it was in 2007, before the recession began. But even before the recession, funding for civil legal services was not adequate to meet the challenges that low-income Americans face in the legal system. This justice gap­—the number of people who qualified for civil legal assistance versus the resources necessary to assist them—is huge.
The chart below compares LSC's appropriation for FY 2014 and 2015, with LSC's FY 2016 request.
Budget Category

FY 2014

Appropriation

FY 2015

Appropriation

FY 2016

LSC Request

Basic Field Grants

$335,700,000

$343,150,000

$451,300,000

Technology Initiative Grants

$3,400,000

$4,000,000

$5,000,000

Loan Repayment Assistance Program

$1,000,000

$1,000,000

$1,000,000

Management and Grants Oversight

$18,000,000

$18,500,000

$19,500,000

Pro Bono Innovation Fund

$2,500,000

$4,000,000

$5,000,000

Office of Inspector General

$4,350,000

$4,350,000

$5,100,000

Total

$365,000,000

$375,000,000

$486,900,000
Basic field grants, which support the provision of basic legal services, are the largest component of LSC's budget. LSC recommends that 93% of its budget be allocated to basic field grants for FY 2016. Four percent, ($19.5 million) is for grants management, compliance and oversight, and 1% ($4.35 million) is for LSC's Inspector General. Our FY 2016 request includes $5 million for the Pro Bono Innovation Fund—the grant program to encourage innovations in pro bono legal services recommended by LSC's Pro Bono Task Force, and $5 million for LSC's Technology Initiative Grants, which promote the expanded use of technology to deliver legal services efficiently and effectively.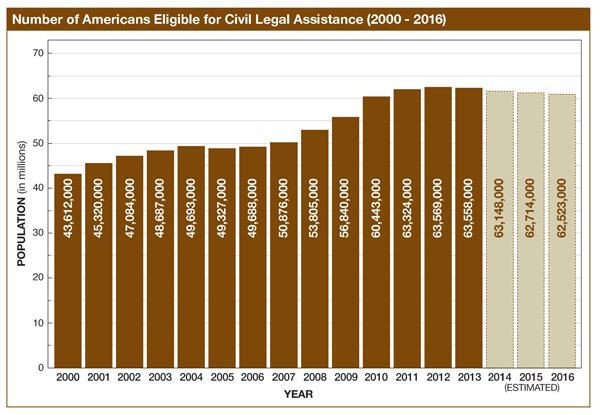 According to LSC's 2009 report Documenting the Justice Gap in America, 50% of all those who sought legal assistance from LSC grantees were turned away because of the lack of adequate resources. State studies consistently show that only 20% of the civil legal needs of the eligible population are being met.
"Justice is the end of government. It is the end of civil
society. It ever has been and ever will be pursued until it
be obtained or until liberty be lost in the pursuit."
—James Madison, The Federalist Papers, Number 51.
A recent study by the Boston Bar Association found that in Massachusetts civil legal aid programs turn away 64% of eligible cases.1 Nearly 33,000 low-income residents in Massachusetts were denied the aid of a lawyer in life-essential matters involving eviction; foreclosure; and family law such as cases involving child abuse and domestic violence. People seeking assistance with family law cases were turned away 80% of the time.
As the great Judge Learned Hand said in his
1951 address to the Legal Aid Society of New York,
"If we are to keep our democracy, there must be
one commandment: thou shall not ration justice."
New York's recent findings confirm national data that fewer than 20% of all civil legal needs of low-income families and individuals are met. In 2013, more than 1.8 million litigants were not represented by counsel in civil proceedings in New York's state courts.2
In New York City:
91% of petitioners and 92% of respondents do not have lawyers in child support matters in family court.
99% of tenants are unrepresented in eviction proceedings.
In New York State:
87% of petitioners and 86% of respondents do not have lawyers in child support matters in family court.
91% of tenants are unrepresented in eviction proceedings.
Nationally, LSC grantees served over 1.8 million low-income persons in 2013. Millions more requested assistance but did not receive it because of the lack of adequate resources.
Nearly one in three Americans—96 million people—qualified for LSC-funded services at some time during 2013, the most recent year for which U.S. Census Bureau data are available.3
63.6 million people—one in five Americans—had annual incomes below the income threshold for LSC-funded legal assistance. These people had annual incomes below 125% of the federal poverty line: $14,363 for an individual; $29,438 for a family of four.
Another 32.4 million people had incomes below the 125% level for at least two consecutive months during the year.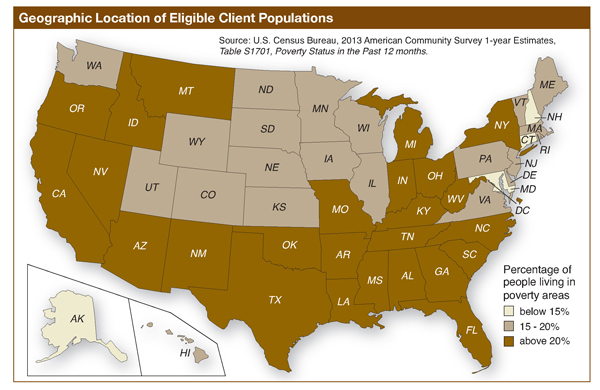 Millions of those eligible for LSC-funded services are seniors or persons with disabilities.4
Of the 63.6 million people living in households with annual incomes below 125% of poverty in 2013:
6.3 million (9.9%) were seniors 65 years or older.
7.5 million (12.0%) were 18-64 years old with at least one disability.
An estimated 1.8 million veterans are eligible for LSC-funded services.5
One-half (50.2%) of the working age adults (16-64 years old) eligible for LSC-funded services are employed.6 Nearly one in seven—5.5 million—worked full-time, year-round in 2013, but earned so little their families had annual incomes less than 125% of the federal poverty line.
Investment in civil legal aid is one of the most effective ways to help Americans navigate the justice system and help stabilize and grow the nation's economy. The modest federal contribution to civil legal aid—only 39% of total funding for LSC-supported legal aid programs, and only 25% of all legal aid funding in the United States—is a good investment, allowing millions of Americans to safeguard their basic legal rights at minimal cost. LSC grantees supplement federal resources by engaging partners and accessing alternative funding sources, such as Interest on Lawyers' Trust Account (IOLTA) funds, state and local grants, philanthropic foundations, and individual donors. They also collaborate with a wide network of private practitioners, bar associations, law schools, access to justice commissions, and business and community organizations to expand free legal help for the poor.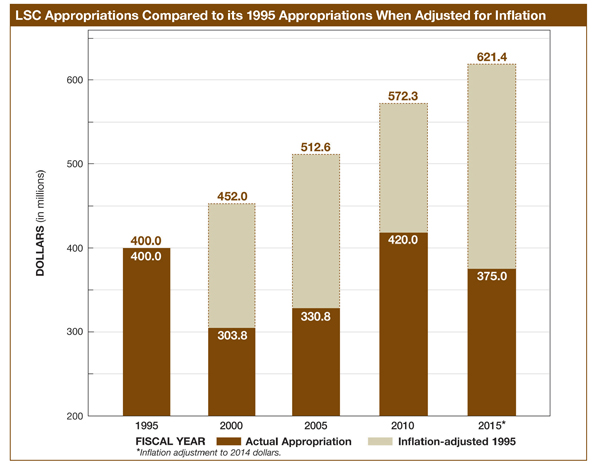 The Conference of Chief Justices (CCJ) of the state Supreme Courts, a non-partisan organization comprised of the Chief Justices and Judges of every state, has been a strong advocate of funding for LSC. The CCJ released a policy paper, "The Importance of Funding for the Legal Services Corporation from the Perspective of the Conference of Chief Justices and The Conference of State Court Administrators (COSCA),"7 showing that the large number of unrepresented citizens overwhelming state courts has negative consequences on the effective and efficient operation of the courts. The paper concludes that adequate funding for LSC is necessary to better meet the demand for legal services and to ensure access to justice for all.
In 2014, the CCJ and COSCA urged the LSC Board of Directors to request a significant increase in LSC's funding.
"As a nation grounded in the rule of law, equal justice and
the fair administration of justice have long transcended
partisan difference with all Americans standing together
in common commitment to these ideals."
- Conference of Chief Justices.8
A growing body of research demonstrates that providing civil legal services to the poor yields significant economic benefits for both communities and government. Studies conducted in many states reveal that substantial economic and social benefits result from civil legal aid, such as increasing clients' employment opportunities and income, reducing government costs, and creating jobs through direct spending and economic multiplier effects.9
Recent studies from Massachusetts and New York highlight these benefits.10 In Massachusetts, for every dollar spent representing families and individuals in housing court, the study concluded that the state saved $2.69 in other services, such as emergency shelter, health care, foster care, and law enforcement. Similarly, providing swift legal aid to victims of domestic violence would avoid medical and other costs.11
In New York, the study showed that for each $1 in funding, legal aid providers generate $6 in economic benefits for all New Yorkers.12 The data show a statewide average cost savings per successful eviction case of $20,300 and an annual savings of $40.7 million in housing assistance. With respect to domestic violence, the New York study showed annual savings of $85 million in costs associated with assistance for domestic violence survivors.
A 2010 study in Florida estimated savings of $4.24 million resulting from legal services provided to domestic violence survivors and people threatened with homelessness.13 Former Chief Justice (now Justice) Carol Hunstein of the Supreme Court of Georgia put the matter this way:
"Equal access to justice contributes to healthy communities
and a vibrant economy. No community thrives when people
are homeless, children are out of school, sick people are
unable to get health care, or families experience violence.
Likewise, when a person's legal problem is addressed in a
timely and effective way, the benefit ripples out and helps that person's family, neighbors, employer and community."14
In addition to providing significant economic benefits, civil legal services also provide a variety of other societal benefits. A significant body of work shows that access to civil legal assistance can reduce domestic violence, decrease eviction and homelessness, promote family reunification, reduce the time children spend in foster care, and improve clients' health.15
Civil legal aid assures fairness in the justice system, regardless of a person's income. It provides access to legal help for people to protect their livelihoods, their health, and their families. Civil legal aid makes it easier to access information through easy-to-understand forms, legal assistance, representation, and self-help centers to enable people to know their rights.
Civil legal aid also helps improve the efficiency of the court system and reduces court costs. The large number of unrepresented litigants creates financial and logistical burdens for courts because they take significantly more of the court's time. When an unrepresented litigant does not understand standard procedures and paperwork, judges must spend time on the bench explaining information commonly understood by lawyers or eliciting facts that should have been presented. When one party in a case is represented by counsel and the other is not, delays and disruptions increase the cost of legal counsel for the represented party. More cases reach the courts as litigation (as opposed to settling) when one or both parties are unrepresented.
Across state courts, judges confirm that the lack of representation consumes court staff time in assisting pro se litigants, slows down procedures, and results in the unclear presentation of evidence by those litigants without counsel. In a survey of trial judges from 37 states, Puerto Rico, and one Native American Court, more than 60% of the responding judges reported that unrepresented litigants failed to present necessary evidence, committed procedural errors, were ineffective in witness examination, or were unable to proffer enforceable orders to the court.16 Unrepresented litigants include the most vulnerable members of society: the elderly on fixed incomes, single parents, the disabled and mentally ill, abuse victims, and so many more.17 Unequal justice, falling heavily on the most vulnerable, damages justice for all of society.18
Basic Field Grants

State/Territory

FY 2014 Appropriation

FY 2015 Appropriation

FY 2016 LSC Request

Alabama

$5,842,756

$5,972,421

$7,898,017

Alaska

1,175,907

1,202,003

1,580,837

American Samoa

217,324

222,147

292,161

Arizona

10,732,342

10,970,519

14,428,077

Arkansas

3,598,566

3,678,427

4,941,731

California

39,647,088

40,526,953

53,299,763

Colorado

4,546,296

4,647,189

6,111,836

Connecticut

2,393,316

2,446,430

3,217,468

Delaware

699,307

714,826

940,117

District of Columbia

738,114

754,494

992,287

Florida

20,291,478

20,741,795

27,278,953

Georgia

11,519,279

11,774,919

15,485,999

Guam

244,920

250,355

329,260

Hawaii

1,412,012

1,443,347

1,898,245

Idaho

1,675,285

1,712,464

2,252,178

Illinois

11,951,617

12,216,855

16,067,219

Indiana

6,527,592

6,672,456

8,775,401

Iowa

2,488,755

2,543,986

3,345,770

Kansas

2,566,812

2,623,776

3,450,707

Kentucky

5,359,353

5,478,289

7,260,865

Louisiana

5,608,939

5,733,414

7,576,639

Maine

1,265,521

1,293,606

1,701,309

Maryland

3,733,678

3,816,538

5,019,390

Massachusetts

4,829,805

4,936,991

6,492,973

Michigan

11,184,461

11,432,672

15,035,888

Micronesia

1,228,281

1,255,539

1,651,246

Minnesota

4,341,867

4,438,222

5,837,010

Mississippi

4,387,127

4,484,488

5,972,935

Missouri

6,022,422

6,156,075

8,096,273

Montana

1,142,170

1,167,517

1,535,482

Nebraska

1,565,658

1,600,403

2,104,799

Nevada

2,761,612

2,822,898

3,712,587

New Hampshire

726,779

742,908

977,050

New Jersey

5,868,733

5,998,973

7,889,659

New Mexico

3,261,404

3,333,781

4,384,485

New York

19,437,661

19,869,031

26,131,120

North Carolina

11,124,222

11,371,096

14,954,904

North Dakota

815,457

833,554

1,096,264

Ohio

12,143,603

12,413,100

16,325,314

Oklahoma

4,986,347

5,097,007

6,703,422

Oregon

4,244,912

4,339,118

5,706,670

Pennsylvania

11,076,452

11,322,264

14,890,682

Puerto Rico

11,386,495

11,639,190

15,307,492

Rhode Island

929,975

950,613

1,250,217

South Carolina

5,578,364

5,702,162

7,499,304

South Dakota

1,670,213

1,707,279

2,245,359

Tennessee

7,436,757

7,601,797

10,081,075

Texas

30,245,981

30,917,213

40,263,339

Utah

2,442,768

2,496,980

3,283,949

Vermont

476,264

486,833

640,267

Virgin Islands

161,396

164,978

216,974

Virginia

5,888,989

6,019,680

7,916,893

Washington

6,270,120

6,409,270

8,429,268

West Virginia

2,204,571

2,253,495

2,963,726

Wisconsin

5,045,633

5,157,609

6,783,124

Wyoming

577,244

590,055

776,021

Total

$335,700,000

$343,150,000

$451,300,000
---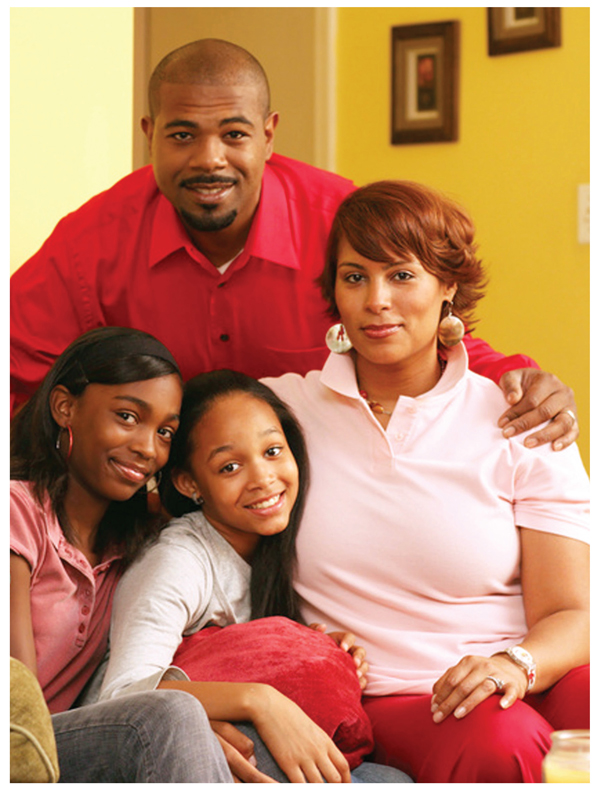 ---
LSC grantees help constituents who live in households with annual incomes at or below 125% of the federal poverty guidelines—in 2014, $14,588 for an individual and $29,813 for a family of four. Eligible constituents span every demographic and live in rural, suburban, and urban areas. They include veterans and military families, homeowners and renters, families with children, farmers, the disabled, and the elderly.
Unfortunately, millions of Americans cannot afford to access the justice system. Some seek protection from an abusive spouse, or are fighting for custody of an abused or orphaned child. Others face homelessness because of a wrongful eviction or foreclosure. They may be Iraq or Afghanistan war veterans who have returned home to economic strain and confront legal issues. Or they may be elderly citizens who have fallen victim to fraud and lost their life savings.
LSC-funded legal aid ensures that eligible constituents do not have to navigate the legal system alone. In 2013, LSC grantees helped 1.8 million people in all households served. Grantees closed 758,689 cases nationwide, including 79,189 with the involvement of pro bono attorneys. More than 70% of the people assisted (540,451) were women, and 15% (112,851) were at least 60 years old. LSC grantees provide quality legal counsel—at no cost—to low-income constituents who could not otherwise afford an attorney. They employ experienced legal professionals who are subject-matter experts in civil legal matters.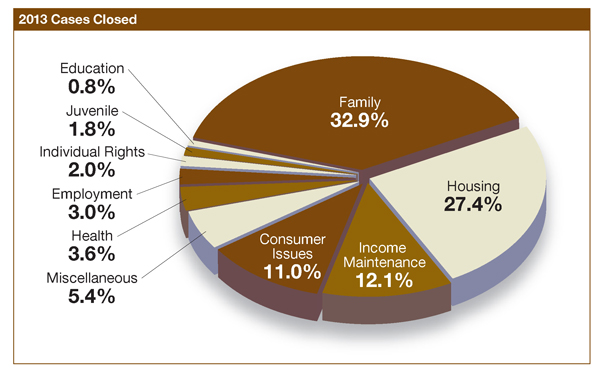 Family Law: LSC grantees help parents obtain and keep custody of their children, family members secure guardianship of orphaned and abused children, and victims of domestic violence get protective orders. Nearly one-third of all cases closed by LSC grantees are family law cases.
Housing and Foreclosure Cases: The second largest category of cases closed includes efforts to resolve landlord-tenant disputes, avoid wrongful foreclosures or renegotiate mortgages, and assist renters whose landlords are being foreclosed upon.
Consumer Issues: Many cases involve protecting the elderly and other vulnerable individuals from being victimized by unscrupulous lenders or merchants and providing legal advice about debt management and consumer rights.
Income Maintenance: LSC grantees also help clients obtain veterans', unemployment, disability, and healthcare benefits for which they are eligible and provide representation when benefits are wrongfully denied.
Millions of families across the country are at risk of losing their homes because of the scarcity of affordable housing, the continuing foreclosure crisis, and skyrocketing eviction rates. Every year, LSC grantees help hundreds of thousands of low-income people—over half a million people (502,400) in 2013—secure or retain access to safe, affordable housing.19 The lack of access to a legal remedy can result in losing one's home. The Department of Housing and Urban Development (HUD) reports that over 600,000 people are homeless in the U.S. on any single night.20 Far more—an estimated 2.5-3.5 million—experience homelessness at some point during the year.21 The U.S. Department of Education reports that in 2011-12 nearly 1.2 million school children were homeless.22 These numbers would be far higher but for the ability of people to move in with family or friends; more than 7.4 million low-income people were living in "doubled up" households in 2012.23
Client Story–MONTANA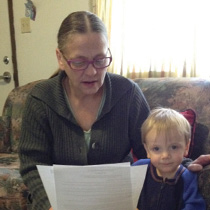 Mrs. "Smith," a grandmother with custody of six grandchildren, four of whom are disabled, has a Section 8 voucher. The Housing Authority agreed to let her move to a larger space but demanded payment of $1,048.80 in damages for the first rental. The client agreed to some of the damages but not all. An attorney from Montana Legal Services (MLS) was able to negotiate the amount down to $678, but the Housing Authority wanted payment in full. MLS helped the client receive an accommodation based on her grandchildren's disabilities to pay for the damages over four months. The client paid the amount in full by the deadline and is now in good standing with the Housing Authority.
Foreclosure remains a crisis for hundreds of thousands of homeowners and renters, often because of lack of access to legal counsel. Approximately 463,000 homeowners lost their homes to bank repossessions in 2013; 24 renters comprise 40% of families affected by foreclosures.25
Eviction rates remain high across the country. Although there are no national data, developments in different states and cities highlight the problem. For example, from 2010 to 2013, the number of eviction filings jumped 43% in Milwaukee, 38% in San Francisco, 21% in Maine, 11% in Massachusetts, and 9% in Georgia. In New Jersey there was one eviction filed for every six renter household in 2013.26
Civil legal aid can be essential—and effective—for families seeking to retain or obtain safe housing in cases of wrongful foreclosures and evictions. In 2013, housing cases comprised over one-fourth (27%) of the cases LSC grantees handled. Research shows that legal representation can be essential to protect low income persons' housing. For example, a study by the Boston Bar Association found that renters represented by an attorney were twice as likely to avoid eviction as those without an attorney, and the amount of the rent benefits they received was nearly five times greater.27
Family law cases represent approximately one-third of the cases closed by LSC-funded grantees each year, and the legal services provided to victims of domestic violence are among the most important. Millions of women, men, and children experience domestic violence in the U.S. every year.28 Legal aid is essential to protect domestic violence victims and their families and to help them overcome many associated problems that can endanger their safety and stability. LSC grantees closed more than 105,000 domestic violence cases in 2013.
Domestic violence is widespread and affects economically distressed households in particular.29 The Centers for Disease Control and Prevention's (CDC) most recent intimate partner violence (IPV) survey found that nearly one in four (24%) women (approximately 29 million) have experienced severe physical violence by an intimate partner in their lifetimes,30 and approximately 3.2 million were subjected to it in the previous year.31 Although IPV and family violence affect households of all income levels, families in economic distress experience domestic violence at far higher rates than other families.32
The most recent CDC IPV survey also found that nine in ten (89.5%) domestic violence victims received medical care and about half received housing services (48.3%), victim's advocate services (46.4%), and community services (49.6%). In contrast, fewer than one in three (33.1%) domestic violence victims were able to obtain legal assistance.33
Client Story–GEORGIA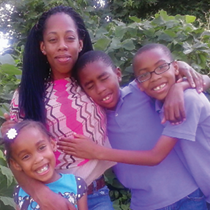 Olivia thought her husband was going to kill her the day she tried to leave him after years of abuse. When he found out about her plans, he attacked her, choked her, threw her to the floor, and broke bones in her hand, all in front of their children. She passed out and awoke to her four-year-old daughter screaming, "Mommy, get up! Mommy, get up!" She escaped that night after her husband fell asleep; she called the police from her neighbor's house. She and her children fled to a battered women's shelter with nothing more than the clothes on their backs. She got a Temporary Protective Order with help from the shelter, and was referred to the Georgia Legal Services Program (GLSP) for legal assistance with a divorce. GLSP is able to accept divorce cases only when there is extreme violence. A GLSP lawyer helped Olivia obtain her divorce, child support, and an apartment. Olivia says, "Many abused women are mothers, like me, who have no means to support their children on their own. Thanks to GLSP, I am rebuilding a wonderful new life for my children."
In 2013, LSC grantees provided legal assistance to approximately 255,000 domestic violence victims and family members. Grantees represented domestic violence victims in nearly one in seven (14%) of the cases handled that year.34 Grantees assist victims to address a variety of legal problems, including:
Obtaining court orders to protect victims and their families from the immediate threat of violence.
Obtaining custody of vulnerable children and child support.
Ensuring fair distribution of assets from a divorce.
Ensuring access to necessary medical care, housing, employment, and other essential services.
Domestic Violence Is a Major Cause of Homelessness. A Department of Justice funded study found that approximately one of four homeless women "is homeless mainly because of her experiences with violence;"35 12% of the sheltered persons in HUD's annual homeless "point in time" survey were victims of domestic violence;36 and the U.S. Conference of Mayors reported that 16% of homeless adults were domestic violence victims and that domestic violence was among the leading causes of homelessness among families.37
Domestic Violence Undermines Victims' Ability To Keep Job.38 Compared to women who have not been abused, abuse victims experience significantly higher rates of material deprivation, such as homelessness, evictions, utility shut-offs, and food insecurity, as well as harassment by debt collectors and other consumer problems.39
Domestic Violence Affects Health. More than 41% of intimate partner physical assaults cause injury; 28% of these injuries result in victims' receiving medical attention (over three-quarters of which require hospitalization).40 Beyond death and immediate serious physical injury, domestic violence can have lifelong health consequences for its victims. Compared to those who have not been abused, women subjected to domestic violence have significantly higher rates of physical problems (e.g., stroke, heart disease, asthma, gastro-intestinal disorders, gynecological or pregnancy complications, chronic pain) and mental health disorders (e.g., depression, anxiety, low self-esteem, suicide attempts) that can lead to hospitalization, disability, or death.41
An estimated 15.5 million children live in families in which partner violence occurred at least once in the past year; seven million live in families in which severe partner violence occurred.42 The children of IPV victims are far more likely than other children to be subjected to family violence.43 Even if they are not abused themselves, being exposed to domestic violence can significantly harm children's current and future health and well-being. These consequences can include symptoms of post-traumatic stress disorder; increased risk of having allergies, asthma, gastrointestinal problems, headaches, and flu; heightened levels of aggression, anxiety, sleeplessness, and depression; and impaired verbal, motor, and cognitive skills4.4 Children who witness domestic violence have a higher risk of developing serious adult health problems including cancer, heart disease, depression, tobacco use, substance abuse, and a higher risk for unintended pregnancy.45 Exposure to domestic violence doubles the likelihood that boys will be IPV perpetrators and girls will be IPV victims when they are adults.46
Many veterans who served in combat zones in Iraq and Afghanistan have come home to legal problems—such as child custody disputes, evictions, and denials of earned benefits—that LSC grantees handle. A growing number of LSC grantees are partnering with veterans' associations, advocates, and other service providers to do outreach and expand legal services to veterans.
An estimated 1.8 million veterans are eligible for LSC-funded services.47 Younger veterans and veterans of the Gulf War II era are far more economically vulnerable than non-veterans. Among persons 18-24 years old, the unemployment rate for veterans is 21.4%, versus 14.3% for non-veterans. Gulf War II veterans (those serving on active duty after September 2001) have unemployment rates of 9.0%, compared to 7.2% for non-veterans over 18 years old.48
Veterans are especially vulnerable to homelessness. While veterans comprise only 8% of the population, they comprise 12% of the homeless adult population.49 According to HUD, approximately 50,000 veterans are homeless on any given night.50 In addition, another 1.4 million veterans are considered at risk of homelessness "due to poverty, lack of support networks, and dismal living conditions in overcrowded or substandard housing."51
In 2013, LSC grantees assisted nearly 100,000 veterans and their family members with a range of legal problems.52 In addition to providing direct legal assistance, LSC grantees employ multiple strategies to identify and respond to the needs of veterans and their families. A recent LSC survey of its grantees identified some of these strategies:
73% of grantees conduct targeted outreach to veterans and their families.
61% provide targeted services to especially vulnerable populations, such as homeless persons or those at risk of being homeless.
50% conduct trainings for, or case consultations with, community partners who serve veterans and their families.
46% have special intake systems or procedures to readily identify and respond to veterans' needs.
Client Story–CHICAGO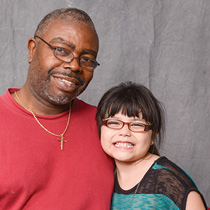 Kevin is a U.S. Army veteran and a single father to his young daughter. Because of his difficulty finding work, Kevin was unable to gain custody of his daughter. Eventually, Kevin was accepted into the VA's Veterans Retraining Assistance Program, which would pay him a subsidy while he went back to school. He was denied a veteran-specific housing voucher because he lacked legal custody of his daughter. With the help of an attorney at Legal Aid Foundation in Chicago, Kevin was able to get a formal order of paternity and sole custody of his daughter, and to move into a new apartment. He says he is excited to be a strong role model for his daughter because "by seeing me in college, she will know that she can accomplish anything!"
Historically, there was little collaboration between legal aid organizations and military legal assistance providers or non-lawyer veterans' advocacy organizations. But LSC and the U.S. Department of Veterans Affairs (VA) have worked to change that. Under an initiative begun in 2010, LSC is working to improve access to justice for low-income military veterans and military families. As part of this initiative, LSC supports Stateside Legal (www.StatesideLegal.org), a national web-based resource developed by Pine Tree Legal Assistance in Maine with a Technology Initiative Grant from LSC. Stateside Legal is a free resource for low-income individuals with a military connection, including veterans, current members of the military, and their families. The website provides information on disability benefits, employment matters, and legal protections for service members facing foreclosure proceedings. In 2014, the website had more than 400,000 visitors from all 50 states and several countries including Afghanistan and Iraq. The website recorded nearly 1 million page views. Currently, the website has 10,000 visitors each week.
In conjunction with the VA's Readjustment Counseling Service, LSC began an awareness campaign called the "Vet Center Program" to share information about legal services and create referral systems to help veterans obtain advice and representation in civil legal matters.
LSC grantees provide the elderly and people with disabilities with legal representation, information, counseling, and education in civil legal matters. In 2013, clients who were 60 and older represented 15% of the clients served by LSC grantees. LSC grantees assisted an estimated 180,000 seniors and their family members with legal issues related to predatory lending and consumer fraud, access to affordable housing, and access to necessary medical care.53
Nearly one in five (18%) of those eligible for LSC-funded services are persons with disabilities.54 In 2013, LSC grantees helped more than 80,000 individuals and their family members get assistance in obtaining or preserving federal assistance for disabled persons, securing access to appropriate educational services, and protecting their rights.55
Client Story–VIRGINIA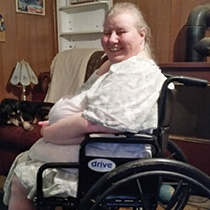 Mrs. "Hill," a wheelchair-bound 53-year-old woman living in Luray, Virginia contacted Blue Ridge Legal Services (BRLS) because she had just learned that her Medicaid benefits had been terminated. Because she had cancer and was receiving chemotherapy treatments, the loss of Medicaid to pay for those treatments was very distressing. Also, Mrs. Hill was so ill from the treatments that she needed home health care services to help her with her daily activities, such as bathing, dressing, toileting, cooking, and cleaning. When the home health care agency learned that she no longer had Medicaid benefits, they immediately stopped sending the home health aide to provide care for her. Losing this critical service left the Hills devastated and hopeless. A paralegal at BRLS was able to convince the Medicaid supervisor to reinstate Mrs. Hill's Medicaid benefits because she qualified under the Elderly and Disabled Waiver Program. As a result of the Medicaid reinstatement, Mrs. Hill was able to receive home health care services again. She is grateful to be able to continue to receive the treatments for her life-threatening illness and the daily home health care she requires.
In the eight years since Hurricane Katrina, LSC has developed expertise in disaster response and has built a network of legal services and partnerships with other organizations to help LSC's grantees better serve clients when disasters strike. In the past three years, LSC assisted legal aid programs in 38 states with disaster preparation and response.
LSC received $950,000 (post-sequestration) in the Disaster Relief Appropriations Act of 2013 to provide storm-related legal assistance to low-income Hurricane Sandy survivors. LSC awarded grants to legal aid programs in New York and New Jersey to help victims of Hurricane Sandy address civil legal issues resulting from the storm. LSC grantees are providing needed legal help with a wide range of storm-related housing issues, including improper evictions, denial of insurance claims or inadequate reimbursement by insurance companies, delays in critical repairs, and home repair scams. In addition to direct service, legal aid lawyers are recruiting and training pro bono attorneys and participating in long-term community recovery groups.
Client Story–NEW JERSEY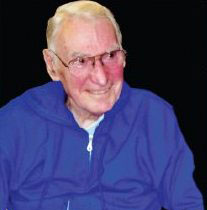 Michael, an 88-year old World War II veteran and quadruple amputee, was displaced from his home by Hurricane Sandy. His home was significantly damaged by the storm, and he was forced to relocate to a skilled nursing facility. He was initially denied Medicaid benefits to help pay for his care. A pro bono attorney working with South Jersey Legal Services successfully obtained long-term Medicaid assistance for Michael. He is grateful for the help he received and is getting the necessary care he requires.
In addition to responding to specific disasters, LSC maintains regular communication with the American Red Cross and FEMA to ensure a coordinated response when disasters occur and convenes regular national Legal Aid Disaster Network calls to address disaster-related issues as needed. The National Disaster Legal Aid website, www.disasterlegalaid.org, is sponsored by LSC, the American Bar Association, the National Legal Aid & Defender Association, and Pro Bono Net. The website helps victims of hurricanes, fires, floods, and other disasters.
---
LSC employs a range of strategies to expand access to justice through the use of technology. Since 2000, LSC has awarded Technology Initiative Grants (TIG) to support projects to develop, test, and replicate technologies that improve client access to high quality legal information and pro se assistance. They have also helped programs enhance their overall information technology infrastructure.
LSC has collaborated with others to finds ways to use technology to provide effective legal assistance. After convening a technology summit that included 75 representatives of legal aid programs, courts, bar associations, government, and business as well as technology experts, academics, and private practitioners, LSC issued a report in 2013 with recommendations to broaden and improve civil legal assistance through an integrated service-delivery system. The report has become a blueprint for using technology creatively to expand access to justice. 56
Annually, LSC hosts a technology conference that brings together LSC grantees and members of the technology community to explore effective uses of technology in legal aid and to encourage project ideas. All LSC recipients of technology grants are required to attend this conference. More than 200 people attended the TIG conference in 2014. The TIG conference is the only national event focused exclusively on the use of technology in the legal aid community.
LSC's Technology Initiative Grant program has played a major role in expanding access to justice. Currently the program is funded at $4 million. LSC requests $5,000,000 for FY 2016, the same amount requested last year, to continue to build on the success of the program and to increase LSC's ability to provide essential information, advice, and representation of more eligible clients.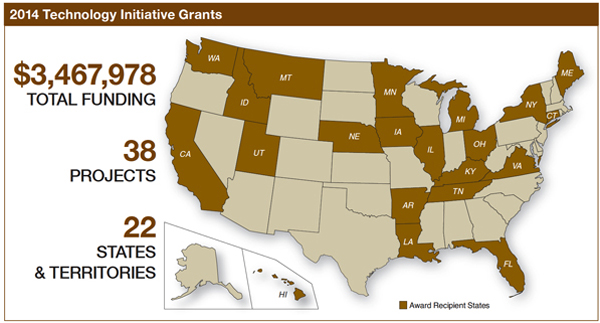 In 2014, LSC awarded technology grants to 38 grantees in 22 states and U.S territories. The grants will support a variety of initiatives, including user-friendly online tools for women veterans, mobile delivery of legal services for clients using text messaging, and video-conferencing technology that reaches low-income clients in rural areas. (See pages 18-19 for the full list of 2014 TIG grants.)
Since 2000, TIG has funded more than 570 projects totaling more than $46 million. With these grants, LSC grantees have been able to build a foundation for better service delivery that includes statewide websites; enhanced capacity for intake and case management systems; and automated forms to support clients, staff, and pro bono efforts. With that foundation in place, LSC is poised to expand access to justice through additional technology innovations. Some notable examples of projects funded include:
Expanded Pro Bono
The Volunteer Lawyers Project of the Boston Bar Association, in partnership with the Massachusetts Bar Association and other state and national pro bono organizations, launched the TIG-funded MassProBono website (www.massprobono.org), a new portal that enhances the delivery of pro bono legal services to people of limited means in Massachusetts. The site:
Supports and encourages pro bono work, matching volunteers across the state with a wide variety of opportunities that fit their interests, location, and schedules.
Raises awareness of the need for pro bono and highlights the pro bono work of the Massachusetts legal community.
Leverages the Pro Bono Net technology platform to offer interactive tools for finding pro bono cases and projects, an event calendar, email groups, news feeds, and a resource library. The centerpiece of the site, the Pro Bono Opportunities Guide, builds on the Boston Bar Association's pro bono catalogue and incorporates interactive functions to create a robust new tool to promote pro bono engagement.
Expanded Access through Library Partnerships
Kentucky, Minnesota, and Tennessee developed partnerships and online tools to provide targeted legal information and resources to low-income people at public libraries and public law libraries.
Kentucky developed a "Legal Research Assistant" tool that helps guide users to appropriate legal resources.
Minnesota built a co-branded satellite site for the Ramsey County library system that provides customized, targeted content specifically for library patrons. It provides critical legal information and referrals on a range of civil legal matters, including housing, family law, elder law, and consumer law. Visitors can fill out court forms, create demand letters, review fact sheets, and find out about upcoming clinics and classes at their local libraries. The content includes dynamic feeds from the statewide legal information website.
Tennessee created a new portal website, Legal Information for Tennesseans, to provide legal information and resources tailored for use by librarians and library patrons.
By developing tools specifically for libraries and their patrons, our grantees provide a trusted resource for people who cannot afford an attorney and help librarians guide people to appropriate legal information and resources. The projects included extensive outreach and training components—over 800 librarians have been trained in Kentucky, Minnesota, Tennessee and 40 other states through in-person local trainings and national webinars. These projects have successfully created a legal aid-library partnership model and new technology tools that can be replicated in other areas. There is already a replication project underway in Florida by Three Rivers Legal Services.
2014 TIG Grants (Total Funding $3,467,978)

State

Grantee

Grant Amount

Grant Description

AR

Center for Arkansas Legal Services

$81,400

Support the development of a mobile-compatible website, including content modification and technical enhancements to ensure that the site works across mobile devices. Upgrade statewide website to automatically provide users a more personalized, user-friendly experience.

CA

Bay Area Legal Aid

$168,324

Use a cloud-based communication platform that sends and receives text messages—allowing staff to connect directly to clients to schedule appointments and send reminders. Automate manual tasks to allow pro bono attorneys, law students, and staff attorneys to more efficiently assist self-represented individuals in consumer law cases.

Legal Aid Foundation of
Los Angeles

$24,069

Enhance client accessibility and program productivity by using videoconferencing technology to bridge geographic barriers among LAFLA's six offices, the LA Law Library, and other community libraries in the greater Los Angeles area.

Legal Services of Northern California

$88,650

Develop and improve the organization's case management software so that it integrates seamlessly with Google Apps. This will allow staff to search contents of a gmail message and any file attachments; access and manage client-specific Google Drive folders; and receive case-specific gmail notifications of time sensitive files.

CT

Statewide Legal Services of Connecticut

$129,726

Develop an interactive online simulation to provide self-represented people a basic understanding of how to self-advocate in court and before regulatory agencies. Establish a national portal for legal aid organizations and law schools to build online trainings and share content.

FL

Legal Services of Greater Miami

$104,756

Create a multi-program online intake system available in English, Spanish, and Creole. The system will integrate with FloridaLawHelp.org, which provides legal service providers' contact information and legal information including self-help information, forms and videos to assist low-income Floridians.

HI

Legal Aid Society
of Hawaii

$92,917

Create automated online court forms using HotDocs and A2J document assembly software and a series of videos in multi-languages on substantive law areas including housing, family and consumer law, and to provide information about the program's A2J document assembly project.

IA

Iowa Legal Aid

$36,372

Implement a new live chat, real-time assistance technology platform that improves upon a variety of features in the existing LiveHelp platform used in ten states to help self-represented litigants navigate free web-based legal resources.

ID

Idaho Legal Aid Services, Inc.

$35,487

Implement a text messaging keyword system to help pro se litigants quickly address problems that arise during their case. This will also include a text messaging appointment and court reminder system for ILAS and its clients to save staff resources and better serve program clients.

IL

Land of Lincoln Legal Assistance Foundation, Inc.

$102,845

Develop a system, using SharePoint Online that will allow advocates across the program to collaborate and locate best practice resources and documents. The system will also pull relevant content from the Illinois Legal Aid Online statewide websites and incorporate workflows developed through ongoing business process analysis efforts.

Legal Assistance Foundation

$68,900

Improve the Illinois statewide website by leveraging strategic workflow design and innovative technology solutions developed through a partnership with business process analysis experts. New systems will ensure that the site content is updated in a timely, consistent, and comprehensive manner.

KY

Legal Aid Society

$182,445

Create KY Justice Online, a web-based, tiered approach to pro bono assistance utilizing librarians and volunteer attorneys. Develop a secure, enterprise-level information management system through Microsoft SharePoint 2013 that will expand the organization's capacity to provide client services while improving case managers' efficiency and quality of work

LA

Acadiana Legal Service Corporation

$58,788

Develop a series of eight expert systems that will lead users to appropriate referral sources, relevant legal information, document assembly self-help forms, and application procedures for additional assistance.

Southeast Louisiana Legal Services Corporation

$31,400

Develop automated online forms and accompanying instructions to assist public libraries provide legal information in four substantive areas—expungement, modification of child support, custody by mandate, and small claims matters.
The project includes trainings for librarians on the new system.

ME

Pine Tree Legal Assistance, Inc.

$138,139

Develop new user-friendly tools specifically for women veterans on Stateside Legal, a national veteran's legal assistance website. Create web-based expert systems involving key legal issues associated with debt collection defense in Maine.

MI

Legal Aid of Western Michigan

$81,400

Create an automated online intake system to expand services to clients in western Michigan, allowing clients to apply for services at any time through the web. The project team will also develop a new application that makes it easier for other programs across the country to set up their online application systems.

MN

Anishinabe Legal Services, Inc.

$70,975

Automate 21 tribal court forms for self-represented litigants with civil matters to use before the Leech Lake and White Earth Band of Ojibwa Tribal Courts in northern Minnesota.

Central Minnesota Legal Services, Inc.

$78,400

Create a LawHelp Interactive Analytics Toolkit that will help measure and track website traffic to specific LawHelp Interactive (LHI) pages and create reports using the existing data warehousing/mapping LHI tool. Programs will be able to use this data to design better legal self-help interviews and provide better instructions to interview users.

MT

Montana Legal Services Association

$52,946

Automate Montana's revised family law forms using Hotdocs and A2J software. This project is a partnership between MLSA and the Self-Represented Litigants Committee of the Montana Supreme Court Access to Justice Commission.

NE

Legal Aid of Nebraska

$91,400

Create a Rural Virtual Access to Justice Center that will serve as the technological hub for pro bono and assisted pro se through virtual law offices at courthouses and public libraries in remote Nebraska counties defined by the state bar association as "rural legal shortage areas."

NY

Legal Assistance of Western New York, Inc.

$195,527

Develop a reminder system that will notify clients of upcoming office appointments, clinics, court appearances, or deadlines through text message integration with LegalServer, the program's case management system.
Support innovative programs such as Court Navigator program, LiveHelp and community-based pilots that engage non-traditional justice partners. Target key improvements to LawHelpNY.org—the statewide legal information website for
low-income New Yorkers.

OH

Legal Aid of Western Ohio, Inc.

$94,150

Create a statewide online resource center of automated court forms for low-income litigants, legal aid staff and volunteers, and pilot video companion guidance for a set of automated expungement forms.

Ohio State Legal Services

$725,200

Support and enhance LawHelp Interactive (LHI), the national online document assembly service, to provide support to legal services, court, pro bono, and law school programs in more than 40 states. Funds will also support the fine-tuning of LHI performance following the launch of a newly re-architected system and continue to support the adoption of online forms by new partners.

PR

Puerto Rico Legal Services, Inc.

$83,900

Create a portal where private attorneys can register to provide pro bono services to indigent persons in courts throughout Puerto Rico. This portal, linked to a new statewide website, will allow for the identification, recruitment and support for attorneys while also connecting them to needy clients and assisting them
in obtaining free Continuing Legal Education accredited training in exchange
for their services.

TN

Legal Aid Society of Middle Tennessee and the Cumberlands

$78,862

Use advanced videoconferencing technology to extend the program's reach to potential clients within its rural service area while also connecting staff and pro bono attorneys across the organization.

UT

Utah Legal Services, Inc.

$31,400

Expand the domestic pleading library, via HotDocs, and make it fully utilized by program staff and volunteer attorneys handling contested domestic cases; and create automated documents for use in Social Security Disability matters.

VA

Central Virginia Legal Aid Society, Inc.

$251,400

Produce a cloud-based software application called JusticeServer that will improve case management for legal aid and pro bono attorneys. The system will allow multiple legal aid organizations to add cases to an online portal and allow volunteer attorneys across a state or jurisdiction to accept cases through the portal with no limitation on the number of organizations or users on either side.

Legal Services of Northern Virginia, Inc.

$91,400

Create the Virginia Legal Aid Help 2 Go Project, which will use text messaging to guide users to a mobile friendly website that offers a series of video vignettes on family, consumer and housing law matters in both English and Spanish.

Virginia Legal Aid Society, Inc.

$151,400

Automate the telephone intake system to assess the type of service needed by the caller, route the caller to the most appropriate service, and prioritize case types and assemble data into the intake fields of the case management system.

WA

Northwest Justice Project

$45,400

Optimize and implement upcoming enhancements to Google Analytics to enable administrators of statewide websites to easily and accurately assess how users are accessing and interacting with their websites. The project will also allow Washington LawHelp and other states to build and share custom reporting dashboards.

TOTAL

$3,467,978
Expanded Access for Populations with Special Needs
A project of the Northwest Justice Project expanded access to civil legal aid services for deaf, hard-of-hearing, and deaf-blind individuals in Washington State. The project uses videophone to videophone technology to allow deaf, hard-of-hearing, and deaf-blind individuals to communicate directly with an attorney fluent in American Sign Language (ASL) about their civil legal needs. The project produced know-your-rights videos about relevant federal laws, including the Americans with Disabilities Act, Individuals with Disabilities Education Act, and Social Security Disability Insurance, and a video for legal aid providers on tips for working effectively with deaf clients using ASL. Finally, it produced video and electronic outreach to these communities regarding the availability of legal aid services.
Expanded Use of Automated Documents and Forms
The LawHelp Interactive (LHI) project funded through Ohio State Legal Services hosts more than 2,500 automated forms and documents from over 40 states. From January to September 2014, LHI delivered 712,543 interviews and assembled 398,680 documents. This is a 15% increase in interviews and a 17% increase in document assemblies from the prior year. Other states have also greatly increased their document assembly abilities, including New York, California, Michigan, Illinois, and Texas; both New York and Texas experienced more than 20% growth in 2014 compared to 2013.
Over the past several years, LSC has offered scholarships to grantees that have never had a TIG, or have not had one for many years, to attend its annual TIG conference. This program has proven to be successful. LSC plans to build on these initiatives by replacing the TIG scholarships with a Technology Fellowship Program. The Fellowship Program will build on LSC's work to increase technology capacity in legal aid programs and will provide increased training and mentoring to staff to implement technology projects. In developing the criteria for selecting fellows and recruiting fellowship applications, LSC has sought the assistance of leaders in the use of technology to support legal aid.
---
LSC requests $5,000,000 for its Pro Bono Innovation Fund (PBIF)—the same amount LSC requested for FY 2015. Congress appropriated $4 million for this fund for FY 2015.
LSC's $5 million request for FY 2016 represents approximately 1% of the overall budget request. The PBIF supports new and innovative projects that promote and enhance pro bono initiatives throughout the country. It leverages federal dollars to increase free civil legal aid for low-income Americans by engaging private attorneys.
Although pro bono volunteers cannot replace the work of legal aid lawyers, many of whom are subject-matter experts, the private bar continues to be a critical resource in addressing the civil legal needs of the low-income community. Private practitioners, in-house corporate counsel, retired lawyers, law students, and paralegals are eager to assist by donating their time.
For the first time, Congress appropriated $2.5 million for the Pro Bono Innovation Fund for FY 2014, allowing LSC to implement a new competitive grant program modeled on the successful TIG program. LSC awarded 11 grants last year to support a variety of innovative and collaborative projects.
LSC developed and implemented a competitive grant program with a rigorous review process following the appropriation of $2.5 million in 2014. The first grant-making cycle of the Pro Bono Innovation Fund was extremely competitive, with significant interest from LSC grantees and justice stakeholders. LSC received 79 applications from 41 states; 58% of LSC's grantees submitted applications or were involved as partners in proposed projects. More than $15 million was requested; the average request was $196,000 for project costs.
The applications reflected important trends and challenges for legal services organizations and the pro bono delivery system. They included:
Rural delivery and remote access. 43% of the applications sought to improve access for rural clients.
Technology to expand services and efficiency. 34% sought to expand services, streamline volunteer management, or heighten awareness of legal information or volunteer opportunities using technology.
Leveraging partnerships. Applicants proposed to collaborate with partners to reach more clients, target special populations, and recruit new volunteers to pro bono service. Partners include large law firms, corporate legal departments, law schools, state courts, bar associations, state Access to Justice Commissions, community service providers, and health care providers.
The projects and organizations funded represent a diverse range of approaches to pro bono delivery, leveraging significant resources to expand services and address pressing client needs. The following are a few examples of successful pro bono partnerships that LSC grantees have forged with the assistance of Pro Bono Innovation funding.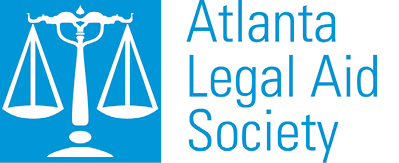 After closely studying outcomes for seniors who received advice through its statewide Senior Legal Hotline, Atlanta Legal Aid Society sought to improve client follow-through on the advice provided using pro bono attorneys to make follow-up contact. The initial results have shown that follow-up contact by pro bono attorneys increases successful outcomes for clients. Over the next two years, this project will expand on this initial success and systematically integrate volunteer attorneys in other Atlanta Legal Aid practice areas and offices. Pro bono volunteers will place follow-up calls to clients to provide assistance and better equip clients to represent themselves. The follow-up contact will also be designed to collect data to evaluate and improve the effectiveness of the initial service provided to clients. The project will be launched at the same time that the organization establishes a complementary Senior Lawyer Program to recruit and provide support to senior attorneys in pro bono service.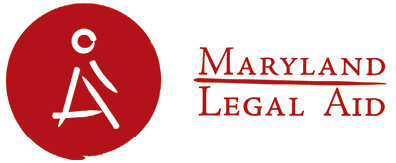 Maryland is home to 465,000 veterans of the United States Armed Forces. Many are homeless or living at or below the poverty line, struggling to meet their basic livingneeds. Currently, there are no statewide legal aid organizations that provide comprehensive legal services to veterans. Maryland Legal Aid will establish a single, statewide Veterans Hotline staffed by pro bono attorneys trained to meet the needs of Maryland's veteran population. Many questions and issues posed by veterans may be resolved through brief advice, and when more extensive assistance is needed, a pool of qualified pro bono lawyers willing to handle veterans' legal matters will be available. Maryland Legal Aid, together with its project partner, the Pro Bono Resource Center, will recruit and train volunteers on a statewide basis and collaborate with other service providers on referrals.

In New York State, Chief Judge Jonathan Lippman has established two major pro bono initiatives: one requiring 50 hours of pro bono work for applicants to be admitted to the New York State bar on or after January 1, 2015, and another establishing the Attorney Emeritus Program to encourage experienced attorneys to offer their skills to legal aid providers. The six LSC grantees in New York State which provide legal services to every urban, suburban and rural community outside of New York City are partnering to create a new pro bono practice group to coordinate pro bono opportunities among their 33 offices and nine area law schools, including the Feerick Center for Social Justice and Dispute Resolution at Fordham University School of Law, which staffs the Attorney Emeritus Program for the Office of Court Administration. Through the project, thousands of hours will be donated to help low-income New Yorkers resolve civil legal problems in areas affecting the essentials of life—housing, family matters, subsistence income, and access to health care and education.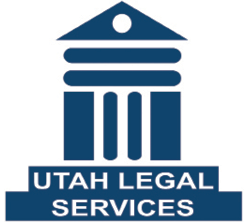 People who represent themselves in legal proceedings need advice and assistance at critical points during the process to avoid costly mistakes and overcome daunting obstacles. Utah Legal Services is partnering with the Self Help Center of the Utah State Courts, local Utah State Bar Pro Bono Committees, Timpanogos Legal Center, and volunteer law students and attorneys to create a continuum of services for clients representing themselves in family law matters in rural areas. The project will expand a successful collaboration among these partners to provide tiered services to unrepresented clients at Self-Help Centers. Eligible individuals in need of legal assistance will access an online meeting and document-sharing platform to receive advice and assistance from on-call pro bono attorneys. Clients who need additional assistance preparing documents will be referred to document clinics hosted in rural areas using an online platform for pro bono law students and attorneys to provide document preparation assistance virtually. Utah Legal Services plans to pilot the project in two judicial districts and replicate the project in other parts of the state.
2014 PBIF Grants

State

Pro Bono Innovation Grant

Project Description

CA

$309,451

Legal Aid Foundation of Los Angeles, Neighborhood Legal Services of Los Angeles and OneJustice will collaborate to develop the California Pro Bono Training Institute, a statewide online forum of "universal" substantive trainings that will provide legal services organizations and pro bono attorneys with high quality, engaging, on-demand CLE trainings.

CO

$173,808

Colorado Legal Services will collaborate with the Colorado Bar Association to develop and test different technologies and clinic structures to identify the most effective ways to replicate metropolitan-area pro bono clinics in isolated, rural parts of the state.

GA

$212,837

Atlanta Legal Aid Society will use pro bono attorneys to make follow-up contact with clients and provide additional brief services, which is proven to significantly improve client outcomes.

IL

$158,815

Prairie State Legal Services will better serve the legal needs of single parents using volunteer attorneys from the "collar counties" surrounding Chicago to provide legal information, advice, and brief services on family law issues. PSLS will collaborate with Illinois Legal Aid Online to leverage online recruitment and intake and will develop on-demand e-learning modules that can be used by pro bono attorneys throughout the state.

MA

$158,045

The Volunteer Lawyers Project of the Boston Bar Association will test and prototype "pop-up" clinics, a customized virtual law firm platform, and cost-effective videoconferencing to allow pro bono bankruptcy volunteers in Boston to train and mentor pro bono attorneys in parts of the state where there are no pro bono bankruptcy attorneys available.

MD

$265,464

Maryland Legal Aid will establish a single, statewide Veterans Hotline, staffed by qualified pro bono attorneys who will be recruited and trained throughout the state to effectively and efficiently meet the needs of Maryland's veteran population.

MT

$141,087

Montana Legal Services Association's project will address the challenges to statewide pro bono service delivery by targeting the barriers for the solo practitioners, small firms, government attorneys, law students, and paralegals. It will also develop a statewide limited-scope technology platform for these volunteers.

NY

$314,068

In response to Chief Judge Jonathan Lippman's two major pro bono initiatives, the six LSC grantees in New York State are partnering to create a new pro bono practice group to coordinate pro bono opportunities among their 33 offices and nine area law schools, including the Feerick Center for Social Justice and Dispute Resolution at Fordham University School of Law which staffs the Attorney Emeritus Program for the Office of Court Administration.

PA

$240,305

Philadelphia Legal Assistance Center's project will use the network of existing neighborhood public health centers to create a pro bono law student-driven Medical Legal Community Partnership that will improve access to comprehensive, coordinated health and legal care that promotes the well-being of underserved low-income families and individuals.

UT

$190,000

Utah Legal Services is partnering with the Self-Help Center of the Utah State Courts, local Utah State Bar Pro Bono Committees, Timpanogos Legal Center, and volunteer law students and attorneys to provide a continuum of service for clients representing themselves in family law matters in rural areas in Utah. These organizations will expand their collaboration by creating an online meeting and document sharing platform that connects clients with on-call volunteer attorneys.

WA

$211,120

Northwest Justice Project plans to systematically increase the levels of extended services provided to low-income clients by pro bono attorneys by developing a comprehensive set of resources to support volunteer lawyers in providing significant assistance beyond advice or limited action.
Every LSC grantee is required to spend 12.5% of its basic field grant to involve private attorneys in the delivery of civil legal assistance to eligible clients. In 2013, pro bono cases represented 10.5% of all cases closed—the largest number in LSC's history. LSC has worked diligently to expand pro bono services by implementing the recommendations of the LSC Board of Directors' Pro Bono Task Force, which issued a report in 2012. To date, LSC has:
Published a new Private Attorney Involvement (PAI) regulation in the Federal Register that became effective in November 2014.
Developed a new pro bono toolkit web page that includes approximately 40 examples of best practices.
Compiled a state-by-state inventory of rules to foster and promote pro bono participation.
In conjunction with LSC's 40th Anniversary, initiated a campaign to raise private funds to help LSC launch several fellowship programs, including a one-year program for senior or emeritus attorneys to support pro bono programs at LSC grantees.
---
LSC recently conducted a survey of its grantees to determine the impact of funding changes on operations and services in 2014. From FY 2013 - 2014, LSC's overall funding increased by $25 million. Because of shifts in the location of the poverty population from 2000 to 2010, the distribution of basic field funds to LSC grantees was reallocated in 2013 and 2014. LSC's basic field grants are, by law, distributed based on the U.S. Census Bureau's determination of the location of the poverty population.
Some grantees received an increase in their basic field grant in 2014, while others saw a reduction in funds. The majority of grantees reported that the increase in LSC FY 2014 overall funding helped to maintain current services and staffing levels. Because some grantees experienced reductions in other funding sources, the increased congressional appropriation from LSC helped them avoid layoffs and reduction in client services. LSC grantees that received an increase in federal, state, and private funding increased services and hired additional staff. For example:
Florida – One grantee increased attorney staff from 25 to 29, enabling the grantee to re-staff a county office that handles domestic violence and landlord-tenant representation. This has provided renters in the eastern and southern counties with legal representation. Another grantee added three full-time staff attorneys and one full-time non-attorney employee, representing the highest number of staff since 2010.
Iowa – LSC has one grantee in Iowa that provides state-wide service. Increases in the grantee's LSC funding in 2014 enabled it to replace eight staff who left in 2013-2014, but the program's overall funding remains significantly lower than in 2010. Federal funding alone was $250,000 less in 2014 than in 2010. Interest on Lawyers Trust Accounts (IOLTA) funding has decreased by 83% since 2010, and the number of Iowans eligible for legal aid has increased by 39%. Although the program provided services to approximately 18,000 households, they still turned away 13,500 people. The lack of consistent funding makes it difficult to retain experienced staff and provide the compensation necessary to remain competitive.
Nevada – One grantee received the largest percentage increase in LSC funding in 2014 because of the census adjustment. As a result, the grantee opened three new offices in rural areas underserved in the past and created a Veterans Service program. Program staff in the Veterans Service office provide legal assistance to eligible veterans with a particular focus on the homeless.
North Carolina – Increases in LSC funding allowed the one state-wide grantee to open a satellite office in a remote rural county that has been underserved, enabling more than 200 families to receive critical legal help. The grantee was also able to offset the funding gap left by a 25% reduction in IOLTA and state funding.
Virginia – A grantee was able to stabilize its staff and the number of cases closed after experiencing funding declines in 2011 and 2013. The grantee ended the year with a positive fund balance for the first time in seven years and hired new staff for the first time in six years.
As a result of the census-driven reallocation of funding, other LSC grantees saw their funding reduced and were forced to reduce services to clients, lay off staff, and close offices. For example:
California – A Los Angeles grantee's LSC funds were reduced by $1.4 million, which required the elimination of 17 positions—including attorneys and support staff with over 30 years of experience. The client community suffers as a result of funding cuts.
Delaware – The grantee reports that its LSC funding is approximately 55% of what it was in 1995, adjusted for inflation, despite the poverty population's having more than doubled in that time. Because of funding cuts from both LSC and non-LSC sources during the past several years, the program has had to lay off staff.
Louisiana – The LSC grantee in the southeastern area of the state had to lay off 10% of its staff in 2013 and 2014. Another 5% of the program's staff left because of the instability in funding sources. As a result, the program has had to reduce the types of cases it handles and can help fewer people.
Michigan – One grantee has been forced to reduce intake hours from seven to four hours a day because of cuts in support staff.
---
LSC requests $19,500,000 for Management and Grants Oversight (MGO), the same amount LSC has requested for the past six years. Congress appropriated $18.5 million for MGO in FY 2015.
The proposed MGO budget would allow LSC to improve oversight, add staff in the Office of Compliance and Enforcement (OCE) and the Office of Program Performance (OPP), increase the number of grantee visits, ensure compliance with good fiscal practice and regulatory and statutory requirements, and improve service delivery to clients. LSC plans to continue projects to upgrade its information technology systems. The proposed budget would also permit implementation of improved collection and analysis of data regarding grantee performance.
LSC's Office of Program Performance continues to invest resources in program assessment visits, technical assistance, and other initiatives for grantee support. OPP has the primary responsibility for administering the competitive grants application and awards process, for assessing the quality of grantees' legal services delivery, and for sharing best practices for providing high quality civil legal services, and for promoting innovative uses of technology by grantees.
In 2014, OPP conducted 36 onsite assessment visits in Alaska, Arizona, Arkansas, California, Connecticut, Florida, Illinois, Kentucky, Louisiana, Maryland, Massachusetts, Michigan, Minnesota, Montana, New Jersey, New York, North Dakota, Oklahoma, Oregon, Pennsylvania, Rhode Island, Tennessee, Vermont, Virginia, and the Virgin Islands. OPP anticipates completing 38 onsite assessment visits in 2015.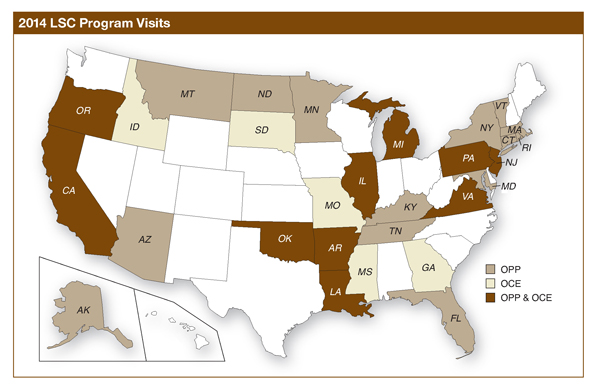 LSC's Office of Compliance and Enforcement (OCE) has the primary responsibility for monitoring grantee compliance with the LSC Act, regulations, and funding restrictions. OCE also ensures compliance with LSC's Accounting Guide; conducts oversight reviews regarding compliance with the LSC Act and other LSC guidance, including fiscal-related regulations; initiates questioned-cost proceedings; identifies required corrective actions; and provides technical assistance and training to grantees.
In 2014, OCE conducted 24 onsite visits—16 compliance oversight visits, three technical assistance visits, one targeted investigation visit, three follow-up visits, and one capability assessment visit—in Arkansas, California, Georgia, Idaho, Illinois, Louisiana, Michigan, Mississippi, Missouri, New Jersey, Oklahoma, Oregon, Pennsylvania, Puerto Rico, South Dakota, and Virginia. In addition, OCE conducted web-based trainings for six programs—in Arizona, California, Florida, Louisiana, Maine, and Massachusetts. OCE anticipates completing 23-25 onsite visits in 2015.
LSC continues to take appropriate enforcement and corrective actions against grantees that have been found out of compliance with the LSC Act and other laws and regulations. Questioned-cost proceedings were completed against four grantees in 2014, and funds were recouped and issues resolved via informal negotiations with five grantees.
In August 2014, the U.S. Government Accountability Office (GAO) determined that LSC had fully implemented all recommendations from GAO's 2010 report on LSC (GAO 10-540). LSC has improved its internal processes for awarding grants and overseeing grantee performance and compliance. GAO's close-out of its recommendations is reflected on the GAO website at www.gao.gov/products/GAO-10-540.
LSC will continue to work with our grantees to maximize their efficiency, effectiveness, and quality; to promote innovation in the delivery of legal services; and to serve as many constituents as possible. Enhanced oversight and additional training will help ensure that LSC funds are well managed and efficiently used. Increased funding will help meet the critical needs of grantees and the low-income clients they serve and enable LSC to promote and achieve high standards of fiscal responsibility.
---
LSC requests $1,000,000 for the Herbert S. Garten Loan Repayment Assistance Program (LRAP) for FY 2016, the same amount appropriated annually (pre-sequestration or rescission adjustments) since FY 2009.
Starting as a pilot program in 2005, LRAP has enabled LSC grantees to recruit and retain high-quality attorneys. Past evaluations of the program show that large law school loan debts for legal aid attorneys, coupled with low salaries, constitute major barriers for grantees in hiring and retaining talented lawyers. The evaluations found that LRAP mitigates the economic hardships confronting grantee attorneys and increases their ability and willingness to remain with legal aid organizations.
To qualify for LSC's Loan Repayment Assistance Program, an attorney must:
Be a full-time employee of an LSC grantee.
Have tenure of no more than five years with the LSC-funded organization.
Have at least $50,000 in qualifying law school debt.
Have a total income (from all sources) of no more than $55,000 ($61,300 for employees of Alaska Legal Services Corporation).
Have a net worth of no more than $35,000.
In 2014, LSC's LRAP received 241 applications (new and renewal) from attorneys at 78 grantee offices in 40 states and Puerto Rico. The average law school debt for first-year applicants was nearly $148,000. In 2014, LSC provided loan repayment assistance to 181 applicants, including 74 new LRAP participants. The FY 2015 request for $1 million would permit LSC to assist 75 new attorneys for three years.
Median Starting Salaries for Attorneys

Category

Salary

Private Lawyers (Firm of 251 or More Attorneys)

$135,000

Local Prosecutors

$51,141

Public Defenders

$50,400

Other Public Interest Lawyers

$46,000

Civil Legal Aid Attorneys

$44,636
Studies consistently show that civil legal aid lawyers are the lowest paid group in the entire legal profession, earning less than public defenders and other public interest lawyers. The gap between private sector and public interest lawyers' salaries remains large. According to the National Association for Law Placement (NALP), entry-level civil legal aid lawyers earn a median salary of $44,636, and a legal aid attorney with 11-15 years of experience can expect a salary of approximately $65,000. In contrast, the median salary for first-year lawyers at private firms with 50 or fewer attorneys is $105,000, and higher for larger firms.
Among attorneys in public service, the median starting salary for civil legal aid lawyers is approximately $6,000 less than both public defenders ($50,400) and local prosecutors ($51,100). NALP's findings are consistent with LSC's salary surveys which show that in 2013 first year staff attorneys at LSC grantees were paid an average of $43,141 a year and attorneys with 10-14 years of experience averaged $59,179.
---
(This section was prepared by the OIG and included without change.)
For FY 2016, the Office of Inspector General (OIG) is requesting $5,100,000. The OIG contributes to LSC's success by providing objective reports and analysis to decision-makers to enhance oversight and proper management and increase accountability, responsibility, and transparency in LSC and grant recipient operations. This budget request supports a robust, high impact OIG, including maintenance of adequate staffing and training levels to continue ongoing audit, investigative, evaluation, and fraud prevention activities, providing Congressionally mandated oversight and helping to improve performance of the LSC's vital programs.
The OIG was established under the IG Act of 1978, as amended, as an independent office whose mission is to prevent and detect fraud, waste and abuse, to promote economy, efficiency, and effectiveness in LSC and grantee operations, and to help ensure compliance with applicable laws and regulations. LSC received $375,000,000 in direct federal funding for FY 2015. Audits, investigations, and evaluations are the primary tools used by OIG to protect and maximize federal taxpayer dollars invested in civil legal aid. The work of the OIG meets the professional standards of the Council of Inspectors General on Integrity and Efficiency and other governmental and professional organizations.
In FY 2014, the OIG provided independent reports and expert analysis to help LSC effectuate positive change and ensure the integrity of LSC and its grantee operations, including but not limited to:
The OIG issued 88 formal recommendations for program and operations improvements to LSC and LSC grantees. The OIG issued nine audit reports, including seven audits of the adequacy of grantees' financial internal controls over approximately $20.6 million in LSC grant funds. Management decisions sustaining questioned costs during FY 2014 amounted to more than $259,000. The Corporation's 2013 financial statement audit was issued with no significant deficiencies; however, the contract auditors identified an opportunity for strengthening LSC's internal controls and operating efficiency.
The OIG closed 28 investigations in FY 2014. Investigations involved matters such as fraud and financial irregularities by grantee employees, the unauthorized outside practice of law, time and attendance abuse, and the improper use of LSC funds. Cases arising from OIG investigations resulted in referrals for criminal action, federal debarment proceedings, sustained questioned costs of over $21,000 and restitution to grantees of over $11,000 in misspent funds.
The OIG maintained a proactive fraud prevention program conducting 38 Fraud Awareness Briefings, three Fraud Vulnerability Assessments, three joint Fraud and Regulatory Vulnerability Assessments, and issuing fraud alerts. The OIG published the first "Fraud Prevention Guide for LSC Grantees," discussing various fraud schemes investigated by the OIG and providing grantee employees and financial managers with key fraud indicators and concrete suggestions to help prevent fraud.
In 2013 the OIG received the Council of Inspectors General on Integrity and Efficiency Award for Excellence for the OIG's innovative regulatory vulnerability assessment program and in 2014 the LSC's Board of Directors passed a resolution to specifically recognize this OIG achievement.
Since 1996, LSC's annual appropriations have directed that grantee compliance with legal requirements be monitored through the annual grantee audits conducted by independent public accountants (IPAs) under guidance of the OIG. This year the OIG reviewed 84 grant recipient audit reports and referred significant fiscal and compliance findings to LSC management for corrective action. Further, as the OIG is tasked with ensuring the quality of audits of LSC and its grantees, the OIG pursued a successful Quality Control Review (QCR) program. A total of 132 quality reviews have been completed under the program that has enabled us to identify deficiencies in IPA work (and led to the debarment of an IPA for faulty work), improve IPAs' compliance with applicable standards and OIG guidance, and improve the overall effectiveness and quality of LSC grantee audits.
The OIG also recommends revisions and updates to LSC regulations, policies and practices. In FY 2014, the OIG identified opportunities for improvements in LSC operations and policies in major management areas including:
Acquisition Management – Where oversight and monitoring are vital to ensuring effective contracting and the safeguarding taxpayer dollars, the OIG has produced a series of recommendations and reviews. These included an original audit of consultant contracts (2009), a sole source contracting review (2013), procurement training recommendations (2013), a memorandum suggesting revisions to LSC's procurement and contracting policies and procedures (2014), and a follow-on audit of LSC's consultant contracts (2014).
Grants Management – The OIG contributed to LSC grants oversight beyond its investigations and audits by commenting on regulatory changes to LSC's private attorney involvement (PAI) rule and identifying ways to ensure compliance and avoid interpretive difficulties. Additionally, the OIG recommended that LSC management collect and analyze more comprehensive compensation data for grantees' key employees in order to improve fiscal oversight and the effective and efficient use of grants funds.
Information Technology (IT) – The OIG performed the first risk assessment of LSC's IT systems based on the National Institute of Standards and Technology standards, identifying significant deficiencies and technical vulnerabilities. The OIG also provided substantive comments in the development of LSC's Electronic Systems Usage policies.
Human Capital Management – The OIG responded to LSC's requests for comments regarding the development of numerous important LSC policies, including those involving ethics and conduct, conflicts of interest, whistleblowers, and equal employment opportunity. Further, the OIG helped improve the Corporation's personnel recruitment efforts by suggesting LSC establish a permanent business relationship with the Office of Personnel Management to utilize its USAJOBS.gov website.
Internally, management improvements combined with the implementation of new information management systems, and training are resulting in a higher performing OIG.
Audit Program: The OIG is further aligning its work to focus on issues identified with LSC's Major Management Challenges. Under a new Assistant IG for Audit, the audit unit has reorganized and has hired skilled former government and non-government audit professionals. This has already resulted in increased production of grantee audits.
Business Systems: Recently, the OIG has invested in information management systems tailored to increase efficiency and productivity, including: an audit management system used predominantly in federal OIG offices; continued development of an OIG intranet platform which has already improved the sharing of OIG information across component lines and improved coordination among OIG units; and the launch of a new, more user friendly website. Within the platform, the OIG is continuing the development of an existing investigation case management system and further expansion of LSC grantee and risk information modules. The OIG relies on the services of an IT services consultant to ensure OIG systems are stable, current, and secure.
For FY 2016, the Office of Inspector General is requesting $5,100,000 or $750,000 more than the FY 2015 appropriated amount of $4,350,000. This would allow the OIG to continue robust oversight of LSC programs and operations, and performance of its statutorily mandated functions. For perspective, the OIG request is 1.05% ($5.1 million/$486.9 million) of the total LSC request, and the requested increase is 0.15% of the LSC FY 2016 request adopted by the LSC Board of Directors.
This request comes at the end of a multi-year operational plan that spent down carryover funds in support of OIG operations while not increasing annual budget requests. Given the highly labor-intensive nature of OIG's work and the need to pay for expanded investigative and audit coverage, these resources are necessary for OIG to meet its mission requirements. This funding amount is critical to bring OIG appropriations in line with current expenses, thereby maintaining stability in OIG planning, workforce and operations.
The $750,000 increase is required to sustain base operations ($400,000) and to support the continuation and development of existing OIG programs ($350,000), including the comprehensive QCR program. Based upon our recent identification of critical IT security vulnerabilities at LSC, the high risk nature of IT, and the need for ensuring confidentiality in providing legal services, the OIG plans to expand its information security review to LSC grantees if funding is available to support the program. Funding below this level would significantly impact the OIG's ability to fulfill its mission and may require adjustments and possible eliminations in operational elements including: the depth and the breadth of OIG's oversight performance; decreases in travel (critical to the performance of OIG audits and investigations); significant cost cutting in programs, including the QCR and IT security reviews, and significant cost cutting in OIG IT infrastructure and support.
As seen in the chart this request level would be the first substantial OIG budget increase since FY 2009 and is in line with the relative growth of LSC's Management and Grants Oversight (MGO) from the FY 2009 budget to FY 2016 request level.
OIG/MGO Funding Comparison FY 09-16

FY

OIG

MGO

09

Appropriations $4,200,000

Appropriations $16,000,000

10

$4,200,000

$17,000,000

11

$4,192,000

$16,966,000

12

$4,200,000

$17,000,000

13

$3,902,000

$15,792,000

14

$4,350,000

$18,000,000

15

$4,350,000

$18,500,000

16

Request $5,100,000

Request $19,500,000
Historically, the LSC OIG budget is in line with other OIGs in the federal Inspector General community who have similarly sized entity budgets to LSC ($250-$500 million). The FY 2013 LSC OIG-to-entity budget ratio is below the group's average and falls generally in the middle of the comparison group.
In FY 2016 the OIG will use its ongoing risk assessments and strategic planning to determine the assignment and further leveraging of OIG resources. Generally, the OIG allocates priority to the following areas of work: governance and accountability, fraud prevention and detection, statutory and regulatory compliance, LSC grants administration, LSC and grantee operations, and oversight of the grantee audit process. Resources will also be used to respond to requests from the Congress, the Board of Directors, LSC management and other interested parties.
A major component of the FY 2016 budget request is funding the OIG's operation of the LSC audit program. The OIG will continue to objectively audit LSC and grantee operations and review all LSC grant recipients' annual audits, including financial statements, internal controls, and compliance with mandated restrictions and prohibitions. The OIG refers significant audit findings to LSC Management for resolution and tracks corrective actions. The OIG continues to fund and oversee the annual audit of LSC's financial statements.
The OIG conducts investigations of criminal and civil fraud committed against LSC and its grant recipients, and operates a national fraud, waste and abuse reporting hotline. The OIG conducts compliance investigations, administrative inquiries, fraud vulnerability assessments, and fraud prevention briefings.
Further, the OIG will continue to improve effectiveness and efficiency in grants management, administration, and operation of LSC and its grantees through its reviews and advisories and will provide objective reviews on significant legislative, regulatory, management and policy initiatives affecting LSC.
If fully funded, the OIG will continue its comprehensive audit quality control program to ensure the quality of the IPAs' work. The OIG will expand its IT security vulnerability reviews to LSC grantee operations. Internally, the OIG will continue to promote effective operations, by further developing information management systems that facilitate the efficient production and timely delivery of OIG work, sustaining a secure and reliable IT environment, and ensuring our skilled employees meet professional standards through continuing professional education and training.
As required by the Inspector General Act of 1978, as amended, I, Jeffrey E. Schanz, Inspector General of the Legal Services Corporation, certify that the request includes $60,000 to satisfy foreseeable OIG professional training requirements required to maintain the OIG professional credentials for FY 2016. The OIG also anticipates contributing $15,000 to support the operations of the Council of the Inspectors General on Integrity and Efficiency.
The submitted budget request is necessary for the LSC OIG to adequately perform the legislative missions required by the Inspector General Act, as amended, and to provide objective, relevant, and timely reporting to the Congress and LSC on core management challenges and oversight issues, thereby increasing public confidence in the proper expenditure of limited LSC funds.
The OIG greatly appreciates the continuing support of the Congress and the LSC Board as it carries out its work.
---
1 Investing in Justice, A Roadmap to Cost-Effective Funding of Civil Legal Aid in Massachusetts. A Report of the Boston Bar Association Statewide Task Force to Expand Civil Legal Aid in Massachusetts, October 2014.
2 The Task Force to Expand Access to Civil Legal Services in New York, Report to the Chief Judge of the State of New York, State of New York Unified Court System, November 2014.
3 Data for 63.5 million figure from U.S. Census Bureau, 2013 American Community Survey 1-Year Estimates, Table S1701: Poverty Status in the Past 12 Months. Data for 37.5 million figure calculated from 2013 American Community Survey 1-Year Estimates, Table S1701, and data from the Survey of Income and Program Participation (SIPP)provided to LSC by the Census Bureau.
4 Data for children and seniors from U.S. Census Bureau, 2013 American Community Survey 1-Year Estimates, Table S1703: Selected Characteristics of People at Specified Levels of Poverty in the Past 12 Months. Data for persons with disabilities calculated from 2013 American Community Survey 1-Year Estimates, B18130: Age by Disability Status By Poverty Status, and American Community Survey 1-Year Estimates, Table S1703, various years.
5 LSC estimate based on poverty data for veterans in 2013 American Community Survey 1-Year Estimates, Table S2101, Veteran Status, and ratio of population with income between 100% and 125% of poverty and population with income less than 100% of poverty in American Community Survey 1-Year Estimates, Table S1703, various years.
6 2013 American Community Survey 1-Year Estimates, Table S1703.
7 http://ccj.ncsc.org/~/media/Microsites/Files/CCJ/Web%20Documents/LSC_WHTPR.ashx
8 Conference of Chief Justices White Paper on LSC Funding, March 30, 2012.
9 Economic impact analyses have been published since 2008 for Alaska, Arizona, Georgia, Massachusetts, Missouri, New Hampshire, New York, Ohio, Oklahoma, Pennsylvania, Texas, and Virginia.
10 The Task Force to Expand Access to Civil Legal Services in New York, Report to the Chief Judge of the State of New York, State of New York Unified Court System, November 2014; Investing in Justice, A Roadmap to Cost-Effective Funding of Civil Legal Aid in Massachusetts. A Report of the Boston Bar Association Statewide Task Force to Expand Civil Legal Aid in Massachusetts, October 2014.
11 Investing in Justice, A Roadmap to Cost-Effective Funding of Civil Legal Aid in Massachusetts. A Report of the Boston Bar Association Statewide Task Force to Expand Civil Legal Aid in Massachusetts, October 2014.
12 The Task Force to Expand Access to Civil Legal Services in New York, Report to the Chief Judge of the State of New York, State of New York Unified Court System, November 2014.
13 Florida Tax Watch, The Economic Impact of Legal Aid Services in the State of Florida, 2010.
14 Hunstein, C., "Legal aid to poor can't take more cuts," Atlanta Journal Constitution, May 26, 2011.
15 Abel, L. and Vignola, S.,"Economic and Other Benefits Associated With the Provision of Civil Legal Aid," Seattle Journal for Social Justice (Fall/Winter 2010).
16 ABA Coalition for Justice, "Report on the Survey of Judges on the Impact of the Economic Downturn on Representation in the Courts," (2010).
17 National Center for State Courts, "Trends in State Courts," New York's Pro Bono Requirement: The Whys and Hows of Building a Culture of Service in Future Lawyers, The Hononorable Jonathan Lippman, Chief Judge of the State of New York and Chief Judge of the Court of Appeals (2013).
18 Chief Judge Jonathan Lippman, New York State Unified Court System Fiscal Year 2014-2015.
19 LSC, 2013 Grant Activity Reports. Number of persons served calculated based on average number of persons in households of all closed cases.
20 U.S. Department of Housing and Urban Development, Office of Community Planning and Development, The 2013 Annual Homeless Assessment Report to Congress.
21 National Law Center on Homelessness and Poverty, "Human Right to Housing Report Card," 2014, p. 4.
22 U.S. Department of Education, National Center for Homeless Education, Education for Homeless Children and Youths Program, Data Collection Summary, March 2014, p.6.
23 National Alliance to End Homelessness, The State of Homelessness in America 2014, Table 2.1, "Economic and Household-Related Factors," p. 41.
24 Les Christie, "Foreclosures Hit Six-Year Low in 2013," CNNMoney, January 16, 2014.
25 National Low Income Housing Coalition, "Renters in Foreclosure Fact Sheet," December 2013.
26 Shaila Dewan, "Evictions Soar in Hot Market: Renters Suffer," New York Times, August 28, 2014.
27 Boston Bar Association Task Force on the Civil Right to Counsel, The Importance of Representation in Eviction Cases and Homelessness Prevention, Boston Bar Association, March 2012, p.15.
28 National Crime Victimization Survey (NCVS) defines domestic violence as "rape, sexual assault, robbery, and aggravated and simple assault committed by intimate partners, immediate family members, or other relatives." Domestic violence includes both "family violence" and "intimate partner violence" (IPV). Family violence includes "all types of violent crime committed by an offender who is related to the victim either biologically or legally through marriage or adoption," while IPV "includes physical violence, sexual violence, stalking, and psychological aggression (including coercive tactics) by a current or former intimate partner." U.S. Department of Justice (DOJ), Bureau of Justice Statistics BLS),Family Violence Statistics: Including Statistics on Strangers and Acquaintances. 2005; DOJ, BLS, Nonfatal Domestic Violence, 2003–2012, April 2014; Breiding, M.J., Chen J., & Black, M.C., Intimate Partner Violence in the United States—2010. National Center for Injury Prevention and Control, Centers for Disease Control and Prevention, Atlanta, GA, 2014.
29 Although women and men are victims of IPV and family violence, the following focuses on women because they are about six times as likely as men to be IPV victims, are far more likely than men to suffer serious injuries (and death) and experience repeated occurrences of severe IPV at much higher rates, and are far more likely than men to be care providers for children. See: Intimate Partner Violence in the United States—2010; Family Violence Statistics: Including Statistics on Strangers and Acquaintances.
30 Intimate Partner Violence in the United States—2010, p.15.
31 Calculated from data in Intimate Partner Violence in the United States—2010, pp.13-16.
32 Sharmila Lawrence, Domestic Violence and Welfare Policy: Research Findings That Can Inform Policies on Marriage and Child Well-Being, National Center for Children in Poverty, 2002; Michael L. Benson and Greer Litton Fox, When Violence Hits Home: How Economics and Neighborhood Play a Role, U.S. Department of Justice, Office of Justice Programs, National Institute of Justice, NCJ 205004, September 2004; Government Accounting Office, Domestic Violence: Prevalence and Implications for Employment Among Welfare Recipients, GAO/HEHS-99-12, November 1998; U.S. Government Accountability Office, TANF: State Approaches to Screening for Domestic Violence Could Benefit from HHS Guidance, GAO-05-701, August 2005; Liz Elwart, Nina Emerson, Christina Enders, Dani Fumia, and Kevin Murphy, "Increasing Access to Restraining Orders for Low-Income Victims of Domestic Violence: A Cost-Benefit Analysis of the Proposed Domestic Abuse Grant Program," State Bar of Wisconsin, December 2006.
33 Intimate Partner Violence in the United States—2010. Table 7.1 "Proportion of Female Lifetime Victims of Rape, Physical Violence, or Stalking by an Intimate Partner Who Received Needed Services," p.56.
34 LSC, 2013 Grant Activity Reports. Number of persons served calculated based on average number of persons in households of all closed cases.
35 Jana L. Jasinski; Jennifer K. Wesely; Elizabeth Mustaine; & James D. Wright, The Experience of Violence in the Lives of Homeless Women: A Research Report, Department of Justice Grant #2002WGBX0013, November 2005, p.2.
36 U.S. Department of Housing and Urban Development's (HUD), Office of Community Planning and Development, 2010 Annual Homeless Assessment Report (AHAR) to Congress, 2010, exhibit 3-2, p.18.
37 The United States Conference of Mayors, A Status Report on Hunger and Homelessness in America's Cities: 2013, A 25-City Survey, December 2013.
38 U.S. Government Accounting Office, Domestic Violence: Prevalence and Implications for Employment Among Welfare Recipients, GAO/HEHS-99-12, November 1998.
39 Richard M. Tolman and Daniel Rosen, "Domestic Violence in the Lives of Women Receiving Welfare: Mental Health, Substance Dependence, and Economic Well Being in Violence Against Women," Violence Against Women, Vol. 7, No. 2, February 2001, p.151.
40 Patricia Tjaden, Nancy Thoennes, Extent, Nature, and Consequences of Intimate Partner Violence, Findings From the National Violence Against Women Survey, U.S. Department of Justice, Office of Justice Programs, National Institute of Justice, July 2000, NCJ 181867.
41 Intimate Partner Violence in the United States—2010, p.1; "Adverse Health Conditions and Health Risk Behaviors Associated with Intimate Partner Violence," Morbidity and Mortality Weekly Report. February 2008; Centers for Disease Control and Prevention, National Center for Injury Prevention and Control. Costs of Intimate Partner Violence Against Women in the United States. Atlanta (GA): Centers for Disease Control and Prevention, 2003: Richard M. Tolman and Daniel Rosen, "Domestic Violence in the Lives of Women Receiving Welfare: Mental Health, Substance Dependence, and Economic Well Being in Violence Against Women," Violence Against Women, Vol. 7, No. 2, February 2001, 141-158.
42 McDonald, Renee, Ernest N. Jouriles, Suhasini Ramisetty-Mikler, et al. 2006. "Estimating the Number of American Children Living in Partner-Violent Families." Journal of Family Psychology 20(1): 137-142.
43 Lawrence, Domestic Violence and Welfare Policy, p.5.
44 Lawrence, Domestic Violence and Welfare Policy; Sandra Graham-Bermann & Julie Seng, "Violence Exposure and Traumatic Stress Symptoms as Additional Predictors of Health Problems in High-Risk Children," 146 Journal of Pediatrics 309 (2005).
45 Robert Anda, Robert Block, and Vincent Felitti. 2003. Adverse Childhood Experiences Study. Centers for Disease Control and Prevention, Kaiser Permanente's Health Appraisal Clinic in San Diego.
46 CL Whitfield, RF Anda, SR Dube, VJ Felittle. 2003. "Violent Childhood Experiences and the Risk of Intimate Partner Violence in Adults: Assessment in a Large Health Maintenance Organization." Journal of Interpersonal Violence. 18(2): 166-185.
47 LSC estimate based on poverty data for veterans in 2013 American Community Survey 1-Year Estimates, Table S2101, Veteran Status, and ratio of population with income between 100% and 125% of poverty and population with income less than 100% of poverty in American Community Survey 1-Year Estimates, Table S1703, various years.
48 U.S. Department of Labor, Bureau of Labor Statistics, "Employment Situation Of Veterans — 2013," March 20, 2014, Table 2A. Employment status of persons 18 years and over by veteran status, age, and period of service, 2013 annual averages.
49 U.S. Census Bureau, 2013 American Community Survey 1-Year Estimates, Table S2101: Veteran Status; National Coalition for Homeless Veterans, Demographics Of Homeless Veterans. http://nchv.org/index.php/news/media/background_and_statistics/
50 U.S. Department of Housing and Urban Development (HUD), "HUD, VA, AND USICH Announce 33% Drop in Veteran Homelessness Since 2010," August 26, 2014.
51 National Coalition for Homeless Veterans, Demographics Of Homeless Veterans.
52 Estimate based on LSC Grant Activity Reports, 2013.
53 Cases handled from LSC, 2013 Grant Activity Reports (GAR). Estimate of persons assisted from 2013 LSC GAR data, with adjustments for smaller household size for households with seniors.
54 U.S. Census Bureau, 2013 American Community Survey 1-Year Estimates, Table S1703: Selected Characteristics of People at Specified Levels of Poverty in the Past 12 Months.
55 Estimate of persons served based on (1) LSC, 2013 Grant Activity Reports (GAR) data for cases related to Supplemental Security Income, Social Security Disability Insurance, Special Education/Learning Disabilities, and Disability Rights and (2) GAR data for average number of persons served adjusted for smaller household size for households with seniors.
56 Report of The Summit on the Use of Technology to Expand Access to Justice, December 2013.
---