The Data Underlying Legal Aid Programs
PREFACE
I am pleased to present the 2015 edition of LSC by the Numbers: The Data Underlying Legal Aid Programs—formerly known as LSC's Fact Book. Understanding data is critical to the work of the Legal Services Corporation. LSC by the Numbers presents national data on 2015 LSC program activity. The goal is to provide a national perspective on and overview of LSC-funded grantees' work on behalf of low-income people seeking civil legal assistance.
The report includes data on the services provided by LSC's 134 grantees, client demographics, program staffing, expenses, and private attorney involvement (PAI). We have included trend data to show changes over time.
LSC-funded organizations may serve an entire state, a region within a state, or a single city or county. Many grantees maintain multiple offices, while others operate only one. Some grantees operate part-time satellite offices and run "hotlines" that provide telephone intake, advice, and referral programs to facilitate access to their services over a large geographical area.
LSC by the Numbers reflects actual data from calendar year 2015, unless otherwise noted, with no extrapolations or estimates. The majority of the data are derived from the Grant Activity Reports that LSC grantees are required to submit each year reflecting activity in the previous calendar year. The remainder is collected from LSC grantee financial and funding records.
LSC's Strategic Plan calls for enhanced data collection, analysis, and reports to achieve the goal of maximizing the effectiveness and quality of civil legal services. To that end, LSC established an Office of Data Governance and Analysis in 2015. This office collects and analyzes data used by other funders, courts, academics, and researchers looking for reliable and comprehensive information on legal services for low-income populations. This publication is a product of their efforts to track, analyze, and report this data.
We are continually seeking to improve LSC by the Numbers. Our aim is to make it a readily accessible resource for a wide audience. We are interested in your comments and suggestions for other data compilations that would be useful.

---
LSC 2015 AT A GLANCE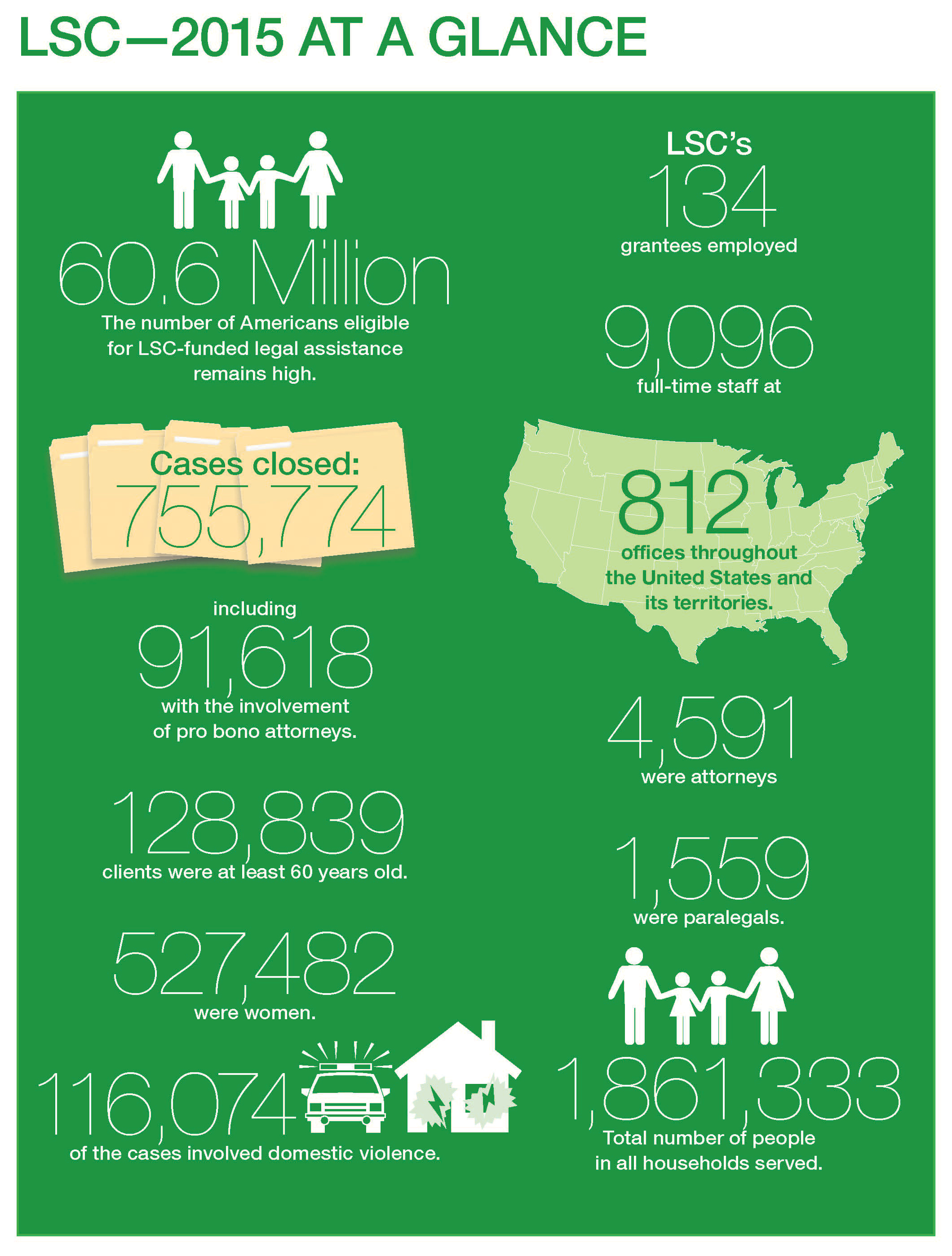 ---
Scroll below for interactive version of LSC - By the Numbers
Navigation Tip: Select a tab above that corresponds with a page or table/figure of interest.
*Please note this interactive version of LSC 2015 By the Numbers may slightly differ from the printed version.
---
FUNDING
The Legal Services Corporation (LSC) receives an annual appropriation from Congress to provide grants to eligible nonprofit organizations delivering legal aid to low-income people. LSC awards grants through a competitive process and funds 134 legal aid organizations that serve hundreds of thousands of low-income individuals, children, families, seniors, and veterans across America. Funds are distributed on a per-capita basis according to each service area's share of the eligible poverty population. In 2015, LSC provided $343,150,000 in funding for basic field grants.

The federal contribution to civil legal aid does not meet all of the eligible population's legal needs; rather, it provides a foundation upon which LSC's grantees can build. LSC grantees supplement congressional appropriations with other resources, such as state and local grants, Interest on Lawyer Trust Accounts (IOLTA) funds, grants from philanthropic foundations, and contributions from private donors. They also collaborate with a wide network of private practitioners, bar associations, law schools, access to justice commissions, and business and community organizations to expand legal services to indigent clients.
---
CLIENT SERVICES
LSC grantees handle the basic civil legal needs of the poor, addressing matters involving safety, subsistence, and family stability. Most legal aid practices are focused on family law, including domestic violence, child support, and custody, and housing matters, including evictions and foreclosures. In 2015, LSC grantees closed 755,774 cases nationwide, serving 1,861,333 people.

Nearly one-third of all cases closed by LSC grantees are family law cases. LSC grantees help parents obtain and keep custody of their children, assist family members secure guardianship of orphaned and abused children, and help victims of domestic violence secure protective orders. The second largest category of cases closed involved housing issues. By renegotiating mortgages, resolving landlord-tenant disputes, and assisting renters facing wrongful eviction and property foreclosure, LSC grantees help clients stay in their homes.
---
CLIENT DEMOGRAPHICS

LSC grantees serve clients of all races, ethnic groups, genders, and ages. They include veterans and military families, homeowners and renters, families with children, the disabled, and the elderly. Almost 70 percent of all cases closed by LSC grantees in 2015 involved women. The majority of LSC grantee clients identified as White, non-Hispanic, and were between the ages of 36 and 59. Elder clients often require legal assistance because of special health, income, and social needs, such as accessing the government-administered benefits on which many depend for income and health care. LSC grantees served households with veterans in 44,569 cases.
---
PRIVATE ATTORNEY INVOLVEMENT

LSC grantees leverage federal funding and maximize the number of clients they are able to serve by involving private attorneys in the delivery of legal services, primarily on a volunteer basis. Appropriate pro bono cases are referred to local attorneys who have agreed to represent eligible clients without charge. In 2015, the total number of pro bono cases closed by LSC grantees was 76,842, a slight decrease from 2014.
In addition to in-house pro bono efforts, grantees involve private attorneys through collaborations with local bar associations. These services may be provided pro bono or by contract for a reduced fee. Often private attorneys receive reduced-fee cases in exchange for a commitment to accept pro bono referrals. Private attorneys assist grantees by taking cases, acting as co-counsel in complex cases, providing information and advice at clinics, providing hotline advice, training staff, helping with transactional work (real estate, wills, and estates), and in a variety of other ways. LSC grantees closed more than 90,000 cases with the involvement of private attorneys in 2015.
---
OTHER SERVICES
LSC grantees also offer other services, including clinics, legal education workshops, pro se self-help materials, and referrals. Many grantees have designed interactive websites with useful legal resources, such as legal forms and guidance materials. In 2015, more than 17 million unique visitors accessed the websites and more than 400,000 people were assisted with referrals.
---
STAFFING
LSC grantees are independent nonprofit organizations and hire their own staff. Grantee staff members are not employed by LSC and are not government employees. In 2015, the number of attorneys, paralegals, and other staff positions in LSC-funded legal service organizations increased.
In previous reports, LSC did not include the labor of part-time employees to calculate the full-time equivalent (FTE) workforce. For this report, LSC has adopted a new method more closely aligned with definitions used by the Bureau of Labor Statistics and the Internal Revenue Service. For the new FTE calculation, all staff who work 35 hours/week or more for the entire year are counted as a single FTE. For staff who work less than 35 hours/week or less than a full year, their time is counted as a percentage of a full-time employee. This method results in a total FTE count that is slightly higher than previous years' reports. Also note that current Grantee Activity Reports do not distinguish between volunteer staff and staff for whom no salary is reported; therefore, LSC included all reported staff for the new FTE calculation. We are modifying our reporting requirements to identify volunteer staff in future reports
---
Click Here to View PDF of 2015 By The Numbers