Talk Justice: Episode Four
Evictions and the pandemic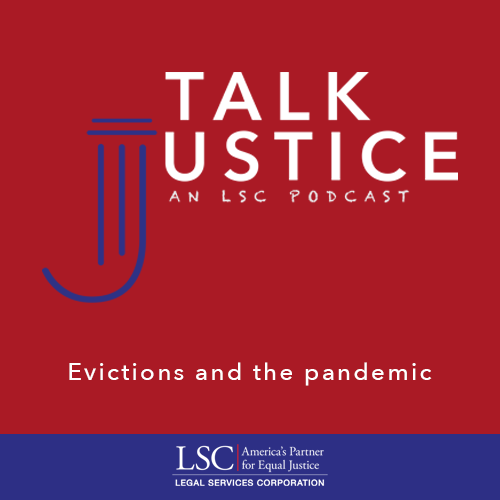 Due to the pandemic, the United States is facing the severest housing crisis in its history, says leading eviction scholar Emily Benfer. In a conversation with LSC President Ron Flagg, Benfer discusses the societal costs of this surge in evictions and the pivotal role legal aid lawyers play in easing those effects.
FEATURED SPEAKERS



Emily A. Benfer

is a visiting professor of law and the founding director of the Health Justice Clinic at Wake Forest School of Law. Her clinic practice and research focus on the intersection of social determinants of health, racial inequity, and poverty with an emphasis on housing, as well as community-based and interdisciplinary approaches to access to justice and health equity. Professor Benfer has widely published, testified before Congress and appeared in numerous media outlets on these topics. Currently, Professor Benfer is the Chair of the American Bar Association's COVID-19 Task Force Committee on Eviction and co-creator of the COVID-19 Housing Policy Scorecard with the Eviction Lab at Princeton University. She is the principal investigator in a study of nationwide COVID-19 eviction moratoriums and housing policies. She has conducted policy surveillance and legal mapping of proactive rental inspection and lead poisoning prevention laws across the fifty states. She is a member of Legal Services Corporation U.S. Eviction Law Study Advisory Board.
MODERATOR
Ronald S. Flagg was appointed President of the Legal Services Corporation effective February 20, 2020 and has served as Vice President for Legal Affairs and General Counsel since 2013. He previously practiced commercial and administrative litigation at Sidley Austin LLP for 31 years, 27 years as a partner. He chaired the firm's Committee on Pro Bono and Public Interest Law for more than a decade.



Flagg served as president of the District of Columbia Bar in 2010-2011 and currently serves as Chair of the Bar's Pro Bono Task Force. He presently also chairs the board of the National Veterans Legal Services Program. He has also served as Chair of the District of Columbia Bar Pro Bono Committee, Chair of the Board of the AARP Legal Counsel for the Elderly, as a member of the American Bar Association's House of Delegates, on LSC's Pro Bono Task Force, and as a member of the Board of the Washington Lawyers' Committee for Civil Rights and Urban Affairs, the Board of the District of Columbia Access to Justice Foundation, and the District of Columbia Judicial Nomination Commission.