Talk Justice: Episode Nine
The Role Libraries Play in Closing the Justice Gap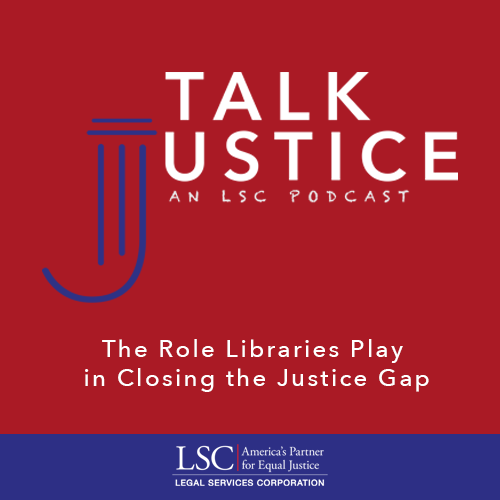 In this episode of Talk Justice, LSC Vice President for Grants Management Lynn Jennings hosts a conversation on how libraries can help close the justice gap. She is joined by Brooke Doyle, Project Coordinator at WebJunction; Emily Florio, Senior Research Services Manager at Hogan Lovells and President of the American Association of Law Libraries; Diane Rodriguez, Assistant Director at San Francisco Law Library and Vice President of the American Association of Law Libraries; and Laura Tuggle, Executive Director of Southeast Louisiana Legal Services.
FEATURED SPEAKERS



Brooke Doyle

joined WebJunction in 2017 bringing a background in education that spans international classroom teaching, curriculum development, and university grant management. Inspired by library practitioners and the access to knowledge they provide, her work is guided by the belief that society must nurture and provide opportunities for all of its citizens. Brooke has an Interdisciplinary Bachelor's and a MEd. from the University of Virginia.

Emily R. Florio

is the current president of the American Association of Law Libraries (AALL), the only national association dedicated to the legal information profession and its professionals. On behalf of its nearly 4,000 members, AALL promotes equitable and permanent public access to trustworthy legal information, continuous improvement in access to justice, and the essential role of law librarians and legal information professionals within their organizations and within their community to make the whole legal system stronger.

As AALL president, Florio is focused on a full review of AALL's charges for committees and juries, ensuring they are relevant to today's legal information environment and inclusive of all members. Florio's priorities also include identifying avenues for collaboration within AALL and with other organizations in the legal information industry. She has appointed several special committees, including the Inclusion, Diversity, and Equity Awareness (IDEA) Committee which is charged with reviewing the diversity, inclusion, and equity efforts and opportunities within AALL and law librarianship.

Florio is the senior research services manager at Hogan Lovells, where she leads the implementation of the global research services strategy within the U.S. market. She received her bachelor's degree from the University of Vermont and her master of library science degree from Simmons College. Florio is a former president of the Law Librarians' Society of Washington, DC.

Diane M. Rodriguez

is the current vice president/president-elect of AALL. Rodriguez has been active in AALL for more than two decades. She has served as a member of the AALL Executive Board, chair of the Council of Chapter Presidents, and as president of the Northern California Association of Law Libraries. Diane also serves as a member of the Council of California County Law Librarians, which works to improve, promote, and advocate for the unique legal information services provided by county law libraries that support access to justice for all Californians.

Rodriguez is the assistant director at California's San Francisco Law Library. Prior to her current role, she was a librarian at Hassard Bonnington LLP. She received her bachelor's degree from San Francisco State University and her master of library and information science degree from San Jose State University.

Laura Tuggle

is the Executive Director of Southeast Louisiana Legal Services (SLLS). She has served as the executive director since May 2014 and began her career at SLLS in 1993 as a staff attorney. Previously, she managed SLLS' Housing Law Unit, right after Hurricane Katrina from 2005-2010.

Prior to joining SLLS, she served as General Counsel and Director of Client Services as part of a reform administration at the long troubled Housing Authority of New Orleans. After the agency transitioned back to local control, she returned to SLLS.

She is an author of the Federally Subsidized Housing Program portion of the Louisiana Legal Services Desk Manual, as well as a coauthor of the housing portion of the Brookings Institute New Orleans Index at 5.

She has received national, state and local awards for her work in the interest of housing justice. She graduated from LSU in 1984, receiving her Juris Doctorate degree from Tulane Law School in 1987.

She currently serves on the Board of the New Orleans Family Justice Center, Shared Housing, and as Co-Chair of the Legal Services Corporation's National Disaster Task Force Relationship-Building and Integration of Legal Services into the Nation's Emergency Management Infrastructure Committee. Tuggle is a member of the Louisiana Access to Justice Commission's Building Bridges Committee, currently serves on the Louisiana State Bar Association Access to Justice Committee and serves on numerous task forces seeking to improve civil legal services and housing opportunities for vulnerable people.

.
MODERATOR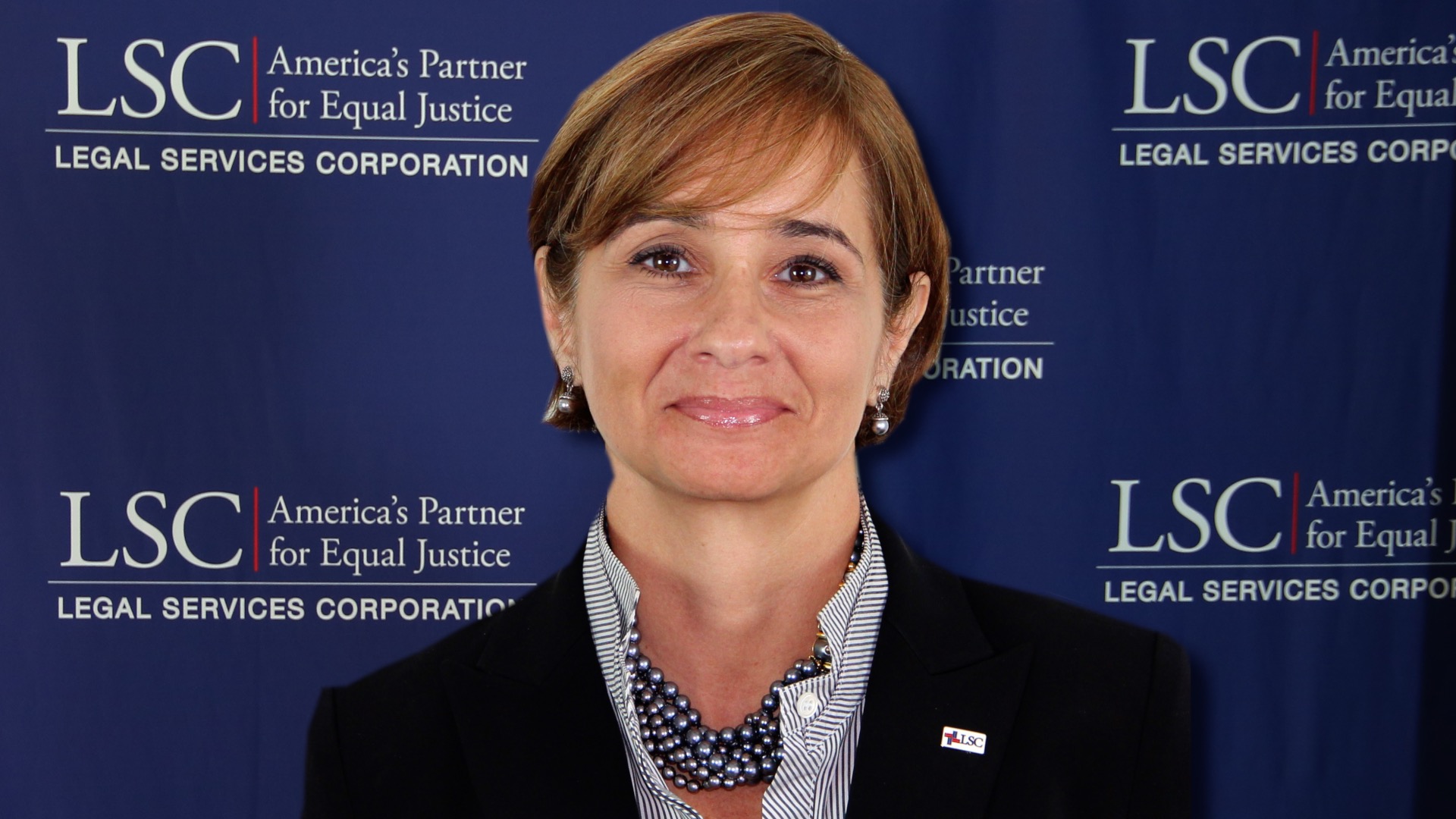 Lynn A. Jennings was appointed vice president for grants management in September 2012. In this capacity, she is responsible for overseeing LSC's day-to-day programmatic operations, managing the Corporation's annual grant-making process, supervising grantee assessment and oversight.

Jennings has more than 20 years of management and leadership experience. Most recently, she was principal of Jennings Solutions, LLC, a strategic consulting firm that provided expert advice and guidance on organizational efficiency, leadership development, policy development as well as program implementation and management for private, non-profit and government sector clients. Previously, she served as the executive vice president at the Council for Excellence in Government and director of strategic initiatives at the CNA Corporation.

Jennings also has extensive public sector experience and has served in a number of senior-level positions in the federal government, including Acting Assistant Secretary for Policy in the Department of Labor, General Counsel of the U.S. Merit Systems Protection Board, and Chief of Staff to the Chief Operating Officer of the U.S. Agency for International Development.

Licensed to practice law in New York and Maryland, she earned a B.A., cum laude with honors, from the University of Rochester and a J.D. from the Columbus School of Law, the Catholic University of America.