Talk Justice: Episode Three
Funding Civil Legal Aid: Protecting a core American value, providing critical constituent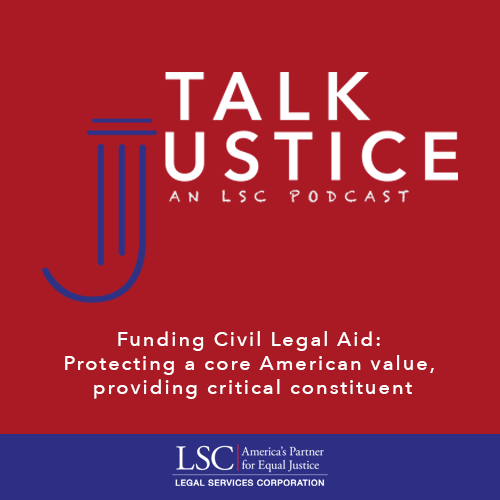 In this episode of Talk Justice, Legal Services Corporation President Ron Flagg discusses the importance of civil legal aid with the co-founders of the bipartisan Congressional Access to Civil Legal Services Caucus, Reps. Susan Brooks of Indiana and Joe Kennedy of Massachusetts. Brooks and Kennedy recount how they formed the caucus and the role it has played in advocating for federal funding of LSC. They also explore how the pandemic has sparked a surge in the demand for civil legal aid and how such assistance can address other problems such as racial injustice.
FEATURED SPEAKERS



Congresswoman Susan W. Brooks

has represented Indiana's Fifth District since 2012. A co-founder of the Access to Civil Legal Services Caucus in 2015 with Representative Joe Kennedy, she continues to be a champion of both LSC and equal access to legal representation for low-income families. As a standing member of the House Energy and Commerce Committee and former Chair of the House Ethics Committee, Rep. Brooks has advocated for mental health, biodefense, and public safety among other issues.


Prior to serving in Congress, she served as U.S. Attorney for Indiana's Southern District and spent over a decade working within private practice. She also represented Indianapolis for two years as Deputy Mayor.

Representative Joe Kennedy III

has been a champion of LSC and civil legal aid, co-founding the bipartisan Access to Civil Legal Services Caucus with Representative Susan Brooks and frequently speaking in support of LSC in the House and around the country. As a member of the House Energy & Commerce Committee, he has advocated for mental health and addiction, lowering energy costs, fortifying community health centers, and increasing STEM education.


Prior to his election to Congress, Representative Kennedy served as an Assistant District Attorney in both the Middlesex County and Cape and Island's District Attorneys' Offices. Before that, he served as a member of the Peace Corps in the Dominican Republic where he designed an economic development project.
MODERATOR
Ronald S. Flagg was appointed President of the Legal Services Corporation effective February 20, 2020 and has served as Vice President for Legal Affairs and General Counsel since 2013. He previously practiced commercial and administrative litigation at Sidley Austin LLP for 31 years, 27 years as a partner. He chaired the firm's Committee on Pro Bono and Public Interest Law for more than a decade.



Flagg served as president of the District of Columbia Bar in 2010-2011 and currently serves as Chair of the Bar's Pro Bono Task Force. He presently also chairs the board of the National Veterans Legal Services Program. He has also served as Chair of the District of Columbia Bar Pro Bono Committee, Chair of the Board of the AARP Legal Counsel for the Elderly, as a member of the American Bar Association's House of Delegates, on LSC's Pro Bono Task Force, and as a member of the Board of the Washington Lawyers' Committee for Civil Rights and Urban Affairs, the Board of the District of Columbia Access to Justice Foundation, and the District of Columbia Judicial Nomination Commission.