Talk Justice: Episode Forty
Image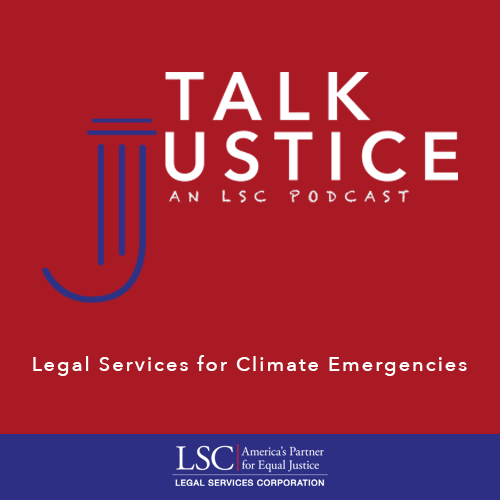 Legal Services for Climate Emergencies
Legal experts discuss the access-to-justice implications of the increasing number of climate emergencies in the U.S. and the role attorneys play. 
Guest Speakers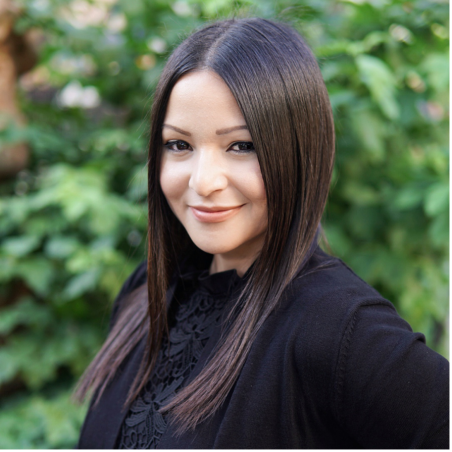 Jeanne Oritz-Oritz is the Pro Bono & Strategic Initiatives Manager at Pro Bono Net, a national nonprofit that combines access to justice and technology. She helps grow digital initiatives that strengthen the work of attorneys assisting low-income families with their legal issues.
In 2017 Jeanne joined Pro Bono Net as a Disaster Response Legal Fellow, and helped survivors affected by Hurricane María in Puerto Rico with FEMA appeals. Jeanne also co-authored Touro Law Review's "Disaster Legal Tech: Strategies for Providing Legal Information to Survivors."
Before joining Pro Bono Net, Jeanne worked as a legal fellow at the Central Alabama Fair Housing Center and provided free legal representation and employment discrimination litigation on behalf of low-income LGBT individuals in Puerto Rico. She drafted proposals for the Puerto Rico Police Department on police intervention with the LGBT community. During law school, she founded and led an award-winning Ms. JD chapter and facilitated workshops on reproductive justice. She has been a part of the ABA YLD Disaster Legal Services Program since 2019 and has presented on technology, pro bono, and disaster recovery at events hosted by the ABA, the Pro Bono Institute, the Practising Law Institute, the Legal Services Corporation, the Legal Talk Network, and the National Legal Aid & Defender Association.  In 2021, she was honored as one of the ABA Top 40 Young Lawyers On the Rise. She is bilingual and admitted to practice in the Commonwealth of Puerto Rico and New Jersey.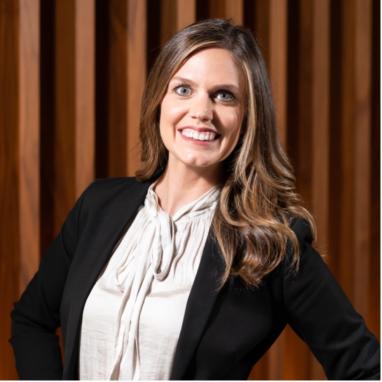 Linda Anderson Stanley is the senior manager of disaster programming at Equal Justice Works; mobilizing public service attorneys across the country to assist disaster survivors with their unique legal issues. In this position, Linda led the award-winning Disaster Recovery Legal Corp and created and implemented the Disaster Resilience Program. Linda is also an adjunct professor and teaches a Disaster Law Primer at Stetson University College of Law. Prior to joining Equal Justice Works, Linda worked as a Staff Attorney at Bay Area Legal Services in Tampa, Florida assisting individuals with limited access to legal services with their civil legal needs. She focused primarily on disaster relief; housing law; consumer law; and some Veteran's issues. In her capacity as staff attorney at Bay Area Legal Services, Linda was awarded the Hillsborough County Outstanding Young Lawyer of the year award for 2018.
Prior to joining Bay Area Legal Services, Inc., Linda was a supervising attorney of the John Marshal Law School's Pro Bono Clinic in Chicago, IL where she supervising and trained law students to represent clients in pro bono matters. She also litigated housing issues in this capacity.
In 2021, Linda was appointed for her third term as the Director of the ABA YLD Disaster Legal Services program.  She is also a Cabinet member of the ABA YLD, the YLD liaison to the ABA Standing Committee on Disaster Relief and Preparedness, a member of the ABA COVID-19 task force, and recognized as an ABA Star of the Year for both 2020 and 2021. Linda is a recipient of the ABA Top 40 Young Lawyers On the Rise award for 2021.
Linda received her undergraduate degree in psychology from the University of Illinois and her J.D. from the John Marshall Law School in Chicago, Illinois. She is licensed to practice in Florida and Illinois and holds court admissions in the U.S. District Court for the Northern District of Illinois and the U.S. Middle District of Florida.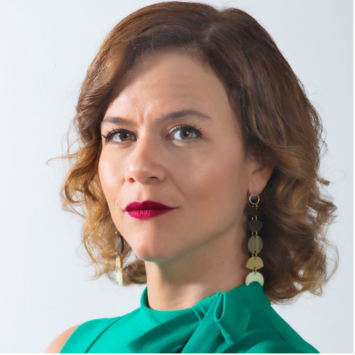 Ariadna Michelle Godreau Aubert is a human rights lawyer, and the founder and director of Ayuda Legal Puerto Rico, a non-profit that promotes legal empowerment strategies regarding housing, land, and climate justice.  She obtained a JD from the University of Puerto Rico School of Law and a Masters in Law degree in International Human Rights Law at the University of Oxford, UK. Ariadna has worked in many justice initiatives on gender, housing, public debt, and disaster recovery. Ariadna has promoted strategic litigation at local and international levels, technology to increase legal literacy, policy and advocacy strategist, and movement lawyers' organizing.
Ariadna is an adjunct professor at the Universidad de Puerto Rico, where she teaches courses on human rights, political theory, and international relations. Her scholarship revolves around human rights, gender, austerity, housing, and the right to protest. Her first book, which offers a feminist approach to the Island's debt crisis, Las propias: Apuntes para una pedagogía de las endeudadas was published in March 2018 and is currently being translated into English. Her upcoming book, which is due in summer 2022, is titled Indebted, Unresolved, and Dispossessed: The Impact of Austerity on the Right to Housing.
Host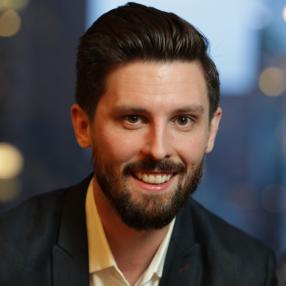 Jason Tashea is a member of LSC's Emerging Leaders Council and writes about the intersection of technology, policy, and law. He is also the editor of the JusticeTech Download newsletter.