Talk Justice: Episode Thirty Three
Image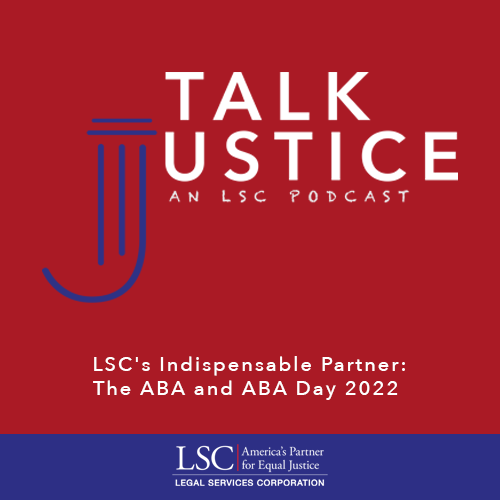 LSC's Indispensable Partner: The ABA and ABA Day 2022
The presidents of the ABA and the LSC sit down on the latest episode of LSC's "Talk Justice" podcast to discuss the historic partnership between their organizations and new efforts to bolster legal aid and pro bono.
Guest Speakers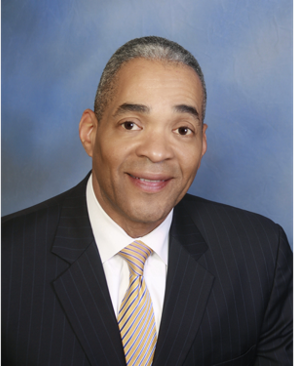 Reginald Turner is president of the American Bar Association, the world's largest voluntary association of lawyers, judges, and other legal professionals.
A lawyer with Clark Hill in Detroit, Turner is an accomplished litigator, government affairs advocate, and strategic advisor.
Turner is past president of the National Bar Association and the State Bar of Michigan. He served as chair of the ABA Commission on Racial and Ethnic Diversity in the Profession and the ABA Commission on the Lawyer's Role in Assuring Every Child a Quality Education. In the ABA House of Delegates, he served as the state delegate for Michigan and as chair of the Rules & Calendar Committee, the Committee on Issues of Concern to the Profession, and the Committee on Credentials and Admissions. He is a past chair of the Fellows of the American Bar Foundation.
Among his numerous presidential, gubernatorial, mayoral, and county executive appointments, Turner served as a White House Fellow and as an aide to Housing and Urban Development Secretary Henry Cisneros during the Clinton administration and represented Detroit Mayor Dennis Archer on the Detroit Board of Education from 2000 to 2003. In 2003, Governor Jennifer Granholm appointed him to the Michigan State Board of Education, and he won a statewide election for a full term in 2006.
Turner earned his bachelor's degree at Wayne State University and law degree at the University of Michigan Law School.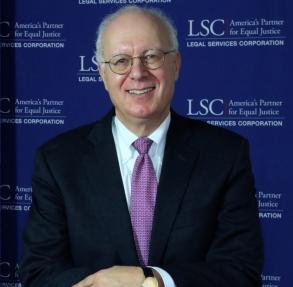 Ronald S. Flagg was appointed President of Legal Services Corporation effective February 20, 2020, and previously served as Vice President for Legal Affairs and General Counsel since 2013. He previously practiced commercial and administrative litigation at Sidley Austin LLP for 31 years, 27 years as a partner. He chaired the firm's Committee on Pro Bono and Public Interest Law for more than a decade.
Flagg served as president of the District of Columbia Bar in 2010-2011 and currently serves as Chair of the Bar's Pro Bono Task Force and on the Board of the DC Bar Foundation. He previously also services as Chair of the Board of the National Veterans Legal Services Program, Chair of the District of Columbia Bar Pro Bono Center, Chair of the Board of the AARP Legal Counsel for the Elderly, and as a member of the American Bar Association's House of Delegates, the Board of the Washington Lawyer's Committee for Civil Rights and Urban Affairs, and the District of Columbia Judicial Nomination Commission.
Flagg graduated with honors from the University of Chicago and cum laude from Harvard Law School. He began his career as a law clerk to Judge Myron L. Gordon, U.S. District Court of the Eastern District of Wisconsin and as attorney-advisor in the United States Department of Justice, Office of Intelligence Policy.
Moderator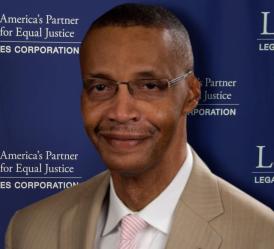 Will A. Gunn is the Vice President for Legal Affairs and General Counsel for the Legal Services Corporation (LSC).   In 2009, he was appointed by President Barack Obama as the General Counsel for the U.S. Department of Veterans Affairs, a position in which he served for five years. Subsequently, he was an attorney with a solo law practice, assisting military members facing adverse actions.
In 1980, he graduated from the U.S. Air Force Academy with military honors and in 1986 he graduated cum laude from Harvard Law School, where he served as President of the Harvard Legal Aid Bureau.  He also holds an LL.M in environmental law from George Washington University, a Masters in National Resource Strategy from the National Defense University, and a Masters in Ministry (with a focus on Leadership) from Lancaster Bible College.  Will served as an active-duty Air Force officer and in 2002, he was promoted to the rank of colonel.  In 2003, he was selected as the first-ever Chief Defense Counsel for the DoD Office of Military Commissions.  In that role, he established an office that defends detainees brought before military commissions at the Guantanamo Prison Camp.  He is a former White House Fellow and after retiring from the Air Force in 2005, he served as President and CEO of Boys & Girls Clubs of Greater Washington, DC.  He has chaired the American Bar Association (ABA) 2021 National Law Day commemoration, the ABA Commission on Racial and Ethnic Diversity and the ABA Commission on Youth at Risk.  He has served on several boards, is a deacon in his local church, and has received numerous awards including an honorary doctorate from Nova Southeastern University and the Harvard Legal Aid Bureau's Outstanding Alumni Award.