LSC's Innovations in Technology Conference
January 8-11, 2019 in New Orleans, LA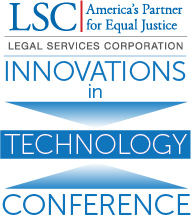 The Legal Services Corporation's Innovations in Technology Conference (ITC) is sold out. LSC will live stream several session through Facebook Live -- please click here for the schedule.
The ITC grew out of LSC's Technology Initiative Grant (TIG) Program, which seeks to expand access to justice by promoting technological innovations in legal services delivery and pro se assistance. It brings together a broad range of professionals to showcase technology projects and tools being implemented across the country and internationally to promote access to justice and high-quality legal representation for low-income people. The conference also provides an opportunity to network with a community of colleagues and to cultivate project ideas that could lead to successful TIG applications. 
Agenda & Speakers
Agenda and speaker information is now available through the conference's Sched.com page. Attendees can also use Sched to create a personal agenda, add or update their profiles, connect with friends and colleagues, and more.
Conference Materials & Live Stream
Conference handouts and materials are available to download on the conference materials Box folder. LSC will live stream several sessions through its Facebook Live account -- please click here for the instructions and schedule. 
 Who Should Attend
Legal aid advocates 
Legal technologists
Court self-help staff
Pro bono coordinators
Private attorneys
Law school students and professors
Document assembly developers and project managers
Law librarians
Anyone with an interest in how to use technology in the delivery of legal services
What Can I Learn
Session topics cover a range of issues on how technology can increase access to justice, including:
tools to improve limited scope or self-representation for those persons whom legal aid organizations are not able to represent fully;
improving the efficiency and effectiveness of access, triage, and intake;
encouraging and supporting pro bono;
cutting edge technology developments for legal services using artificial intelligence
delivering legal services remotely to hard-to-reach populations;
providing legal services staff and pro bono advocates with better litigation and case development support;
improving management and internal operations in legal aid offices, including how organizations can meet LSC's new performance criteria around technology
See session information, videos, and materials from past conferences.
Networking Opportunities
There are opportunities to exchange information in more informal Affinity Group sessions and dinners, which attendees help to determine at the time of registration. An ignite-style plenary called Rapid Fire Tech provides fast-paced presentations that highlight technology project successes, new ideas, and lessons learned.
Pre-Conference Events
Pre-conference activities include a Legal Aid Hackathon, legal tech start-up talks, and training on developing online forms in LawHelp Interactive. In addition, the MIE National Conference for Legal Services Administrators is being held on January 8-9 in conjunction with the ITC. For more information, go to the MIE website.
Conference Hotel
The JW Marriott New Orleans, 614 Canal Street, New Orleans, LA. The conference hotel room block is sold out. There is not an overflow hotel, but there are a number of hotels within a short walk of the conference hotel, including the New Orleans Sheraton, Courtyard Marriott and the New Orleans Marriott.
Conference Registration
The conference is now sold out. LSC will live stream several sessions through its Facebook Live account -- please click here for the instructions and schedule. 
The official Twitter hashtag for the conference is #LSCITCon.
Sponsors
Thank you to our 2019 Innovations Conference sponsors.