2017 Annual Report Justice Gap
In June, LSC released a new study of America's "justice gap"—the difference between the civil legal needs of low-income Americans and the resources available to meet them. The Justice Gap: Measuring the Unmet Civil Legal Needs of Low-Income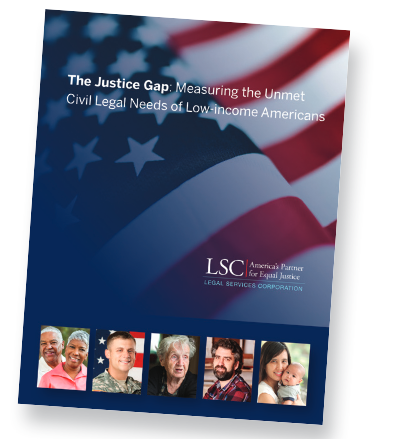 Americans, the first such study since 2009, describes and analyzes the volume of civil legal needs faced by low-income Americans and assesses the extent to which they seek and receive help. Its findings paint a stark picture of the overwhelming need for civil legal help in the country.
LSC worked with NORC at the University of Chicago to prepare the report. NORC conducted a survey of approximately 2,000 adults living in households at or below 125% of the Federal Poverty Level—$15,075 for an individual and $30,750 for a family of four—the income eligibility standard for service at an LSC-funded legal aid program. More than 60 million Americans fall into this category. The report shows:
In the past year, 86% of the civil legal problems reported by low-income Americans received inadequate or no legal help.
71% of low-income households experienced at least one civil legal problem in the last year, including problems with health care, housing conditions, disability access, veterans' benefits, and domestic violence.
In 2017, low-income Americans approached LSC-funded legal aid organizations for support with an estimated 1.7 million problems. They will receive only limited or no legal help for more than half of these problems due to a lack of resources.
The report has six focus areas: seniors, rural residents, veterans, persons with disabilities, parents of children under 18, and survivors of domestic violence. The findings demonstrate how disadvantaged Americans are often hit the hardest by civil legal problems. Seven in 10 low-income Americans with recent personal experience of a civil legal problem say it has significantly affected their lives.
LSC released the report during a congressional briefing on June 14. Speakers at the event included the founding members of the Access to Civil Legal Services Caucus, Reps. Joe Kennedy III (MA-4) and Susan Brooks (IN-5). Joining them were LSC Leaders Council Co-Chairs Harriet Miers, former White House Counsel and partner at Locke Lord, and Merck & Co. Chairman and CEO Kenneth C. Frazier. Other speakers included LSC Leaders Council member and University of Michigan head football coach Jim Harbaugh, American Bar Association President Linda Klein, LSC Board member Robert Grey, and J. Michael Dennis, Senior Vice President of NORC at the University of Chicago, who spoke in greater detail about the report's methodology. LSC Board Chair John Levi and LSC President Jim Sandman also delivered remarks.
"The findings of this report demonstrate that LSC's charge to fund and promote the efficient and effective delivery of civil legal services is more important than ever," said Miers.
"This study shows two things: first, the vast majority of low-income Americans have significant civil legal needs that affect their families, their livelihoods, and their safety; and second, our civil legal system fails, overwhelmingly, to meet those needs," said LSC President Sandman. "The bottom line: We are not fulfilling our nation's solemn pledge of 'justice for all.'"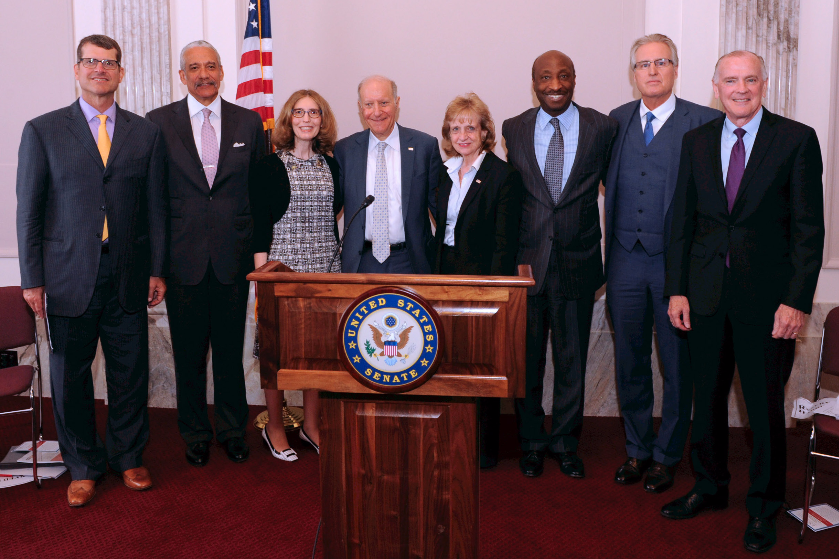 LSC shared the report's findings in meetings across the country. In August, LSC presented the Justice Gap report during its Board of Directors meeting in Cleveland. LSC President Sandman and LSC's Director of the Office of Data Governance and Analysis, Carlos Manjarrez, gave an overview of key findings on the unmet need for civil legal aid and the types of legal issues millions of Americans are experiencing.   
In August, LSC hosted a discussion in New York, "Legal Services Corporation: The Justice Gap in America," in conjunction with the American Bar Association's Annual Meeting. Former Chief Judge of the New York Court of Appeals Jonathan Lippman moderated a discussion on barriers to civil justice with Arizona Supreme Court Chief Justice Scott Bales and Supreme Court of Ohio Chief Justice Maureen O'Connor. Following that panel, LSC presented findings from the Justice Gap report. Other speakers at the event included Fordham University School of Law Dean Matthew Diller, LSC Chair John Levi, LSC President Jim Sandman, LSC's Office of Data Governance and Analysis Director Carlos Manjarrez, and Texas Access to Justice Foundation Executive Director Betty Balli Torres, a member of LSC's Justice Gap Advisory Committee. LSC Leaders Council Co-Chairs Kenneth C. Frazier, Chairman and CEO of Merck & Co., and Harriet Miers, former White House Counsel and a partner at Locke Lord, also delivered remarks.
In November, Reps. Kennedy and Brooks at-tended an event at Harvard Law School to talk about the importance of funding for civil legal aid for low-income Americans. Among other things, both shared the findings of the Justice Gap report and explained its importance to attendees.