LSC's Annual Reports highlight the work of LSC and its grantees. They focus on enhanced partnerships, increased collaboration and oversight including initiatives such as LSC's Pro Bono Task Force, Technology Initiative Grants, and the work of LSC-funded programs in response to natural disasters. 
Click here for the 2013 Annual Report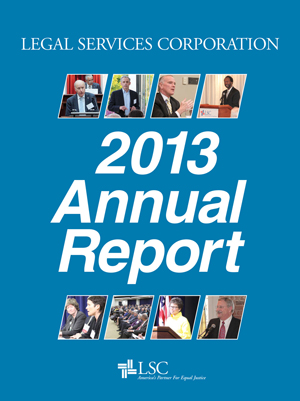 ---
Archives of previous year's Annual Reports are listed below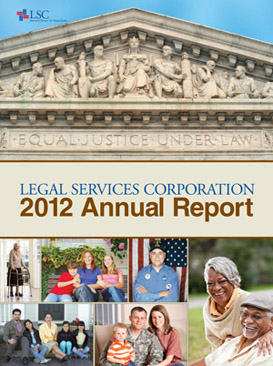 2012 Annual Report:
Board of Directors and Committees
Developing New Ways to Expand Partnerships with the Private Bar*
Exploring Legal Aid Problems, Solutions at White House and Judicial Forums*
Promoting Innovation with TIG Program and Tech Summit
Helping Low-Income Americans Meet Pressing Legal Challenges
Bolstering Management, Improving Fiscal and Grantee Overisght
Message from the Inspector General
*Look for the red tags indiciating additional content in the form of links to related video and photos.
_________
Download previous year's annual reports: 
2011, 2010, 2009, 2008, 2003-2004, 2000-2001, 1998-1999