The importance of writing clearly, concisely, and effectively, with clients in mind, can't be overstated. Poorly written or structured information on web pages can be yet another hurdle for people to receive the legal help they need.
It's easy to write anything on the internet, but it's harder to write well. There are many considerations that come into play when writing for the web, among them, writing in plain language. The content of a legal aid website should be understandable by a wide audience to accommodate those with limited literacy.
Also, language access is another huge consideration, especially in places that are home to diverse populations where multiple languages are spoken. And the presentation of content is just as important as how it's written. For example, if the website's navigation is confusing, if the most important information isn't located at the top of the page, or if the content itself is unorganized or clunky, clients will have a difficult time finding relevant information.
To address this issue, the Legal Aid Society of Middle Tennessee and the Cumberlands produced a guide titled, "How to Write So It's Easy to Read."
According to the guide:
"Most medical, legal and job information is written at a 12th grade level or higher. Why should you make it easy to read? Because you can reach many more people. 53% of Tennesseans read at an 8th grade level or below. If you write at a 5th grade level, more than 80% of Tennesseans can read it."
Some of their tips include:
Make your words, sentences, and paragraphs easy to read
Write like people talk
Keep sentences and paragraphs short
Put the most important information in the heading and first sentence
Give information in the order the reader will use it
Be as concrete as possible
Use the active voice
Measure the reading level
Ask people you're writing for to read your draft
Aside from "How to Write So It's Easy to Read," there are plenty of other great resources online to help tailor content to clients.
18F's Content Guide
18F—a digital services agency based in the U.S. General Services Administration—has a very clean and organized content guide that's broken up into four sections: "Introduction," "Our approach," "Our style," and "Content types."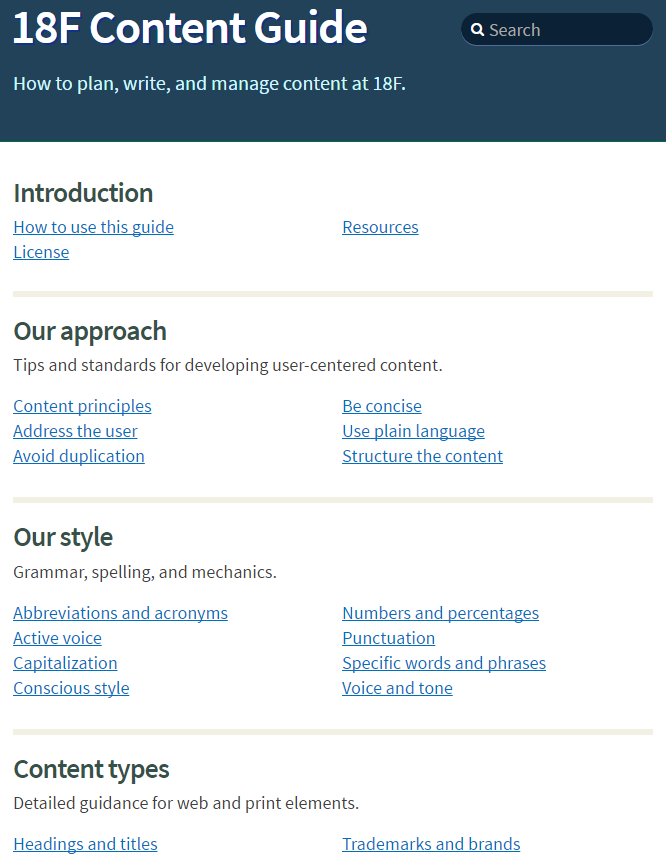 For a starting point, see "How to use this guide" or "Content principles." The guide's "Resources" section has links to other style guides that may be useful to legal aid organizations, such as the Conscious Style Guide, which features information on language pertaining to age; health; ethnicity, race, and nationality; gender, sex, and sexuality; and more.
USAGov's Bilingual Style Guide
This is pretty self-explanatory: USAGov—a federal program managed by the U.S. General Services Administration—has a style guide that offers tips in writing for both English and Spanish audiences.
Mailchimp's Content Style Guide
Mailchimp may be an email marketing company focused more on the distribution of content rather than its readability, translation, and availability, but it has a fantastic style guide. The guide has 17 sections—including one titled "TL;DR," or too long; didn't read, which serves as a quick and dirty cheat sheet—plus a "Resources" section.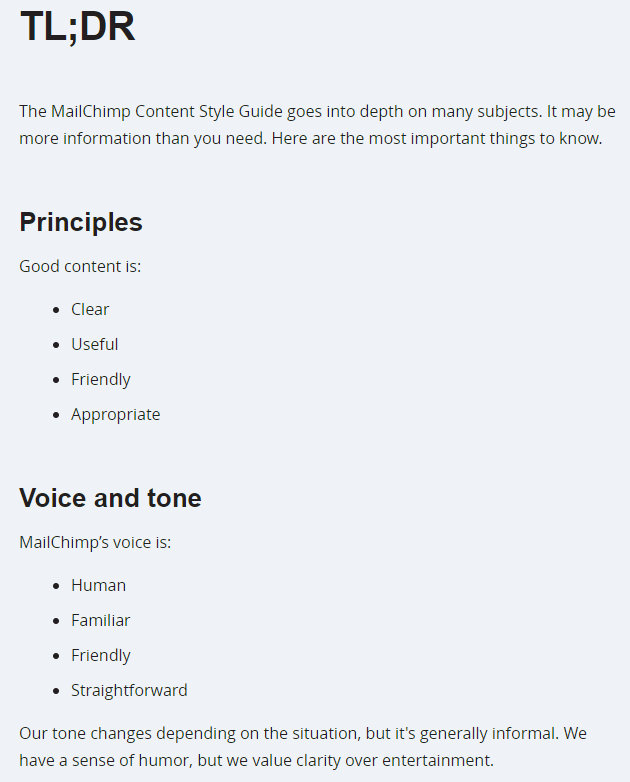 Two areas of interest in the "Resources" section are "Publishing Checklist" and "Further Reading," which has a list of resources that were helpful for Mailchimp in forming its style guide.
BuzzFeed's Style Guide
BuzzFeed's style guide, which "aims to provide a prevailing, and evolving, set of standards for the internet and social media," is an extremely comprehensive guide that one would expect from a big media company.
Although the guide is displayed on one long page, there is a handy table of contents at the top and, most importantly, it's "updated regularly to ensure it remains relevant and responds accordingly to changes in language and common, casual usage."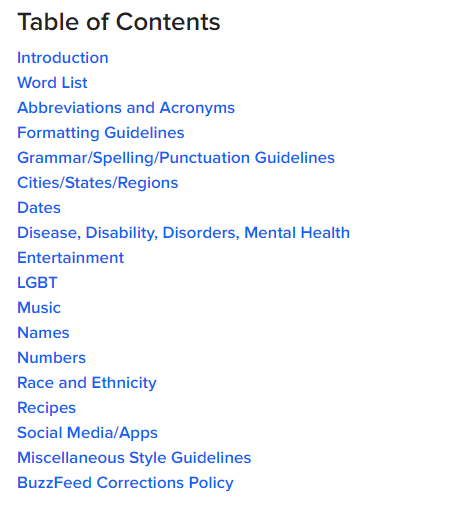 OpenAdvocate's WriteClearly and ReadClearly
Finally, one way to improve plain language on legal aid websites is by using the LSC-funded tools, WriteClearly and ReadClearly from OpenAdvocate. Website or content managers can add the free WriteClearly bookmarklet to their browser to test a sample of content pages for readability.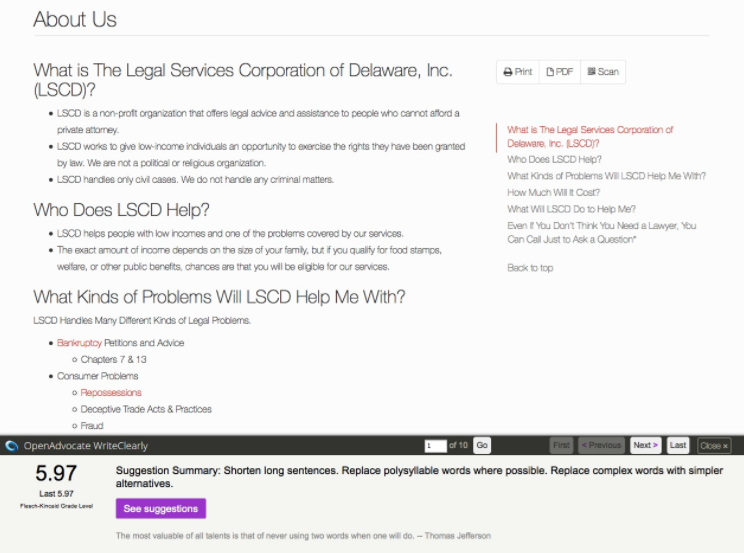 ReadClearly is similar to WriteClearly in that it tests for readability, but instead of analyzing the reading grade level of a web page, ReadClearly identifies complex legal terms and displays a plain language explanation.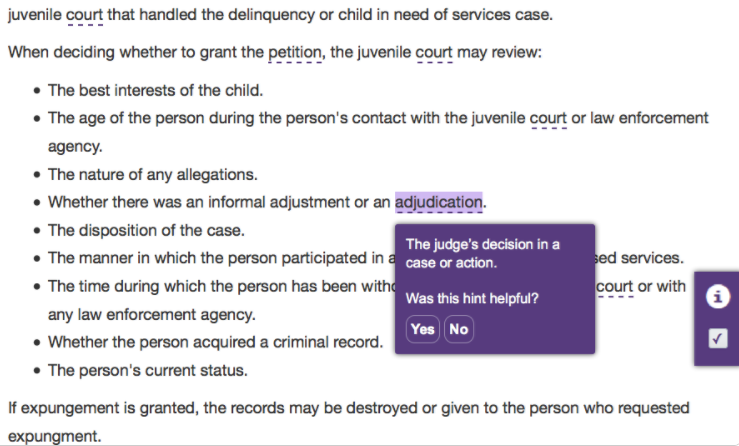 Besides these tools, many others exist—such as the Hemingway App—that help identify and edit complex sentences and remove the passive voice, enhancing clients' experience with and understanding of the content.