Mapping with Google Fusion Tables: The Basics
Google Fusion Tables is an online application that turns data sets into interactive visualizations, including charts, graphs, and maps. Once your visualization is finished, you can embed it on your website the same way you would embed a YouTube video.
This tutorial will show you how to:
Get started with Fusion Tables.
Organize your data so you can map it.
Create a basic map.
Share and publish a map.
Getting Started with Fusion Tables
Google Fusion Tables is a free web app that works within Google Drive.
In order to get started on Google Drive, you need a Google account. There are a few ways to do this:
If you have a Gmail account, then you already have access to Google Drive.
If you have a different type of email account, you can create a Google account using that email account. You don't have to open a new Gmail account.
Your organization can set up a corporate account (nonprofits are eligible for a free account). 
Once you have your Google account set up, you need to connect the Fusion Tables app.
Step one: Log into Google Drive.
Step two: Click the red "Create" button in the upper-left corner. If you already see Fusion Tables in the dropdown, skip to "Organizing Data." If not, continue to step three. 
Step three: Click "Connect more apps."
Step four: Use the search bar to find the Fusion Tables app.
Step five: Once you find Fusion Tables, click "Connect" to enable it. You will see a pop-up window that asks if you want this to be the default app for opening this type of files. Click "OK."
Step six: Fusion Tables is enabled. If you click back to the red "Create" button on your Google Drive dashboard, you should see the Fusion Tables app.
Organizing Data
Before you even open up Fusion Tables, you need to organize your data. In most cases, it's easiest to organize your data in Excel and then upload it to Google Fusion Tables.
Mapping tip: GIS maps are actually just visual data, so data management is a big part of the skill you are developing. Good data management practices will translate to any mapping software you use.
When organizing your data in Excel, double check to make sure that:
The top row has labels for each column.
Each row contains data for one location.
Each column only contains one type of data (or "attribute").
One column has the full address in a single column (i.e., 3333 K St NW, Washington, D.C., 20007). Fusion Tables needs all of this information in a single column in order to map it.
None of the cells are merged or formatted.
There are columns with data for all of the information you want to include in your map. It's much easier to add data in this stage than it is to add it to a completed map.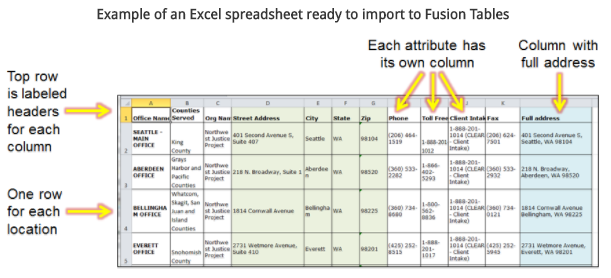 Once your data is organized, you can upload it into Fusion Tables.
Creating a Map in Fusion Tables
Start by uploading your spreadsheet into Google Drive.
Step One: Open Google Drive and Click "Create." Choose "Fusion Tables"
Step Two: Import Your Spreadsheet from Your Computer
Step Three: Rename the File so the Contents are Clear
Step Four: Once You Have Uploaded Your Spreadsheet, You'll Need to Verify that Fusion Tables Has Assigned the Correct Data Types to Each Column
What's a Data Type?
Google Fusion Tables classifies data into four types: text, number, location, and date and time.
Text is for any descriptive information.
Number is for quantitative numbers, such as the number of staff at an office or a county's population.
Not all numbers should be marked as a "number" data type. For example, phone numbers and case closing codes should actually be "text," and zip codes would be "text" or "location."
Not sure if a number should be labeled as a number or as text? An easy trick is to ask yourself if you would use the numbers to do math. Would you take the average of all the phone numbers in your service area? Of course not—you wouldn't learn anything. So that's not a "number." Would you take the average of the population of each county in your service area? Sure—so go ahead and label that a "number."
Location is for the location that you want Fusion Tables to map. There are one-column and two-column locations. One-column locations should have the entire address in one column (including the city, state, and zip code). Two-column locations are for latitude and longitude coordinates. Google Fusions Tables highlights "location" data bright yellow so they are easy to find.
Date and time is for date and time data in standard formats. This is particularly useful if you would like your map to display trends that take place over time, such as case closures by year.
Step Five: Geocoding
Before mapping software can plot a point on a map, it needs to geocode the locations.
"Geocoding" is the process of taking geographic information—such as the street address of a location—and matching it to exact geographic coordinates (i.e., latitude and longitude) so that the location can be mapped.
Fusion Tables can geocode automatically:
Click "File" and select "Geocode" from the dropdown menu.
Check to make sure that Fusion Tables has selected the column that you want geocoded. Google Tables will automatically select a column with a "location" data type, so you may need to double check your data type.
Add a location hint. This is not required, but it helps Fusion Tables narrow down the area it is looking for those addresses in (so it's not looking through the streets of Olympia, Greece, when your data is for Olympia, Washington). Entering your state and country is usually sufficient.
Click "Begin geocoding." This may take a few minutes, especially if you're geocoding a lot of data.
Step Six: Creating Your Map
You should see multiple tabs at the top of Fusion Tables.
Click the red "+" tab to add a map. Google Fusion Tables will automatically map the column you geocoded.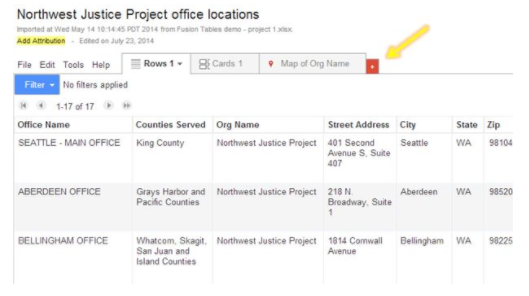 Step Seven: Customize the Info Window
If you click on the points on your new map, you will see an info window with information about that location.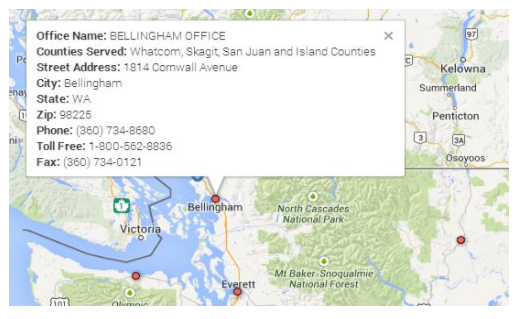 Fusion Tables automatically fills in the info window with information from your spreadsheet. You can customize the information in your info window so that it only displays the information that you want your viewers to focus on. 
To customize the info window, click "Change info window."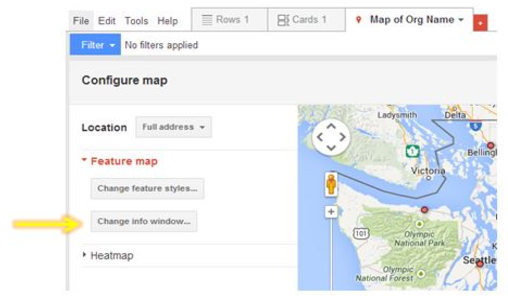 The "Change info window" button will display all the information that you can customize. The check boxes on the left are the column headers from your data set. Check the columns that you want to display in your info window, and then hit save. If you are comfortable with HTML, you can modify the information window directly on the window in the right.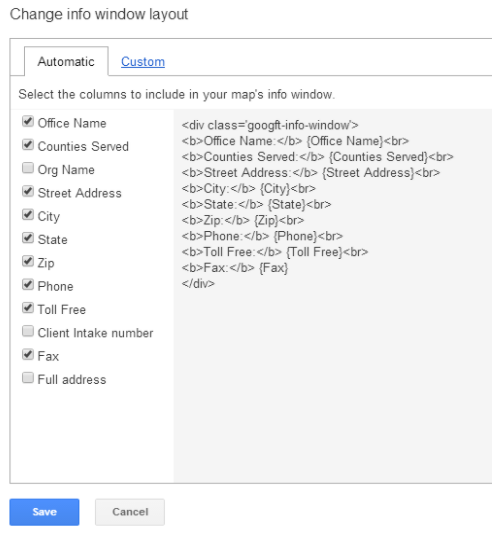 Mapping tip: Your information window can display links to websites, images, videos, and charts and graphs, but you need to include all of that information in your data set first. If you want to add display additional information in your info window, you need to add a new column to your spreadsheet.
Step Eight: Share and Publish
The final step is sharing and publishing online.
"Sharing" gives people permission to access your map. You can share a map with a specific person, a group of people, or make it public.
"Publishing" the map makes it available to the people you have shared it with. You can publish by sharing the link to your map, or by embedding it on your website like a YouTube video.
Sharing and publishing are linked—you need to do both for people to see your map.
To share your map, select "Share."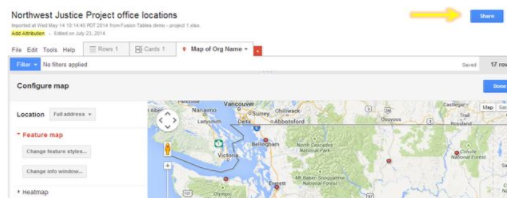 Set your share settings to "Anyone with the link."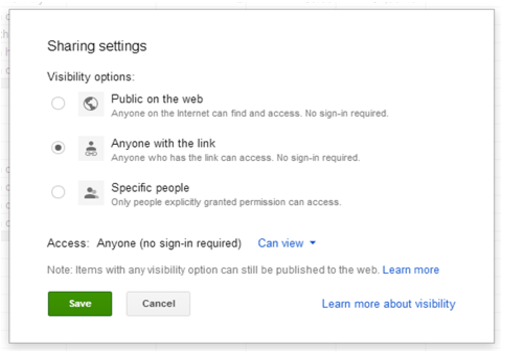 To publish, select the dropdown in the top corner of your map tab. Choose "Publish."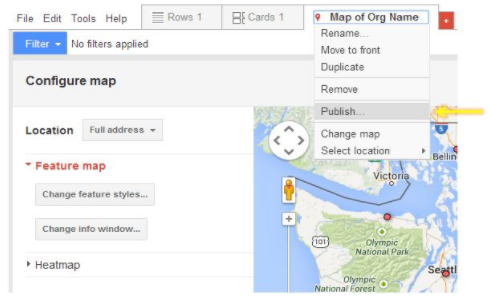 A small window will appear with a snippet of HTML code. Copy the HTML code and embed it on your website, like a YouTube video.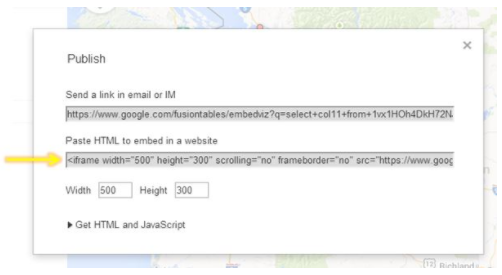 The finished project: