LSC IS A GOOD STEWARD OF TAXPAYER DOLLARS
For the first time in almost a decade, LSC is requesting an increase in the Management Grants Oversight (MGO) budget for FY 2021. Since 2015, LSC has covered its current MGO expenses with a combination of appropriated funds and funds carried over from prior years. LSC projects that we will come close to exhausting our carryover funds by the end of FY 2021 without an increased congressional appropriation. In addition, as funding for Basic Field grants increases, we require additional resources to conduct proper oversight and accountability of the grants LSC awards to our 132 grantees. As a responsible steward of taxpayer dollars, we have an obligation to maintain a robust oversight program.
LSC requests $26.2 million for MGO in FY 2021— a $4.2 million increase over FY 2020. The FY 2020 omnibus legislation included $22 million for LSC's MGO budget—a $2.6 million increase from FY 2019. This represents the largest significant increase to MGO in recent years. The additional funding for FY 2021 will be used for the following:
1. Personnel: Seventy-eight percent of LSC's MGO budget is spent on personnel costs—salaries, payroll taxes, and benefits. The proposed increase will enable LSC to meet its commitments under a new Collective Bargaining Agreement, including performance-based incentive compensation, employer retirement contributions, and step increases consistent with the recommendations of Quatt Associates, the consultant that provides a comparison of LSC's compensation schedule with competitive market data. The increase also covers projected inflation, such as rising healthcare costs.
2. Training and Technical Assistance for Grantees: A critical component of LSC's oversight of its grantees is preventing problems before they occur. Given the high demand for training and technical assistance by LSC grantees, increased resources will enable LSC to hire additional staff in both the Office of Program Performance and the Office of Compliance and Enforcement to achieve more progress in LSC's oversight responsibilities, particularly with regard to grantee financial operations. Additional funding would cover the following:
Design and conduct a "Financial Bootcamp" to provide training to grantee Chief Financial Officers (CFOs) and Executive Directors (EDs).
An additional Program Counsel to augment oversight of the Basic Field grant program would reduce the average portfolio of 11 grantees per Program Counsel to nine, thereby ensuring more time to provide high-quality technical assistance and more frequent visits to grantees.
Develop a Leadership Mentoring Program to pair new or challenged EDs with experienced and successful EDs and/or new or struggling CFOs with experienced CFOs. Seventy-one grantees experienced 85 Executive Director transitions between 2014-2019.
3. Fiscal Oversight: Given the importance of fiscal compliance, LSC would increase staff by adding an additional Fiscal Compliance Analyst in the Office of Compliance and Enforcement to enhance grantee oversight.
4. Data Analysis and Field Support: LSC has greatly increased its data collection and analysis capacity in the last few years. The need for technical support relating to data issues is considerable. LSC grantees are gathering more detailed data but often do not have the capacity to analyze the data to improve client service and program management or to communicate the impact of their work to funders and prospective funders. LSC's Office of Data Governance and Analysis (ODGA) is working to address this capacity gap by convening a Grantee Data Working Group, which has broad participation among LSC's grantees. Two years ago, the Data Working Group was instrumental in reviewing and updating procedures for collecting data from our grantees. ODGA is also developing tools to consolidate data resources and improve grantee monitoring. Last year, they built the first LSC-wide grantee risk-assessment tool, combining over 50 indicators that monitor program performance, regulatory compliance, and fiscal health into a single resource. The assessment tool is of great value in identifying grantees for oversight visits or other assistance. Increasing staff capacity will enable LSC to provide more "hands-on" support to grantees and improve their ability to produce more reliable data.
5. Infrastructure and Technology Leadership: LSC plans to continue to improve and upgrade its information technology systems, accounting systems, and website functionality.
6. Disaster Leadership: LSC's work in the disaster arena has increased significantly over the past five years. In addition to having received three congressional Disaster Supplemental Appropriations, LSC launched a Disaster Task Force and became a member of the National Association of Voluntary Organizations Active in Disaster (VOAD). As a result, LSC's visibility and participation in the emergency management community has increased. The number, frequency, and intensity of disasters continues to increase, and LSC needs to be appropriately staffed to help grantees prepare for disasters, to meet the needs of disaster survivors, and to conduct programmatic and fiscal oversight of its grantees.
Oversight Visits Completed in 2019
LSC's Office of Compliance and Enforcement (OCE) has primary responsibility for monitoring grantee compliance with the LSC Act, regulations, and funding restrictions. OCE also enforces LSC's Accounting Guide; conducts oversight reviews regarding compliance with the LSC Act and other LSC guidance, including fiscal-related regulations; initiates questioned-cost proceedings; identifies required corrective actions and necessary follow-ups; and provides technical assistance and training to grantees.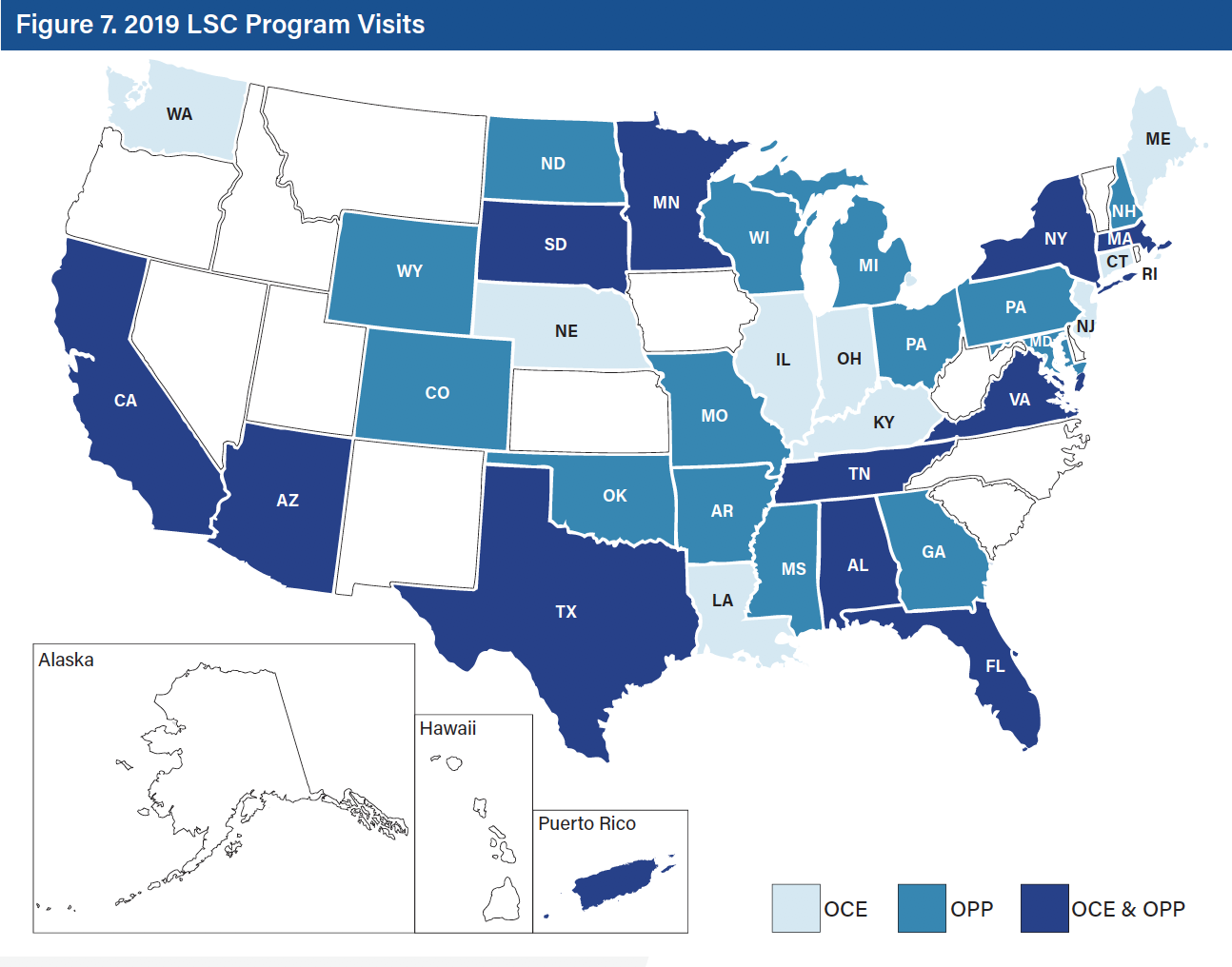 In 2019, OCE conducted 28 onsite visits. Onsite assessments were completed in Alabama, Arizona, California, Connecticut, Florida, Illinois, Indiana, Kentucky, Louisiana, Massachusetts, Maine, Minnesota, Nebraska, New York, Puerto Rico, South Dakota, Tennessee, Texas, Virginia, and Washington. OCE expects to complete at least 24 oversight visits in 2020.
In addition, OCE conducted four trainings related to Private Attorney Involvement compliance, LSC fiscal regulations, LSC regulatory changes, and compliance concerns at national conferences, as well as a training on fiscal and regulatory compliance during LSC's annual Innovations in Technology Conference.
Through 45 C.F.R. Part 1630 proceedings and informal negotiations, OCE resolved three referrals from the Office of Inspector General, resulting in the recoupment of more than $16,000 in LSC funds.
LSC's Office of Program Performance (OPP) invests in program assessment visits, technical assistance, and other initiatives for grantee support. OPP has primary responsibility for administering the competitive grants application and awards process, sharing best practices for providing high-quality civil legal services, and promoting innovative uses of technology by grantees.
In 2019, OPP conducted 50 onsite assessment visits in New York, Virginia, Maryland, Georgia, California, Oklahoma, Texas, Ohio, Mississippi, Tennessee, Pennsylvania, Wyoming, New Jersey, Wisconsin, Florida, North Dakota, Minnesota, Massachusetts, South Dakota, Puerto Rico, Colorado, Alabama, Missouri, Michigan, Arkansas, New Hampshire, and Arizona. OPP expects to complete 45-50 onsite assessment visits in 2020.
Image