LSC FUNDING SUPPORTS PRO BONO THROUGH ROBUST PARTNERSHIPS
LSC requests $5 million for the Pro Bono Innovation Fund (PBIF)—the same amount LSC has requested for the past seven years. Currently, the Pro Bono program is funded at $4.5 million.
Projects funded under this program develop, test, and replicate innovative pro bono efforts that enable LSC grantees to expand client access to high-quality legal assistance using private, volunteer lawyers. The grant criteria require both innovation (new ideas or new applications of existing best practices) and replicability (likelihood that the innovation, if successful, could be implemented by other legal aid programs).
Although pro bono volunteers cannot replace the work of legal aid lawyers, many of whom are subject matter experts, the private bar is a critical resource to address the civil legal needs of the low-income community. Private practitioners, in-house corporate counsel, retired lawyers, law students, and paralegals are eager to assist by donating their time.
In August 2019, LSC awarded $4.3 million in grants to expand pro bono legal services for low-income clients in 13 states and the District of Columbia. Many of the projects focus on building new partnerships between legal aid programs and law schools, law firms, and other local service providers. The projects engage more pro bono lawyers and other volunteers to leverage LSC's funding and increase the legal resources available to meet the civil legal needs of low-income Americans. The projects offer effective, replicable solutions to persistent challenges in current pro bono delivery systems.
Examples of FY 2019 Projects
Many of the projects seek to remove barriers to success facing low-income Americans. For example, Legal Aid of Northwest Texas (LANWT) will use its grant to expand its Driver's License Restoration Project. Losing a license can result in job loss and create a cycle of escalating debt. To prevent this, LANWT will enlist pro bono attorneys to assist low-income clients working to restore their driver's licenses.
The Volunteer Lawyers Project of the Boston Bar Association's grant will fund two clinics to assist victims of wage theft and defendants in debt collection cases. Legal Action of Wisconsin will use its grant to improve employment outcomes for low-income technical college students by addressing the civil legal problems preventing them from getting a degree.
Several of the funded projects will focus on increasing the recruitment and training of pro bono attorneys. Other initiatives will foster community partnerships to better meet the needs of legal aid clients. For example, Maryland Legal Aid will use its grant to create weekly general legal advice and intake clinics located in Baltimore schools. Community Legal Aid Services in Ohio will partner with its local bar association and the judiciary to launch a pro bono clinic.
Projects in New York, Missouri, and Washington D.C. will focus on stabilizing housing for clients in need.
Legal Services of NYC will use its grant to secure pro bono representation for low-income tenants in New York City who struggle with housing conditions, including mold, vermin, and lack of heat, plumbing and appliances. The project will scale pro bono tenant representation though innovative "study groups" of lawyers from large law firms and corporate legal departments. These hybrid study groups will commit to providing full representation on pre-screened cases. Legal Services NYC will support volunteers.
through structured training and mentorship designed to build expertise and momentum for the project.
Legal Services of Eastern Missouri will use its grant to expand the Neighborhood Vacancy Initiative, initially launched in 2018. The project seeks to engage law firms and pro bono volunteers to help stabilize housing, return vacant property to productive use, and improve the quality of life in low-income neighborhoods. The project provides access to legal representation for urban neighborhoods and residents plagued by vacant and abandoned property.
Neighborhood Legal Services Program of the District of Columbia will use its grant to expand their Housing Cooperative Preservation Initiative—an effort to preserve low-income resident-owned affordable housing. Housing cooperatives enable low-income families to acquire an ownership interest in a resident-controlled building. However, the cooperatives require specialized legal assistance, much of which is transactional in nature, to sustain them. The project seeks to engage law firms and volunteer attorneys to provide specialized transactional services to housing cooperatives and legal services to clients that live in the housing cooperative.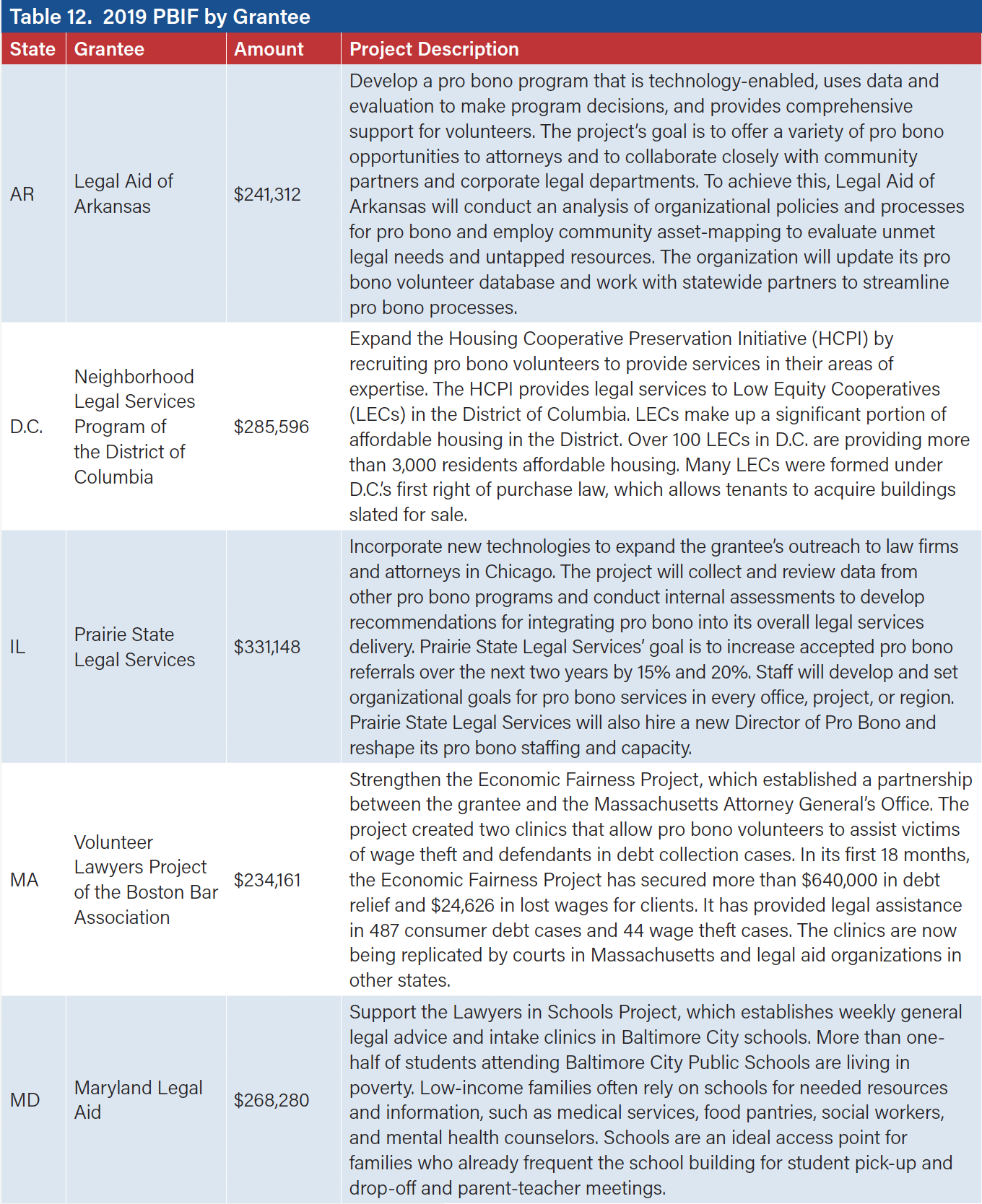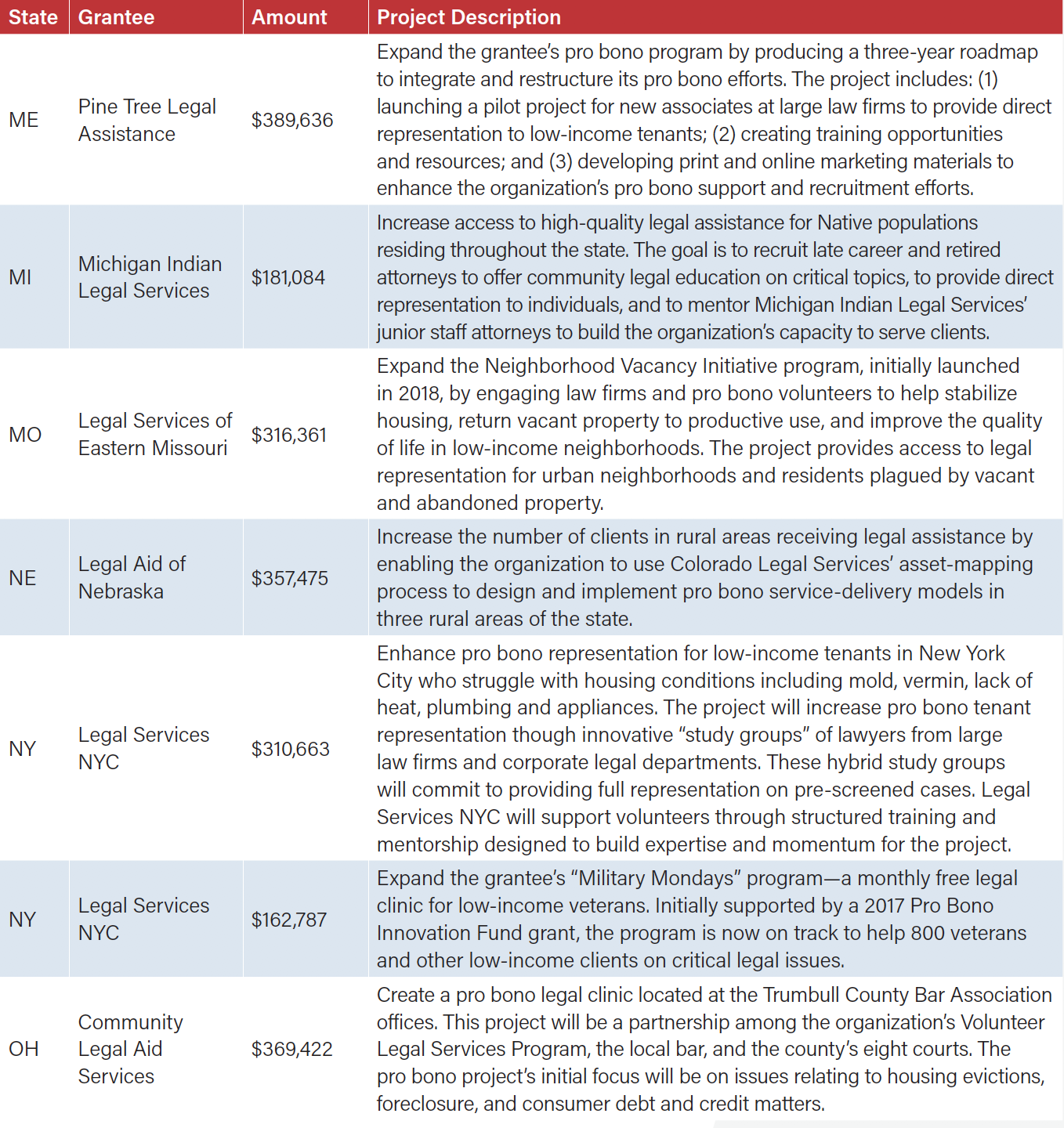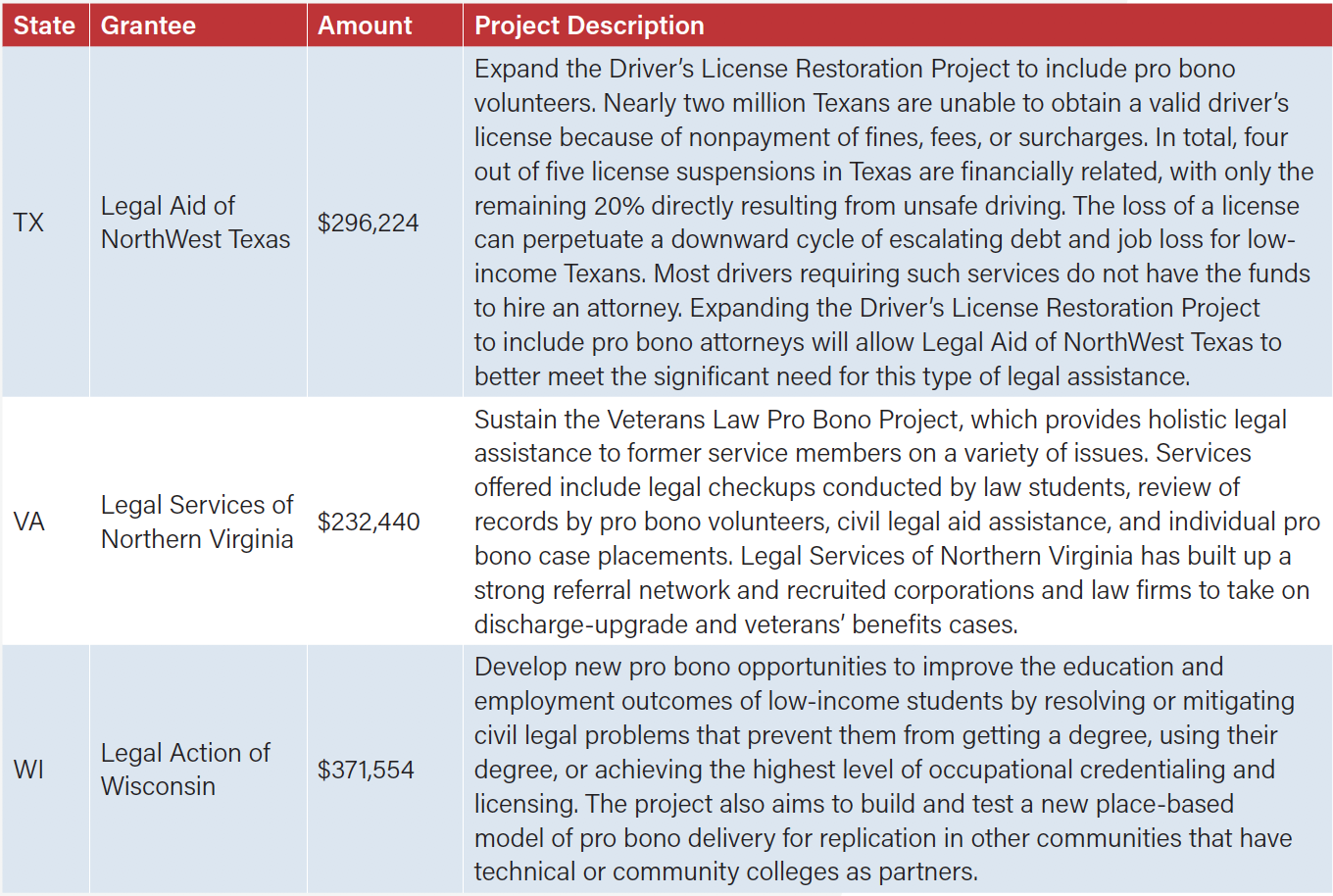 Image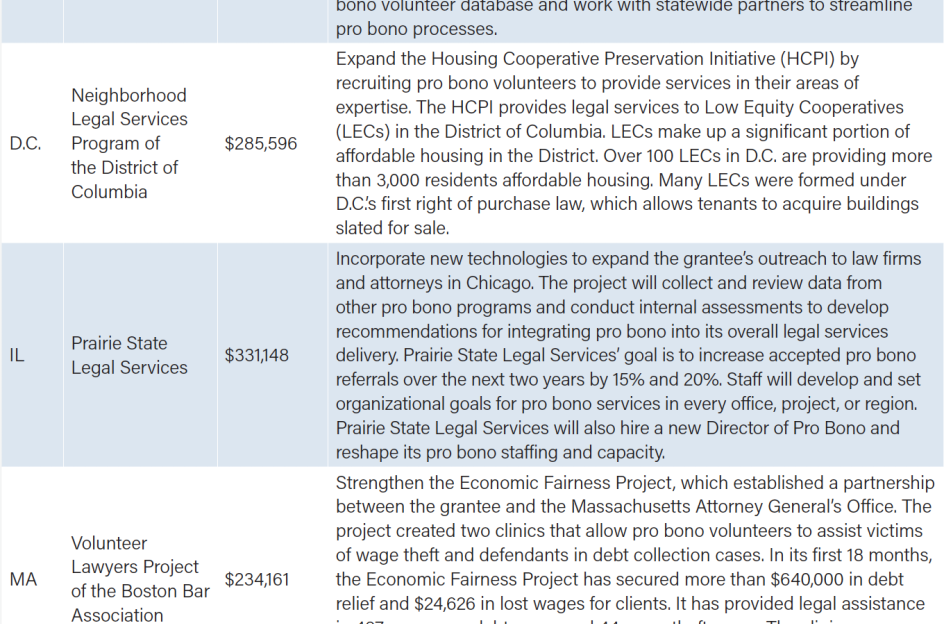 Image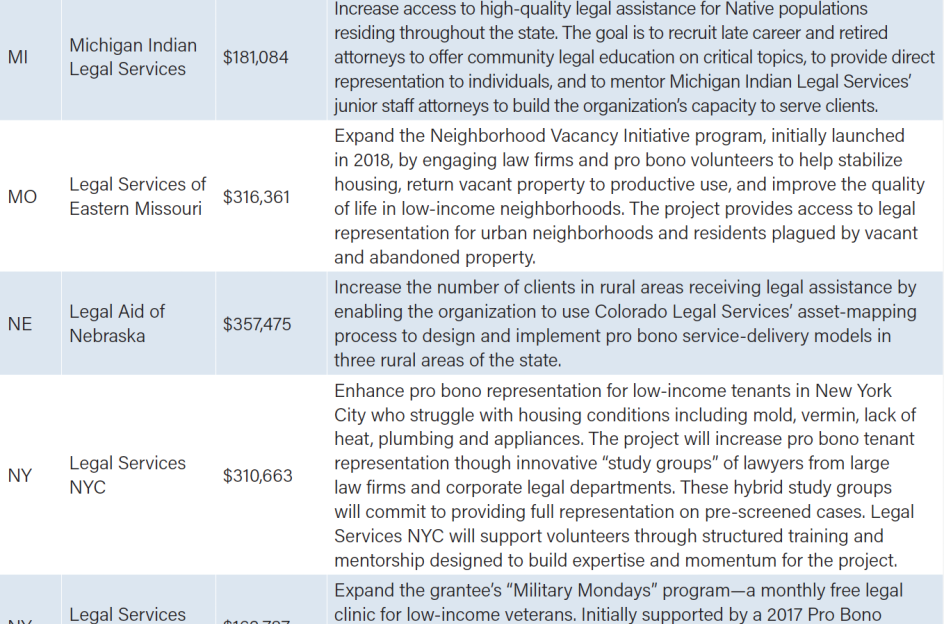 Image